Healthy Holiday: Apple Pecan Stuffed Squash
This Apple Pecan Stuffed Squash is a great healthy side dish to accompany your Thanksgiving meal.
Can you believe that Thanksgiving is next week?
Luckily, we are going low-key this year.
No traveling and no guests.
Just a nice, relaxed break at home this year.
I will probably roast a chicken or a turkey breast rather than a large turkey.
I've already been testing out a few new recipes to include this year, like these Maple Apple Pecan Stuffed Acorn Squash.
What will you be enjoying this year at Thanksgiving?
Do you have big plans for a family get-together or are you keeping it casual at home with your immediate family?
If you haven't already, now would be a good time to start preparing.
Easy Tips to Prepare for Thanksgiving
Some simple to do ahead tasks that will make next week easier are:
Begin planning the menu.
Start with sorting out the recipes for your "must haves," and your family's traditional dishes.
This Apple Pecan Stuffed Squash is definitely on our must have list this year!
Fill in the Gaps
After you've decided on the dishes you know you will have (your favorite sweet potatoes, your family's pecan pie, etc.), start thinking about what's missing.
Do you need more sides?
Appetizers?
Drinks?
Bread?
Filling in the gaps is a great opportunity to introduce a few new dishes.
Print off all of your recipes.
Punch holes in the sheets and place them in a binder or folder with brackets.
Label that folder "THANKSGIVING RECIPES."
This will make every year from here on out much easier.
Take stock of your freezer and pantry.
Make a list of items you are out of or running low on.
Purchase non-perishable essentials.
The earlier the better, so you can avoid sold-out merchandise, crowded grocery stores and last minute shopping trips.
You can buy things like the pecans in this recipe for Apple Pecan Stuffed Squash ahead of time and keep them stashed in your pantry.
The apples and the squash are usually fine to be purchased about 5 – 7 days ahead.
Shop with a list to avoid overspending.
Order or purchase a turkey.
Store it in the freezer if you bring it home earlier than 4-5 days before Thanksgiving.
Make requests or assignments to your guests (if you want people to bring food).
Give them plenty of time to prepare for their dish and/or find a new recipe to share.


Are you ready for a delicious, healthy holiday this year?
Visit my fellow Healthy Holiday bloggers for great inspiration in planning a nutritious and delicious holiday meal.
Need help preparing for Thankgiving?
Check out this FREE Thanksgiving Planning ebook.
Still looking for more recipe inspiration?
Try my Thanksgiving and Fall sections of the Recipe Index.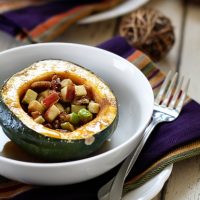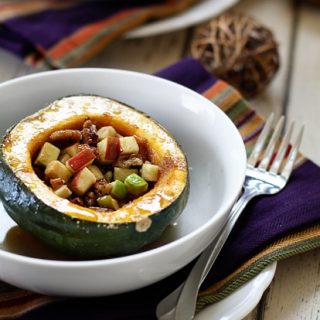 Apple Pecan Stuffed Squash
This Apple Pecan Stuffed Squash is a great healthy side dish to accompany your Thanksgiving meal.
Ingredients
2 acorn squash (about 1 1/2 lb. each), rinsed
1/2 cup apple cider
2 teaspoons canola or olive oil
1/2 cup chopped onion
1 Gala or Honeycrisp Apple (1/2 lb. total), cored and chopped
1 Golden Delicious or Granny Smith (1/2 lb. total), cored and chopped
1/4 cup golden raisins
1/4 cup dried cranberries
1/8 teaspoon cinnamon
1/2 teaspoon fresh minced sage
1/2 teaspoon fresh thyme
salt, to taste
1/4 cup chopped pecans
1/4 cup maple syrup
2 teaspoons brown sugar
optional add-in: 8 ounces cooked and crumbled turkey sausage
Instructions
Cut each squash in half; scoop out seeds. Place each half, cavity side down, in a 9- by 13-inch baking pan. Pour apple cider in the bottom of the pan, cover the pan with foil and bake in a 350° F oven until tender when pierced, about 45 minutes.
Meanwhile, heat 2 teaspoons canola or olive oil. Add onion, apples, golden raisins, cranberries, cinnamon, sage and thyme; stir often until apples are tender when pierced, 8 to 10 minutes. If desired, add 8 ounces cooked and crumbled turkey sausage. Season to taste with salt. Stir in pecans.
Uncover squash and turn halves upright. Brush edges and inside with the remaining apple cider in the bottom of the pan; fill equally with apple mixture. Drizzle equally with maple syrup. Sprinkle edges with brown sugar and bake, uncovered, until filling is slightly browned on top, about 15 minutes longer.
Notes
*I like to use different apple types and leave the skin on for extra color, but you do not have to do that. If desired, peel the apples.
Recommended Products
As an Amazon Associate and member of other affiliate programs, I earn from qualifying purchases.
Nutrition Information
Yield 8 Serving Size 1
Amount Per ServingCalories 235 Total Fat 7g Saturated Fat 1g Trans Fat 0g Unsaturated Fat 5g Cholesterol 26mg Sodium 268mg Carbohydrates 38g Net Carbohydrates 0g Fiber 5g Sugar 24g Sugar Alcohols 0g Protein 8g

GoodLifeEats.com offers recipe nutritional information as a courtesy and is an estimate only. This information comes from online calculators. Although GoodLifeEats.com makes every effort to provide accurate information, these figures are only estimates.