Chocolate Cupcakes with Raspberry Buttercream
I've got one last Valentine's Day recipe to share with you. Can you believe Cupid's day is in just a couple days? The kids and I have had so much fun making new recipes to share with you for this fun holiday. I just love hearts and treats and special meals.
Make sure you scroll all the way to the bottom of the post – I've got two sets of FREE Valentine printables for your downloading pleasure.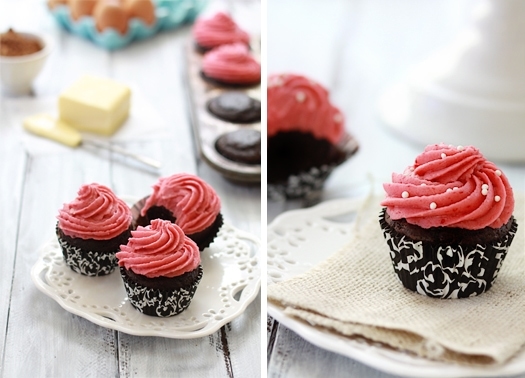 These Chocolate Sour Cream Cupcakes with Raspberry Cheesecake Buttercream (that's a mouthful, isn't it?) is our new favorite cupcake recipe. We've made them twice in the past couple of weeks and just had to share them with you.
The cupcake recipe makes about 30 cupcakes, so if you don't want that many, use this handy tip for how to measure partial eggs to make less, or make the whole batch and freeze some for later.
These chocolate cucpakes freeze well unfrosted in gallon sized Ziploc bags. It's always nice to discover something like this hanging out in the freezer a few weeks after you've made them. (related: Kitchen Tip: Cupcake Piping Tricks)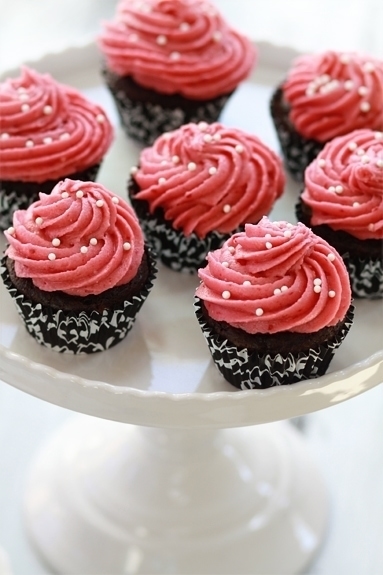 I'm actually really glad that Valentine's day falls on a Monday this year. Logan and Madeline are both at school that day and Eric picks them up on this way home. I will have the whole day to get things done at home, clean up the house and prepare something fun and delicious for dinner.
Eric and I will follow tradition and eat after the kids go to bed, but I think I'll be making Heart Shaped Personal Pan Pizzas for the kids.
Our Valentine's Day Menu:
Roasted Baby Potato Medley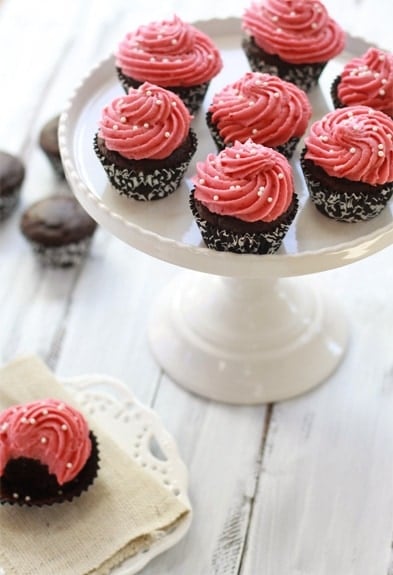 Other Valentine's Day Main Dish Ideas:
There's still a chance to enter the Le Creuset and Cuisinart Valentine's Day giveaways.
What is on your Valentine's day menu? Are you waiting to celebrate on Monday or did you celebrate over the weekend?
Chocolate Sour Cream Cupcakes with Raspberry Cheesecake Buttercream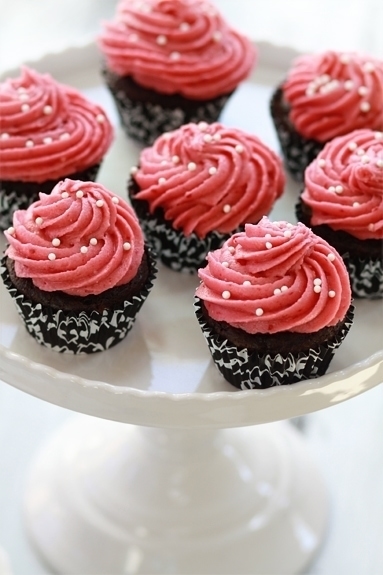 Ingredients:
For the Chocolate Cupcakes:
1/2 cup semi-sweet chocolate
1 cup all-purpose flour
1 1/2 cups cake flour
1 1/2 cup unsweetened cocoa powder
2 tsp baking soda
1 tsp baking powder
3/4 tsp salt
3 large eggs
1 1/2 cups sugar
3/4 cup butter, softened
1 cup sour cream
1 1/2 cup milk
1 vanilla bean, seeds only
Raspberry Cheesecake Buttercream:
3/4 cup (1 1/2 stick) butter, softened but not warm
1/2 cup (4 ounces) cream cheese, softened but not warm
4 - 5 cups powdered sugar, or until desired consistency is reached
4 ounces frozen (or fresh) raspberries, thawed, drained, and divided
1 vanilla bean (seeds only)
Directions:
For the Chocolate Cupcakes:
Preheat oven to 350F. Line muffin tins with cupcake cups or grease using nonstick cooking spray.
Melt the chocolate in the microwave, in 15 second intervals, making sure to stir in between. Set aside to cool down for a bit. Sift together flour, cocoa powder, baking soda, baking powder and salt. Set aside.
In a large bowl, beat the eggs and sugar for 5 minutes, until it is pale and thick. Add in the butter. Mix until combined. Add in the melted chocolate. Now, add in the sour cream and vanilla. Beat until well incorporated.
Add the flour mixture and milk in alternating increments and beat until smooth. Divide batter into the cupcake tins. This batter made about 30 cupcakes for me.
Bake for 18-25 minutes or until a toothpick comes out clean. Remove from oven and let cool.
For the Raspberry Cheesecake Buttercream:
Cream butter and cream cheese in electric mixer for 1-2 minutes until fluffy. Slowly add 1 cup sugar and beat until smooth. Add half of the raspberries and mix until combined. Add remaining powdered sugar, 1/2 cup at a time, and beat until well incorporated.
Add vanilla seeds and the remaining half of the raspberries and mix at medium-high speed until light and fluffy (2-3 minutes).
If needed, add more sugar as necessary to achieve proper consistency. Chill in the refrigerator for 30 minutes before frosting cupcakes if you'd like it to hold it's shape. Pipe or spread onto cooled cupcakes.
Free Printable Valentine's
I've got a couple fun, free printable Valentine's that the kids can have fun with. Print these out on white card-stock to use as classroom Valentine gifts for Monday parties. There are two sets: cards and bookmarks. Click on each to open the high-res set. Right Click>Save As to save to your computer and then print. Enjoy!
Valentine's Day Cards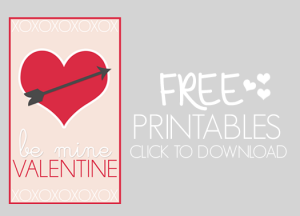 Valentine's Day Bookmarks
p.s. Thanks, Shaina, for the awesome quote!