To see how the rest of the Solar System Birthday Party turned out see my post on How-To: Create a Solar System Birthday Party. I've included our snacks, decoration ideas, and party favor bags on that post.
I dedicate this post to my sweet birthday boy. He probably never would have guessed in his wildest dreams that mommy would do a blog post about the solar system – his current love. But, here we go…Solar System Birthday Cupcakes.
Logan always likes to ask people what their favorite planet is. Most have never thought about it before and have to think for a bit before answering. I always tell him Earth is my favorite and he always asks why. I love this beautiful planet, especially now that I'm seeing a tiny evidence of the spring we will soon experience.
Though Mars may seem really cool with it's red color or Jupiter's size may amaze (Logan tells me that 1,300 Earths can fit inside Jupiter), I think I'll always be partial to Earth. Even with all the bad, annoying, crappy, unfair, and down right stupid things that happen here, there are so many positive things and people and beauty to make up for it if you keep your eyes open.
Happy 5th birthday, Logan! I'm so glad you are here on Earth with me. I love your cuddles and hugs and the way you say "Mom?…I love you." I can't believe you are growing up so fast and already don't like me to kiss you nearly as much as I want to. I hope you enjoy your Solar System birthday party and it's just as perfect as you could ever imagine.
p.s. I'm sorry I didn't include Pluto. I know that you know that Pluto is now a dwarf planet (as you would say – got fired), but I think you would have liked it anyway. I just couldn't find any good pictures on NASA's website. Probably because Pluto is about 2.7 billion miles from Earth, but you probably already know that too.
p.p.s. Do you think they have chocolate cupcakes on Saturn? These are downright delicious, so I don't think I could live on a planet that doesn't have them.
Get More Recipes via Email
Did you love this recipe? Sign up to receive Good Life Eats Email Updates and never miss another recipe!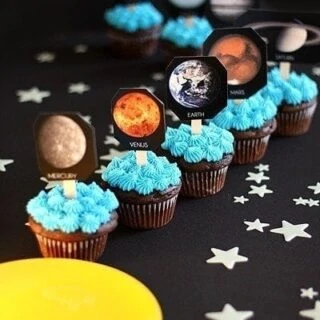 Chocolate Buttermilk Cupcakes with Vanilla Almond Frosting
Dark chocolate cupcakes made with buttermilk and topped with a tasty vanilla almond frosting!
Ingredients
For the Cupcakes:
1/2 cup semi-sweet chocolate
1 cup all-purpose flour
1 1/2 cups cake flour
1 1/2 cup unsweetened cocoa powder
2 tsp baking soda
1 tsp baking powder
3/4 tsp salt
3 large eggs
1 1/2 cups sugar
3/4 cup butter, softened
2 1/2 cups buttermilk
1 vanilla bean, seeds only
For the Buttercream:
1/2 cup (1 stick) butter, room temperature
3-3 1/2 cups confectioners' sugar
2 tablespoons milk
1/2 vanilla bean (seeds only)
1/2 teaspoon vanilla extract
1/8 teaspoon almond extract
food coloring (optional)
Instructions
For the Cupcakes:
Preheat oven to 350F. Line muffin tins with cupcake cups or grease using nonstick cooking spray.
Melt the chocolate in the microwave, in 15 second intervals, making sure to stir in between. Set aside to cool down for a bit. Sift together flour, cocoa powder, baking soda, baking powder and salt. Set aside.
In a large bowl, beat the eggs and sugar for 5 minutes, until it is pale and thick. Add in the butter. Mix until combined.
Add in the melted chocolate. Now, add in the buttermilk and vanilla. Beat until well incorporated.
Add the flour mixture in 3 increments and beat until smooth. Divide batter into the cupcake tins. This batter made 30 cupcakes for me.
Bake for 25 minutes or until a toothpick comes out clean. Remove from oven and let cool.
For the Buttercream:
Cream butter in electric mixer for 1-2 minutes until fluffy. Slowly add 1 cup sugar and beat until smooth.
Add milk and mix until combined.
Add remaining confectioners' sugar, 1/2 cup at a time, and beat until well incorporated.
Add vanilla seeds, extract, and food coloring, and mix at medium-high speed until light and fluffy (2-3 minutes). Add more cream or sugar as necessary to achieve proper consistency. Pipe or spread onto cooled cupcakes.
Note: You will need 2 batches of frosting for the number of cupcakes. I piped the frosting with a Wilton 32 tip in a disposable decorating bag.
Then I sprinkled with blue crystal sprinkles. These glow-in-the-dark stars are great for decorating the serving area.
Notes
Note 2: Yes, I realize now that I accidentally flipped Saturn and Jupiter in the picture. I am aware of the correct order of the planets, but I was hurrying to get these done before birthday boy got home from school and made a mistake.
cupcakes adapted from Chocolate Fool. Buttercream adapted from Love and Olive Oil.
Recommended Products
As an Amazon Associate and member of other affiliate programs, I earn from qualifying purchases.
Nutrition Information
Yield

30
Serving Size

1 cupcake
Amount Per Serving
Calories

316
Total Fat

7g
Saturated Fat

4g
Trans Fat

0g
Unsaturated Fat

2g
Cholesterol

32mg
Sodium

243mg
Carbohydrates

62g
Fiber

1g
Sugar

50g
Protein

3g
GoodLifeEats.com offers recipe nutritional information as a courtesy and is an estimate only. This information comes from online calculators. Although GoodLifeEats.com makes every effort to provide accurate information, these figures are only estimates.