Change up your Friday night pizza routine with this Barbecue Chicken Pizza. The crust is slathered in BBQ sauce and topped with sliced chicken, red onion, cilantro, and gouda cheese.
It's been quite a while since I've made homemade pizza for dinner. I was making it a lot in the summer and grilling it outside so the kitchen wouldn't get so hot.
Really, I should have been making pizza all winter because having the oven set to 550 degrees F sure warms the house nicely!
Unfortunately it's been so long that Logan has zero interest in trying a piece. We had been having it so regularly in the summer that he could manage to eat a few bites.
And now we're back to square one. I might have the only almost 5 year old who doesn't like pizza.
One thing I've learned as a mom of a picky kid is that his dislike of x, y, or z isn't going to stop me from enjoying it myself. In fact, I think that attitude will probably help him in some ways.
He'll see that we're still eating it despite his dislike of it, however unfounded that "dislike" is, since most times it's something he hasn't tasted. It's a very slow process, but I'm not going to let it stop me from enjoying what I love.
My husband and I
loved
this pizza. I had to make it twice to get the pictures since it still isn't quite light enough in the evenings to photograph food. (We liked it so much, it didn't even phase us eating it two nights in a row. And the house smelled
amazing
!)
Who wants to make pizza in the afternoon, photograph it, and then reheat it for dinner?
Not me. I want it fresh, hot out of the oven.
MORE HOMEMADE PIZZA RECIPES:
Are you looking for some more ideas for your next Friday Night Pizza Night Here are a few favorite recipes, or you can browse the recipe index for even more tasty ideas!
Definitely make sure you check out my tips for Totally Awesome Pizza at Home.
Three of my favorite things: Black Beans, Mexican, and Pizza all in one recipe. I knew from the start that Black Bean Mexican Pizza was going to be a quick favorite around here.
If you can't decide between Pizza Night and Taco Night, how about Taco Pizza?
A simple tomato, mozzarella, and basil pizza is taken up a notch in this Pizza Caprese with Garlic Focaccia Crust.
Caramelized Onion, Spinach and Bacon Pizza is perfect if you love bacon!
This Artichoke Spinach Pizza is a great meatless pizza recipe.
Supreme Veggie Pizza with Mozzarella and Feta is another popular recipe. This Vegetarian Pizza is loaded with bell peppers, olives, onions, and even more fresh veggies! The mixture of salty feta and creamy mozzarella really make this veggie pizza.
What is your favorite pizza recipe?
Love this recipe for Supreme Veggie Pizza with Mozzarella and Feta?
Sign up for Good Life Eats email updates and never miss another recipe!
Be sure to follow Good Life Eats on Instagram. Tag @goodlifeeats and include the hashtag #goodlifeeatsrecipes so I can see what you're cooking up in YOUR kitchen!
Let me know if you try this recipe for Barbecue Chicken Pizza and what you think of it by leaving a comment and star rating below.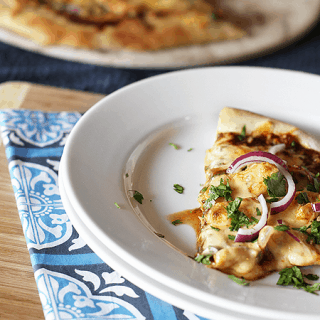 Barbecue Chicken Pizza
Inactive Time (preheat and dough rising):
2 hours
Total Time:
2 hours
35 minutes
Change up your Friday night pizza routine with this Barbecue Chicken Pizza. The crust is slathered in BBQ sauce and topped with sliced chicken, red onion, cilantro, and gouda cheese.
Ingredients
Pizza Dough
1/4 c warm water, about 110 degrees
1 1/8 teaspoon instant yeast
2/3 cup water, at room temp
2 tablespoons olive oil
2 c bread flour
1 teaspoon salt
1 teaspoon dried oregano
Pizza Toppings
2 boneless, skinless chicken breasts
1 bunch cilantro (leaves only), chopped
about 1/3 cup Sweet Mesquite barbecue sauce
10 ounces Gouda cheese, grated
1/2 cup red onion, very thinly sliced
Instructions
For the Pizza Dough
Measure warm water into a medium sized bowl or measuring cup (with at least a 1 c capacity).
Sprinkle the yeast over water and let stand 5 minutes. Add the room temperature water and oil and stir to combine.
Place the flour, salt, and oregano in the bowl of a standing mixer fitted with the paddle. Briefly combine the dry ingredients at low speed.
Slowly add the liquids and continue to mix on low until a cohesive mass forms.
Stop the mixer and replace the paddle with the dough hook. Knead until the dough is smooth and elastic, about 3-5 minutes.
Form dough into a ball and put in a deep oiled bowl, cover with plastic wrap.
Let rise for 1 1/2 – 2 hours, or until dough is doubled in bulk. Press the dough to deflate. On a flour dusted surface, roll dough out.
To Make the Barbecue Chicken Pizza
Place a pizza stone on the upper middle rack of your oven.
Preheat oven to 550 degrees F for at least 45 minutes before you intend to bake the pizza, this helps the stone get nice and hot.
If you have a pizza peel, flour that heavily, and assemble the pizza on that so you can transfer it to the pizza stone. If not, have everything ready to go, then remove the stone (carefully) and assemble the pizza directly on it before putting it back in the oven.
Slice the chicken into 2 inch strips. Season however you like. I like to season the chicken with salt, pepper, garlic powder, and paprika.
Saute in olive oil over medium high heat until cooked through and lightly browned. Set aside.
Spread a thin layer of barbecue sauce on top of the unbaked pizza crust, leaving about an inch border from the edge.
Sprinkle the onions and cilantro over the sauce, followed by the chicken and cheese.
Bake at 550 degrees F for 8-12 minutes, depending on how crispy you would like your crust.
Notes
For best results make sure you use a HOT oven. I crank mine up to 550 degrees F (as hot as it goes). Preheat the oven with the pizza stone for at least 30 minutes before cooking the pizza.
For more tips, check out my Tips for Totally Awesome Pizza at Home.
Recipe adapted from This Week for Dinner and Cook's Illustrated.


Nutrition Information
Yield

6
Serving Size

1
Amount Per Serving
Calories

349
Total Fat

20g
Saturated Fat

9g
Trans Fat

0g
Fiber

1g
Sugar

8g
Protein

26g