A lot of times in my cooking, I tend to get into a comfort zone and I don't like to venture outside of that. Actually, I am like this almost always when I eat. I order the same sandwiches at the same delis; the same flavor of pasta at this certain restaurant and so on. Why mess with a good thing right?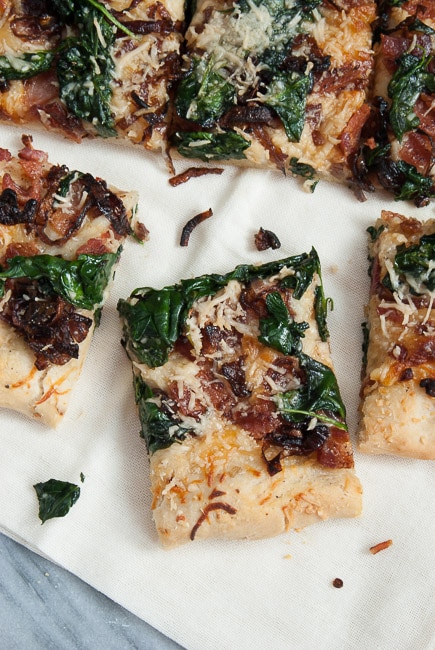 Written by: Carla of Carla's Confections Blog
I decided it was time to step outside of that zone though when making this pizza. My husband and I are die hard BBQ Chicken Pizza fans, and there isn't much you can do to get us out of that.
I was excited to make this Caramelized Onion, Spinach and Bacon Pizza – albeit hesitant – and although I enjoyed the process of making it, I was still nervous while it was all coming together. I just wasn't sure it would be able to live up to our all-time favorite.
Oh how I was wrong! This is now in our top TWO favorite pizzas! BBQ Chicken will probably always win, but this one only comes slightly behind it.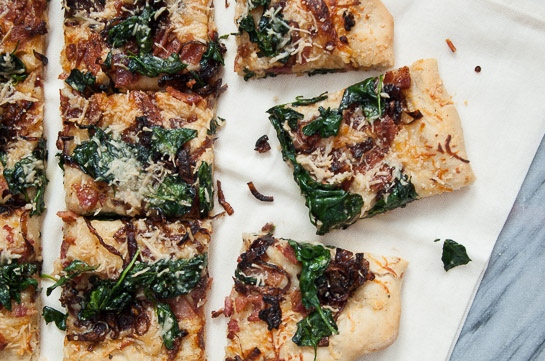 The sauce is a gravy consistency, which worried me a lot when making it, but the homemade dough just amazingly soaks that gravy up; just enough to make the pizza taste of the garlic-y gravy sauce, but not enough to make it soggy.
The sauce just ends up with this perfect crusty flavorful dough and then it is topped with deliciously caramelized red onions, crispy bacon pieces and spinach sautéed in nothing less than bacon grease.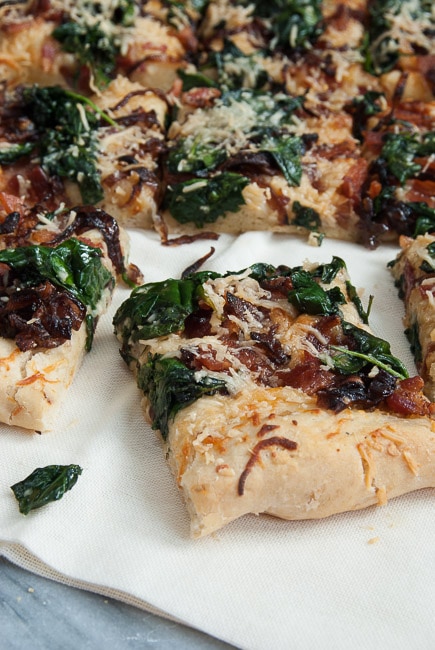 I mean, it just doesn't get much better than that. And that right there might be the exact reason why this pizza has made it into the hall of fame of our homemade pizzas.
It has also given me the confidence to step outside of my comfort zone with not only pizzas, but altogether in the kitchen. It was high time to expand my pizza palate, and now I am excited to get more creative with cooking other dishes too. I hope you enjoy this pizza as much as we do!
What is your favorite homemade pizza?
More Pizza Recipes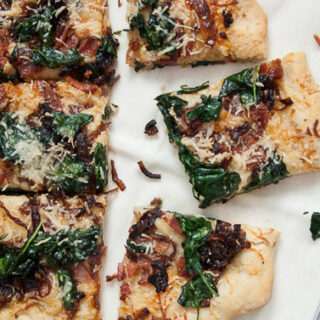 Caramelized Onion, Spinach and Bacon Pizza
Total Time:
1 hour
15 minutes
Delicious homemade pizza with the amazing flavors of a garlic cream sauce, caramelized red onions, crispy bacon and sauteed spinach.
Ingredients
2 1/2 cups all-purpose flour
1/2 tsp kosher salt
1 tsp garlic powder
1/2 tsp red pepper flakes (optional)
3 Tbsp olive oil, divided
1 cup hot water (not boiling)
1/4 tsp sugar
1 (1/4 oz) pkg instant yeast
5 pieces thick-cut bacon, reserving the grease after you cook
1 medium red onion, sliced
4 cups fresh baby spinach
2 large garlic cloves, finely chopped
3 Tbsp flour
freshly ground salt and pepper, to taste
1 cup milk (more if needed)
1/2 cup white wine
4 oz shredded mozzarella cheese
2 oz shredded Parmesan cheese
Instructions
Start out by making the dough. Add the hot water, 1/4 tsp sugar and instant yeast to a measuring bowl and stir together. Allow to sit 5-10 minutes to allow to combine, until the yeast forms a "head" on the surface. Meanwhile, in the bowl of a stand mixer, combine 2 1/2 cups flour, 1/2 tsp kosher salt, red pepper flakes if using, garlic powder and 1 Tbsp olive oil and whisk together.
Once the head has formed in the yeast mixture, turn the mixer speed to LOW, and with the beater attached, slowly add in the yeast and water mixture until it is fully combined and dough is starting to form. If needed, remove from bowl, and lightly knead the dough together to form a round ball. If dough is too sticky, add more flour and knead in. Once desired consistency is reached, place in a lightly oiled bowl, cover with plastic wrap and a tea towel and place in a warm area to rise until at least doubled in size. Make the toppings for the pizza while you wait.
In a medium-sized skillet, over medium heat, slowly cook the red onion with 1 Tbsp olive oil, stirring occasionally until the onions have shrunk and become dark golden brown and slightly crispy. This could take 35-45 minutes.
Preheat oven to 425°F.
In a large skillet, cook the bacon over medium-high heat until crispy. Reserve the bacon fat, leaving some in the skillet, and removing roughly 2 Tbsp worth and set aside in a small bowl. Set bacon aside and chop into smaller pieces once cooled down.
In the same skillet as the bacon was cooked in, add in the fresh spinach. Cook over medium heat until spinach is wilted, but not crispy. This should only take 5-7 minutes. Remove, place in a bowl and set aside.
In the same skillet as the bacon and spinach, add in the reserved bacon grease from earlier, along with 1 Tbsp olive oil and chopped garlic. Cook for a minute over medium-high heat, add in the flour, stirring well, and slowly add in the milk, stirring constantly until it is well mixed. Finally, add in the wine and salt and pepper and cook until sauce thickens. If needed, add in more milk or wine to dilute the sauce slightly if too thick. Turn heat off.
Once the sauce is done and pizza dough has risen, lightly flour a flat surface, remove dough from bowl and roll out to desired pizza size. Spray a pizza or cookie sheet with non-stick spray (or use your prepared pizza stone) and place the pizza dough on top.
Spoon some of the sauce over the pizza dough. We didn't use the entire amount of the sauce, but feel free to use as much as you need or want. Top with Mozzarella cheese, Parmesan cheese, caramelized onions and bacon and cook 15 minutes in preheated oven.
After the 15 minutes of cooking, carefully take the pizza out, and top with the wilted spinach, and place back in the oven for the remaining 10 minutes, or as long as is needed to crisp up the pizza until the crust is golden brown and the cheese is bubbling.
Remove, let cool slightly and slice into desired amount of pieces.
Notes
You can reheat pizza easily by preheating the oven to 275°F and place on a cookie sheet in the oven until warmed to desired temperature. This prevents the pizza from getting soggy.
Recommended Products
As an Amazon Associate and member of other affiliate programs, I earn from qualifying purchases.
Nutrition Information
Yield

4
Serving Size

1
Amount Per Serving
Calories

693
Total Fat

27g
Saturated Fat

10g
Trans Fat

0g
Unsaturated Fat

16g
Cholesterol

48mg
Sodium

1114mg
Carbohydrates

76g
Fiber

4g
Sugar

3g
Protein

30g
GoodLifeEats.com offers recipe nutritional information as a courtesy and is an estimate only. This information comes from online calculators. Although GoodLifeEats.com makes every effort to provide accurate information, these figures are only estimates.