I don't know a single person (besides Logan – because he's Mr. Particular) that doesn't enjoy biting into a big slice of pizza. Pizza seems like universal comfort food, yet it's often tricky to make it just right at home.
With these five easy tips you can improve your homemade pizza making skills. In no time at all you'll be whipping up your own delicious pizza at home faster than it would take to pick up a pizza for takeout.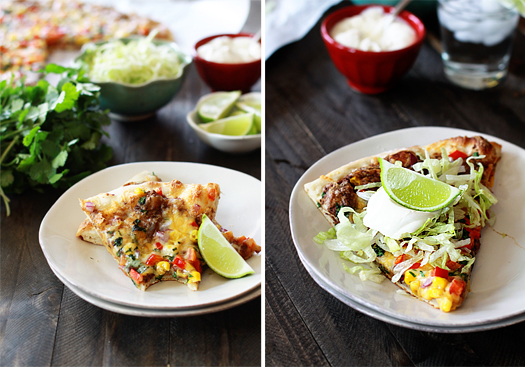 5 Tips for Totally Awesome Pizza at Home
1. Use a HOT oven. I crank mine up to 550 degrees F (as hot as it goes).
2. Let the oven preheat for at least 35 minutes. You want it really, hot and evenly hot. Especially if you're using a pizza stone, (see #3)
3. Don't bother with a pizza pan, cook the pizza right on a hot baking stone. The hot, hot stone is essential for the crispy on the bottom crust without the whole crust being crunchy.
4. Use a pizza peel – or fake it! – to transfer the pizza to the stone. I don't have a pizza peel, so I fake it.
First, I roll the crust out on a lightly floured sheet of parchment paper.
Then I transfer the parchment to a pizza pan (which I don't use for the actual baking).
To get the pizza in the oven, slide the pizza (with the parchment) off of the pan and onto the baking stone.
5. Use Artisan Bread in Five Minutes a day Master Boule dough recipe for your crust. This is the best pizza crust I've made, with Cook's Illustrated's recipe coming in at close second. Why?
With Artisan Bread in Five Minutes a day you won't have to wait 2 hours for the dough to rise before you can assemble your pizza. In fact, you'll have the dough already ready in your refrigerator whenever the mood for pizza strikes.
It'll take you less time than ordering and picking up take out pizza.
Get the Master Boule Dough Recipe or purchase a copy of Artisan Bread in Five Minutes a Day
Amazing Pizza Recipes for your Inspiration:
Do you have any tips for making great pizza at home?