Molasses and Ginger Granola Bars
I have never made homemade granola bars. I thought it was time to change that. They looked pretty simple and it's always nice to have a semi-healthy sweet on hand for a snack or to grab on my way out to take the kids to school if I don't have time to eat breakfast beforehand.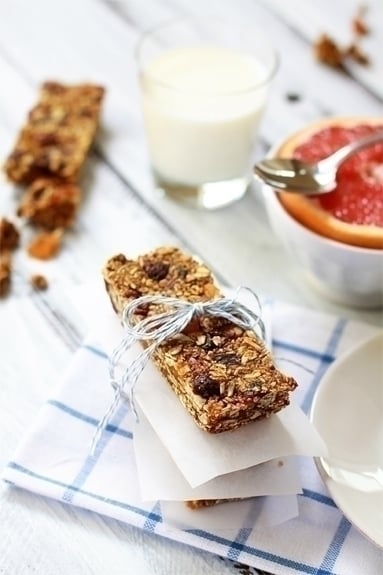 Then I had the idea to make gingerbread inspired granola bars. Instead of honey as the sweetener as is used in many recipes I substituted molasses and maple syrup and used plenty of ginger and other gingerbread inspired spices.
I can't wait to try flavor combos using this easy formula. Next time I'll make a double batch in a 9×13 inch baking pan. They store well in the freezer for up to a month. The recipe for the Molasses and Ginger Granola Bars is below, just keep scrolling.
Print This

5 Ingredients To Create Your Own Chewy Granola Bars

1. Rolled Grains (i.e. oats): 2 1/2 cups total

You'll probably want to use oats for the bulk, but you can use a combination of several different grains. Other ideas include: rye and barley flakes.
When using oatmeal, be sure to use old fashioned or rolled oats – NOT quick cook oats.

2. Nuts, Seeds, & Spices: 1 cup total Nuts & Seeds, Spices per your discretion.

Use 1 cup of your favorite nut or a combination of several different nuts.
Nuts are a good source of protein, fiber and the good fats (omegas). Because they're calorie dense, they will help fill you up.
Accent your bars with cinnamon, nutmeg, allspice, or another favorite spice. Or, simply omit.

3. Sticky Sweetener: 1/3 + 1/4 cup

For something sweet you'll need a sticky sweetener, such as honey, agave, molasses, maple syrup, etc. Sweetener adds moisture and flavor.
Use the full amount as one sweetener, or mix up the flavors.

4. Dried Fruits: 1 cup total

Fruits are what I most look forward to experimenting with. You can change the flavor of the bar so easily with different fruits.
Fun combinations: triple berry, apple cranberry, pineapple mango

5. Binder: 1 cup total

This is what will hold the bars together and keep them chewy without over drying.
These Molasses and Ginger Granola Bars use pureed dates, but get creative. Prunes, Apple Butter, and Almond Butter would be great choices too.
Just make sure you use something that has a thick consistency that will also add moisture.

Print This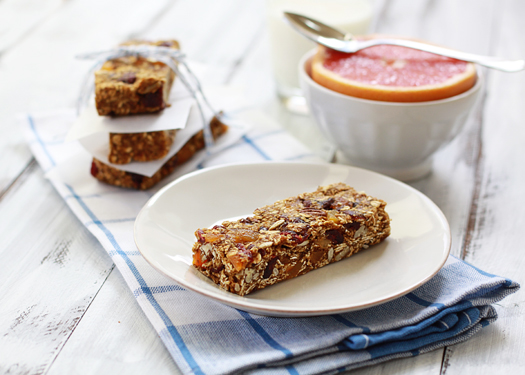 I am hoping that the kids will be game for eating these homemade granola bars as well since they are so simple to make. I think they'd make a perfect afternoon snack paired with apple slices, or another fruit.
These soft and chewy granola bars really hit the spot for me when I was in need of a little bit of a sweet fix.
Molasses and Ginger Granola Bars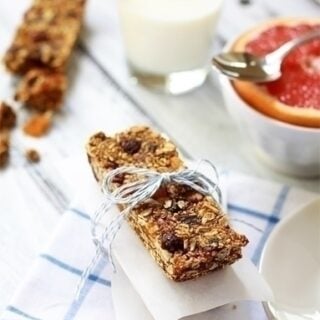 Ingredients:
2 1/2 cup old-fashioned rolled oats (not quick cook)
1 teaspoon cinnamon
1-2 teaspoons ground ginger
1/4 teaspoon salt
1/4 teaspoon nutmeg
1/8 teaspoon cloves
1/3 cup molasses
1/4 cup maple syrup
3/4 teaspoon vanilla extract
1 cup Medjool dates, pitted
2/3 cup chopped pecans
1/3 cup unsalted sunflower seeds
1/2 cup chopped dried apricots
1/2 cup dried cranberries
Directions:
In a full sized food processor, combine the molasses, maple syrup, vanilla, and dates. Pulse three times. Add the cinnamon, ginger, salt, nutmeg, and cloves. Puree until mixture is smooth. Add the oats and pulse until the oats are coarsely chopped.
Remove the oat mixture from the food processor and transfer to a medium bowl, taking care to scrape the edges of the food processor to remove all of the mixture. Stir in the cranberries, pecans, apricots, and sunflower seeds until well mixed.
Line an 8x8 baking pan with parchment paper (Kitchen Tip: Lining Pans with Parchment). Press the oat mixture into the baking pan until the mixture is evenly distributed throughout the pan and tightly packed.
Bake at 325 degrees F for 25 minutes. Remove from oven, cool in the freezer until the bars are firm. Lift the parchment paper out of the pan, remove, and cut into 8-12 bars.
Store bars in an airtight container for up to a week. Bars may be frozen for up to a month and thawed as needed.