This Caprese Pizza recipe is made with a focaccia bread crust and is topped with fresh basil, tomatoes, and mozzarella. Fresh, flavorful, and so easy!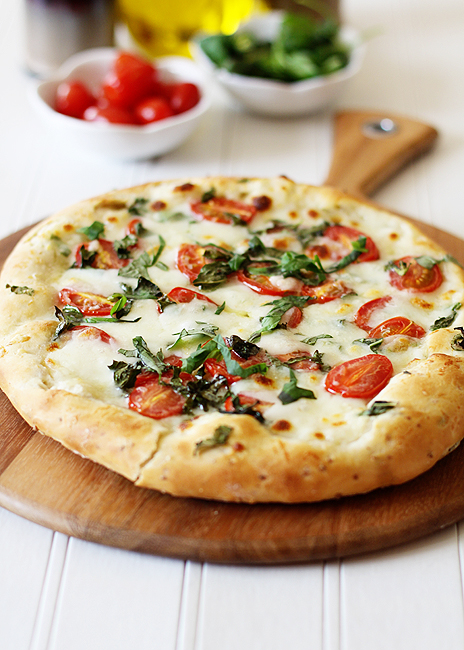 This post may include affiliate links. As an Amazon Associate and member of other affiliate programs, I earn a small commission from qualifying purchases.
Creating This Caprese Pizza with Focaccia Crust
I have been struggling to make a pizza crust at home that I really, really love. There has been a definite improvement since purchasing a pizza stone, preheating the oven for at least a half an hour before I bake the pizza, and using the highest possible temperature my oven sets to.
Yet still I was not 100% satisfied. Somehow the idea came to me to create a recipe for a focaccia pizza crust. Using this recipe base, I made a few adaptations and tested my new idea out.
My friends, I know this is not a traditional pizza crust by any means. But I think it is my new favorite recipe. It crisps up on the bottom and on the edges so nicely, yet it is still tender inside.
And it doesn't turn out hard-crunchy like some have in the past. The focaccia pizza dough bakes up thick, but fluffy.
What is Caprese Pizza?
Caprese, or Insalata Caprese, is an Italian salad featuring the colors of the country's flag – green, white, and red. It is believed that the salad recipe originated on the Island of Capri and it is commonly believed that the salad was created as an homage to the Italian flag.
Caprese traditionally features fresh basil, fresh mozzarella, and delicious ripe tomatoes. Often, you'll see it served with a drizzle of extra virgin olive oil and some balsamic vinegar.
I created this caprese pizza recipe inspired by this classic (and delicious) Italian salad.
Tools Used to Make this Caprese Pizza
Here are a few tools that you'll find helpful when preparing this healthy pizza recipe:
Pizza Stone – Putting a pizza stone in the oven or on the grill helps the bottom of the focaccia crust get nice and crispy.
Rolling Pin – A rolling pin works well for shaping the focaccia dough.
Cutting Board and Knives – You'll need a cutting board and sharp knives to cut the tomatoes and basil.
Pizza Peel – Transferring the pizza to and from the oven is a lot easier with a pizza peel.
Pizza Cutter – Pizza cutters are helpful for slicing the pizza after it cooks.
Pizza Caprese Ingredients
This recipe has two parts: the focaccia pizza dough and the pizza caprese toppings. Here's what you'll need for both:
Active Dry Yeast
All-Purpose Flour
Olive Oil
Fresh Rosemary
Salt
Fresh Garlic Cloves
Fresh Mozzarella Cheese
Asiago Cheese or Parmesan Cheese
Fresh Basil Leaves
Fresh

Tomatoes

Balsamic Vinegar or Balsamic Glaze for serving
For the complete ingredient list and detailed instructions, scroll to the bottom of this post for the FREE printable recipe card.
What Are the Best Tomatoes to Use in Easy Caprese Pizza?
Because this recipe for Homemade Caprese Pizza has such simple ingredients, you'll want to make sure that you use fresh ingredients.
Ripe tomatoes are super important, but beyond that the variety is up to you – roma tomatoes, cherry tomatoes, heirloom tomatoes, or a mix of varieties for a pop of color. I do, however, recommend using varieties that don't have a lot of seeds and are very "meaty" rather than watery.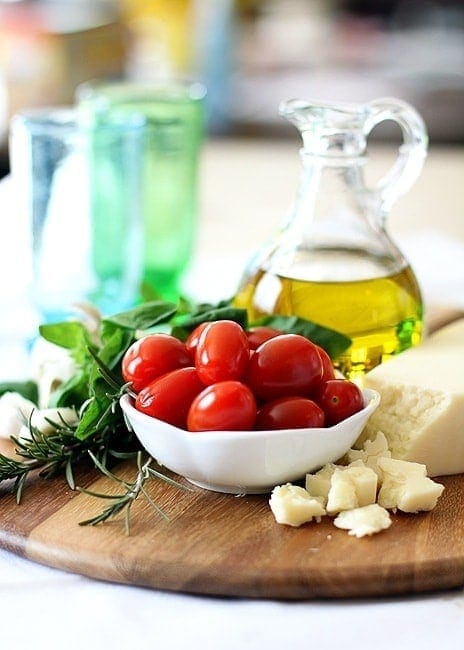 How to Make Pizza Caprese
Here's a quick overview of the pizza making process:
Making Fresh Pizza Dough
In this pizza recipe, I use a focaccia dough, instead of traditional homemade pizza dough for a fun twist on the classic caprese pizza
First, make the focaccia pizza dough: I've given step-by-step instructions on how the focaccia pizza crust comes together.
Make the dough as instructed, then let it rise 50 minutes at room temperature.
Assembling the Pizza
Then, assemble the pizza: Turn the pizza dough out onto a floured surface and knead until smooth and elastic.
Preheat oven to 550 degrees F with a pizza stone on a rack in the top half of the oven.
After the dough has risen, divide it into quarters. Then, roll each portion out into rounds just under 1/2 an inch thick.
After that, brush each crust all over with olive oil
Next, add the asiago or parmesan on the pizza and top with a handful of sliced fresh basil and halved grape tomatoes. After that, top with chunks of fresh mozzarella.
Then, transfer pizza to the pizza stone in the oven. Bake for 9-12 minutes.
Lastly, serve with a drizzle of balsamic glaze on top of the pizza
For this recipe, I divided the dough into 4 small pizzas, approximately 9 or so inches in diameter, that serve two perfectly with a side salad or fruit (or dessert afterward, as was our case).
If you choose, you could make 2 medium-large sized pizzas instead. Whatever you choose, I'm sure it will be great!
The above is simply a quick summary of this recipe. Check out the full recipe in the free printable recipe card at the bottom of this post for all the detailed instructions.
Tips for Making this Homemade Caprese Pizza Recipe
When making the pizza dough – A large bowl works best so you have plenty of room as the dough rises. Oiling the bowl first helps the dough not stick. Cover with a damp towel or plastic wrap to prevent it from drying out.
If using larger tomatoes – it is best to slice thin tomato slices rather than cutting them in half as I do when using grape tomatoes.
Recipe Substitutions
The variations for this focaccia pizza recipe are only limited by your imagination!
Rosemary: You can easily switch out the rosemary in the crust for another herb or leave it out all together.
Olive oil: Try using homemade marinara sauce instead of olive oil on the crust.
Tomatoes and basil: Try experimenting with different toppings.
Pizza Crust: if you prefer regular homemade pizza dough, you can use that instead. Here is a pizza crust recipe we like.
Adding Meat: ground Italian sausage or Prosciutto taste great added to this easy caprese pizza recipe.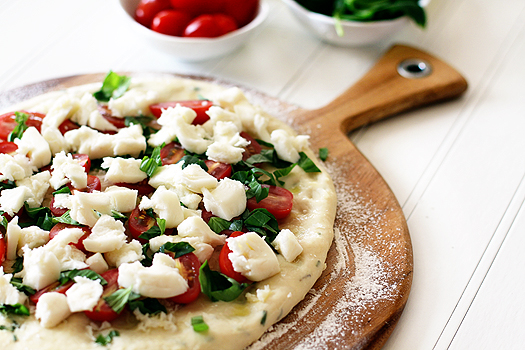 What to Serve with Pizza Caprese
I normally keep things simple by serving this focaccia bread pizza with a side salad. The fresh flavors taste best with this delicious dinner. Here are a few of our favorite salad recipes:
Do you love Olive Garden's famous house salad? Learn how simple this Copycat Olive Garden Salad Recipe is to make at home so you can enjoy your favorite flavors without the cost of eating out! Includes a homemade version of Olive Garden Dressing, too.
This Italian Mixed Greens Salad is the perfect salad to pair with homemade pizza night! A mix of arugula, radicchio and baby kale is tossed with a simple lemon Dijon vinaigrette and topped with crispy prosciutto and fresh shaved parmesan.
This Zucchini Tomato Basil Salad with Lemon Basil Vinaigrette is a light and refreshing summertime salad and perfect when your garden is exploding with tomatoes, basil, and zucchini in the later summer months. And, since it's a raw zucchini salad, you won't have to turn the oven on those hot summer days.
Your salad doesn't have to be fancy at all. We often use mixed greens, lettuce, cucumber, shredded carrot, and tomato for a basic side salad. Check out these 3 Simple Salad Dressing Recipes to go along with your salad.
If salad isn't your thing, try this easy recipe for Roasted Broccoli for a vegetable side dish.
How to Store Leftover Caprese Pizza
Leftover pizza caprese is best stored cut in slices in an airtight container in the refrigerator. If you have to place multiple layers of pizza slices in your container, it works best to place a layer of parchment paper between slices so they don't stick together.
Reheating Leftover Caprese Pizza
For this recipe, you can reheat the leftovers in the oven at 275°F. Place slices on a baking sheet in the oven until it is reheated to your liking.
I also like to use a small stone toaster oven pan in my toaster oven to reheat leftover pizza. It warms the pizza up and re-crisps the crust nicely and is ideal when you're heating only a slice or two at a time.
Try this Homemade Caprese Pizza Recipe!
Next time you're looking for a new dinner idea, give this Caprese Pizza a try! Did you think it was the best pizza night? Leave a comment below and give it a review for others to see what you thought of this easy homemade pizza.
On Instagram? Share your photo and tag me with @goodlifeeats and #goodlifeeatsrecipes. I'd love to see your photo of your caprese pizzas!
More Easy Homemade Pizza Recipes:
Asparagus Prosciutto Puff Pastry Pizzas might sound fancy but they are super simple to prepare and packed with the flavors of fresh asparagus, prosciutto, sun dried tomatoes, ricotta, and parmesan.
Mini Jalapeño Popper Pretzel Pizzas feature, you got it, a pretzel crust pizza covered in all your favorite jalapeño popper flavors!
This Taco Pizza is a baked pizza version of your favorite Mexican food. You won't regret this dinner!
This delicious homemade Caramelized Onion, Spinach, and Bacon Pizza has the amazing flavors of a garlic cream sauce, caramelized red onions, crispy bacon and sautéed spinach.
This Homemade Mexican Pizza features a homemade crust, a spiced black bean spread, and tons of veggie toppings. Perfect as a quick dinner or game day snack!
Don't see what you're looking for here? You can always head over to check out the recipe index to look for more recipes.
Get More Recipes via Email
Did you love this recipe? Sign up to receive Good Life Eats Email Updates and never miss another recipe!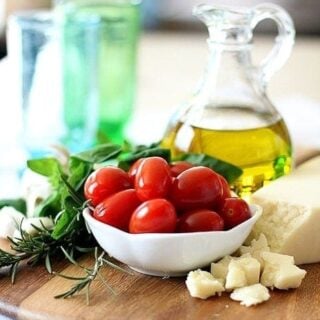 Pizza Caprese with Garlic Focaccia Crust
Proofing Time:
1 hour
30 minutes
Focaccia bread is a wonderful side to any meal, but add your favorite toppings to this garlic focaccia and you have the best pizza I've tasted!
Ingredients
For the Crust:
2 packages active dry yeast
2 c warm water
6 c flour, divided
1/2 c olive oil
1/4 c chopped fresh rosemary
3 tsp salt
8 cloves chopped garlic
Toppings:
Olive oil
Asiago Cheese
Fresh Basil, sliced thin
1 1/2 cups cherry or grape tomatoes, halved
Fresh Mozzarella
Instructions
Combine yeast and water; let stand 5 minutes. Whisk in the olive oil and salt. Stir 4 c flour, garlic, and rosemary in a large bowl; make a well in the center. Add yeast mixture; stir until a soft dough forms. Cover and let rise in a warm place for 50 minutes. Dough will be spongy.
Sprinkle remaining 2 c flour onto a flat surface. Turn dough out onto floured surface, and knead until flour is incorporated into dough. Knead until smooth and elastic, about 5 minutes.
Preheat oven to 550 degrees F with a pizza stone on a rack in the top 1/2 of the oven. Return to the bowl, cover, and let rise in a warm place for 35 minutes.
Divide dough into quarters. On a floured surface (I like to use a pizza peel or a sheet of parchment so I can easily transfer the pizza to the stone in the oven).
Roll each portion out into rounds just under 1/2 an inch thick. Using fingertips dimple the dough all over.
Brush each crust with 1 tablespoon olive oil all over. Grate 2 tablespoons of asiago on each pizza. Top with a handful of sliced fresh basil and halved cherry or grape tomatoes. Top with chunks of fresh mozzarella.
Transfer pizza to the pizza stone in the oven.
Bake at 550 degrees F for 9-12 minutes. Serve immediately.
Notes
If you don't intend to use the full amount of dough, divide it after the second rise and place the extra in a gallon-sized zip top bag in the refrigerator. Use the dough within 48 hours. Punch it down and proceed with forming the crust rounds.
Adapted from Rosemary Focaccia Bread
For this recipe, I divided the dough into 4 small pizzas, approximately 9 or so inches in diameter, that serve two perfectly with a side salad or fruit (or dessert afterward as was our case). If you choose, you could make 2 medium-large sized pizzas instead.
Recommended Products
As an Amazon Associate and member of other affiliate programs, I earn from qualifying purchases.
Nutrition Information
Yield

8
Serving Size

1
Amount Per Serving
Calories

526
Total Fat

18g
Saturated Fat

3g
Trans Fat

0g
Unsaturated Fat

14g
Cholesterol

5mg
Sodium

950mg
Carbohydrates

78g
Fiber

4g
Sugar

4g
Protein

12g
GoodLifeEats.com offers recipe nutritional information as a courtesy and is an estimate only. This information comes from online calculators. Although GoodLifeEats.com makes every effort to provide accurate information, these figures are only estimates.