Pizza Caprese with Garlic Focaccia Crust
I have been struggling to make a pizza crust at home that I really, really love. I've seen a definite improvement since purchasing a pizza stone, preheating the oven for at least a half an hour before I bake the pizza, and using the highest possible temperature my oven sets to. Yet still I was not 100% satisfied. Somehow the idea came to me to create a recipe for a focaccia pizza crust. Using this recipe base, I made a few adaptations and tested my new idea out.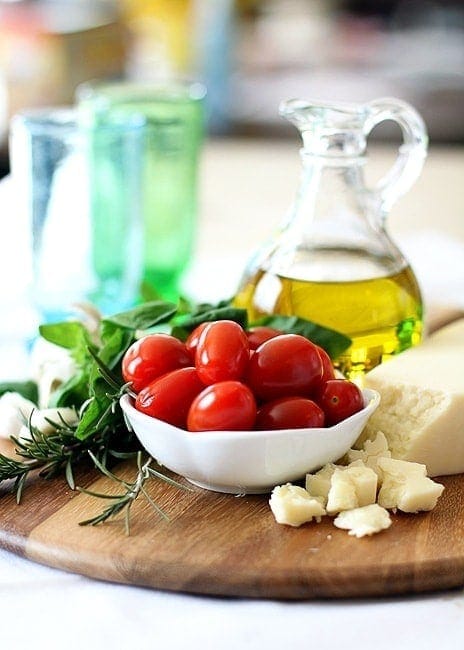 My friends, I know this is not a traditional pizza crust by any means. But I think it is my new favorite recipe. It crisps up on the bottom and on the edges so nicely, yet it is still tender inside. And it doesn't turn out hard-crunchy like some have in the past. It's thick, but fluffy. And I see possibilities for so many different flavor combination. This warm weather we've been enjoying has given me the itch for garden tomatoes. I just planted my tiny plants last week, but I am already anxious to start enjoying them regularly, so for this reason I chose a simple tomato and basil topping combination.
You can easily switch out the rosemary in the crust for another herb. Use a sauce instead of olive oil on the crust. Experiment with different toppings. The variations are only limited by your imagination. For this recipe, I divided the dough into 4 small pizzas, approximately 9 or so inches in diameter, that serve two perfectly with a side salad or fruit (or dessert afterward as was our case). If you choose, you could make 2 medium-large sized pizzas instead. Whatever you choose, I'm sure it will be great!
Pizza Caprese with Garlic Focaccia Crust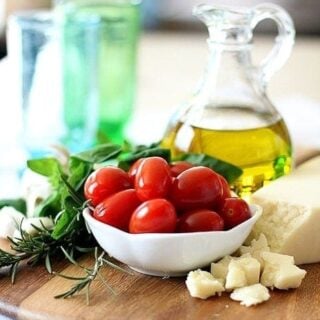 Ingredients:
For the Crust:
2 packages active dry yeast
2 c warm water
6 c flour, divided
1/2 c olive oil
1/4 c chopped fresh rosemary
3 tsp salt
8 cloves chopped garlic
Toppings:
Olive oil
Asiago Cheese
Fresh Basil, sliced thin
1 1/2 cups cherry or grape tomatoes, halved
Fresh Mozzarella
Directions:
Combine yeast and water; let stand 5 minutes. Whisk in the olive oil and salt. Stir 4 c flour, garlic, and rosemary in a large bowl; make a well in the center. Add yeast mixture; stir until a soft dough forms. Cover and let rise in a warm place for 50 minutes. Dough will be spongy.
Sprinkle remaining 2 c flour onto a flat surface. Turn dough out onto floured surface, and knead until flour flour is incorporated into dough. Knead until smooth and elastic, about 5 minutes.
Preheat oven to 550 degrees F with a pizza stone on a rack in the top 1/2 of the oven. Return to the bowl, cover, and let rise in a warm place for 35 minutes.
Divide dough into quarters. On a floured surface (I like to use a pizza peel or a sheet of parchment so I can easily transfer the pizza to the stone in the oven). Roll each portion out into rounds just under 1/2 an inch thick. Using fingertips dimple the dough all over.
Brush each crust with 1 tablespoon olive oil all over. Grate 2 tablespoons of asiago on each pizza. Top with a handful of sliced fresh basil and halved cherry or grape tomatoes. Top with chunks of fresh mozzarella.
Transfer pizza to the pizza stone in the oven. Bake at 550 degrees F for 9-12 minutes. Serve immediately.
Note: If you don't intend to use the full amount of dough, divide it after the second rise and place the extra in a gallon sized zip top bag in the refrigerator. Use the dough within 48 hours. Punch it down and proceed with forming the crust rounds.