Mini Jalapeño Popper Pretzel Pizzas feature, you got it, pretzel crust pizza, covered in all your favorite jalapeño popper flavors: bacon, pepper jack cheese, cheddar cheese, cream cheese, and a little poblano and red onion for extra color and flavor.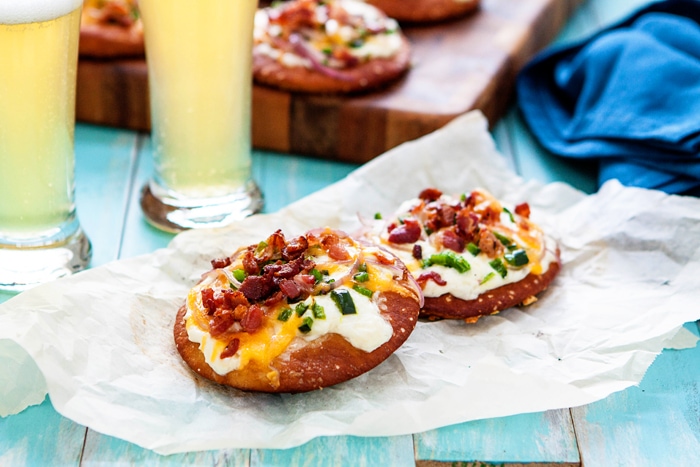 Who doesn't love pretzels, pizza, jalapeños, and bacon? I definitely don't know many people who wouldn't say YES to all four of those things. Why not combine them into one delicious, fun pizza?
We love to make homemade pizza in our house, and this was a super fun recipe to experiment with, inspired by one of my all-time favorite Mac n Cheese recipes – Jalapeño Bacon Mac n Cheese.
I have never tried to make a pretzel crust pizza at home before, but it was definitely something I wanted to give a try. I'm so glad I did, because it actually wasn't that hard to do, and it make a big difference in terms of flavor.
You can top Pretzel Pizza Crust with anything you like, the method for cooking the crust will be exactly the same. So, if you prefer pepperoni or mushrooms and olives, or even something completely different and unique, feel free to give those toppings a try as well.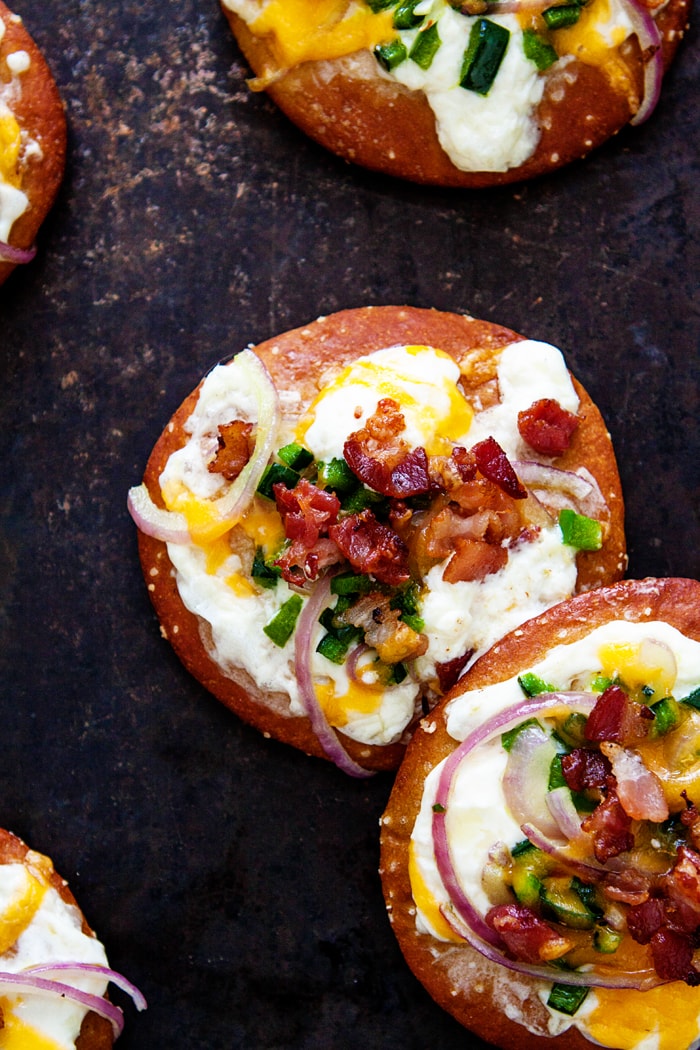 I kept these pizzas mini sized for a couple reasons – I thought the smaller size was much easier to work with when it came to the pretzel part of the preparation and because I thought they'd make a great appetizer or snack for a party at this size.
To learn how easy it is to turn a regular pizza crust into a pretzel pizza crust, head over to Good Cook to find the recipe for these tasty Mini Jalapeño Popper Pretzel Pizzas.
More Yummy Pizza Recipes to Try
Bacon Blue Cheese Grilled Flatbread with Arugula is one of my favorite grown up pizzas to make when my kids aren't around.
This Artichoke Spinach Pizza with White Beans is another great recipe to try when you are feeling like something untraditional and maybe a teeny bit healthy.
Learn some of my favorite tips and tricks for making Totally Awesome Pizza at Home.
Black Bean Mexican Pizza is fun to make when you can't decide if you want pizza or Mexican.
Barbecue Chicken Pizza is an oldie but a goodie. It features yummy barbecue sauce with chicken, gouda, cilantro, and red onions.
Have you ever made a pretzel crust pizza?