This Vegetarian Pizza is loaded with fresh vegetables like bell peppers, mushrooms, tomatoes, onions, and more! Pizza with veggies is a great way to use up your favorite vegetables. The mixture of salty feta and creamy mozzarella really make this easy veggie pizza recipe.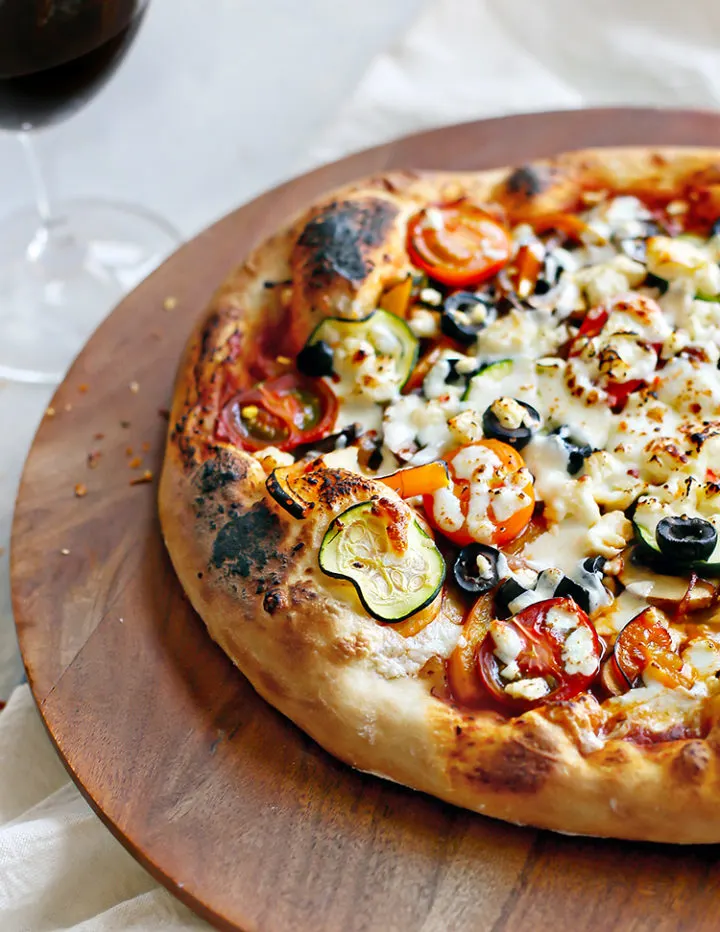 Save this recipe for Supreme Veggie Pizza with Mozzarella and Feta to Pinterest!
Creating This Veggie Pizza Recipe
We had this Supreme Vegetarian Pizza with Mozzarella and Feta for our Friday Night Pizza a few weeks ago.
It was so good. I've quickly become a big fan of pizza on the grill and pizza night in general. I love the flavor of grilled pizza. It cooks so fast and the crust gets that great chewy/crunchy texture.
Having Friday set aside as "pizza night" makes things easy for me. It's either a night off, or the only things I have to come up with are the toppings.
Coming up with the toppings has proved to be fun because it gives me a chance to be creative with a food that is familiar for the kids.
This recipe for Supreme Veggie Pizza with Mozzarella and Feta was my latest experiment.
If they (mostly Logan) don't like the toppings, it's easy enough to leave a part with just cheese.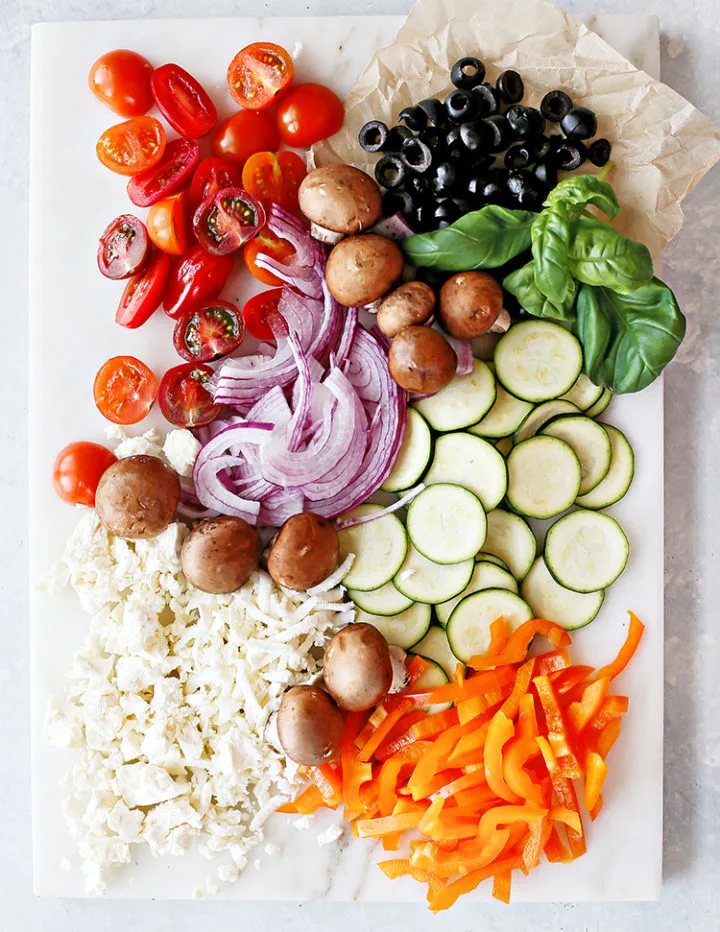 Veggie Toppings for Pizza from the Garden
Quite a few of the ingredients for this pizza are growing in our garden. I can't wait for garden fresh pizza this summer when everything is ripe and ready to pick.
We have 9 tomato plants I'm also growing 3 basil plants, 5 bell peppers (2 yellow, 2 red, and 1 mystery), and a zucchini. It is going to be quite the bounty if all goes well, and that's not even everything!
I'm hoping that the garden experience will be a positive one for Logan. Maybe by the end of the summer he will be able to eat this Supreme Veggie Pizza with Mozzarella and Feta.
He's already been picking a few strawberries for himself as they ripen, and that was something he didn't eat before.
Tools Used to Make this Easy Recipe for Vegetarian Pizza
Here are a few tools that you'll find helpful when preparing this healthy pizza recipe:
Pizza Stone – Putting a pizza stone in the oven or on the grill helps the bottom of the crust get nice and crispy.
Rolling Pin – A rolling pin works well for shaping the pizza dough.
Cutting Board and Knives – You'll need a cutting board and sharp knives to cut all of the vegetables.
Pizza Peel – A pizza peel is helpful to transfer the pizza to the oven after assembling it.
Pizza Cutter – Pizza cutters are helpful for slicing the pizza after it cooks.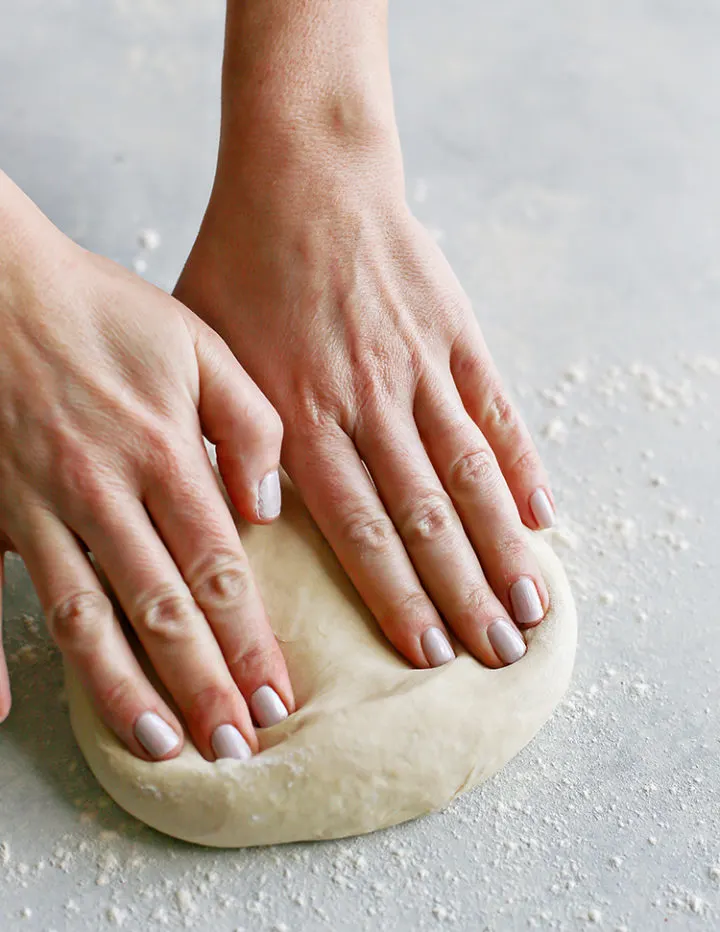 Pizza Crust for this Veggie Pizza Recipe
You can use whatever your favorite pizza dough is to make the crust for this veggie pizza. We really like the master dough recipe from from Artisan Bread in 5 Minutes a Day to make our pizza crust.
I like that you can make a big batch and store it in the fridge for a week or more. You can use that dough recipe for all sorts of things, so it is great to have a batch on hand in the fridge.
Definitely make sure you check out my tips for Totally Awesome Pizza at Home – it has all the tips for making the best crust for this veggie pizza recipe.
This post may include affiliate links. As an Amazon Associate and member of other affiliate programs, I earn a small commission from qualifying purchases.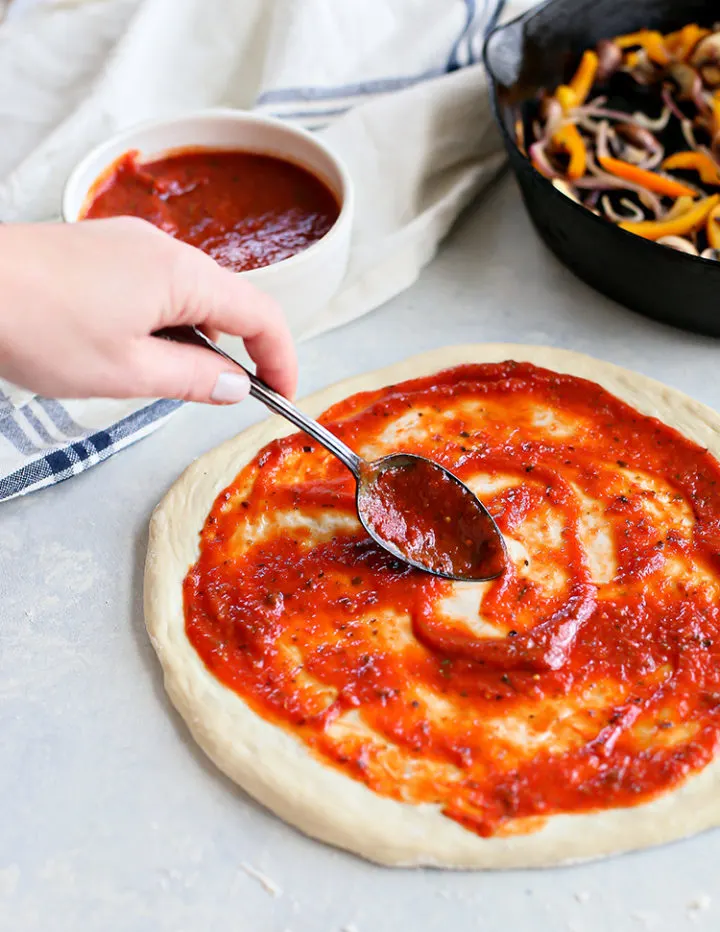 Save this recipe for Supreme Veggie Pizza with Mozzarella and Feta to Pinterest!
Vegetarian Pizza Toppings
Besides the pizza dough (which you can make yourself or purchase at the store), you'll need the following toppings for this homemade pizza recipe:
Black Olives
Bell Pepper
Cherry Tomatoes
Red Onion
Zucchini
Mushrooms
Fresh Basil
Pizza Sauce (try my homemade marinara sauce!)
Mozzarella Cheese
Feta Cheese
For the complete ingredient list and detailed instructions, scroll to the bottom of this post for the FREE printable recipe card.
Does Vegetarian Pizza Have Cheese?
Typically, yes! Vegetarians often still consume dairy products. A vegan pizza would not have cheese on it because Vegans do not consume any animal product. To make this pizza vegan, eliminate the cheese from the recipe.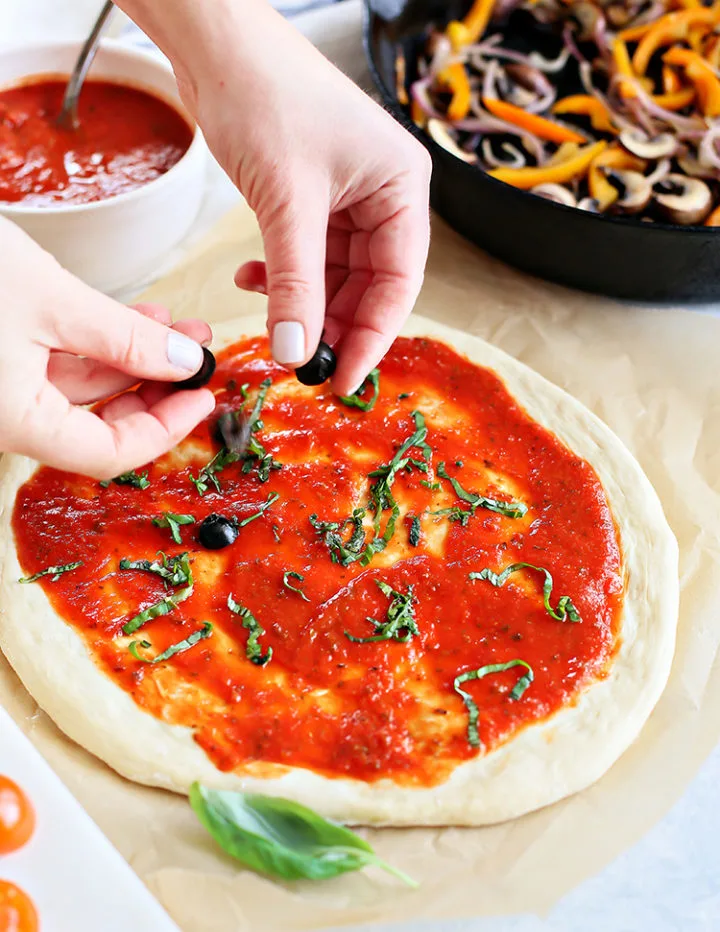 How Do You Use Store Bought Pizza Crust for Homemade Pizza
You can make homemade pizza with store bought pizza crust, too, if you prefer! If you buy your dough from the store, you may need to let it come to room temperature so you can roll it out. Make sure you read the package instructions first to see what all you should do.
Once you have the dough prepped according to the package instructions, proceed with this recipe like normal.
However, take note of the packaging instructions regarding cooking times as they may need to be adjusted depending on manufacturer recommendations.
How to Make Pizza at Home
To make this vegetarian pizza, you first need to prep the pizza dough. I like to make a homemade pizza dough, so I've shared my recipe below.
Once the pizza dough has been made, prep the veggies (slice the bell pepper and olives, halve the cherry tomatoes, etc).
Then spread the sauce over the pizza dough and add all the veggie pizza toppings.
You can either make this a grilled pizza recipe, or you can bake the vegetarian pizza at 500 degrees F — you'll know when it's finished baking when the cheese starts to bubble and the crust is golden brown.
Garnish with extra fresh herbs, like basil, if you like!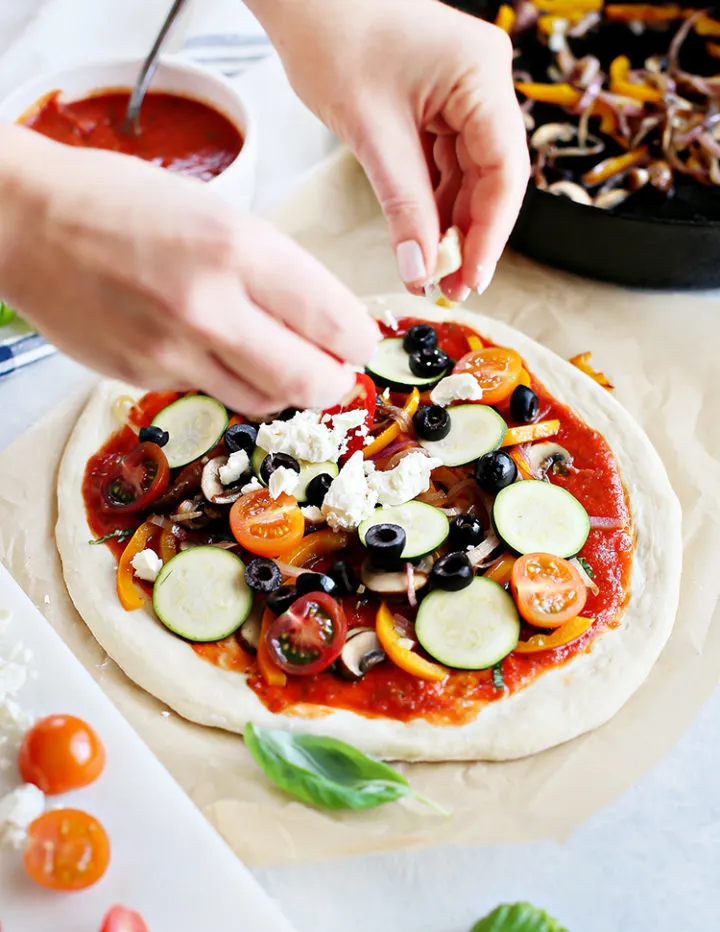 Why Is My Homemade Pizza Soggy?
Homemade pizza can become soggy if you have too much added moisture from toppings. When raw vegetables are added to pizza, they will release moisture when they cook which will soak into your pizza.
How do You Make Veggie Pizza Not Soggy
Vegetables contain a lot of moisture that can contribute to a soggy pizza crust. The best way to prevent pizza from becoming soggy is by sautéing vegetables prior to adding them to the pizza.
Sautéing the vegetables before adding to the pizza makes the veggies release excess moisture and prevent pizza from becoming soggy.
After sautéing the vegetables, drain any of the moisture off before adding them to the pizza.
Additionally, salting the zucchini really helps to eliminate excess moisture that can cause the pizza to become soggy.
Another tip that helps eliminate soggy pizza crust is to make sure you are cooking at hot temperatures. In this case, a grill works well because it gets very hot.
Vegetarian Pizza Adaptations and Substitutes
There are so many delicious ways to tweak this vegetarian pizza recipe according to your own personal preferences! Here's a few ideas:
For the meat eaters in your house try adding Italian sausage if they can't go without.
For a pesto pizza withe veggies, try using my homemade pesto sauce in place of a rich tomato sauce
Don't like feta? Try parmesan cheese in its place
Like it spicy? Add some red pepper flakes after the veggie pizza is done cooking or try dipping the crust in this Chili Garlic Oil for a dipping sauce.
Other vegetables for pizza toppings: yellow squash, artichoke hearts, baby spinach, or sun-dried tomatoes.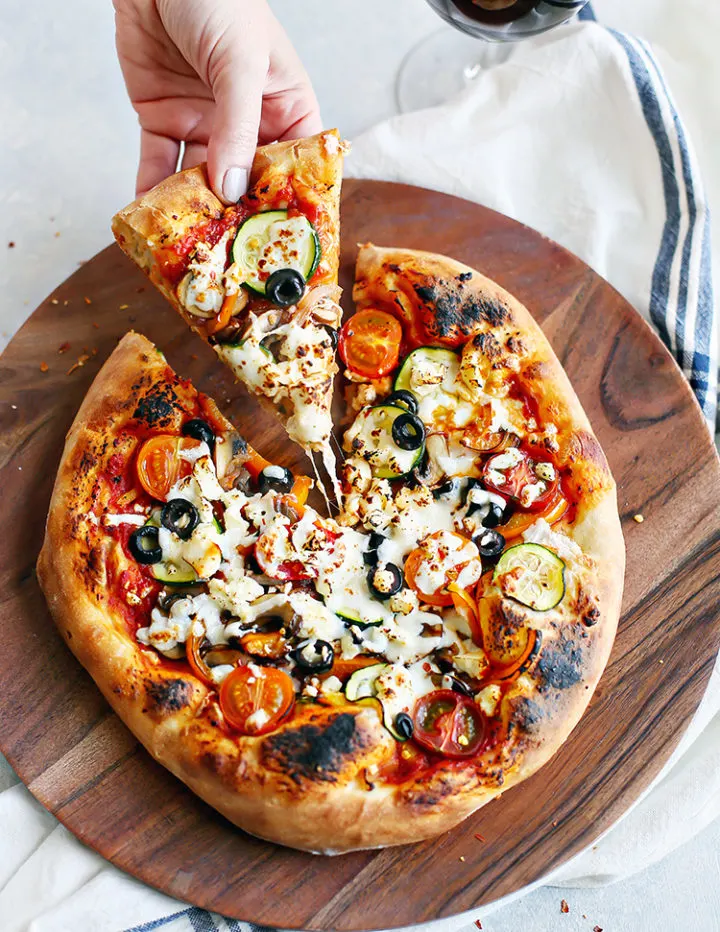 Save this recipe for Supreme Veggie Pizza with Mozzarella and Feta to Pinterest!
What Should I Serve with this Vegetarian Pizza?
If you're looking for side suggestions to go with this recipe, I recommend a big green salad.
It doesn't have to be fancy at all. We often use mixed greens, lettuce, cucumber, shredded carrot, and tomato for a basic side salad. Check out these 3 Simple Salad Dressing Recipes to go along with your salad.
If salad isn't your thing, try this easy recipe for Roasted Broccoli for a vegetable side dish.
Other salads recipes that we like to serve as side dishes for pizza night are these recipes for Copycat Olive Garden Salad and Italian Mixed Greens Salad with Prosciutto and Lemon Dijion Vinaigrette. If you need your salad to be vegetarian, the prosciutto can be omitted from the Mixed Greens Salad and it will still taste great because the salad dressing is incredibly flavorful.
How to Store Leftover Supreme Veggie Pizza
Leftover pizza is best stored cut in slices in an airtight container in the refrigerator. If you have to place multiple layers of pizza slices in your container, it works best to place a layer of parchment paper between slices so they don't stick together.
How to Reheat Leftover Veggie Pizza
Personally, I like to reheat leftover pizza on a small stone toaster oven pan in my toaster oven. It warms the pizza up and re-crisps the crust so it isn't soggy.
You can also reheat the pizza in the oven at 275°F. Place slices on a baking sheet in the oven until warmed to desired temperature. This prevents the pizza from getting soggy.
Try this Easy Veggie Pizza Recipe Recipe!
Next time you're looking for a healthy pizza recipe, give this Supreme Veggie Pizza with Mozzarella and Feta a try! Did you think it was one of the best veggie pizza recipes you've had? Leave a comment below and give it a review for others to see what you thought of it.
On Instagram? Share your photo and tag me with @goodlifeeats and #goodlifeeatsrecipes. I'd love to see your photo of this veggie supreme pizza!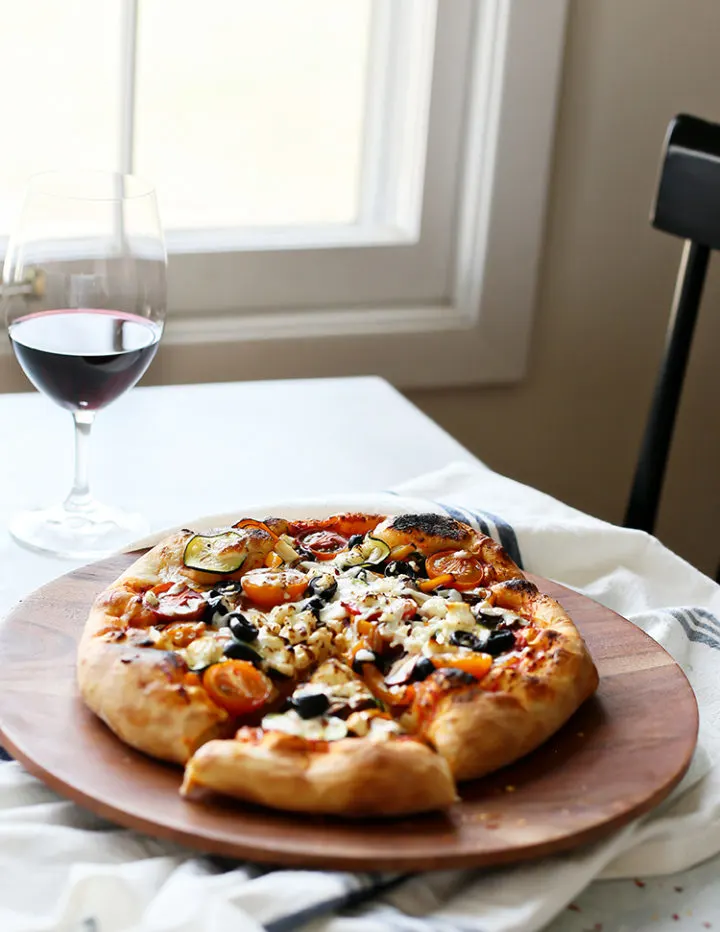 More Homemade Vegetarian Pizza Recipes:
Are you looking for some more ideas for your next Friday Night Pizza Night? Here are a few favorite veggie pizza recipes, or you can browse the recipe index for even more tasty ideas!
Three of my favorite things: Black Beans, Mexican, and Pizza all in one recipe. I knew from the start that Black Bean Mexican Pizza was going to be a quick favorite around here.
This Grilled Asparagus Pizza is a great vegetable pizza recipe for springtime!
Topped with red onions, roasted red peppers, and fresh mozzarella, this Pizza with Caramelized Onion and Roasted Red Peppers takes just 15 minutes to make!
A simple tomato, mozzarella, and basil pizza is taken up a notch in this Pizza Caprese with Garlic Focaccia Crust.
This Artichoke Spinach Pizza is another great meatless pizza recipe with plenty of veggies.
Get More Recipes via Email
Did you love this recipe? Sign up to receive Good Life Eats Email Updates and never miss another recipe!

What is your favorite vegetarian pizza recipe?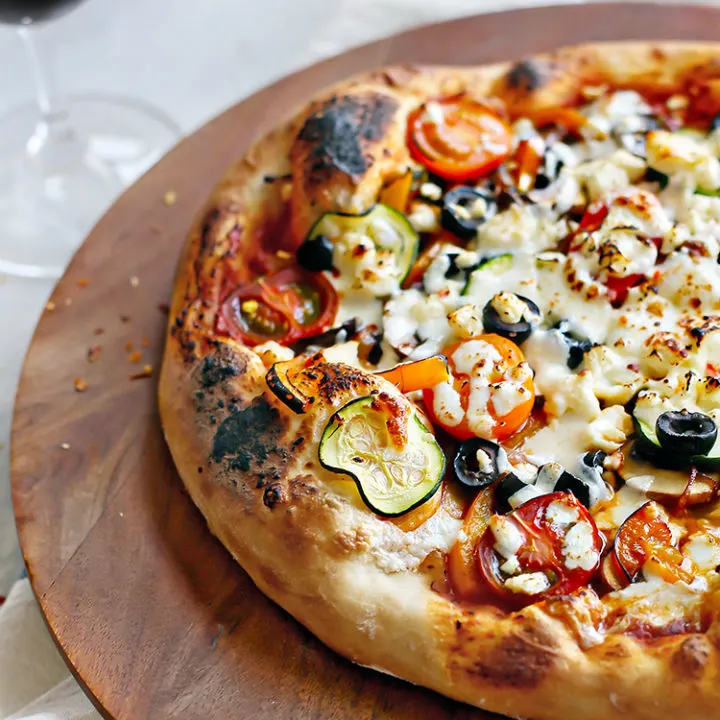 Supreme Veggie Pizza with Mozzarella and Feta
Dough Rising Time:
2 hours
Total Time:
2 hours
30 minutes
Supreme Veggie Pizza with Mozzarella and Feta is a great addition to Friday Night Pizza Night.
Ingredients
For the Pizza Toppings
1/4 cup sliced black olives
1 tablespoon olive oil
1 orange bell pepper, thinly sliced
cherry tomatoes, halved
1/2 red onion, thinly sliced
zucchini, thinly sliced
4 ounces fresh mushrooms, thinly sliced
1/4 c fresh basil, thinly sliced
1/2 cup pizza sauce
1 1/2 c fresh mozzarella, grated
1/2 c feta cheese, crumbled
For the Pizza Dough (makes 2 pizzas)
1/2 c warm water, about 110 degrees
1 envelope (2 1/4 tsp) instant yeast
1 1/4 c water, at room temp
2 Tbs olive oil
4 c bread flour, plus more for dusting the work surface
1 1/2 tsp salt
Instructions
For the Pizza Toppings
Toss zucchini with 1/2 tsp salt in a colander. Let sit for 30 minutes to release excess water. Rinse and pat dry.
Meanwhile, add 1 tablespoon of olive oil to a cast iron pan. Add the bell pepper, onions, and mushrooms, and saute for 3 - 5 minutes over medium heat to release any excess moisture.
Preheat Grill.
Spread a thin layer of pizza sauce or tomato paste over crust of pizza. Season with salt, pepper, and the fresh basil.
Evenly distribute vegetables over top. Sprinkle with feta and mozzarella.
Preheat oven broiler.
Brush grill grates with olive oil. Place crust, on preheated grill (don't close the lid).
You can place it directly on the grill grates or place the pizza pan on the grill. This time I did it in a pizza pan.
You won't want to step away because it cooks fast. It will take about 5 minutes, depending on your grill heat.
After crust bottom is crispy and nice and brown, take pizza off and place it under the broiler in a stove until the cheese is golden and bubbly. This will give it a nice browned appearance on top.
For the Pizza Dough
Measure warm water into a medium sized bowl or measuring cup (with at least a 2 c capacity).
Sprinkle the yeast over water and let stand 5 minutes. Add the room temperature water and oil and stir to combine.
Place the flour and salt in the bowl of a standing mixer fitted with the paddle. Briefly combine the dry ingredients at low speed.
Slowly add the liquids and continue to mix on low until a cohesive mass forms. Stop the mixer and replace the paddle with the dough hook.
Knead until the dough is smooth and elastic, about 5 minutes.
Form dough into a ball and put in a deep oiled bowl, cover with plastic wrap.
Let rise for 1 1/2 - 2 hours, or until dough is doubled in bulk. Press the dough to deflate.
Divide dough into two equal portions and shape into pizza rounds.
Notes
Alternatively, you can bake the pizza at 475 degrees F in your oven.
Recommended Products
As an Amazon Associate and member of other affiliate programs, I earn from qualifying purchases.
Nutrition Information
Yield

12
Serving Size

1
Amount Per Serving
Calories

160
Total Fat

10g
Saturated Fat

4g
Trans Fat

0g
Unsaturated Fat

5g
Cholesterol

24mg
Sodium

617mg
Carbohydrates

10g
Fiber

1g
Sugar

3g
Protein

8g
Photography: photos taken in this post are by Rachael from Set the Table.