Cannoli Cookies are a tasty twist on the traditional cannoli recipe. Cannoli filling is sandwiched between two orange pistachio cookies and drizzled with dark chocolate.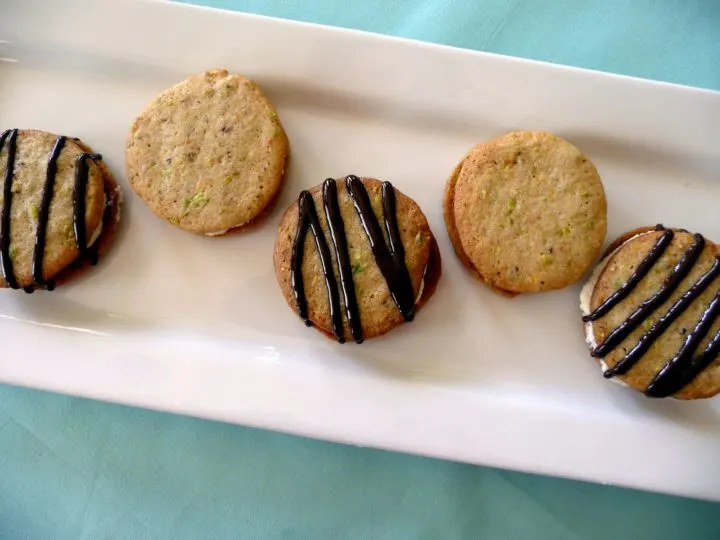 Creating these Cannoli Cookies
Sometimes I have crazy ideas. Crazy food ideas. Taking one thing and turning it into another. That is what happened yesterday.
It was all I could think about until I was able to hit the grocery store this morning for some of the necessary ingredients.
Necessary ingredients because I had to make these cookies. It wasn't even an option anymore.
You know what my crazy idea was? I was going to turn a classic Italian Cannoli into a cookie. Why? I thought it would be good.
Because I don't have time or patience (yet) to make Cannoli from scratch. Because Cannoli is good. Cookies are good. And, because my husband wouldn't stop saying "Katie's Cannoli Cookies."
And so I made them. They were good. They were very very good.
Tools Needed to Make Cannoli Cookies
You'll need several kitchen tools to prepare this cannoli cookie recipe. Here's what I recommend having on hand before getting started:
Sharp Knife and Cutting Board – you'll a need a knife to chop the pistachios and to slice the cookie dough.
Measuring Cups and Spoons – to measure the ingredients with.
Medium Bowl – to combine the dry ingredients in.
Wire Whisk – to combine the flour mixture with.
Stand Mixer – to prepare the cookie dough in. Alternatively, use a large mixing bowl and a hand mixer.
Rubber Spatula – to scrape the sides of the bowl when making the cookie dough.
Baking Sheets – a rimmed cookie sheet lined with parchment paper works best for baking the cookies.
Wire Rack – to cool the cannoli cookies on after baking.
Pastry Bag – to pipe the cannoli filling with.
Parchment Paper – to line the baking pan with and to roll the cookie dough logs in.
Double Boiler or Saucepan and Heat-Proof Bowl – to temper the chocolate in.
Spoon, Squeeze Bottle, or Pastry Bag – to drizzle the chocolate with.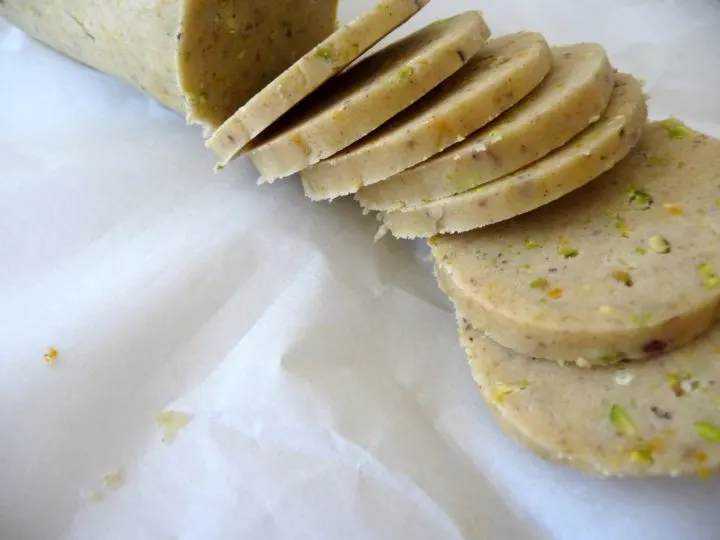 What's in these Cannoli Cookies?
Wondering what the ingredients in this recipe are? Here's a quick overview of what you'll need. Hint: you'll find all the best flavors typical of cannoli
For the Cannoli Cookie
Butter
Granulated Sugar
Brown Sugar
Large Egg
Vanilla Extract
All-Purpose Flour
Baking Powder
Orange Zest
Pistachios
For the Cannoli Cookie Filling
Whole Milk Ricotta Cheese
Mascarpone Cheese
Powdered Sugar
Vanilla Extract
For the Chocolate Drizzle
Semi-Sweet Chocolate or Dark Chocolate
Shortening
For the complete ingredient list and detailed instructions to make these Italian ricotta cookies, scroll to the bottom of this post for the FREE printable recipe card.
How to Make Cannoli Cookies
Here's a quick overview of the steps to making this tasty Italian cookie recipe:
First, you'll beat the butter with the sugars. Then, add the egg and vanilla.
In another bowl, you will need to combine all the dry ingredients and mix well.
Then, combine the flour mixture with the butter mixture, using the paddle attachment if using a stand mixer. After that, stir in the pistachios.
Divide the dough into 2 logs and roll tightly in wax paper, plastic wrap, or parchment paper. Freeze until firm, then slice thin cookies.
Bake on the prepared baking sheets until golden brown.
While the cookies bake, combine the filling ingredients.
After the cookies cool, pipe the filling on the underside of one cookie, then top with another. If desired, drizzle with melted chocolate.
The above is simply a quick summary of this recipe. Check out the full recipe in the free printable recipe card at the bottom of this post for all the detailed instructions.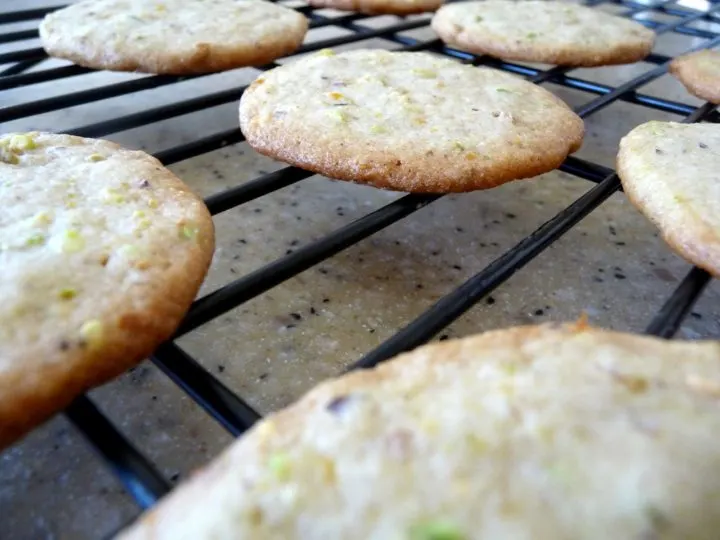 Tips for Making Cannoli Cookies
Eggs – For this cookie recipe, you'll want to start with room temperature eggs. Check out these tips for how to bring eggs to room temperature quickly.
Butter – You'll also need room temperature butter. Check out these tips to soften butter quickly.
Chocolate – You might also find this how to temper chocolate tutorial helpful if you'd like to drizzle melted chocolate on top of your cookies.
Cannoli Cookie Recipe FAQs
Got questions about how to make this Italian cookie? Here are the answers to a few commonly asked questions. Feel free to leave any other questions in the comments on this post and I'll respond with answers.
Can You Make these Cannoli Cookies Ahead?
Yes and no.
I wouldn't make the recipe in its entirety in advance because the filling will make the cookies soggy, but you can prepare parts of the cookies in advance.
Here some different options for saving time when making this recipe:
Make the cookie dough 1 – 2 days in advance and store it in the refrigerator until the day you plan to prepare the cookies.
Store the cookie dough in the freezer until you're ready to bake the cookies.
Make the filling 1 – 2 days in advance and store it in the refrigerator until assembling the cookies.
Prepare the cookie dough, bake the cookies, cool completely, and store in an airtight container the day before you plan to serve the cookies.
Can You Freeze Cannoli Cookies?
I have not tested freezing the baked cookies, and I wouldn't try freezing the fully assembled cookies.
However, you can prepare and freeze the cookie dough until you want to prepare the cookies.
How Do You Store Leftover Cannoli Cookies?
Fully assembled cookies should be eaten the day they are prepared. Leftovers can become soggy due to the filling.
If you want to save the leftover cookies, you'll need to store them in a container in the refrigerator due to the dairy in the filling.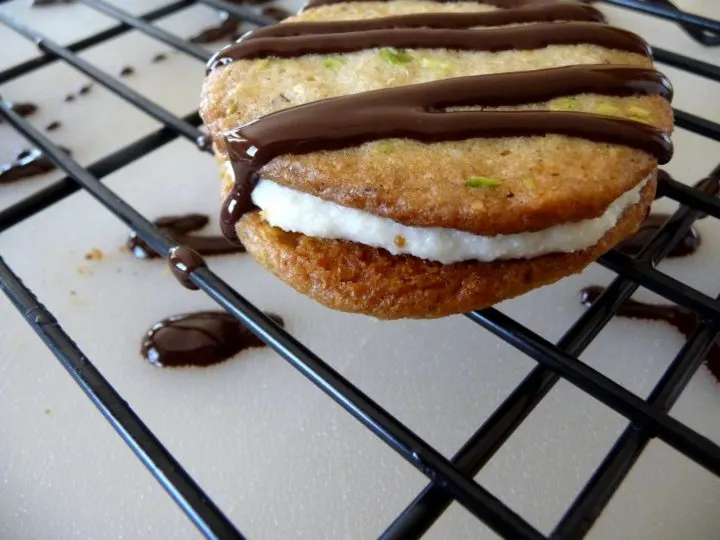 Try this Cannoli Cookie Recipe!
Next time you're looking for a unique recipe to add to your holiday cookie trays, give these Cannoli Cookies a try!
Did you think they were the perfect Italian Christmas cookie? Leave a comment below and give it a review for others to see what you thought of this delicious treat.
On Instagram? Share your photo and tag me with @goodlifeeats and #goodlifeeatsrecipes. I'd love to see your photo of these Italian cookies!
More Cookie Recipes
White Chocolate Raspberry Cheesecake Cookies feature cream cheese in the batter, bits of raspberry jammy goodness, and melty chunks of white chocolate. For a homemade copycat version of Subway's famous Raspberry Cheesecake Cookies.
Almond Butter Cookies are the tastiest I've tried and make a great addition to your regular cookie baking and the perfect alternative if you have a peanut allergy!
Pecan Thumbprint Cookies have a spiced cookie base that's topped with a pecan half, caramel sauce, and then drizzled with melted chocolate. Perfect for the holiday season!
The New York Times Chocolate Chip Cookies have cracked the code for the perfect recipe for chocolate chip cookies. The results are a chewy cookie with crispy edges and a soft, gooey center.
Almond Crescent Cookies are a unique Christmas cookie recipe that your family will love! These Swedish cookies feature buttery crescent cookies studded with chopped almonds.
Don't see what you're looking for here? You can always head over to check out the recipe index to look for more recipes.
Get Delicious Recipes via Email
Did you love this recipe for cannoli cookies? Sign up to receive Good Life Eats Email Updates and never miss another recipe!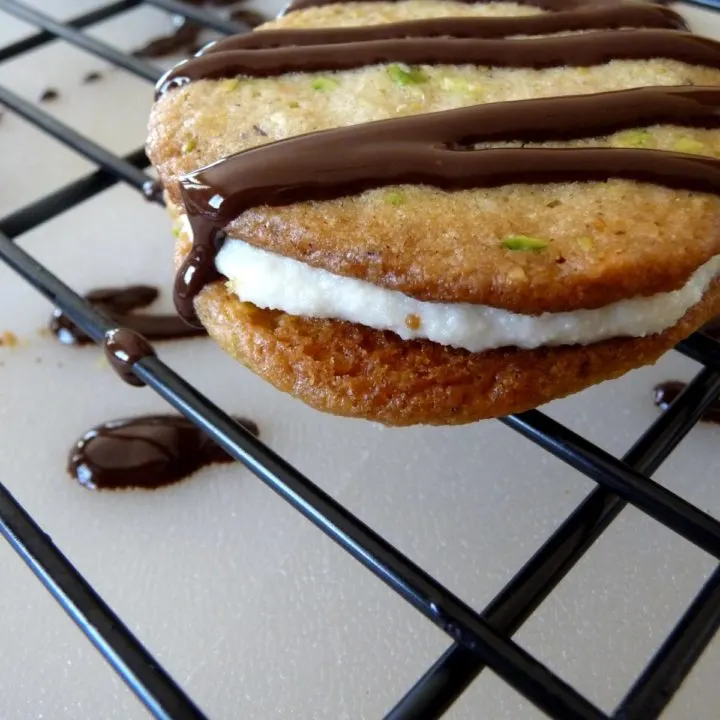 Cannoli Cookies
Yield:
2 dozen sandwich cookies
Cannoli Cookies are a tasty twist on the traditional cannoli recipe. Cannoli filling is sandwiched between two orange pistachio cookies and drizzled with dark chocolate.
Ingredients
For the Cannoli Cookie Filling
3/4 cup Whole Milk Ricotta (drained overnight with cheesecloth or a fine-mesh strainer and squeezed dry)
8 ounces Mascarpone Cheese, room temperature
1/3 cup Powdered Sugar
3/4 teaspoon Vanilla Extract or Vanilla Bean Paste
For the Cannoli Cookies
2 1/4 cups All-Purpose Flour
1 1/2 teaspoon Baking Powder
1/2 teaspoon Orange Zest
1/4 teaspoon Cinnamon
1 cup Softened Butter
3/4 cup Granulated Sugar
1/4 cup Brown Sugar, packed
1 Large Egg, room temperature
1 teaspoon Vanilla Extract
1/2 cup finely chopped Pistachios
Melted Chocolate Drizzle
4 ounces Dark Chocolate
1 teaspoon Shortening or Vegetable Oil
Instructions
Prepping the Ricotta Cheese
For best results, wrap the ricotta cheese in cheesecloth, then set it on a fine mesh strainer set over a bowl at least 6 hours before preparing the cookies, or overnight.
After draining the excess moisture, discard the collected liquid and proceed with the recipe.
Preparing the Cannoli Cookie Filling
Combine the drained ricotta cheese with the mascarpone cheese, powdered sugar, and vanilla extract in a medium sized mixing bowl.
Mix well with a wire whisk, then transfer the filling to a piping bag.
Place the piping bag of filling in the refrigerator until the cookies have baked and cooled.
Preparing the Cannoli Cookie Dough
In a medium sized mixing bowl, combine the flour, baking powder, orange zest, and ground cinnamon.
Stir until well mixed. Set aside.
Add the softened butter to the bowl of a stand mixer and beat over medium speed until creamy. Scrape the sides of the bowl down using a silicone spatula as necessary.
Then, add the granulated sugar and brown sugar, continuing to beat for 3-4 minutes. Again, scraping the sides as needed.
Next, add the egg and vanilla. Beat until combined and stir in the chopped pistachios.
Divide the dough into two portions and turn out onto pieces of parchment paper.
Shape the dough into 2 six inch logs, wrap with the parchment, and freeze until firm.
Making the Cannoli Cookies
Remove the the chilled cookie dough from the freezer.
Unwrap and slice the logs into 1/8 - 1/4 inch thick rounds, placing them on a parchment lined baking sheet.
Bake the cookies at 350 degrees F for 10-15 minutes, or until light golden brown on the edges.
Transfer the baked cookies to a wire cooling rack and cool until room temperature.
Filling the Cannoli Cookies
Snip the end of the pastry bag with scissors.
Turn half of the cookies upside down. Then, pipe the filling on the upturned side of these cookies.
After piping half of the cookies, top the filling with another cooking (underside facing the filling).
Drizzling the Cookies
If desired, melt the chocolate and shortening or oil together.
Then drizzle over tops of the assembled cookies using a squeeze bottle or pastry bag.
Notes
If you prefer to eliminate the need for oil or shortening, you can temper the chocolate instead. Tempered chocolate will cool into a hardened state with a shiny appearance.
Recommended Products
As an Amazon Associate and member of other affiliate programs, I earn from qualifying purchases.
Nutrition Information
Yield

24
Serving Size

1
Amount Per Serving
Calories

255
Total Fat

17g
Saturated Fat

9g
Trans Fat

0g
Unsaturated Fat

6g
Cholesterol

45mg
Sodium

156mg
Carbohydrates

23g
Fiber

1g
Sugar

12g
Protein

4g
GoodLifeEats.com offers recipe nutritional information as a courtesy and is an estimate only. This information comes from online calculators. Although GoodLifeEats.com makes every effort to provide accurate information, these figures are only estimates.