This Roasted Cauliflower Soup is thick, creamy, and flavorful without being loaded down with heavy cream. I served the cauliflower soup with bacon for added flavor!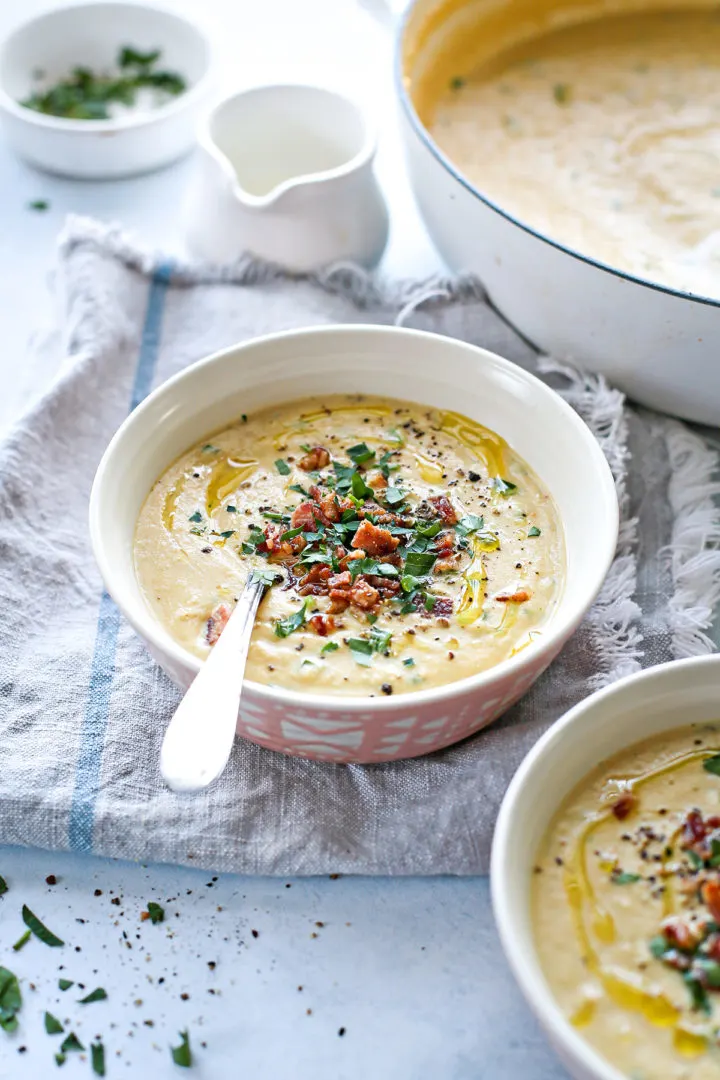 Creating This Roasted Cauliflower Soup Recipe
If you think you don't like cauliflower, TRY AGAIN. That's right. No wimping out on this one. This cauliflower puree soup is incredible.
In fact, if you have someone who's a cauliflower hater in your home you might try calling this "Garlic Soup," instead. You won't notice any unpleasant flavors from the cauliflower, just added nutrition benefits from the vegetables.
One thing that I really love about cauliflower is that it seems to last for quite a while in the vegetable drawer of the refrigerator. The first time I made this soup I used a head that I had sitting around for – and I am not kidding – at least 2 weeks.
Cauliflower was on sale at the grocery store and I picked one up thinking it'd be good to have on hand for snacking or a vegetable side dish one night (related: Roasted Cauliflower and Tomatoes). But it sat there, and sat there, and sat there. Until one day I was really pressed with what to have for dinner.
I had garlic soup on the brain that night, but after one look at the still fresh head of cauliflower in the fridge my plans morphed into a little something else.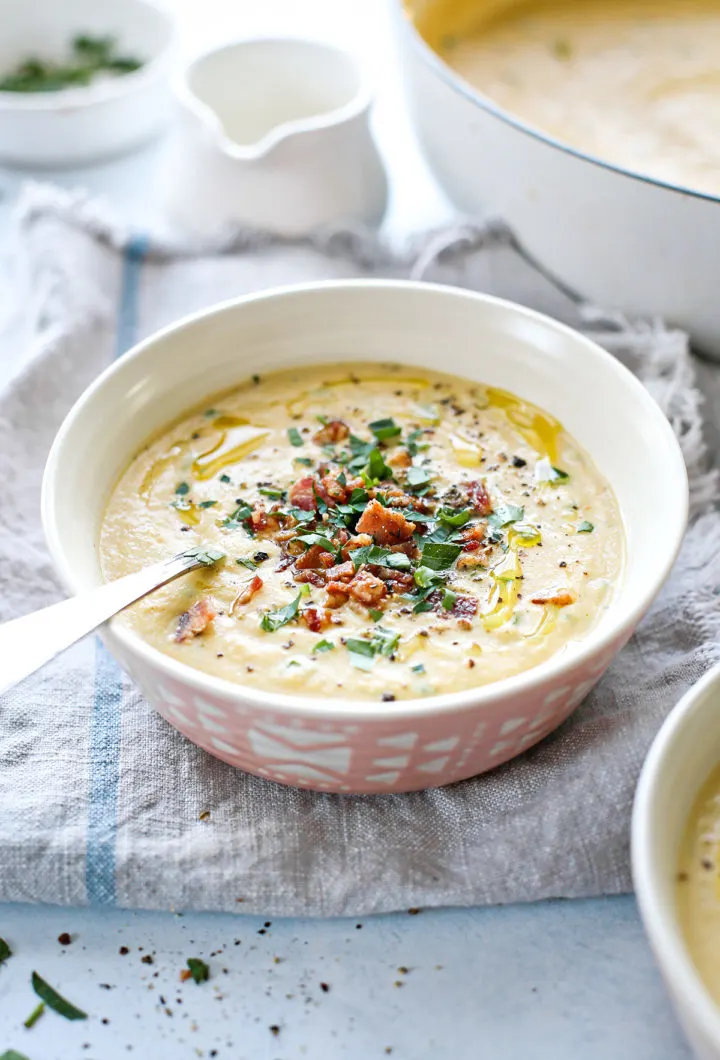 What I Love About Roasted Cauliflower Soup
Unlike other cream of cauliflower soup recipes, the flavor of this soup recipe is greatly enhanced with the rich, subtle flavor of roasted garlic. Roasting the garlic and cauliflower adds a deep earthiness and a richness that doesn't necessarily come from heavy calories.
Besides this Garlic and Cauliflower Soup being full flavored on its own, I think this richly flavored recipe could be a wonderful base for other creations as well, much like this Potato Leek Soup (this really is the BEST cauliflower soup recipe!).
In fact, next time I prepare this I am going to experiment with that. But for now, I think it is plenty tasty with a sprinkling of bacon and a slice of crusty bread for dipping. Try this Light Whole Wheat Baguette on for size.
Tools Used to Make this Garlic Cauliflower Soup
You'll need a few different tools to prepare a batch of this creamy roasted cauliflower soup. Here's what I recommend having on hand before getting started:
Cutting Board and Sharp Knives – to cut the vegetables.
Measuring Cups and Spoons – to measure the soup ingredients.
Baking Sheet – to roast the garlic and cauliflower on.
Large Soup Pot – I prefer to use a heavy bottom pan, such as a dutch oven, for cooking the soup.
Countertop Blender, Hand Blender, or Food Processor – to puree the cauliflower soup.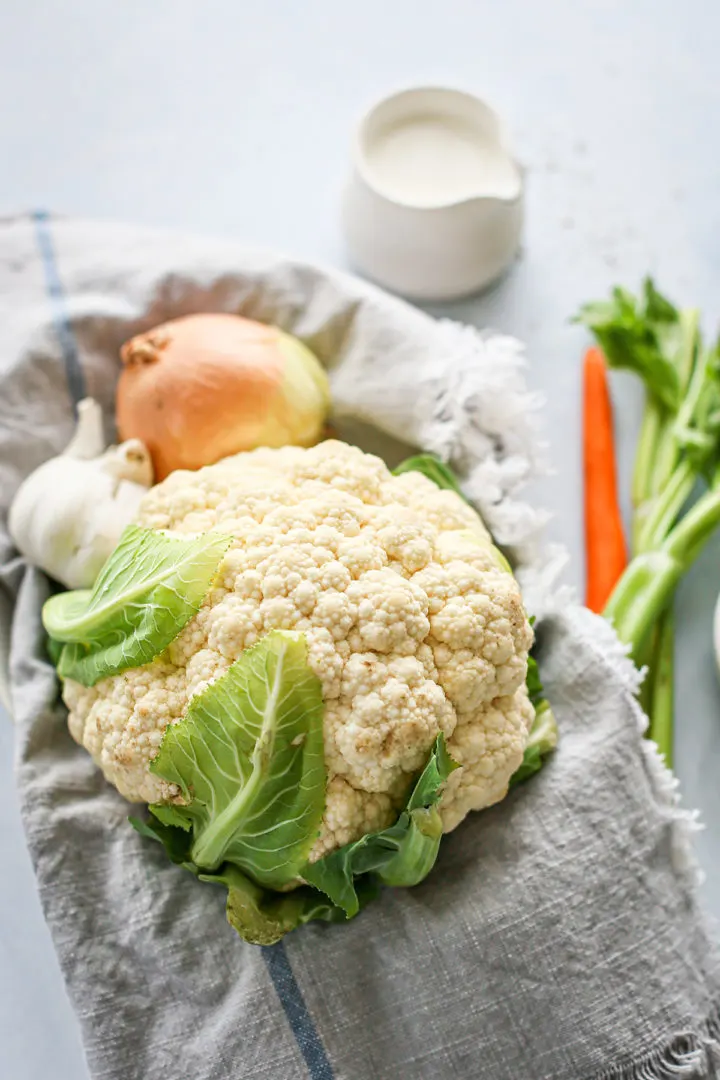 Ingredients for Cauliflower Soup with Bacon
There might be a few special ingredients in this recipe that you don't always have on hand, but I promise you it's worth a trip to the store!
Cauliflower
Garlic
Olive oil
Butter
Celery
Onion
Carrot
Salt and Black Pepper
Bay Leaf
Thyme
Parsley
Flour
Chicken Broth
Water
Bacon
Half and half
For the complete ingredient list and detailed instructions, scroll to the bottom of this post for the FREE printable recipe card.

How to Make Cauliflower Soup with Bacon
This easy cauliflower soup takes just over an hour to prepare, but much of that time is spent waiting for the ingredients to cook.
Roast the cauliflower and garlic: Cut cauliflower into individual florets, toss with olive oil, and season with salt and pepper. Place on a foil-lined baking sheet.
Cut the top off of the head of garlic. Drizzle with olive oil and wrap with foil. Place wrapped garlic on the baking sheet.
Roast the cauliflower and garlic at 400 degrees F.
Prepare the soup: Heat the butter in a cast iron dutch oven. Add the onion, celery, and carrot. Saute over medium heat for about 10 minutes.
Whisk in the salt, pepper, paprika, thyme, and flour and continue to cook for 2 more minutes.
Add the wine and water, whisking to combine with the flour mixture.
Slowly add in the broth. Add the bay leaf and roasted garlic cloves. Bring mixture to a boil, then reduce heat to medium-low and simmer for 10 minutes.
Add the cauliflower and simmer an additional 5 minutes.
Remove the bay leaf. Puree the soup using an immersion blender, or blend in batches in a standing blender.
Stir in the half and half and parsley. Cook until just heated through.
Serve immediately, topped with bacon and a drizzle of olive or truffle oil.
The above is simply a quick summary of this cauliflower soup recipe. Check out the full recipe in the free printable recipe card at the bottom of this post for all the detailed instructions.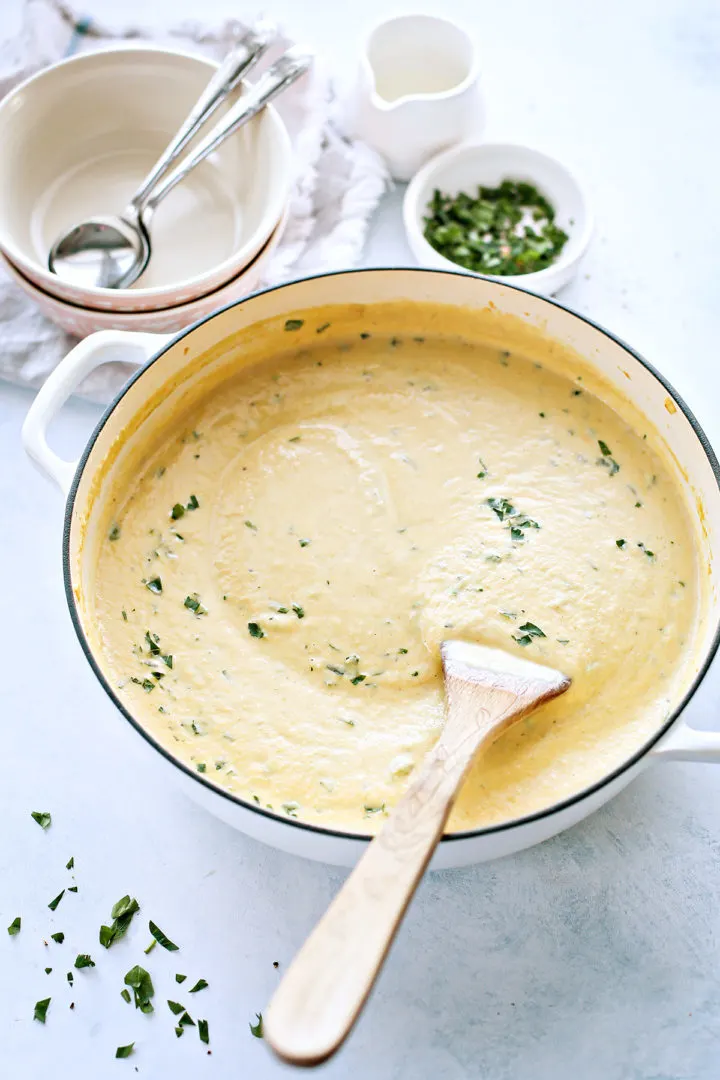 Tips for Making the Best Roasted Cauliflower Soup
When roasting the cauliflower, spread the cauliflower in a single layer on the baking sheet with plenty of space in between pieces for the best roasting results.
Make sure you roast the garlic long enough for best results. The garlic is done roasting when it is golden, tender, and fragrant.
If using a regular blender, make sure not to overfill it. And because the ingredients are hot, hold a kitchen towel over top of the blender lid to protect your hands.
Homemade bacon bits are super easy to make at home, and way better tasting than store-bought! Give this tutorial a try for your crumbled bacon on top of the cauliflower soup.
What to Serve with Roasted Cauliflower Soup
Delicious homemade bread is a must-have for us when making this soup. We love homemade baguette, rosemary garlic bread, rustic white bread, and rosemary focaccia.
If you're serving the soup as a side rather than an entree, try serving it with one of these main dishes: grilled flank steak, filet with herb gremolata, or roasted chicken.
And lastly, for a salad I recommend: roasted butternut squash salad, mixed greens with prosciutto, or fennel and orange salad.
Don't see what you're looking for here? You can always head over to check out the recipe index to look for more recipes.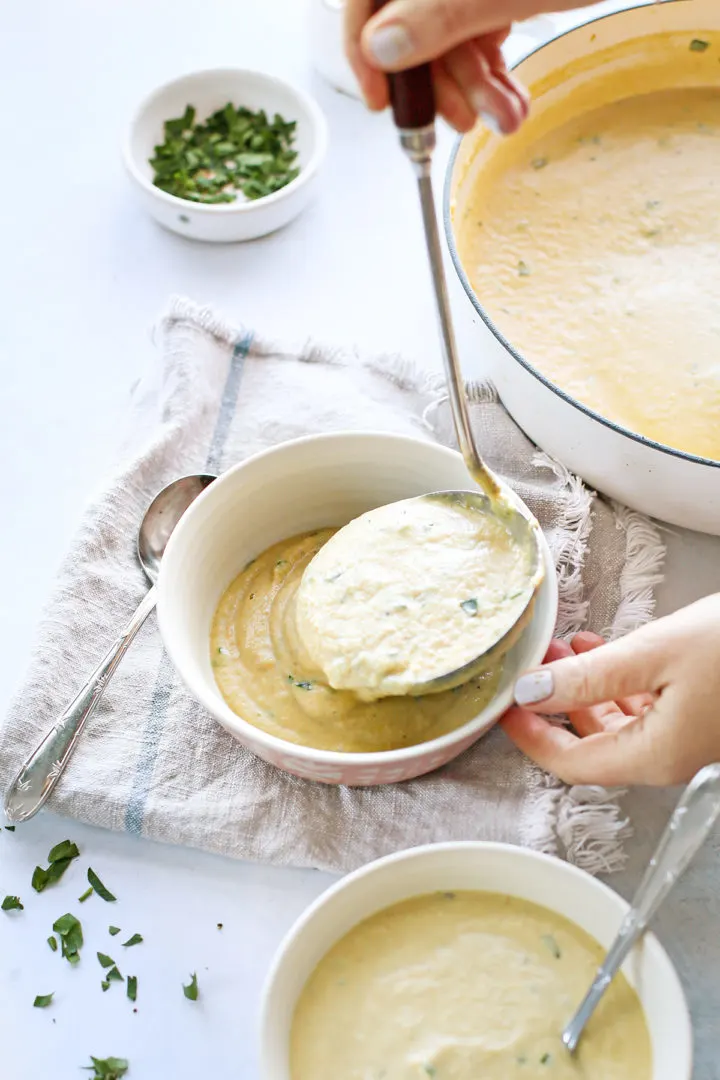 How to Store Leftover Roasted Cauliflower Soup
You can store leftovers in the refrigerator or the freezer. Make sure you transfer the leftover soup to the fridge or the freezer within about 2 hours of serving for food safety reasons.
Store Leftovers in the Refrigerator
Let the soup cool mostly to room temperature, then store in an airtight container in the fridge for up to five days. Reheat gently on the stove or in the microwave.
How to Freeze Cauliflower Puree Soup
Yes, but it may split once thawed since it contains dairy.
To freeze, cool completely before sealing in freezer bags. Label and freeze up to three months. To thaw, place in the fridge overnight or gently reheat in a saucepan from frozen.
For more information, check out this tutorial on How to Freeze Soup.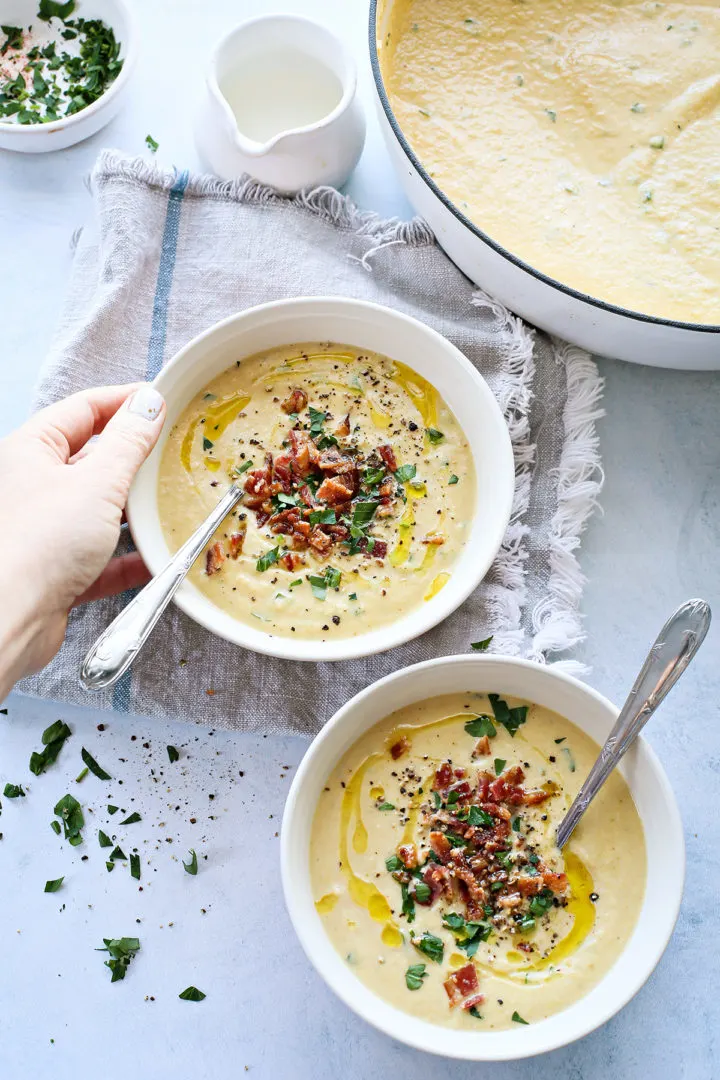 Roasted Cauliflower Soup FAQs
Got questions about how to make this easy cauliflower soup recipe? Here are the answers to a few commonly asked questions. Feel free to leave any other questions in the comments on this post and I'll respond with answers.
Ingredient Substitutions to Try
Typically I don't recommend making a bunch of substitutions when preparing a new recipe. When making substitutes, you won't know if you don't like the recipe or if the recipe didn't turn out due to a preparation mistake, an ill effect from the substitute, or something else.
However, if you do choose to make substitutions in a recipe, I recommend only making one substitute at a time so you don't have a building effect of multiple poor substitutions.
If you don't have wine on hand or prefer not to use it, you can substitute an equal amount of broth. The wine makes for a richer soup and it cuts through the creaminess of the half and half, so note that you'll be missing out on that.
If you don't have half and half, you can try substituting whole milk or heavy cream.
This recipe can easily be made gluten-free by using a gluten-free all-purpose flour. Don't omit the flour entirely as it helps thicken the soup.
Can I Make a Vegetarian Cauliflower Soup?
Yes! It probably won't have quite as much flavor, but you can use vegetable broth instead of chicken stock and omit the bacon.
If omitting the bacon, you may want to roast a few extra cauliflower florets. Then, garnish the soup with the roasted florets instead of bacon.
What Readers Are Saying About Cauliflower Soup
"My VERY picky 4 year old proclaimed that I should make this everyday after I made it last night. He freaked out when I added the garlic but then he ate 2 BIG bowl-fuls. I added a little of the Boursin style cheese to mine too. It was so good – defiantly a keeper." — Ali
"I made this a few nights ago and absolutely loved it. It was an exceptionally cold night here, and this, with a slice of crusty bread, was just what I needed." — Courtney
"It's true, I liked it and I don't like cauliflower!" — Jess
"Just finished making this on a cold, snowy day in Pgh. It's excellent and I suspect it will be even better the next day (if there is any left over). Very mellow garlic flavor really enhances this. Instead of putting the soup in the standing blender I used my handy-dandy immersion blender. Easy-peasy." — Mary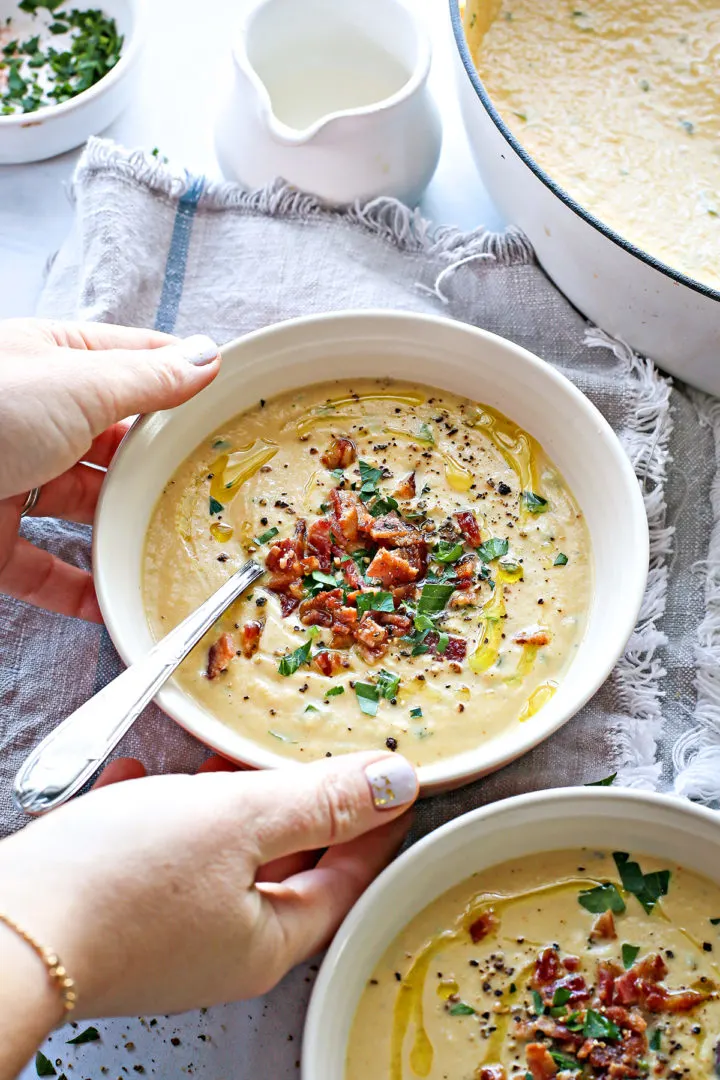 Try this Creamy Roasted Cauliflower Soup!
Next time you're looking for delicious soup for a cold winter night, give this Roasted Garlic Cauliflower Soup a try!
Did you love the creamy texture and the flavor of the soup? Leave a comment below and give it a review for others to see what you thought of this easy soup recipe.
On Instagram? Share your photo and tag me with @goodlifeeats and #goodlifeeatsrecipes. I'd love to see your photo of this creamy soup with cauliflower!
More Easy Soup Recipes:
This Homemade Chicken Tortilla Soup is warm and spicy. Plus, you likely have all the ingredients on hand! A quick and easy dinner for cold nights!
Black beans, sweet potatoes, fire roasted salsa, and poblanos pair with black beans in this hearty, easy meatless Sweet Potato Black Bean Chili.
This Italian Sausage Soup with Orzo is a great clean out the fridge recipe! It's packed with veggies, Italian sausage, orzo, and more!
This Braised Short Rib and Bacon Chili has chunks of tender beef short ribs, peppers, and kidney beans in a thick chili base.
Vegetable Beef and Noodle Soup is a comforting soup recipe for cold winter evenings!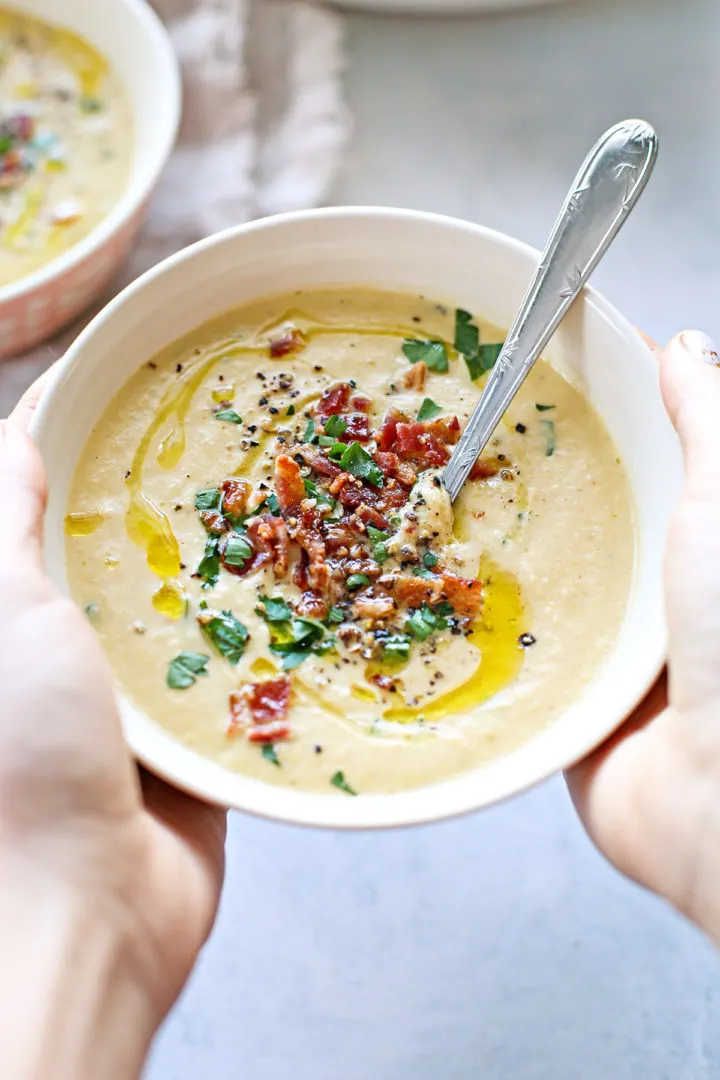 Get More Recipes via Email
Did you love this recipe for creamy cauliflower soup? Sign up to receive Good Life Eats Email Updates and never miss another recipe!
Have you ever made a blended cauliflower soup?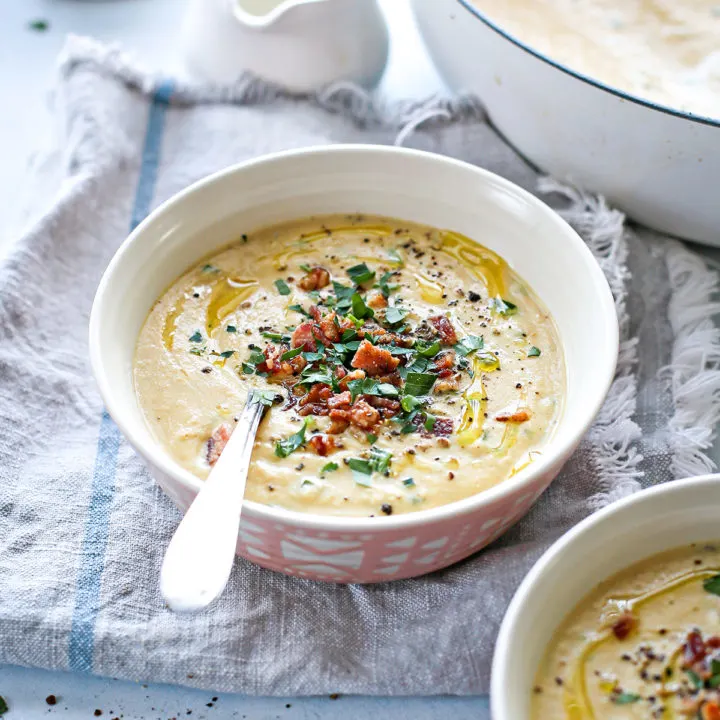 Roasted Cauliflower Soup
Total Time:
1 hour
20 minutes
Unlike other Cream of Cauliflower the flavor of this soup recipe is greatly enhanced with the rich, subtle flavor of roasted. Roasting the garlic and cauliflower adds a deep, earthiness and a richness that doesn't necessarily come from heavy calories.
Ingredients
1 whole head cauliflower (plus a few extra florets for garnish individual bowls)
1 large whole head garlic
1/2 tablespoon olive oil
1 tablespoon butter
1 1/2 stalks celery, diced
1 yellow onion, diced
1 carrot, diced
1/2 teaspoon salt
1/4 teaspoon pepper
1/8 teaspoon paprika
1/4 teaspoon dried thyme leaves
1 tablespoon flour
1/3 cup dry white wine
1/2 cup water
2 cups chicken or vegetable broth, plus up to 2 more as needed for desired consistency
1 dried bay leaf
2 teaspoons fresh minced parsley
1/3 cup half and half
3 ounces cooked and crumbled bacon
additional oil for serving - olive oil or truffle oil
Instructions
Roasting the Garlic and Cauliflower for the Soup
Preheat oven to 400 degrees F.
Wash and dry the cauliflower. Then, cut into individual florets. Drizzle with olive oil and toss to coat. Transfer the cauliflower florets to a baking sheet, and season with salt and pepper.
Meanwhile, cut the top off of an entire head of garlic just until the tops of the garlic cloves are exposed. Place the head of garlic on a small sheet of foil, drizzle with garlic, and wrap up.
Add the garlic to the same baking sheet as the cauliflower. Roast cauliflower and garlic at 400 degrees F.
After 15-20 minutes, check the cauliflower. If it is tender and golden, remove it from the baking sheet. Set aside the few extra roasted cauliflower florets for garnishing individual bowls.
Return the garlic to the oven to continue roasting for 10-15 more minutes for a total of 25-30 minutes. It is done when it is golden, tender, and fragrant.
Remove the individual garlic cloves from the peel. Discard the peel. Set the garlic cloves aside.
Preparing the Cauliflower Soup
While cooking the garlic and cauliflower, melt the butter in a heavy bottom large soup pot or cast iron dutch oven.
Sauté the onion, celery, and carrot over medium heat until tender, about 7-10 minutes. Then, add the salt, pepper, paprika, thyme, and flour, whisking to combine it with the butter and veggies. Cook for 2 more minutes.
Next, slowly stir in the wine, water, and broth, whisking to combine with the flour mixture. Add the bay leaf and roasted garlic.
Bring mixture to a boil over medium-high heat, then reduce to a simmer and simmer for 15 minutes.
Remove the bay leaf. Stir in the roasted cauliflower. Working in batches, add the soup to a blender or food processor and blend until pureed and smooth.
Adding extra broth during or after blending to achieve desired consistency. After all of the soup has been pureed, return it to the pot.
Add the half and half and parsley, stir to combine. Cook until just heated through. Adjust salt and pepper for tastes.
Ladle into individual bowls immediately, topping with a drizzle of olive oil or truffle oil crumbled bacon, and a piece or two of roasted cauliflower florets.
Serve with a side of crispy baguette toasts for dipping.
Recommended Products
As an Amazon Associate and member of other affiliate programs, I earn from qualifying purchases.
Nutrition Information
Yield

6
Serving Size

1
Amount Per Serving
Calories

321
Total Fat

23g
Saturated Fat

7g
Trans Fat

0g
Unsaturated Fat

15g
Cholesterol

66mg
Sodium

611mg
Carbohydrates

9g
Fiber

3g
Sugar

4g
Protein

18g
GoodLifeEats.com offers recipe nutritional information as a courtesy and is an estimate only. This information comes from online calculators. Although GoodLifeEats.com makes every effort to provide accurate information, these figures are only estimates.