Alright, we've had a few weeks back in school, which means we've had a few weeks to get back into the lunchbox packing routine. That's old news in our house anymore since Logan is in 5th grade this year and Madeline is in 2nd.
It feels like I've been packing school lunches for a long time. Over the years I've learned a few things about what works and what doesn't. My kids and I together have mastered the lunchbox part of preparing for our school day so I thought I'd share a few tips with you to make packing your lunches as simple as possible.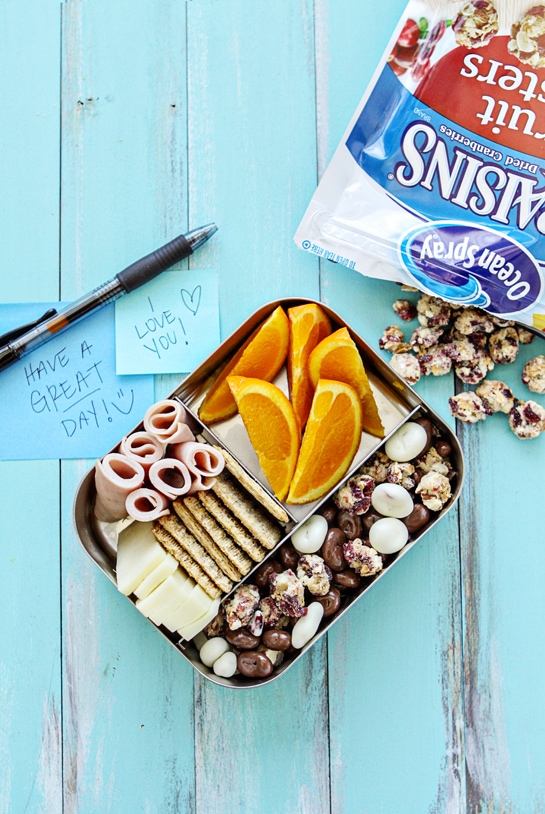 BE REALISTIC WHEN TRYING NEW THINGS
I've learned that mealtime at school was the perfect opportunity to mix things up. Why? Positive peer pressure. My picky eater wasn't going to throw a tantrum at the school lunch table when offered something new. School was a more neutral ground for trying something new because I wasn't present.
But, you've got to be realistic as well. You need to understand what and how your kid eats. Sometimes I can pack identical lunches for my kids, but other time Madeline might request something (such as hot cinnamon apple oatmeal) that I know Logan won't eat. And it is going to be a big huge FAIL every time if I try to pack a lunch 100% full of stuff I'd like my kids to eat that they don't want to eat.
If I am going to include a new, different, or un-liked food in the lunchbox I always put enough food in the lunch that even if they don't try the new food, they will still have plenty to eat. Simply being presented with the item is the first step to trying new foods.
MIX IT UP
A lunch box doesn't need to contain a sandwich as the main dish. I have TONS of different school lunch suggestions that don't involve sandwiches: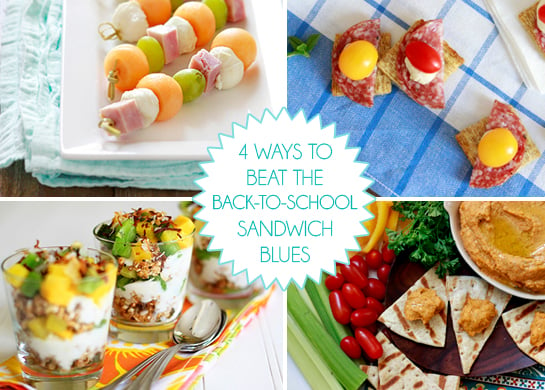 Going Beyond the Sandwich! 4 Lunchbox Snack Ideas for Back to School – these ideas include:
Snacks on a Stick – meat, cheese and fruit kebabs are super fun!
DIY Cracker Sandwiches
Fruit, Yogurt, and Granola Parfaits
Pita Bread and Veggies with Hummus
INCLUDE A HEALTHY TREAT
This is one area where it is so great to see how my kids have grown. In the past, I would've told you my kids are known for eating their sweets first and picking at the rest of their lunch when I'm not there to encourage eating fruits and vegetables first.
But last year there were a few special occasions where I packed a treat that was not so much in the "healthy" category, and I actually had my kiddos bring it home at the end of the day and tell me that they didn't eat it since they didn't finish the fruit that I packed in their lunch!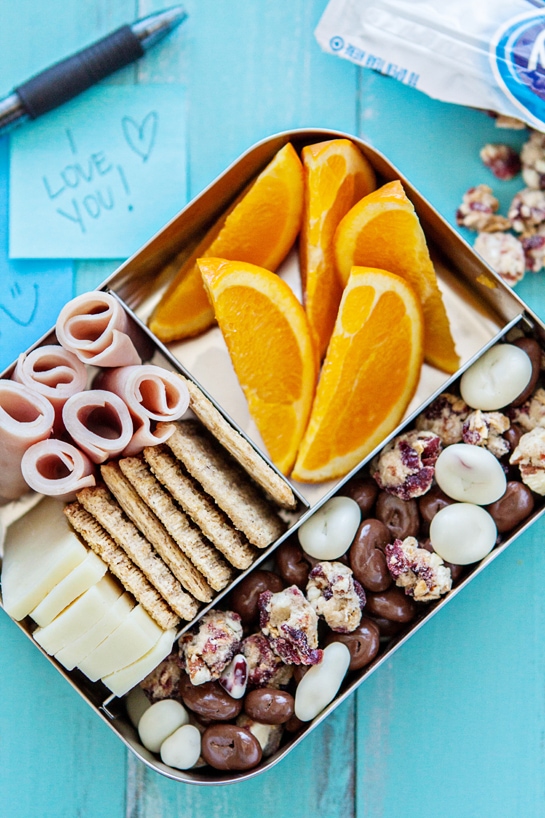 That said, I always pack something that is a little bit of a healthy treat for them to enjoy at the end of the meal. Lately Madeline is loving when I make a little trail mix of Craisins® Dried Cranberries Fruit Clusters – Cranberry Almond, Greek Yogurt Covered Craisins® Dried Cranberries, and Milk Chocolate Covered Craisins® Dried Cranberries.
GET THE KIDS INVOLVED
This is like any task that you're trying to teach kids. It's probably going to be frustrating in the beginning. You're usually going to wind up thinking "this would be easier if I just did it myself." But, once they learn, it is so rewarding. They're learning something super important – what makes a balanced lunch. And they're also really capable of saving YOU time.
I started with Logan in first grade by writing him a little note that said something like:
Put this in your lunch box:
Bagel or Muffin
1 fruit – your choice
1 vegetable – your choice
Yogurt or String Cheese
Fruit Leather or Dried Cranberries
Fill your water bottle
Napkin
I love you.
Mom xoxo
Logan is in 5th grade and last year he probably packed the school lunches (unassisted) most days the second half of the school year. Being involved in the lunch making gives him the opportunity to make food choices within healthy parameters.
He's in control of what he and Madeline eat that day, but he also knows what the acceptable options are. He's learned how to make sandwiches and to appreciate what goes in to packing a lunch – a yummy lunch takes a little more time and you have to budget accordingly with the clock.
What are your best lunchbox tips?
MORE BACK TO SCHOOL POSTS:
Are you a #LUNCHBOXMASTER? Share your best lunchbox tips and tricks on Twitter using the hashtag #LUNCHBOXMASTER for a chance to win an Ocean Spray® Ultimate Master Lunchbox Set. Contest ends Septermber 18th.
Whether you're refueling a family of five or just yourself, OceanSpray.com has tips, recipes and nutritious offerings that will help you become a lunchbox packing pro!
Ocean Spray® Ultimate Master Lunchbox Set includes:
Craisins® Dried Cranberries + Fruit Clusters
Milk Chocolate Covered + Greek Yogurt Covered Craisins® Dried Cranberries
Ocean Spray Single-Serve Juice packs
Sparkling Juice Drinks
PACT® Cranberry Extract Water
Recipe cards/tips to help you Master the Lunchbox
Thank you, Ocean Spray®, for sponsoring this conversation. All opinions are my own.