Back to school season is upon us (and that means it is time to start thinking about lunch ideas). My kids start in a week from Thursday and boy are they ready. Madeline especially so because this year is kindergarten!
They can't wait to start at their new school and make some new friends. They're equally excited to find out if they'll share a classroom with any of the friends they've already made.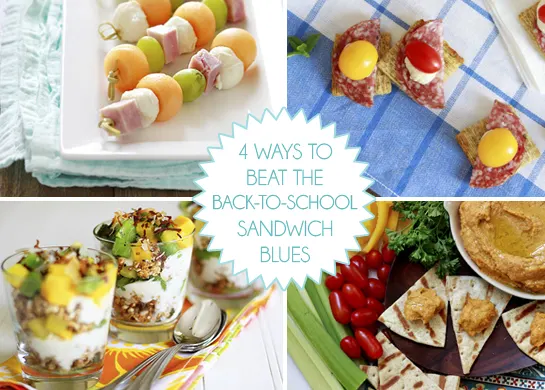 I can't help but be a little excited myself. This has been an incredibly busy year for us with our move and I am definitely very ready for life to get back to a more normal routine.
Routine, however, can become a problem where lunchboxes are involved. I don't want my kids to become used to seeing the same items day after day in their lunchboxes. No one wants to get the Back-to-School Sandwich Blues. Here are several lunch ideas to help get you started on the right foot.
4 Lunchbox Snack Ideas – Beyond the Sandwich!
Whoever said a lunchbox has to contain a sandwich as a main dish anyway?
This year I'm going to make more of an effort to mix up the routine and include fun lunch ideas for my kids, things they can easily customize to their preferences, as well as lunch ideas that are easy for them to help prepare.
1. Snacks on a Stick
Putting snacks on a stick is a fun lunch idea that can be used to deconstruct a sandwich, or just take what you have in the fridge – fruits, meats, vegetables, and cheeses – that you kids will eat and presenting them in a different way.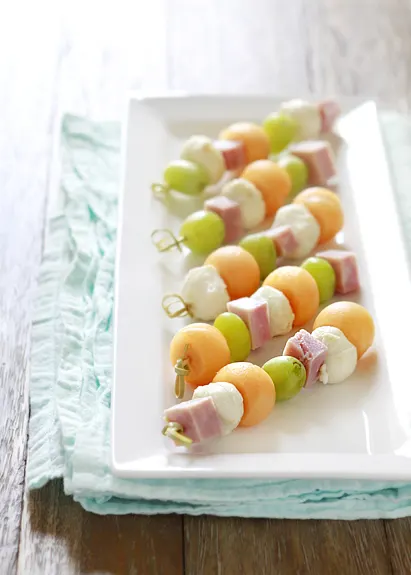 Try these flavor combinations in your lunchbox:
Canteloupe + Ham + Green Grapes + Mozzarella Balls
Salami + Italian Bread Cubes + Grape Tomatoes + Fresh Basil + Mozzarella Balls
Turkey + Apple Cubes + Celery Slices + Swiss Cheese
Bacon Strips + Lettuce + Italian Bread Cubes + Tomatoes
Turkey + Colby Jack + Bell Pepper
Kid Involvement:
It is easy for kids to assemble their own lunch kebabs on a stick (look for long, appetizer style toothpicks) after mom or dad does the cutting.
2. DIY Cracker Sandwiches
Everyone loves the classic sandwich cracker. It is still a sandwich, but it isn't. No more mundane PB&J (for those not allergic) or boring ham and cheese.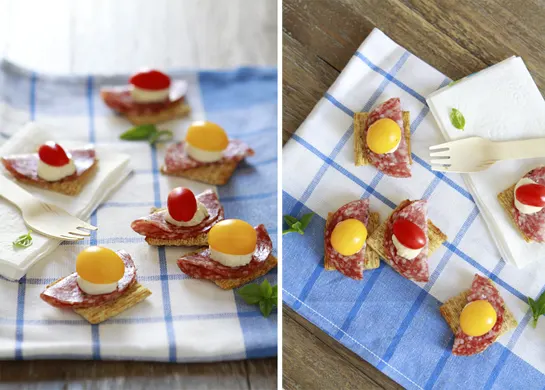 Crackers are great fun to get creative with and fun for the kids to build as they eat. All mom has to do is prepare the individual components and pack them separately.
Try these flavor combinations in your lunchbox:
Salami + Mozzerella + Grape Tomato Halves
Turkey + Swiss Cheese + Cranberry Sauce
Ham + Cheddar + Apple or Pear Slice
Nut Butter + Banana Slices
3. Fruit, Yogurt, and Granola Parfaits
Yogurt can be high in sugar which can't sustain the body with the energy requirements needed at school. Look for high-protein yogurt varieties, Greek is great, and/or use half yogurt and half cottage cheese to pack in your child's lunch.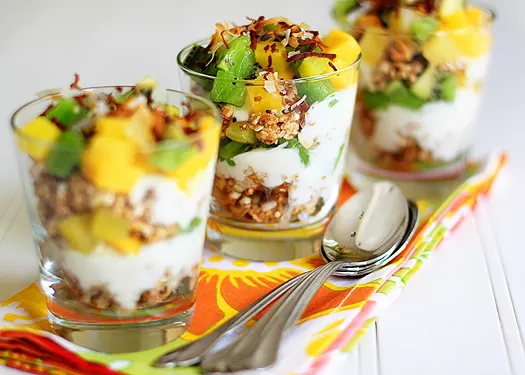 If you're worried about the granola losing its crunch, simply layer the yogurt and fruit and pack any granola and nuts separate. Just make sure your child knows to sprinkle those on top before they eat.
Try these flavor combinations in your lunchbox:
Lemon Yogurt + In Season Berries + Granola
Vanilla Yogurt + Coconut Flakes + Pineapple and Kiwi + Granola
Vanilla Yogurt + Cinnamon and Nutmeg + Diced Pears + Pecans + Granola
Pomegranate or Orange Yogurt + Pomegranate Arils or Cranberry Relish and Orange Sections + Walnuts + Granola
Kid Involvement:
It is easy to keep the basics: yogurt and granola on hand. Customize with fruit depending on your child's input and what is in season. Kids can easily help layer the ingredients to help mom or dad prepare the parfait.
4. Pita Bread and Veggies with Hummus
Hummus is such a simple thing to make and can easily be made over the weekend for use during the next week. Pair it with wedges of pita bread and vegetables for dipping.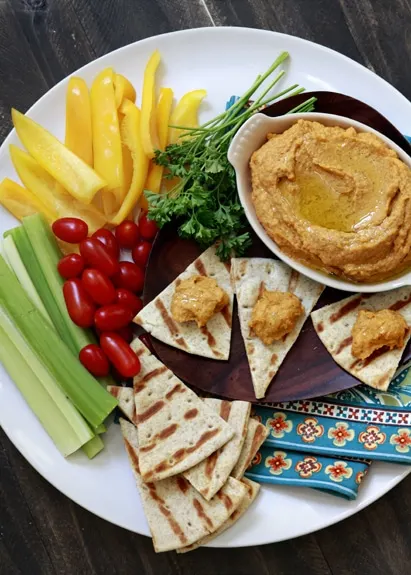 Because the main ingredient in hummus is typically beans, it is a great nutrient dense dip option to pack in school lunches for the kid who prefers snack-like options and enjoys dips. Look for whole grain pita bread to pair alongside.
Try some of these homemade hummus recipes in your lunchbox:
Kid Involvement:
Put kids in charge of vegetable selection. Hummus is so easy to prepare that kids can practically make it themselves with supervision (for safety reasons). If they're not ready for that, they'll at least want to help by pressing the button.
Need some vegetable suggestions?
Logan prefers celery, carrots, and red peppers.
Madeline likes sugar snap peas, radishes, and cucumber slices.
More Back to School Food Ideas:
Are you ready for the Back to School Lunchbox challenge? Do you have a great lunch idea for this year?