White Bean Chicken Chile Verde
Last fall I had the opportunity to attend a culinary retreat in Napa with Bush's Beans. We had an amazing time cooking the day away at the Culinary Institute of America along side friends, new and old.
It's no secret that I love black bean recipes. I even shared my Top 5 Black Bean Recipes of the moment a few months back. As loyal as I am to black beans, it was very fun to learn some new bean recipes using other varieties.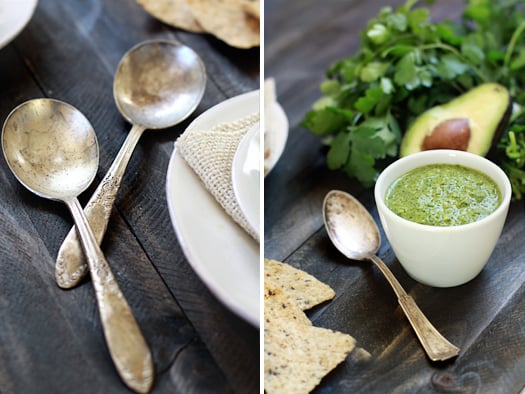 One of the chef's in attendance was Connie Guttersen, who was not only an amazing chef and incredibly knowledgeable about nutrition but also so friendly. I recently received a copy of her new book: The New Sonoma Diet: Trimmer Waist, More Energy in Just 10 Days
This was one of those cookbooks that instantly made me hungry. Every recipe I turned too had my stomach growling, but her recipe for Chicken and White Bean Chile Verde especially caught my eye.
This White Bean Chicken Chile Verde is easily going to be one of our favorite soup recipes from this season. Served with a side of whole-grain with flax tortilla chips that I found at the grocery store and topped with some diced avocado it was a filling and satisfying meal.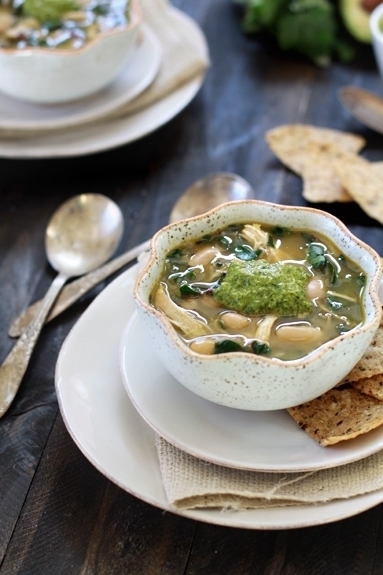 I love how packed it was with good for you ingredients but it was so full of flavor that never would I call this "diet food." Connie proves that you can eat well while eating healthy. The cilantro-lime pesto is amazing and I can't wait to try it with other recipes.
My crock-pot recipe for Shredded Tex-Mex Chicken goes perfect with this soup. If you have a pressure cooker, and are short on time you can cook the chicken that way too which is what I did this time around.
To make Shredded Tex-Mex Chicken in a pressure cooker: add all the ingredients for the shredded chicken recipe to the pressure cooker (plus an extra 1/3 cup broth or water) and bring to a boil. Then, put the lid on and cook over high pressure for 25-30 minutes (about 40-45 minutes if you start with frozen chicken). After all the pressure has released then remove the chicken and shred.
Give this recipe a try next week for National Chili Day on February 24th!
Chicken and White Bean Chile Verde with Cilantro-Lime Pesto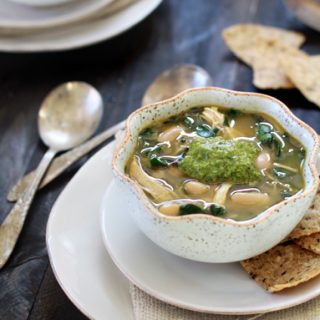 Ingredients:
White Bean Chicken Chile Verde
1 pound tomatillos
1/2 pound poblano chiles
2 teaspoons olive oil, plus extra for tomatillos and chiles
1 large yellow onion, diced
4 cloves garlic, minced
1 1/4 teaspoons oregano
1 1/4 teaspoon cumin
1/4 teaspoon chili powder
3 cups chicken broth
2 - 15.5 ounce cans cannellini beans, with liquid
2 cups cooked, shredded chicken (see: Shredded Tex-Mex Crock-Pot Chicken)
4 cups swiss chard, chopped (about 1 bunch), stems removed
1/2 - 1 teaspoons salt, according to taste
1/4 teaspoon black pepper
Cilantro-Lime Pesto, recipes follows
Sour Cream, optional
Diced Avocado, optional
Tortilla chips, optional
Cilantro-Lime Pesto
1 bunch fresh cilantro
1/3 of a jalapeno, seeds and ribbing removed
1 handful walnuts (around 1/4 cup)
2 cloves garlic
2 ounces olive oil
2 limes, juiced
salt and pepper, to taste
Directions:
For the White Bean Chicken Chile Verde:
Preheat oven to 425 degrees F. Line a large baking or cookie sheet with foil. Set aside.
Remove skins from tomatillos. Wash, dry, and cut in half. Place cut side down on foil lined baking sheet. Wash and cut poblanos in half, remove ribbing, seeds and stems. Place cut side down (skins facing up) on the baking sheet. Drizzle the tomatillos and poblanos with olive oil. Roast at 425 degrees F until tomatillos are soft and the chiles are blistered.
Add cooked tomatillos and poblanos (you can skin them if you want, but I opted not to) in a food processor and puree until smooth. Set aside.
Heat the 2 teaspoons of olive oil in a large dutch oven or stock pot. Add the onion and saute until golden and tender, about 5 minutes. Add the garlic, oregano, cumin and chili powder. Saute for an additional 3 minutes.
Stir the tomatillo mixture, cook over medium-low heat (lowering heat if sputtering occurs) for 10 minutes, until thickened. Stir in the broth, beans (with liquid) and shredded chicken. Continue to simmer for an additional 20 minutes.
Stir in the chopped chard, season to taste with salt and pepper, and simmer for 5-10 more minutes, until chard is tender. Serve topped with cilantro lime pesto, sour cream, tortilla chips and diced avocado.
For the Cilantro-Lime Pesto
Add all ingredients to a food processor and blend until smooth. Season to taste with salt and pepper, if desired.
Bush's Beans provided food, travel, and lodging expenses for my trip to Napa last fall as well a fabulous time. Connie's publisher provided me with a copy of the book The New Sonoma Diet: Trimmer Waist, More Energy in Just 10 Days. The opinions expressed in this post are my own.