Summer or not, soup – Chicken Noodle Soup to be exact – is always the perfect go-to for the nasty cold. This Kale and Broccoli Chicken Tortellini Soup is the perfect twist on the classic soup, and you'll still be on your way to feeling better in no time, no matter the time of year!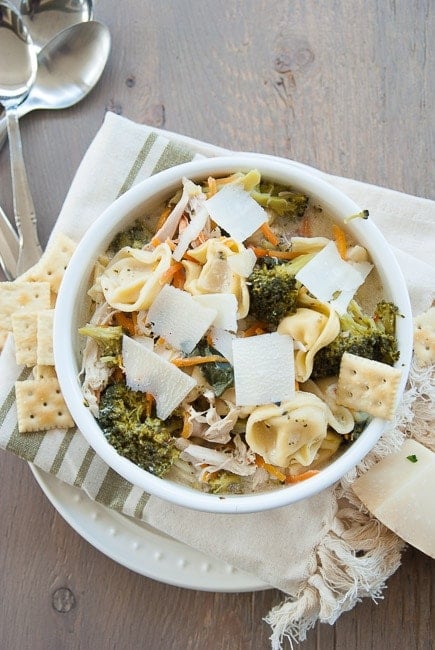 Recipe by former contributor Carla.
Making this Chicken Tortellini Soup
I know it seems a little on the crazy side to post a soup recipe when the outside temperature is varying anywhere between 85-105 degrees. Trust me, I know it sounds crazy.
But when you have a cold, you have a cold. Even when it is anywhere between 85-105 degrees.
Colds don't discriminate on the time of year.
And we would all be lying if we said we didn't crave soup when we're not feeling well, right?
As much as I love Chicken Noodle Soup, I was in need of a change this time around, and this Chicken Tortellini Soup was calling out my name; and as always, I had to throw in my own flair.
I think my favorite part of this soup is the tortellini. It is prepackaged 3 cheese tortellini and the added bonus of the cheese flavor just puts this soup over the top! I also cannot get enough of kale these days, and I seem to be putting it in everything.
For the chicken, I went the lazy route and used rotisserie chicken from the deli section of the store, but you can feel free to use whatever kind of chicken you desire. I just wanted to go as easy as possible, especially since I was not feeling good. You know how that goes.
In fact, everything in this soup was the prepackaged shredded/cut-up/etc so I could throw it in the pot and be done with it. I didn't want to have to fuss with it any more than necessary.
With kale, broccoli, carrots, chicken, tortellini and the wonderful addition of Parmigiano Reggiano, you're sure to be feeling better and enjoying it at the same time!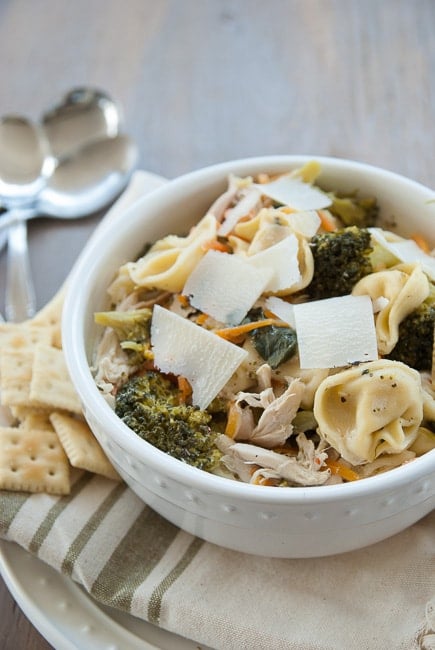 Tools Used to Make this Easy Chicken Tortellini Soup
You'll need a few different tools to prepare this chicken tortellini soup. Here's what I recommend having on hand before beginning getting started in the kitchen:
Cutting Board and Sharp Knife – to chop the vegetables.
Measuring Cups and Spoons – to measure the soup ingredients.
Large Pot or Large Dutch Oven – to cook the soup in.
Wooden Spoon – for stirring.
Ingredients in this Chicken Tortellini Soup Recipe
Chicken
Onion
Carrots
Broccoli
Kale
Cheese Tortellini
Chicken Broth
Dried Basil and Oregano
Black Pepper
Salt
Chicken Tortellini Soup FAQ
Got questions about how to make this spinach and tortellini soup? Here are the answers to a few commonly asked questions. Feel free to leave any other questions in the comments on this post and I'll respond with answers.
What Kind of Tortellini Soup I Use to Make Chicken Tortellini Soup?
Look for the tortellini in the refrigerator section of your grocery store. You can use frozen tortellini, but we prefer fresh.
As far as flavors, I recommend cheesy tortellini, chicken tortellini, or spinach tortellini.
Can I Leave the Chicken Out of this Recipe?
Sure! I recommend adding something in place to take up for the loss of the chicken. A can of white beans and increasing the vegetables would work well.
What Can I Substitute for Kale in this Chicken Tortellini Soup Recipe?
Fresh baby spinach, frozen spinach, green beans, or swiss chard would be good substitutes for kale.
What is the Best Way to Store Leftover Chicken Tortellini Soup?
Transfer any leftovers to an airtight container with a lid and store in the refrigerator. The leftover chicken tortellini soup will be good for about 3 – 4 days.
Is it Okay to Freeze this Soup?
I don't love to freeze soup with pasta in it because it typically becomes mushy when thawed and reheated.
To make this chicken tortellini soup more freezer-friendly, just freeze the soup without the tortellini in it. A freezer bag or freezer container are good storage options.
Then, when you thaw the leftover soup and reheat it you can cook the tortellini in the soup. Head over to this tutorial for more tips on How to Freeze Soup.
Try this Chicken Tortellini Soup!
Next time you're looking for a flavorful soup with simple ingredients to make on busy weeknights, give this Easy Chicken Tortellini Soup recipe a try!
Is this easy dinner idea a new family favorite? Leave a comment below and give it a review for others to see what you thought of this great soup recipe.
On Instagram? Share your photo and tag me with @goodlifeeats and #goodlifeeatsrecipes. I'd love to see your photo of this delicious soup with chicken and tortellini!
More Chicken Soup Recipes
Lemon Chicken Orzo Soup is a fun twist on classic chicken noodle soup. It's the perfect soup for soothing sore throats year-round!
Coconut Curry Chicken and Rice Soup is packed with shredded chicken, cauliflower, chickpeas, and Indian spices. A bowl of this will warm you up from the inside out!
Make a big batch of Italian Wedding Soup with Chicken Meatballs to warm up on a cold winter's day! Next time you're craving a bowl of comforting soup, give this delicious recipe a try.
Homemade Chicken Tortilla Soup is warm and spicy. It has hearty black beans, sweet corn, tender chicken, and a little kick of heat topped off with homemade tortilla strips for that extra crunch.
Get More Recipes for Great Soups via Email
Did you love this Chicken and Tortellini Soup recipe? Sign up to receive Good Life Eats Email Updates and never miss another recipe!
Have you ever made chicken soup with tortellini before?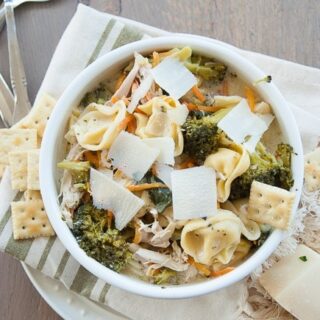 Kale and Broccoli Chicken Tortellini Soup
This Kale and Broccoli Chicken Tortellini Soup is the perfect twist on the classic Chicken Noodle when you're not feeling well and in need of a pick-me-up!
Ingredients
4 cups shredded cooked chicken (I used pre-cooked rotisserie chicken)
1 large onion, chopped finely
1 (10 oz) bag matchstick carrots
1 (10 oz) bag cut-up broccoli florets
2 cups cut up kale leaves, stalks removed
1 (16 oz) package 3 cheese tortellini noodles
9 1/2 cups low sodium chicken broth (more if needed, or water if you are out of broth)
dried basil and oregano, to taste
freshly ground black pepper, to taste
Freshly shredded Parmigiano Reggiano cheese to garnish
Crackers to serve
Instructions
Cut up any veggies that need to be cut up, and shred precooked chicken.
Add onion, broccoli, kale, carrots, chicken broth and spices to a large pot and bring to a boil over high heat.
Reduce to a simmer, and add chicken and tortellini and allow to cook for an additional 10-15 minutes, until flavors are well combined and broccoli and other veggies have started to soften. Add extra water or broth if needed and simmer until ready to eat.
Serve warm, garnished with Parmigiano Reggiano cheese and with crackers if desired.
Will keep in refrigerator for a week or so in an airtight container.
Recommended Products
As an Amazon Associate and member of other affiliate programs, I earn from qualifying purchases.
Nutrition Information
Yield

8
Serving Size

1
Amount Per Serving
Calories

338
Total Fat

13g
Saturated Fat

4g
Trans Fat

0g
Unsaturated Fat

8g
Cholesterol

77mg
Sodium

285mg
Carbohydrates

27g
Fiber

2g
Sugar

2g
Protein

28g
GoodLifeEats.com offers recipe nutritional information as a courtesy and is an estimate only. This information comes from online calculators. Although GoodLifeEats.com makes every effort to provide accurate information, these figures are only estimates.