Easy Coconut Quinoa
When we made our 15 things in 2015 list, Logan added try new foods.
One of his "new foods" being couscous.
The night he asked me to make it I actually didn't have any, but I figured quinoa was close enough.
Who was I to deny him an opportunity to willingly try something new?
I made a basic quinoa without much added, just some salt and olive oil.
And for some reason that is still a mystery to me, both kids liked it.
Specifically, Logan said "quinoa is way better than rice, which tastes like nothing."
Ok then. I guess we will be eating a lot of quinoa this next year.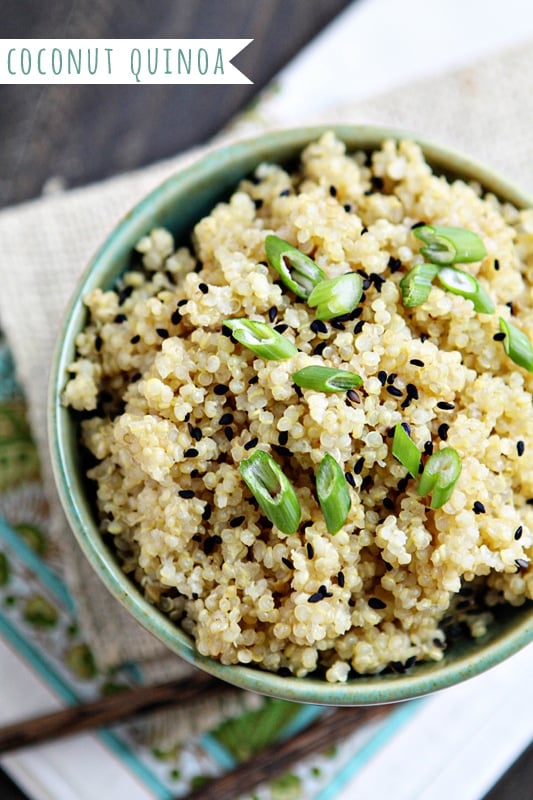 The problem is I don't super love quinoa plain on its own.
I like it in these Quinoa Stuffed Bell Peppers, or Shredded Beef, Black Bean and Quinoa Stuffed Poblanos or Butternut Squash and Kale Quinoa Stuffing.
But on its own?
Cooked only in water?
And with nothing else added?
I'll pass.
That first night I had actually made a crockpot cajun sausage dish that I served on top of my quinoa.
The kids kept their's separated.
The kids have a harder time with multiple textures all mixed together.
I was trying to figure out how to serve up quinoa with some extra flavor to it but without chopped up veggies or things like that to go with an Asian inspired recipe for Orange Baked Chicken recipe I was experimenting with.
Normally I would have probably served coconut rice alongside the chicken, so I thought it was feasible to try that with quinoa instead.
This is what I came up with for a Coconut Quinoa that has a more flavor than plain quinoa, tastes good on its own, and doesn't have a bunch of other stuff mixed in it.
For an extra boost of coconut, you can try using toasted coconut. Don't know how to toast coconut? Check out this post: Learn how to toast coconut flakes in 3 different ways (they're all super easy!), how to store toasted coconut, how long toasted coconut lasts, and the many different ways you can use this fun, tasty ingredient!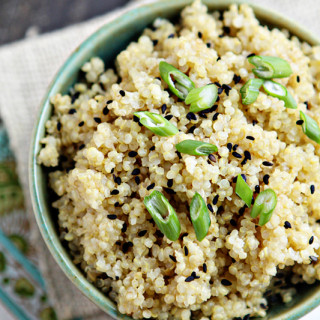 Ingredients:
2 teaspoons coconut oil
1 cup of quinoa, rinsed and drained according to package instructions
3/4 cup water
1 1/4 cup canned coconut milk
1 teaspoon sugar
1/2 teaspoon salt, or to taste
Directions:
Melt the coconut oil over medium heat in a medium sized saucepan. Add the quinoa to the saucepan and cook, stirring often, until the quinoa is golden, about 5 minutes.
Add the remaining ingredients and bring to a boil. Cover and turn heat to low. Simmer on low for 15 minutes. After 15 minutes, turn the heat off but leave the lid on and let sit for 15 minutes. Fluff with a fork before serving.
Notes:
Garnish with sliced green onions or chopped cilantro. This is a great base to serve with Asian inspired recipes as an alternative to rice.