Looking for non-toxic cleaners that work? Look no further! Branch Basics Concentrate is excellent for making a variety of non-toxic cleaners. BONUS: I've tested them all for you and they actually work GREAT!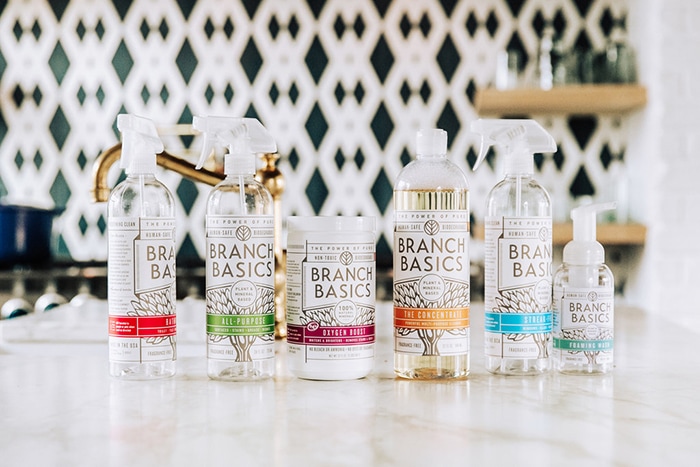 For 15% off your order use Branch Basics Coupon Code GOODLIFEKATIE!
My Favorite Non Toxic Cleaning Supplies
Posts contains affiliate links. If you purchase a product through an affiliate link, your costs will be the same but GoodLife Eats will receive a small commission.
Last fall I was introduced to Branch Basics Non-Toxic Cleaning Supplies. I will admit that I was a little bit skeptical about how well Branch Basics would clean my house.
It turns out that I didn't need to be skeptical at all.
Since last fall I've been using these products to clean my kitchen and bathrooms.
I've added it to my laundry, and we use the foaming hand soap.
(Keep reading because there is an awesome Branch Basics coupon code at the end of this!)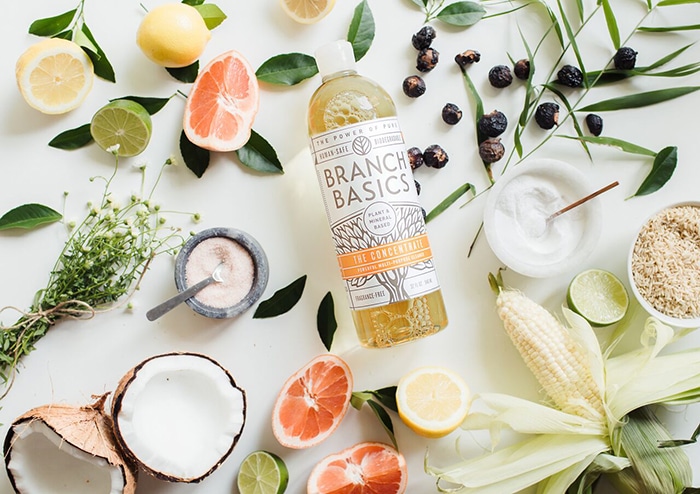 I love that the products are non-toxic and gentle on my body and the air in our home.
They really do get the job done and are by no means "gentle" when it comes to their cleaning power. I have been really happy with how clean my home looks and feels after using Branch Basics.
As my kids are older and are more capable of helping out with some of the cleaning around the house I appreciate that they can do so without harmful chemicals. I don't have to worry about them touching the cleaner or breathing harmful chemicals in.
The Branch Basics Concentrate is unscented I love to use doTERRA Essential Oils to add scents to my cleaners. Besides the fresh scent that essential oils offer, I love that many essential oils offer additional benefits when it comes to germs and neutralizing odors!
I love that my house smells amazing after cleaning with my Branch Basics cleaners, and NOT in a chemical sort of way. It smells clean and fresh!
About Branch Basics Non Toxic Cleaners
Branch Basics Concentrate is a 100% plant-based soap made with no synthetic ingredients.
Branch Basics soap not only removes dirt, dust, grease and grime, it removes the residue left behind by previous cleaners.
For more details about Branch Basics including questions about the soap, the environment, the economics of Branch Basics and more, please visit their FAQ section.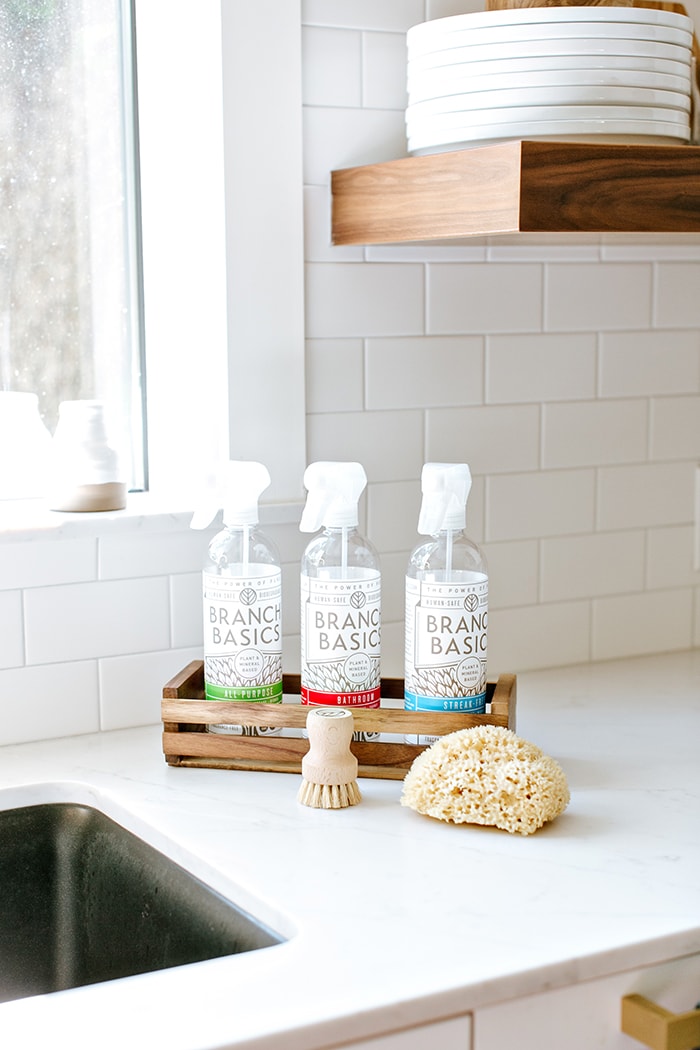 How is Branch Basics Non Toxic
HUMAN SAFE CLEANING SUPPLIES
Not irritating to eyes, skin, or lungs.
Not harmful if accidentally ingested.
Their products are: hypoallergenic, fragrance-free, gluten-free, tree nut- and peanut-free, plant- and mineral-based cleaning product that works
100% PLANT & MINERAL BASED CLEANING SUPPLIES
Our coconut oil, enzymes and fatty acids come from edible, leafy green plants and our baking soda comes straight from the earth.
Ingredients include: Purified Water, Coco Glucoside (Sugar-Based Cleanser), Chamomilla Recutita (Chamomile) Flower Extract*, Decyl Glucoside (Sugar-Based Cleanser), Sodium Citrate (Food-Grade Emulsifier), Lauryl Glucoside (Sugar-Based Cleanser), Sodium Bicarbonate (Food-Grade Baking Soda), Sodium Phytate (Plant-Based Antioxidant), Sapindus Mukorossi Fruit (Soapberry) Extract*. (*certified organic)
CLEANING SUPPLIES FREE OF SYNTHETICS
No fragrance, parabens, preservatives, harmful VOC, SLS, no triclosan, BPA-free.
BIODEGRADABLE CLEANING SUPPLIES
Biodegradable in 30 days or less.
CRUELTY-FREE & VEGAN CLEANING SUPPLIES
Branch Basics is not tested on animals and formulated without animal byproducts. However, Branch Basics states that their products are safe to use as directed on animals.
NON-GMO CLEANING SUPPLIES
Branch Basics promises that they will never use genetically-modified ingredients. They are also third party verified!
BPA-FREE BOTTLES
You can use whatever bottles you like, but if you choose to purchase the Branch Basics bottles from their website, you can rest assured that they are made with 1 plastic known as PETE or PET and are phthalate-free and BPA-free.
Branch Basics Ratios
All-Purpose Cleaner: 1 part concentrate to 11 parts water
Bathroom: 1 part concentrate to 5 parts water
Streak-Free: 1 drop concentrate per 24 ounces water
Foaming Wash: 1 part concentrate to 4 parts water
Laundry: 1 part concentrate to 2 parts water
The cool thing is all of the liquid products are made using the same non toxic cleaner concentrate. I'm not buying a bunch of different products that contain a bunch of different chemicals. You use so little of the concentrate so it lasts a long time and has been really cost effective for us.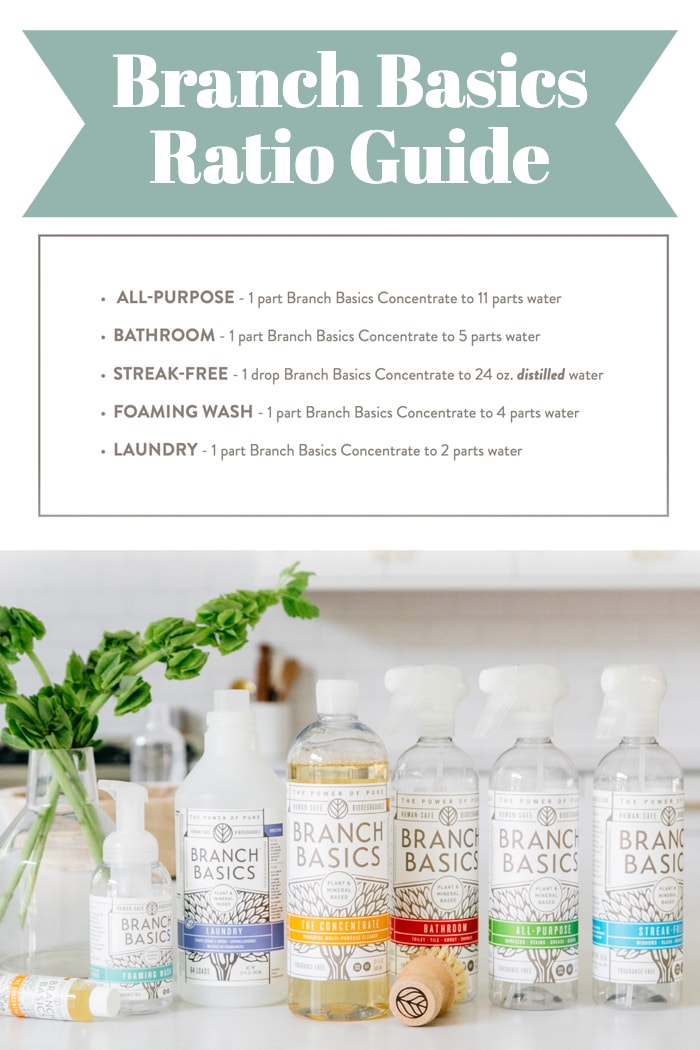 How Much Does Branch Basics Cost Per Bottle
I was amazed at how many bottles of all the different cleaners that I could make for each bottle of concentrate. It turns out to be really economical and in the end I am definitely spending less on cleaning supplies than I used to!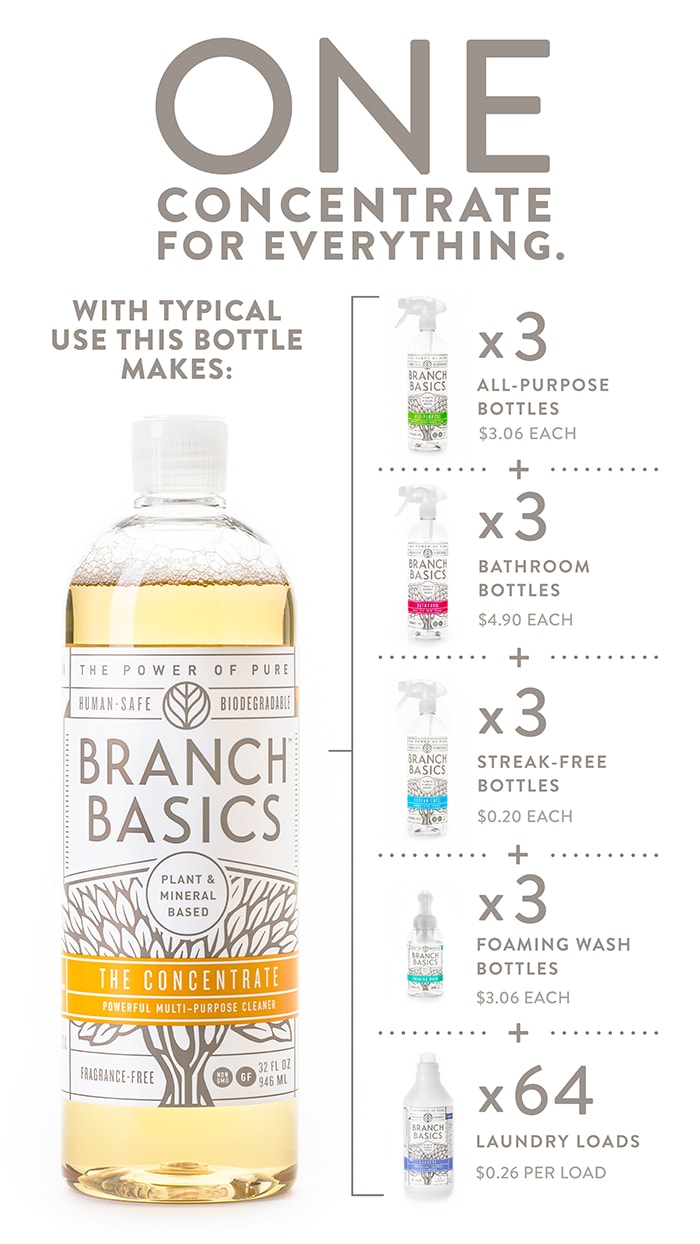 A 33 oz. bottle of Branch Basics Concentrate can make the following:
3 All-Purpose bottles (24 oz.) at $2.90 each
3 Bathroom bottles (24 oz.) at $5.80 each
3 Streak-Free bottles (24 oz.) at $0.20 each
3 Foaming Wash bottles (10 oz.) at $2.90 each
64 laundry loads at $0.24 per load
Most of the cleaners that I was previously buying were more than $5 per bottle. With Branch Basics the All-Purpose is only about $3 per bottle! The Bathroom Cleaner is a little more, at $4.90 per bottle…but the Streak-Free is only 20 cents each! So, for $8.16 I am able to make a bottle of the 3 main cleaners that we use every day in our house.
Non Toxic All-Purpose Cleaner
All-Purpose Cleaner is what I use most frequently.I t tackles all of the dirty counters in the kitchen, the stove top, inside the microwave, the top of the washing machine. I even spray it inside the kitchen sink after I've scrubbed it out.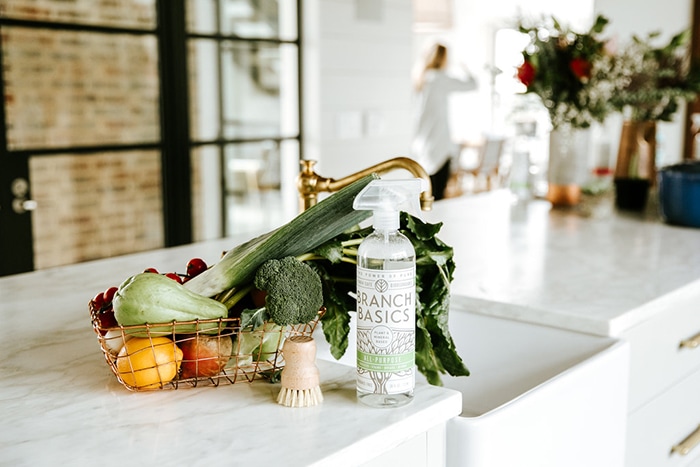 All-Purpose Cleaner can be used to pre-treat laundry stains and I can tell you that it works! I have gotten some of the craziest grass stains out of white soccer socks by pretreating with the All-Purpose Cleaner.
And you can also use the All-Purpose Spray to clean your dishes! Just spray the cleaner on the dishes and scrub to wash like normal. It is amazing all the different ways that the All-Purpose Cleaner can be used and how effective it is at each task.
Non Toxic Streak-Free Cleaner
You make Streak-Free Cleaner using water and a very small amount of Branch Basics Concentrate. Distilled water is recommended by Branch Basics for the best streak-free results, but I've just used regular filtered water from my house and had great results!
I use this on my bathroom mirrors, the front of my stainless steel appliances.
I have really dark granite in my kitchen and the Streak-Free Cleaner is great to use on that whenever there is build up or they are really dirty and need a little extra shine.
Other uses for the Streak-Free Cleaner: TVs and cell phone screens. Follow with a dry rag.
Non Toxic Bathroom Cleaner
Bathroom Cleaner is what I use for the showers, bathtubs, bathroom counters, and the outside of the toilet.
It has a little more strength than the All-Purpose Cleaner so it is perfect for dirtier jobs.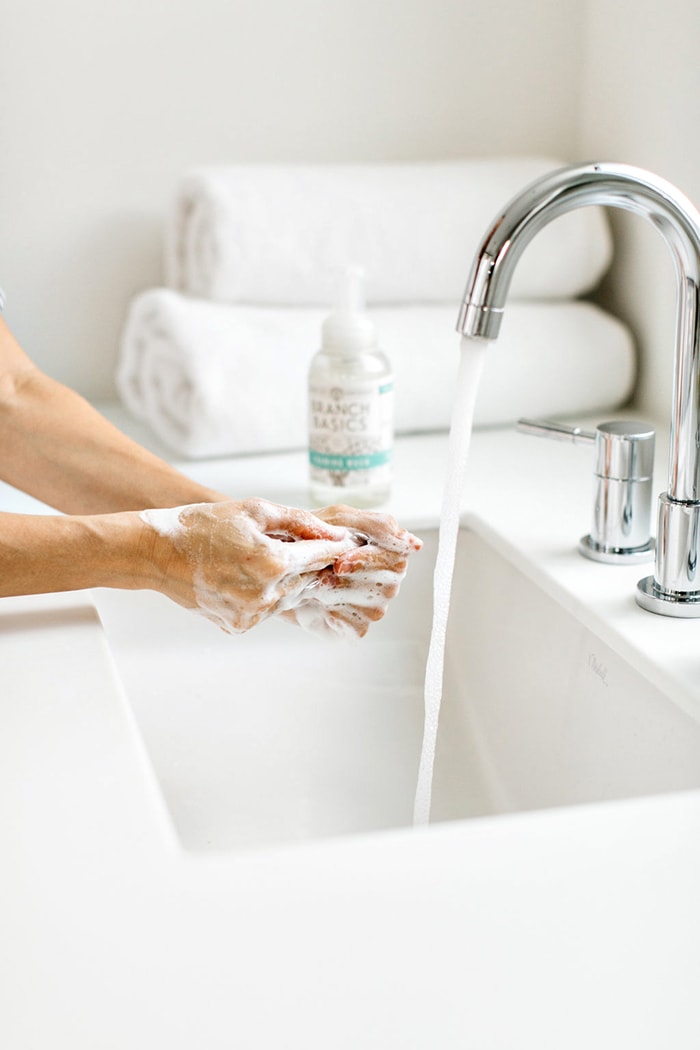 Non Toxic Foaming Hand Soap
We have the Foaming Hand Soap in all of our bathrooms and at the kitchen sink.
I love that the concentrate is so gentle on my skin because my hands get really dry and traditional cleaners and hand soaps only make it worse.
Branch Basics says that it can be used for more than just hands. Try it out for washing your wash, hair, body as well as for shaving and removing make-up. It's safe for babies and pets as well.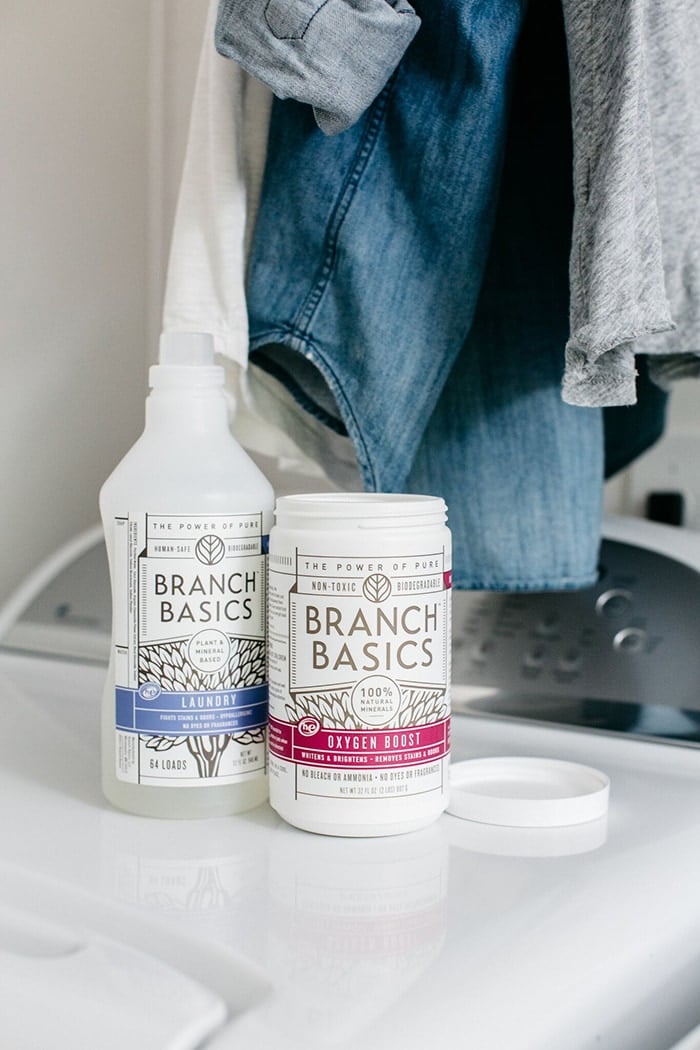 Non Toxic Laundry Whitener
Branch Basics Pure Oxygen Boost whitens and brightens fabrics and remove stains and odors, yet keeps you and your family safe from fragrances, binding agents, solvents, etc. The package comes with a plastic, 1 oz (2 Tablespoons) scoop.
No bleach.
No ammonia.
No dyes.
No fragrances.
Safe for septic tanks
I love to add a scoop of this to my laundry loads, especially to our whites and extra stinky loads (think gym clothes and soccer uniforms!)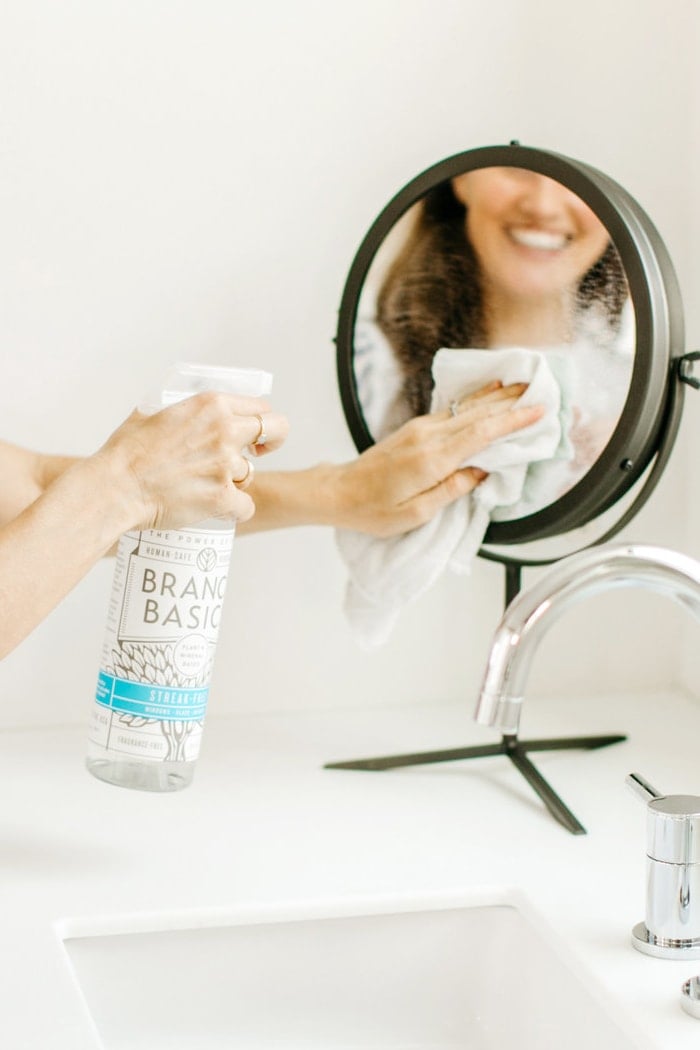 Where to Use Branch Basics
Branch Basics has so many uses! For more details on where and how to use these awesome non-toxic cleaning supplies, be sure to check out the Branch Basics User Guide.
Kitchen

Bathroom

Laundry

Hand and Body

Stain Fighting

Wood Floors and Surfaces

Surfaces that need a Streak-Free finish
Branch Basics Coupon Code
Branch Basics has kindly provided a coupon code for all Good Life Eats readers who want to try out their awesome non-toxic cleaning supplies! Thank you, Branch Basics!
15% OFF at Branch Basics
Use the Branch Basics Coupon Code GOODLIFEKATIE for 15% OFF a STARTER KIT!
Posts contains affiliate links. If you purchase a product through an affiliate link, your costs will be the same but GoodLife Eats will receive a small commission.