Leftovers can often be a hot topic. Do you love them or hate them? Are you the type that can't stand leftovers, maybe even shudders a little bit at the thought of day old food?
Most days I love them, but I fall in the camp of can't stand them when leftovers last more than a day or two beyond the original night.
Leftovers have saved me on many a busy night, whether we have a lot going on after school, have had simply too much fun on a gorgeous summer afternoon to bother with cooking dinner, or when the chef in charge (me!) is under the weather.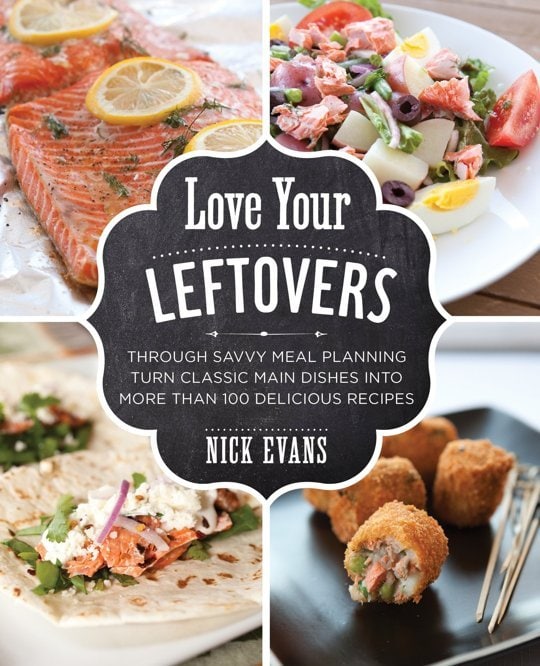 What do you do when you're on day 3 or 4 of leftovers and you are absolutely so over that original meal? Don't throw the food away! The answer – instead of throwing away perfectly good food, repurpose your leftovers! Turn something old into something new.
Repurposing leftovers isn't a new concept, but even though I know what to do with my leftovers, I can still easily get bored with them or feel uncreative. If you share similar feelings regarding the storage containers of leftovers that sit in your refrigerator, then Love Your Leftovers, by Nick Evans, is the perfect cookbook for you!
Nick, author of food blog Macheesmo, walks you through exactly what you need to do to get past your dislike (or even confusion) regarding leftovers. He includes helpful Kitchen and Pantry Basics, like what type of kitchen equipment you need and how to stock your pantry, as well as Meal Planning 101.
Love Your Leftovers is full of gorgeous, colorful photography and recipes that are anything but boring. If leftovers consist of recipes like Vietnamese Noodle Salad, Black Bean Burgers or Pulled Pork BBQ Pizza then, please, sign me up!