Like many new moms, Catherine McCord struggled to find fresh, healthy recipe ideas when it was time to start her son on solids.
I found myself having conversations with friends who struggled with the same issues and I quickly became their go-to girl for baby and child-friendly recipes. I believed that if it helped them, then there just might be a lot of new moms out there looking for the same guidance. That was my "aha!" moment…and my next baby, weelicious.com, was born.
Fast forward and now Catherine is offering help to parents who get stuck in the lunchbox rut through her beautiful cookbook Weelicious Lunches. She believes that lunch shouldn't be intimidating for parents and it should be fun for kids, and she wants to show you how to do that.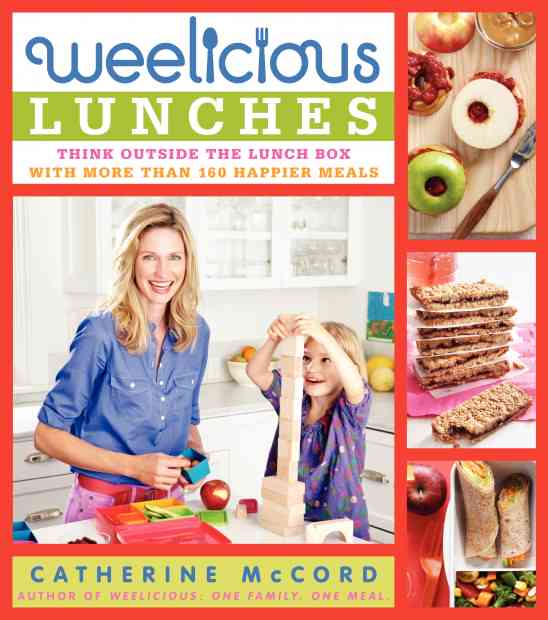 Weelicious Lunches is full of colorful photos alongside school lunch solutions and tips for packing a balanced lunch with more than 160 recipes to help you get your kids off to school with a lunchbox that not only is balanced and healthy, but is full of food they actually want to eat.
In Weelicious Lunches you'll find:
suggestions for food allergies at the lunch table
strategies for picky eaters
from lunch to dinner: reinventing leftovers
the principles of packing the perfect lunch
Every recipe is crafted to educate your kids, get them involved and make a parents life much easier making lunch fun rather than a chore.
Even though school is out for the summer, I look forward to giving some of these recipes a try with Logan and Madeline to make summer lunches and poolside picnics a little more creative and fun. Recipes like Sweet Potato Muffins, Cinnamon Roll "Sushi" Sandwiches, and Nature Cookies are sure to be a hit!
Enter to win your copy today!