These Blueberry Smoothie Pops are Healthy popsicles made with blueberries, banana, and yogurt for a cool sweet treat with zero guilt.
Now that school is out, I'm realizing once again that I need to keep my kitchen well-stocked with healthy snacks for my kids. We spend a lot of time swimming and that means my family is ravenous when we get home.
Making these Blueberry Smoothie Popsicles
For awhile now, we've been relying on smoothies for a quick, slurp-able snack. It's one way I know my kids are getting more fruit (and even veggies!) into their day.
A few summers ago I started turning our smoothies into popsicles. It's a nice alternative to the sugary ones they see at the store and beg me to buy.
These Blueberry Smoothie Pops are just perfect when the afternoon munchies hit.
I picked up a few popsicle molds a few years ago and it makes it a lot easier to make popsicles, but if you don't have a special mold, paper or plastic cups can be used too.I like these Popsicle Molds the best, but any option is fine. These have a classic shape and you can make 10 popsicles at a time.
Blueberry Popsicle Ingredients
This recipe is so easy because it only has 3 ingredients, and don't worry – none of them are fancy or speciality ingredients that are difficult to find.
Blueberries
Vanilla Yogurt
Bananas
I prefer to use Vanilla Greek Yogurt – it is thicker and has higher protein content than traditional yogurt. Organic Greek Yogurt is ideal. It does have a little added evaporated cane juice, but otherwise these get their sweetness from ripe fruit.
Do I need to use Frozen Fruit for These Blueberry Smoothie Popsicles?
You can use fresh fruit with just as great results, but I prefer to use frozen fruit when making popsicles or smoothies.
Using frozen fruit creates a colder popsicle base and the popsicles will freeze faster than they would if you used room temperature fruit in this recipe.
For frozen bananas, I like to peel any extra bananas we have or bananas that have gotten ripe faster than we can eat them, then I put the bananas in a bag that I keep in the freezer.
There is no need to slice the bananas before freezing them unless you want to. Then, I have frozen bananas at the ready any time I need to use them for a recipe.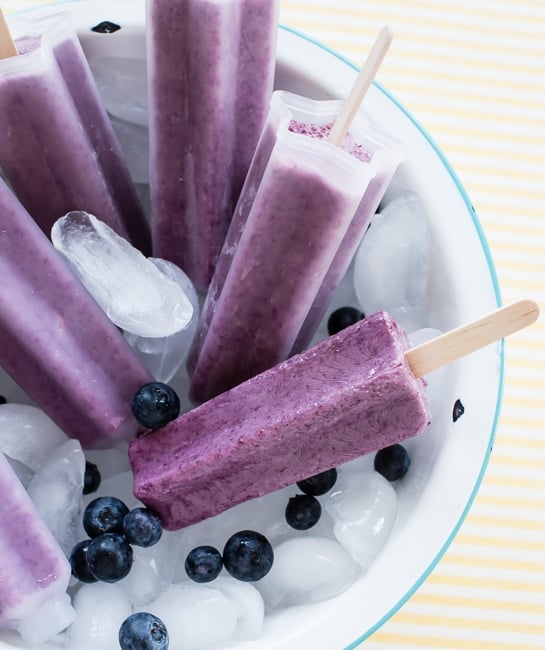 This recipe for Blueberry Smoothie Pops is written by: Lindsey Johnson of Cafe Johnsonia
These pops aren't just for snacks either. They really taste like dessert, and it's the kind of dessert I'm okay giving them on a daily basis. Not only that, but these blueberry smoothie pops also make a great quick breakfast if we're in a hurry.
Can I substitute a different Fruit in this Popsicle Recipe?
YES! Feel free to swap out the blueberries for any other berry that you prefer, or try a mix of different berries.
You can also make this recipe using fruits other than berries. For example, peaches, apricots, and cherries all work great! Really, any ripe fruit is perfect.
Sometimes I also add in a handful of spinach or kale for a little added nutrition.
TIPS FOR MAKING POPSICLES
Use ripe fruit that's in season, or frozen fruit for best flavor.
Leave a little room at the top for the popsicles to expand as they freeze.
Cover the tops of the popsicle molds or cups with a piece of foil and insert the popsicle stick if the popsicle mold doesn't have a lid that the sticks thread through. This will help keep the popsicle sticks centered.
Freeze for at least 3 hours, or overnight.
Dip the molds into warm water to help them release better.
HOW TO STORE POPSICLES
We like to have a few flavor options stashed in the freezer to choose from. When you remove the popsicles from the popsicle mold, it frees up the Reusable Popsicle Mold. Then, you can get started on making your next batch of popsicles.
How do you store homemade popsicles? It is easier than you might think!
1. Make popsicles according to the recipe instructions.
2. Remove the popsicles from the mold, if you are using one. Running warm water along the outside of the mold helps dislodge any stubborn popsicles from the container. Make sure you don't use water that is too hot or for too long – you don't want to risk melting the popsicles too much.
3. If the popsicles are slightly softened after removing, (this can happen if you had to run warm water on the outsides of the mold), place them on a parchment lined cookie sheet or other freezer-safe flat surface.
4. Re-freeze the popsicles for 5-15 minutes, until they are completely hard again. Otherwise you might end up with a bunch of popsicles all stuck together inside your bag.
5. Remove the popsicles from the freezer safe sheet and place them in a freezer zip top bag that has been labeled with the flavor and the date.
More Popsicle Recipes
Popsicles like these Blueberry Smoothie Popsicles are a great way to beat the heat during the summer months. They're a fun and easy snack for kids to prepare that doesn't heat up the kitchen or make a lot of mess. Here are a few more favorite recipes:
Try these Creamy Strawberry Lemonade Popsicles for a fun take on some favorite summer flavors.
Fruit Punch Popsicles with Coconut Water are light and refreshing. I love the extra punch (no pun intended) of nutrition thanks to the coconut water. They're great for summer hyrdration!
For an incredibly delectable treat, try these Mint Chocolate Cheesecake Popsicles if you're a fan of mint, chocolate, and cheesecake flavors. These remind me of thin mint cookies in popsicle form.
Pomegranate, Raspberry, and Nectarine Popsicles are another option when you're craving something like, fruity and fresh. I like all of the fruits in this one because it gives the popsicles such a juicy flavor.
For a chocolate-covered popsicle, try these Chocolate-Covered Blood Orange Popsicles. You're just prepping a quick, homemade magic shell to cover already prepared (or store bought) popsicles with.
These Creamy Dairy-Free Berry Banana Pops are great for incorporating fruits into snacking and they give you the option of staying away from dairy if you're sensitive to that.
What healthy snacks are you making to chase away the afternoon munchies?
Love this recipe for Blueberry Smoothie Popsicles? Sign up for Good Life Eats email updates and never miss another recipe!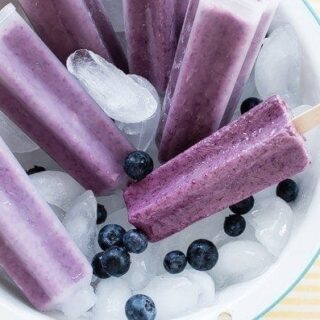 Blueberry Smoothie Pops
Additional Time:
5 hours
40 minutes
These Blueberry Smoothie Pops are Healthy popsicles made with blueberries, banana, and yogurt for a cool sweet treat with zero guilt.
Ingredients
1 1/4 cups fresh or frozen blueberries
1 cup vanilla yogurt
1 large ripe banana, peeled
Instructions
Have six 5 ounce popsicle molds, a 8-inch square of foil, and six popsicle sticks ready.
Place all of the ingredients into a blender and puree until smooth.
Pour into the popsicle molds, leaving about 1/4-inch space at the top.
Cover the molds with foil and insert the popsicle sticks into the center.
Place in freezer for about 3 hours.
To serve, briefly dip the molds into warm water to help loosen them and gently pull on the stick to release the pops from the mold.
Notes
-Substitute any variety of berries, or use cherries, apricots, plum, or peaches in place of the blueberries.
-It could take longer for the pops to freeze depending on the temperature of your freezer, but three hours is about right.
-Can also use small paper or plastic cups instead of popsicle molds.
Recommended Products
As an Amazon Associate and member of other affiliate programs, I earn from qualifying purchases.
Nutrition Information
Yield

6
Serving Size

1
Amount Per Serving
Calories

69
Total Fat

1g
Saturated Fat

0g
Trans Fat

0g
Unsaturated Fat

0g
Cholesterol

2mg
Sodium

26mg
Carbohydrates

14g
Fiber

1g
Sugar

11g
Protein

2g