Chocolate Covered Blood Orange Popsicles
It is kind of amusing that I'm posting about frozen fruit bars today when we've barely been above 15 degrees here for the past week. Today was almost 20 and that felt so warm (compared to some of the ridiculous lows we've had, like -12…). What kind of a messed up view of the weather is that?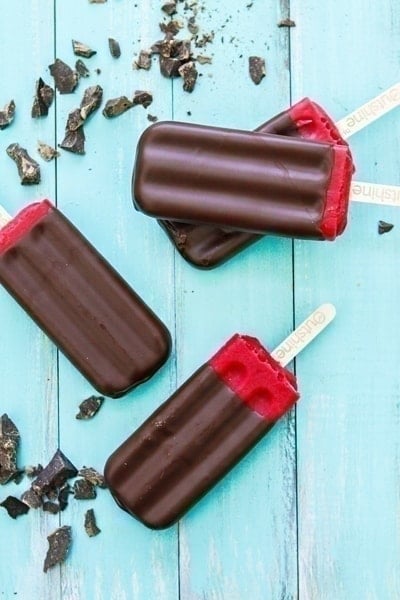 Despite the cold weather and the cold dessert, it was fun and super easy to dip and cover these seasonal Blood Orange Fruit Bars from Outshine in a homemade chocolate magic shell like coating. We devoured them for dessert after decorating our Christmas tree for a fun family night activity.
Outshine has another delicious seasonal fruit bar flavor for wintertime – Grapefruit. I can't decide which I like best because I have always loved fruity desserts, but the kids were all about the Chocolate Covered Blood Orange Popsicles.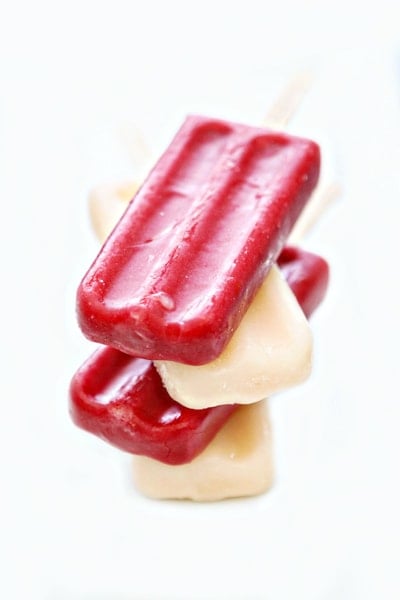 6 Tips for Making Chocolate Covered Popsicles
It was super easy to take these Blood Orange Fruit Bars up a notch by dipping them in chocolate. Just a little indulgence that doesn't feel guilty at all.
1. Place a parchment paper or wax paper lined tray or cookie sheet in the freezer to place each dipped popsicle on to harden in the freezer.
2. Use coconut oil to thin the chocolate. This makes it more "dip-able," rather than a globby mess. Coconut oil also hardens quickly which allows this chocolate coating to set up quickly like Chocolate Magic Shell.
3. Don't cook the chocolate mixture at too high of a temperature. It needs to be just hot enough for the oil and chocolate to melt into a thin consistency. Too hot and it will melt the popsicles.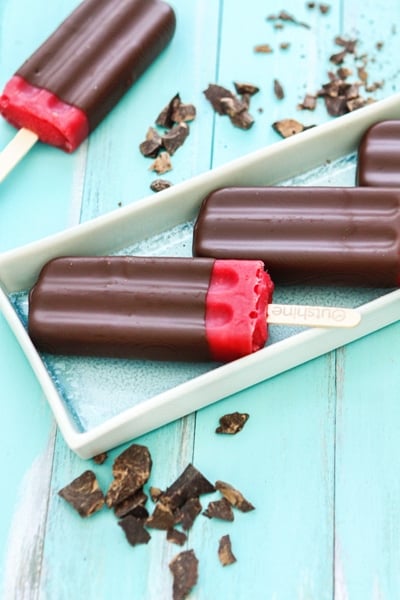 4. Use a tall glass with a diameter just slightly wider than what you are dipping. This allows you to fully submerge the popsicle without making massive amounts of chocolate coating.
5. Keep the popsicles in the freezer, removing only one at a time to prevent too much softening.
6. After dipping, hold the popsicle upside down to allow any excess chocolate to drip back into the cup. Hold it for a moment or two until the chocolate begins to harden Then, place the popsicle on the tray in the freezer.
Outshine Giveaway
Homemade Chocolate Magic Shell
This is perfect for drizzling on top of ice cream or dipping frozen fruit bars or other popsicles in.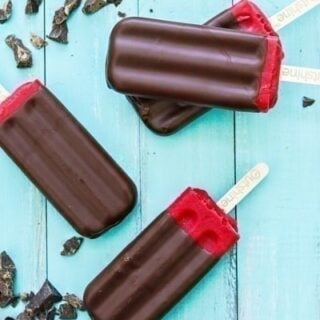 Ingredients:
5 ounces dark chocolate (such as Ghirardelli 60% Cacao Bittersweet Chocolate), chopped
3 tablespoons coconut oil
Directions:
Combine the oil and the chocolate in a small saucepan. Heat over low heat, stirring periodically, just until the mixture is melted and comes together.
I have partnered with Outshine for the post and have been compensated for the work I have done. All opinions are my own.