Fuel up and support heart health with this Chicken Quinoa Bowl with Walnut Sherry Molasses Vinaigrette. This recipe features lots of delicious produce, hearty quinoa, protein rich chicken, salty goat cheese, and nutty heart-healthy walnuts for a filling, satisfying meal.
This recipe was created in partnership with Fisher Nuts.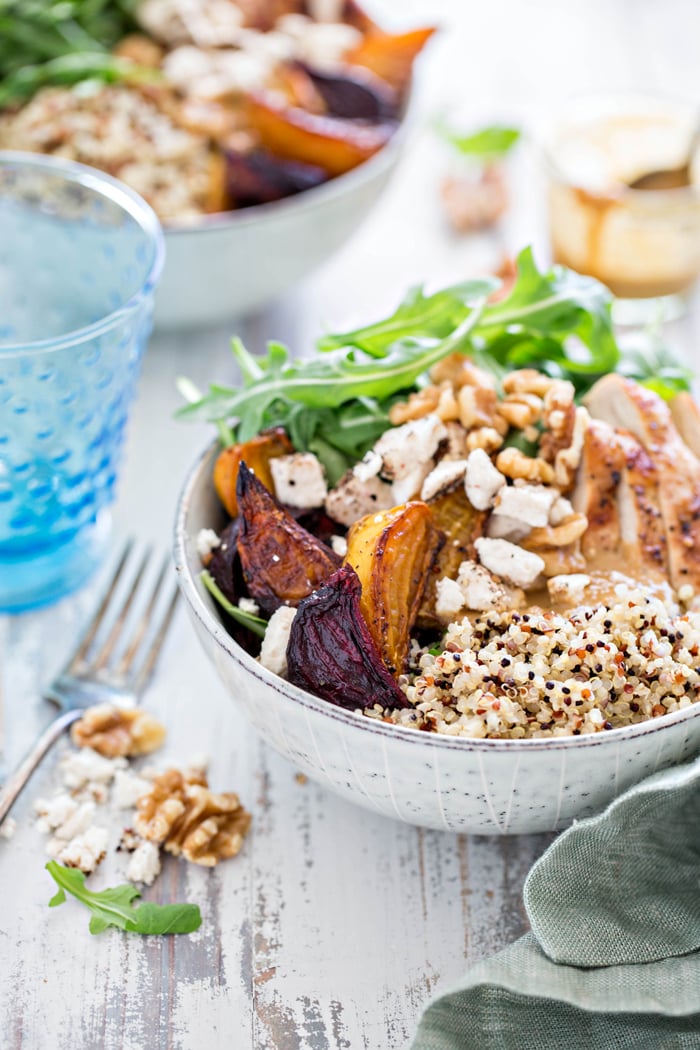 Click HERE to save this Chicken Quinoa Bowl recipe!
Healthy Quinoa Bowl Recipe
Not to pat myself on the back or anything, but I've been pretty happy with my health habits over the last year. About a year ago I decided that it was important to me to start taking more deliberate good care of my body. I wasn't in bad shape and I didn't have bad eating habits, but I wanted to do a little bit better.
The two main things on that list were related to my daily habits.The first was to make regular exercise part of my routine.I had gotten in the habit of my physical activity not actually being part of my routine.
I wasn't sedentary. I walked the dog every day, at least once usually. I did about a month of weekly water aerobics last year. Once in a while I'd get on the elliptical or do an exercise video. In the summer I would work in the yard.
I did plenty of physical things, but I didn't have a good consistency to my method. The problem was that I didn't give myself a specific goal. I just "wanted to be more active."
So, last year I told myself that being "more active" meant that I would exercise at least 3 times a week for at least 30 minutes. I created an exercise routine that I could do at home that didn't require a lot of equipment. Something that could be adjusted as I got stronger, and that I could easily fit into my daily schedule. Because I knew that if it was too difficult or inconvenient to work out I knew I wouldn't do it.
I wanted to have a mix of doing cardio on some days and strength training on the other days. My ideal would be 2 days of each per week. I wanted to work on my heart health as well as my physical strength.
The second one was to make sure I was eating a good midday meal that provided plenty of nutrients so that I felt more energetic and refreshed after lunch. My days tend to get busier post-lunch until we put kids to bed at the end of the day. Those last couple of hours after lunch before I have to get the kids from school end up being crunch time where I try to get as much work done before I need to leave.
Then, when I get home with the kids I am driving people around to sports practices, making dinner, and trying to get things around the house done (usually laundry). After dinner, then it is time to get kids going on homework and whatever else they need to accomplish that day. Two of the kids are pretty self sufficient with all of this, but the other two still need some coaching to get the work done, or sometimes they need help understanding the homework.
So, it has become pretty important to me to make sure I'm eating a good lunch instead of grabbing something quick just to eat, or worse – forgetting to eat lunch all together because I'm so busy. I've been eating a lot of salads for lunches — and I don't mean just lettuce.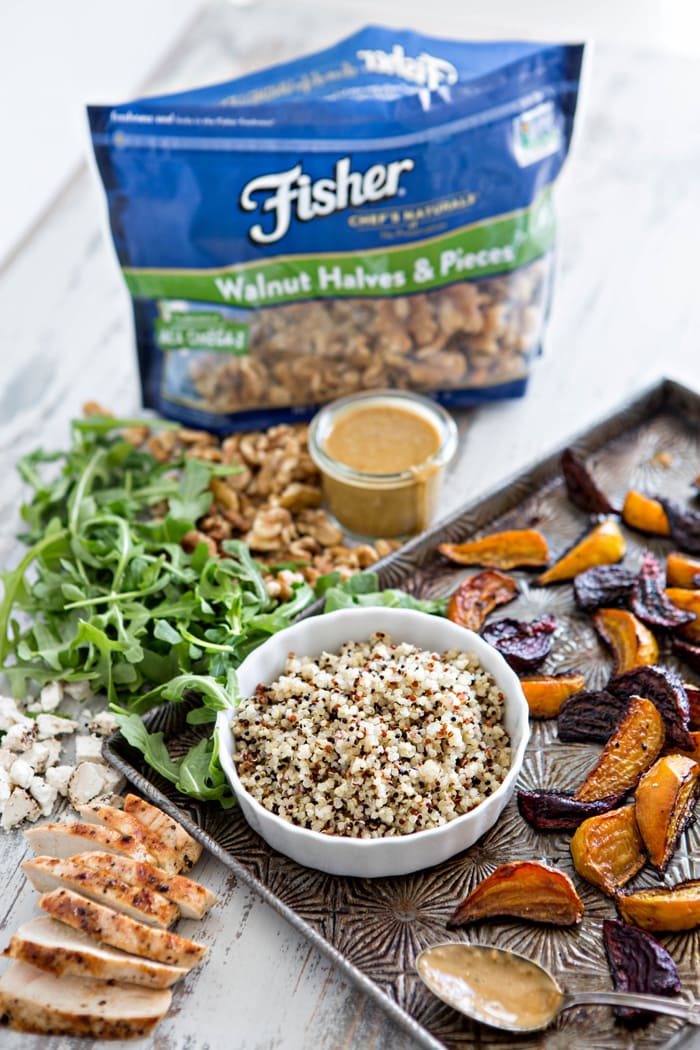 Click HERE to save this Chicken Quinoa Bowl recipe!
One salad that I've been enjoying recently is this Chicken, Beet, and Arugula Quinoa Bowl with Walnut Sherry Molasses Vinaigrette. The salads that I like best are the ones that have lots of flavors, textures, and colors.
This healthy bowl recipe features baby arugula, quinoa, roasted beets, sliced chicken, walnuts, and goat cheese. I also used walnuts in the salad and homemade salad dressing.
Nuts, like Fisher's entirely preservative-free and non-GMO Project Verified varieties, are something I'm always trying to incorporate more of into my diet. So, I like to add nuts to my salad too.
I love that Fisher Nuts has nine types of recipe nuts that are certified as Heart Healthy by the American Heart Association, and they come in a handy resealable bag helps keep the nuts fresh for longer. Now they're available on Amazon, which makes it super easy to always have on hand what you need.
It is super easy to add some chopped or sliced nuts to the top of any salad for a satisfying crunch and heart healthy boost. I also love to blend nuts into homemade salad dressing and vinaigrette recipes.
The nuts gives this Walnut Sherry Molasses Vinaigrette a little extra flavor boost, plus I like the way the blended walnuts make the dressing a little bit creamy and that it helps emulsify it a bit so the oil and vinegar don't separate out.
Making homemade salad dressing might sound like just another step, but its actually pretty simple. In this Walnut Sherry Molasses Vinaigrette recipe, I just blended everything together in my mini food processor.
These two changes have really made a difference in my energy levels and just feeling better over all. Some of the little aches and pains that surfaced during all of our moving and heavy furniture lifting over the summer and fall of 2016 started to fade away thanks to my body getting stronger from strength training.
Eating better for my heart and my energy has helped me be able to sustain my fitness goals. And probably one of the best parts of all of this is seeing the kids make healthier choices on their own, and thinking that just maybe some of it has to do with my example.
Kayden likes to pack salad in his lunch every day now. He told me last week that it was for 3 reasons:
1) because it is WAY faster than making a sandwich
2) it tastes really good
3) he's trying to be healthier.
None of the kids complain about eating their vegetables at dinner, and they're all taking larger helpings than they were a year ago. Between sports and playing in the neighborhood with friends the kids are all incredibly active. It makes me really happy that as a family we are making heart healthy choices, because I want all of us to be around for a very long time.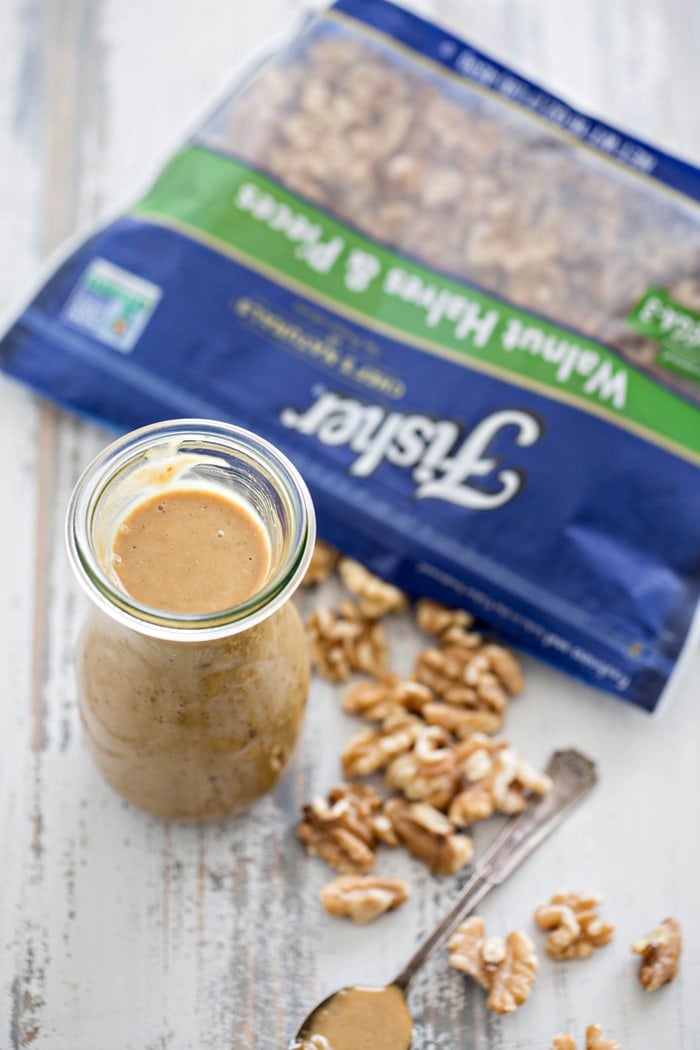 Click HERE to save this Chicken Quinoa Bowl recipe!
Quinoa Bowl Ingredients
This healthy dinner bowl uses very few ingredients, many of which can be prepped ahead of time (keep scrolling for my tips on how to meal prep quinoa bowls).
Here's what goes into this chicken quinoa bowl recipe:
Baby arugula
Roasted beets
Cooked, sliced chicken
Goat cheese
Chopped walnuts
Sherry vinegar
Molasses
Olive oil
Shallots
Salt and pepper
For the complete ingredient list and detailed instructions, scroll to the bottom of this post for the FREE printable recipe card.
How to Make Quinoa Bowls
Once all the ingredients are prepped, this quinoa veggie bowl comes together quickly. Here's how I like to make chicken quinoa bowls:
Divide the quinoa, arugula, beets, and chicken between four bowls.
Sprinkle the top of the salad with goat cheese and walnuts.
Add the salad dressing ingredients to a food processor and blend until smooth.
Pour the dressing over the healthy quinoa veggie bowls and enjoy!
Can I Use Different Veggies?
Yes, this quinoa veggie bowl recipe is very flexible. You could use spinach or kale instead of arugula, roasted sweet potatoes instead of beets, and so on.
Can I Omit the Chicken?
Of course! To make this quinoa bowl vegetarian, simply omit the chicken. You're also welcome to use another type of meat, if desired.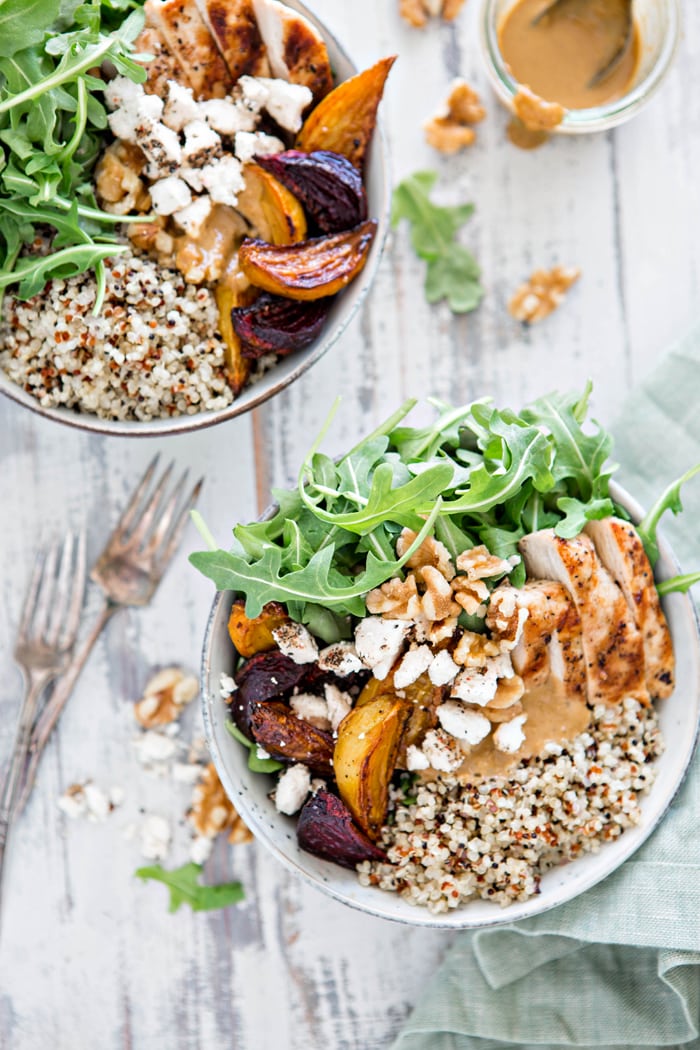 Click HERE to save this Chicken Quinoa Bowl recipe!
Tips for Making Chicken Quinoa Bowls
To make it easier and quicker to make nice salads for lunch without having to do a lot of prep work midday, I usually make extra ingredients ahead of time and store them in the fridge.
If I'm buying lettuce or other greens that need to be washed and chopped, I will do it all at once and then store it in a container or bag in the refrigerator. That way it is already prepped and ready to go.
Once a week I will make some quinoa and keep it on hand in the fridge to use in different types of salads throughout the week.
When I cook meat for dinner (anything from taco meat, to pork chops, or grilled chicken) I always make a little extra to save for lunch the next day so that I can add it to my salad.
And the same goes for roasted vegetables. It would be time consuming to roast beets every time I wanted to make this chicken and quinoa veggie bowl. But, if I'm making some to go with dinner or if I have an extra few minutes one evening, I can make them ahead of time and save them for later.
I also like to make extra when I prepare my own salad dressings, because they'll usually last in the fridge for about a 5-7 days and I can use them in my lunches all week long. It makes lunch a little more interesting and exciting when I have something I'm looking forward to eating.
Did you know you can quickly cook quinoa in an Instant Pot when you're preparing these Chicken Quinoa Bowls? Head over to my post: How to Make Quinoa in the Instant Pot for all the details!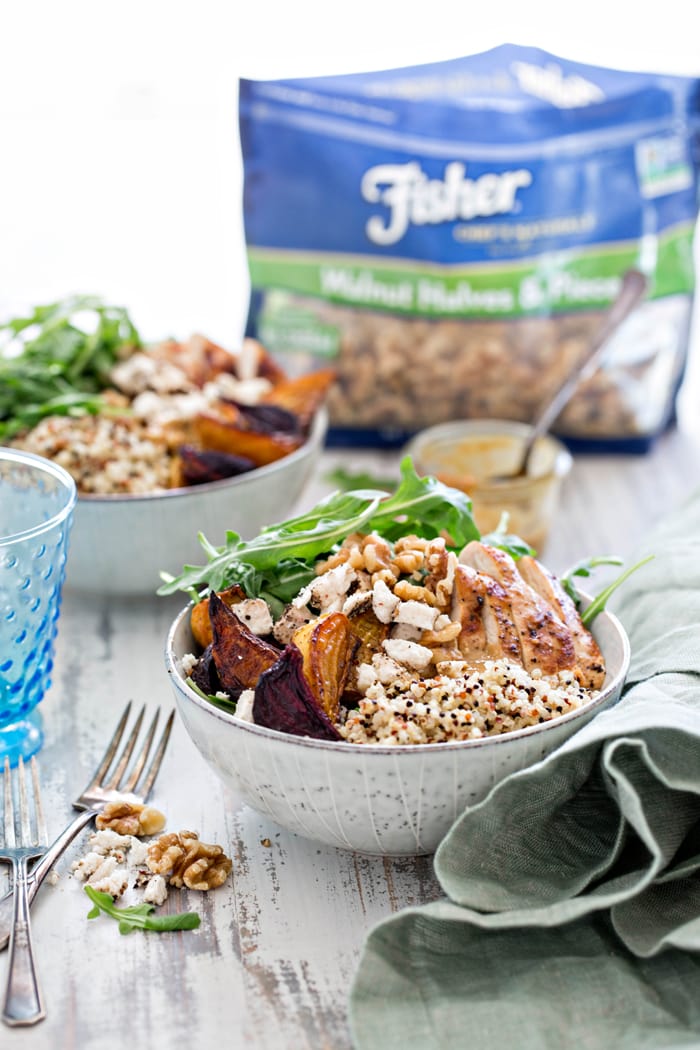 Click HERE to save this Chicken Quinoa Bowl recipe!
More Heart Healthy Recipes:
Looking for more hearth healthy ways to incorporate nuts into your diet? Check out some of these delicious recipes, or browse the recipe index archives:
Fuel up and support heart health with this Winter Spinach Chicken Salad Quinoa Bowl with Creamy Almond White Balsamic Dressing. It is the perfect loaded salad to enjoy this time of year.
Sweet and Spicy Rosemary Bar Nuts offer the perfect mix of sweet, spicy, and savory for all of your healthy snacking needs.
Try this Buffalo Chicken Cobb Salad with Walnuts next time you need a buffalo chicken fix. Nuts might not be a traditional Cobb Salad ingredient, but the tender, yet crunchy, walnuts really pair well with the Blue Cheese and add interesting dimension to the whole salad.
Mocha Roasted Almonds, Salted Vanilla Maple Nut and Seed Clusters, Cinnamon Vanilla Glazed Walnuts are incredibly easy snacks to make that will help you satisfy your sweet tooth without ransacking your healthy snacking goals.
Roasted Asparagus is drizzled with a tasty lemon walnut dressing for simple, delicious and heart-healthy side dish. With spring getting closer, this Roasted Asparagus with Lemon Walnut Dressing is the perfect addition to your dinner table.
Mangoes and Almonds combine to make a delicious Fruity Mango Almond Butter. This is perfect for spreading on toast.
In this recipe for Sweet Braised Kale with Apples and Walnuts, the kale is paired with the sweet flavors of apples and apple cider.The toasted nuts add a bit of crunch and texture, keeping every bite sweet and delicious.
What are your favorite heart healthy recipes?
Love this recipe for Chicken & Veggies Quinoa Bowl? Sign up for Good Life Eats email updates and never miss another recipe!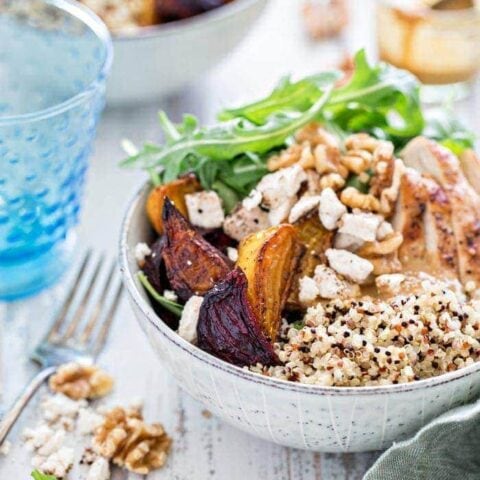 Quinoa Bowl with Chicken and Veggies
This quinoa bowl recipe features lots of veggies, quinoa, chicken, salty goat cheese, and heart-healthy walnuts for a filling, satisfying meal.
Ingredients
For the Salad
1 1/3 cup Quinoa, prepared according to package instructions
2 cups Baby Arugula
1 cup Roasted Beets, a mix of gold and red
1 cup Sliced Chicken
3 tablespoons Goat Cheese Crumbles
2 tablespoons Chopped Walnuts
For the Walnut Sherry Molasses Vinaigrette
2 tablespoons Sherry Vinegar
2 1/4 teaspoons molasses
1/4 cup Extra Virgin Olive Oil
2 tablespoons Chopped Walnuts
1 teaspoon Minced Shallot
1/4 teaspoon Salt
1/4 teaspoon Black Pepper
Instructions
For the Salad
Divide the quinoa, arugula, beets, and chicken between 4 bowls.
Sprinkle the top of the salad with goat cheese and walnuts, dividing the amount between the two bowls.
Serve topped with your preferred amount of Walnut Sherry Molasses Vinaigrette.
For the Vinaigrette
Combine the sherry vinegar, molasses, extra virgin olive oil, walnuts, shallot, salt, and pepper in a small food processor or blender.
Puree until the ingredients are smooth and combined.
Store any leftovers in the refrigerator for up to 1 week.
Notes
Grilled chicken or leftover roasted chicken work great in this recipe. You can also prep your own Shredded Chicken in advance and use it to make quinoa bowls throughout the week.
Recommended Products
As an Amazon Associate and member of other affiliate programs, I earn from qualifying purchases.
Nutrition Information
Yield

4
Serving Size

1
Amount Per Serving
Calories

366
Total Fat

26g
Saturated Fat

5g
Trans Fat

0g
Unsaturated Fat

20g
Cholesterol

37mg
Sodium

224mg
Carbohydrates

19g
Fiber

3g
Sugar

5g
Protein

14g
Tag @goodlifeeats and include the hashtag #goodlifeeatsrecipes so I can see what you're cooking up in YOUR kitchen!
Click HERE to save this Chicken Quinoa Bowl recipe!
I have been partnering with Fisher Nuts since 2013 because it is one of the only brands of recipe nuts entirely without preservatives. I have been compensated for my time creating this recipe for Chicken, Beet, and Arugula Quinoa Bowl with Walnut Sherry Molasses Vinaigrette, but all opinions are my own.