Gluten-free Coffee Cake
Gluten-free Coffee Cake is a great intro to gluten-free baking!
So many people think that gluten-free baked goods aren't as delicious as the more traditional kind that are made with all-purpose flour.
With the right recipe, though, gluten-free goodies can be just as good as their gluten-laden counterparts!
There are loads of gluten-free flours out there but a lot of them result in grainy or chalky end products.
I've been able to avoid this by sticking to a few specific gluten-free flours.
This recipe for Gluten-free Coffee Cake uses oat flour, almond flour, and coconut flour.
These are my favorite gluten-free flours that result in almost perfectly textured baked goods.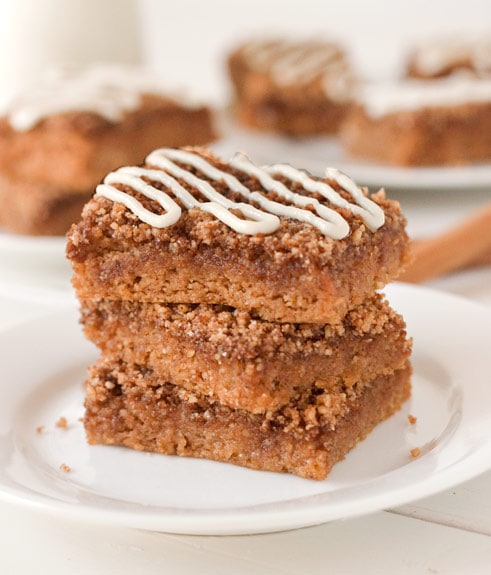 Written by: Erin D. of Texanerin Baking
To make oat flour, just pulse rolled oats in a food processor until the oats resemble flour.
If you need whatever you're making to be gluten-free, make sure to buy non-contaminated oats.
Almond flour is finely ground blanched almonds, but it can be pricey and difficult to find.
A cheaper and easier to find substitution is almond meal.
Unlike almond flour, this flour is not blanched and is usually not as finely ground.
Almond flour and almond meal aren't always interchangeable, but with this recipe, it's not a problem.
Coconut flour can be found in most grocery stores and it's important to note that there are no substitutions for it.
It requires a lot of extra liquid and can also be on the expensive side.
But, my $8 container has lasted me a year and I use it frequently.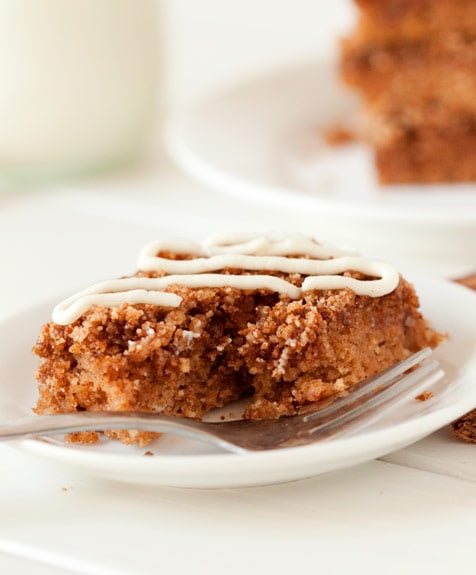 I don't have any gluten sensitivities but I find myself baking this coffee cake all the time.
It's moist, delicious and doesn't taste like it's been made in a healthier way.
We all have family members or friends who don't tolerate gluten and if you need or want to bake them something.
This is a gluten-free coffee cake is a great cake to start off with!
I made this coffee cake into bar form because I wanted a higher glaze to cake ratio.
If you prefer a thicker more traditional cake, double the recipe for a 9″x13″ pan and bake for 40-45 minutes.
Blueberries or another type of fruit would be a great addition to this Gluten-free Coffee Cake!
What's been your biggest challenge with gluten-free baking?
Gluten-free Coffee Cake
Yield: 12 pieces
Prep Time:15
Cook Time:20
This gluten-free coffee cake is just as delicious as a gluten-filled version! Moist, fluffy and easy to prepare, this cake is a great way to start the day.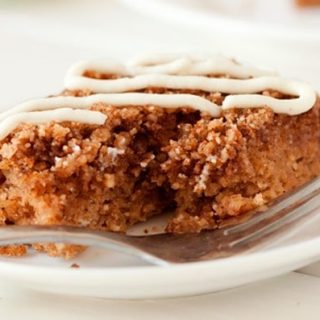 Ingredients:
For the coffee cake:
1 1/4 cups almond flour
1/4 cup oat flour
2 tablespoons coconut flour
1/8 teaspoon salt
2 teaspoons cinnamon
1/3 cup brown sugar, firmly packed
1/4 cup canola or vegetable oil
1/2 cup walnuts
1 teaspoon cinnamon
1/2 teaspoon baking soda
1/2 teaspoon baking powder
2 large eggs
1 teaspoon vanilla extract
1/2 cup milk
For the glaze:
1/3 cup cream cheese, room temperature
1/2 cup powdered sugar
1 teaspoon vanilla extract
1 - 3 tablespoons milk, optional
Directions:
Grease an 8"x8" baking pan or line it with a piece of parchment paper.
Preheat oven to 325 degrees F.
In the bowl of a food processor, pulse together the almond flour, oat flour, coconut flour, salt, 2 teaspoons cinnamon, and brown sugar.
Mix until combined and then add the oil and pulse until well combined.
Transfer this mixture to a large bowl and set aside.
To make the topping, remove 1/2 cup from this mixture and return it to the food processor.
Add the walnuts and the remaining 1 teaspoon of cinnamon and pulse until crumbs form and set aside.
To the reserved dry mixture, add the baking soda and baking powder.
Add the eggs, vanilla and milk and stir until smooth.
Pour into the prepared pan and bake for 20 minutes. A toothpick inserted in the middle should come out clean. Cool the cake completely before glazing.
For the glaze, mix together the cream cheese and half of the powdered sugar with a hand mixer until well combined.
Add the rest of the sugar, vanilla and 1 tablespoon of milk. Add more milk to get the glaze thinner, if desired.
Once the cake has completely cooled, drizzle the glaze over the cake with a spoon or pipe it on with a piping bag.
Store the cake, covered, in the refrigerator for up to 4 days.