Enjoy a sweeter twist on a classic chunks fresh salsa recipe with the addition of Mangos.
Logan is playing with a friend next door while Madeline enjoys her afternoon nap. That gives me a few minutes to tell you about one of my biggest food weaknesses: Chips and Salsa!
And it's not even so much the chips, though I do quite enjoy On the Border Chips. It's so much more about the salsa for me, the chips are just the vehicle through which the salsa makes it onto my taste buds.
I craved Chips and Salsa when I was pregnant with Logan. It was the one craving that I had and an easy one to manage. I remember on occasion I'd take a spoon to the jar of salsa for a bite or two because we didn't have any chips.
>Last year I canned salsa, but I especially love a good, fresh salsa. I can't wait for my tomato plants to be heavy with beautiful red, yellow and orange tomatoes that are waiting to be made into salsa. I'm not really a fan of the sweeter salsas though. I still like it to taste, well…salsa-y. I want the taste of cilantro and onion and garlic to parade through the juicy tomatoes. I love that fresh taste. I love that this recipe has all of those characteristics with the added bonus of mango for a little something different. A little sweet mixed with the savory, without making the salsa itself taste too sweet. YUM!
Did you love this post?
Sign up for Good Life Eats email updates and never miss another update!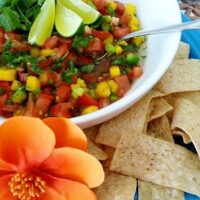 Mango Salsa
Enjoy a sweeter twist on a classic chunks fresh salsa recipe with the addition of Mangoes.
Ingredients
6 tomatoes, diced (these were fairly good sized tomatoes)
1 mangoes, diced
3 cloves of garlic, minced
1 small bunch of green onions, chopped
2 handfuls of cilantro, chopped
1 jalapeno, seeds removed & minced
salt and pepper, to taste
freshly squeezed lime juice
Instructions
Prepare tomatoes, mango, garlic, green onion, cilantro, and jalapeño.
Add them to a bowl and stir to combine and ensure even distribution.
Season to taste with salt and pepper.
Squeeze the lime over top and give it another stir to combine.
Enjoy with your favorite tortilla chips!
Notes
Lasts refrigerated for up to 4 days - if you don't eat it before then! Our's only lasted 1 day.
Nutrition Information
Yield

4
Serving Size

1
Amount Per Serving
Calories

100
Total Fat

1g
Saturated Fat

0g
Trans Fat

0g
Unsaturated Fat

1g
Cholesterol

0mg
Sodium

102mg
Carbohydrates

23g
Fiber

5g
Sugar

17g
Protein

3g