This classic restaurant style salsa is so tasty! It is great canned to keep on hand in your pantry for any time the craving strikes, or to use as gifting!
I sure did enjoy that Restaurant Style Salsa that I posted about a few weeks ago! So much that I played around with the recipe a little bit so that I could can some of that salsa to have on the shelves.
Not that the original recipe is complicated, but it's nice to have some that is already ready to go and it was fun to refresh myself on canning because I hadn't done any so far this year.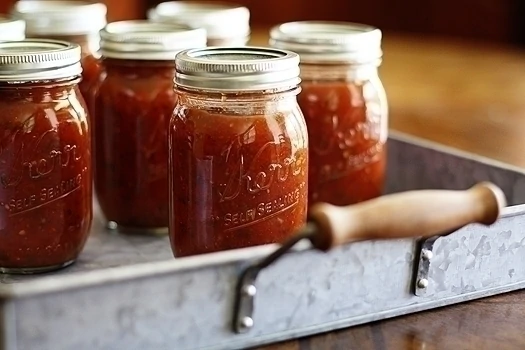 Learning How to Can Salsa
I was recently browsing books when the Ball Complete Book of Home Preserving caught my eye in the bookstore. I don't own any canning or home preserving books so I picked up a copy.
This book is such a great resource! I had already converted this recipe for Restaurant Style Salsa to a water bath canning recipe, but I wanted to do more.
Since I've gotten this book I've canned some Homemade Pear Butter because pears were on sale for 50 cents/lb. I'll post about that recipe later, but it is GOOD.
Canning Recipes
I've got so many recipes marked in the Ball Complete Book of Home Preserving book that I want to try. It's a great resource and it really makes home canning feel less overwhelming.
Another canning recipe that I have created after learning from this book is this Spiced Pear Butter Recipe. You don't have to can it. Storing it in the fridge or the freezer within the time frames that are mentioned in the post. But, I do have canning instructions for it in the recipe card for those who want to try canning.
Back to the salsa…I was asked to do a little tutorial on some salsa canning basics for a church activity. Attendees were asked to bring salsa they've made fresh or canned to share for refreshments after the activity.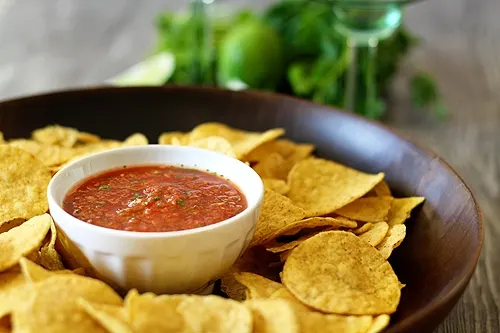 I was pleased to see that the salsa I brought (this recipe) was the first one gone. I kept hearing people ask "which one is Katie's??" That sure makes a girl feel good!
I don't want to overwhelm you with too many details of the canning process in this post, so I'm just providing basic instructions.
For the complete ingredient list and detailed instructions, scroll to the bottom of this post for the FREE printable recipe card.
Salsa Canning Resources
I highly recommend that you get a copy of the Ball Complete Book of Home Preserving if you're serious about learning how to can. I also recommend this Ball Canning Utensil Set. The set includes a funnel, jar lifter, lid lifer, and head-space measuring tool.
Can I Make Changes to This Canned Salsa Recipe?
I don't recommend making any substitutions for this recipe if you plan to water bath can this recipe for restaurant style salsa unless it is adjusting the amount of seasoning.
Altering the sugar content, the amount of tomatoes, or the acidity (by omitting or substituting the lime juice) would affect the ability to water bath can the recipe.
If you are eating this within a week, or storing it in the freezer, you can make any substitutions that you would like.
Salsa Canning Tips
Are you having a hard time opening your salsa after canning? Head over to my post about How to Open a Jar for 5 proven ways to open jars with tight lids. I promise that it will help!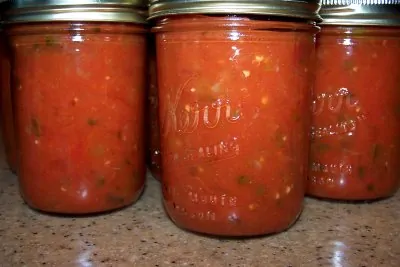 Can You Pressure Can this Salsa Recipe?
Yes, typically, you can pressure can anything that you can water bath can. Make sure you have the right tools and that you consult reputable sources for salsa pressure canning instructions, as I personally am not an expert at pressure canning.
Some tools you might need are: Pressure Cooker Canner, The Complete Guide to Pressure Canning, and of course – canning jars.
What Readers are Saying About this Canned Salsa Recipe:
"Thanks for the awesome recipe. I've tried almost a dozen salsa recipes looking for a restaurant style salsa that I like and this is it! So easy to make and tastes great! Recipe made 7 pints and a bit left over to snack on. Perfect!" -Kathryn
Get More Recipes via Email
Did you love this recipe? Sign up to receive Good Life Eats Email Updates and never miss another recipe!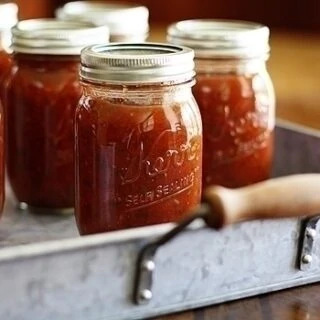 Canning Restaurant Style Salsa
Water Bath Processing Time:
20 minutes
Total Time:
1 hour
35 minutes
This classic restaurant style salsa is so tasty! It is great canned to keep on hand in your pantry for any time the craving strikes, or to use as gifting!
Ingredients
2 - 28 ounce can Whole Tomatoes With Juice
2 - 10 ounce can Rotel Original (diced Tomatoes And Green Chilies)
2 - 10 ounce cans Rotel Mexican (diced Tomatoes with Lime and Cilantro)
1/4 cup tomato paste
2 cups Yellow Onion
3 cloves Garlic
2-4 whole Jalapenos, halved (seeds removed for milder salsa)
1/2 teaspoon Sugar
1 1/2 teaspoon Salt
2 teaspoons Ground Cumin
1 cup Fresh Cilantro Leaves
1/2 cup lime juice (do not use less than this if you are water bath canning; use more if you like)
Instructions
Prepare canner, jars, and lids according to canning guide.
Combine whole tomatoes, Rotel, paste, onion, jalapeno, garlic, sugar, salt, cumin, lime juice, and cilantro in a blender or food processor.
Pulse until you get the salsa to the consistency you'd like—about 10 to 15 pulses.
Test seasonings with a tortilla chip and adjust as needed.
Add all ingredients to a stock pot. Bring to a boil over medium high heat.
Reduce heat and boil gently, stirring frequently until slightly thickened, about 15 minutes.
Ladle hot salsa into clean, warm jars, leaving about 1/2 inch headspace.
Remove any air bubbles and adjust headspace, if necessary, by adding additional hot salsa.
Wipe rim with a clean towel.
Center the sterilized lid on jar.
Screw band down until resistance is met, then increase to fingertip-tight.
Place jars in canner, ensuring they are completely covered with water.
Bring to a boil and process pint jars for 20 minutes.
Remove canner lid.
Wait 5 minutes, then remove jars, cool and store.
Notes
Salsa Canning Tips:
Do not reduce the amount of lime juice or tomatoes.
Do not add extra peppers, onion, or garlic. You can reduce the amount of peppers, onion, or garlic.
Canned chilies may be used in place of fresh.
You can substitute one type of pepper for another. For example, hot jalapeno peppers, bell peppers, yellow peppers, banana peppers, chili peppers may all be substituted 1:1.
The key is not increasing the amount of low acid ingredients in relation to the amount of high acid ingredients
Wear gloves while handling jalapenos and peppers. Don't touch your face until you have washed your hands.
Nutrition Information
Yield

32
Serving Size

1
Amount Per Serving
Calories

154
Total Fat

1g
Saturated Fat

0g
Trans Fat

0g
Unsaturated Fat

1g
Cholesterol

0mg
Carbohydrates

36g
Fiber

5g
Sugar

18g
Protein

6g
GoodLifeEats.com offers recipe nutritional information as a courtesy and is an estimate only. This information comes from online calculators. Although GoodLifeEats.com makes every effort to provide accurate information, these figures are only estimates.