Pumpkin Pecan Cheesecake Pots
You guys love pumpkin recipes, don't you? The Pumpkin Pie Oatmeal from last year is still so popular and the Pumpkin Cinnamon Rolls from this year were a huge hit. So, shall we continue with another new pumpkin recipe? This time – Pumpkin Cheesecake Pots. Remember the Raspberry Cheesecake Pots I made this summer? Yes, this recipe is almost exactly like that, but pumpkin instead. And it's definitely just as easy.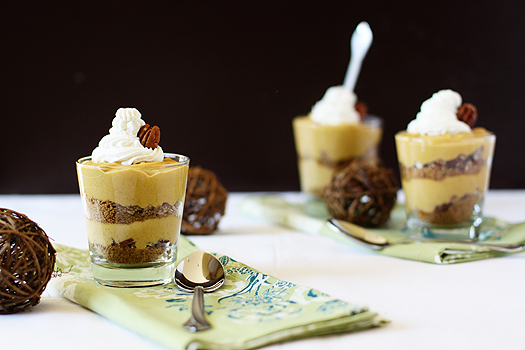 Aren't they pretty? With the Raspberry Cheesecake Pots I put all the graham cracker crumbs on the bottom. This time I experimented with more of a parfait style layering. Both ways are delicious, but I think I like it this way better since it spreads out the crumbs more with the cheesecake. I also added some pecans because I really love pecans and pumpkin together.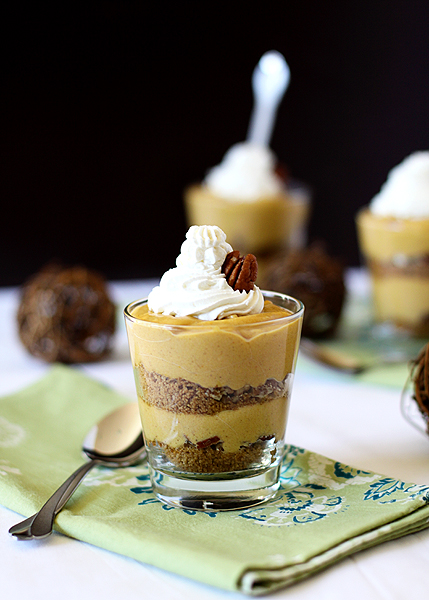 I love recipes like this that are so simple to prepare yet always seem to impress people. It's such a pretty presentation and the flavors are excellent. Pumpkin Cheesecake Pots would be a great addition to the fall table for dessert. Maybe something new to try this year for Thanksgiving. We always like to add one or two new recipes to our usual Thanksgiving Menu.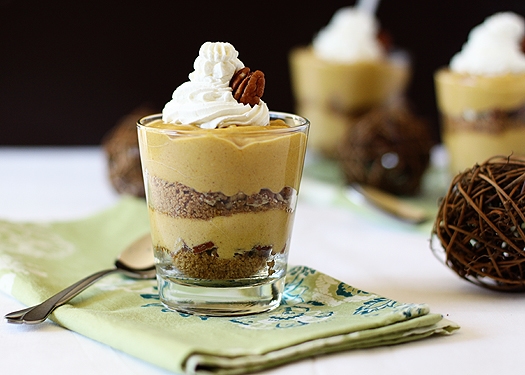 Pumpkin Pecan Cheesecake Pots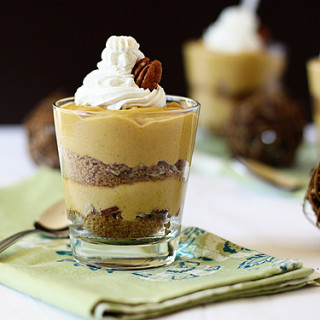 Ingredients:
1 cup graham cracker or gingersnap cookie crumbs
1 T. butter, melted
8 oz. cream cheese
1/4 cup granulated sugar
1/2 cup brown sugar
1/4 cup whipping cream
1 teaspoon vanilla extract
14 ounces pumpkin puree
1/2 teaspoon cinnamon
1/4 teaspoon allspice
1/8 teaspoon cloves
1/8 teaspoon cardamom
1/8 teaspoon xantham gum (optional - a natural thickener)
1/2 cup chopped pecans
4 whole pecan halves
sweetened whipped cream for garnish
Directions:
Preheat oven to 350º (I used the toaster oven). Crush the graham crackers or gingersnaps to create crumbs. Add melted butter, stir well to combined. Spread on baking sheet. Toast in the oven 3 – 5 minutes until crumbs start to brown. Cool.
Process the cream cheese, sugars, cream and vanilla in a food processor until smooth. Add the pumpkin puree, cinnamon, allspice, cloves, cardamom, and xantham gum. Process until smooth.
Spoon a half of the graham cracker crumbs into four 1/2 cup-capacity dishes, layer on a few chopped pecans. Divide half of the cheesecake mixture evenly between the dishes and top with the remaining graham cracker or gingersnap crumbs and then more pecans. Divide the remaining cheesecake mixture between the dishes.
Garnish with whipped cream and pecans. Refrigerate for 1 hour or until firm. Serves 4.