25 Pumpkin Recipes to Try this Fall – So, if like me, you have a pumpkin hoarding problem you now have a very good excuse. I've just shared my favorite Pumpkin Recipes for you to try this fall.
I thought that I should probably confess a little something. Pumpkin recipes get me a little excited.
Whenever I first spot a display of canned pumpkin puree in the grocery store I know it must be time to start preparing for fall baking. And fall baking means, getting ready to start making some of our family's favorite pumpkin recipes.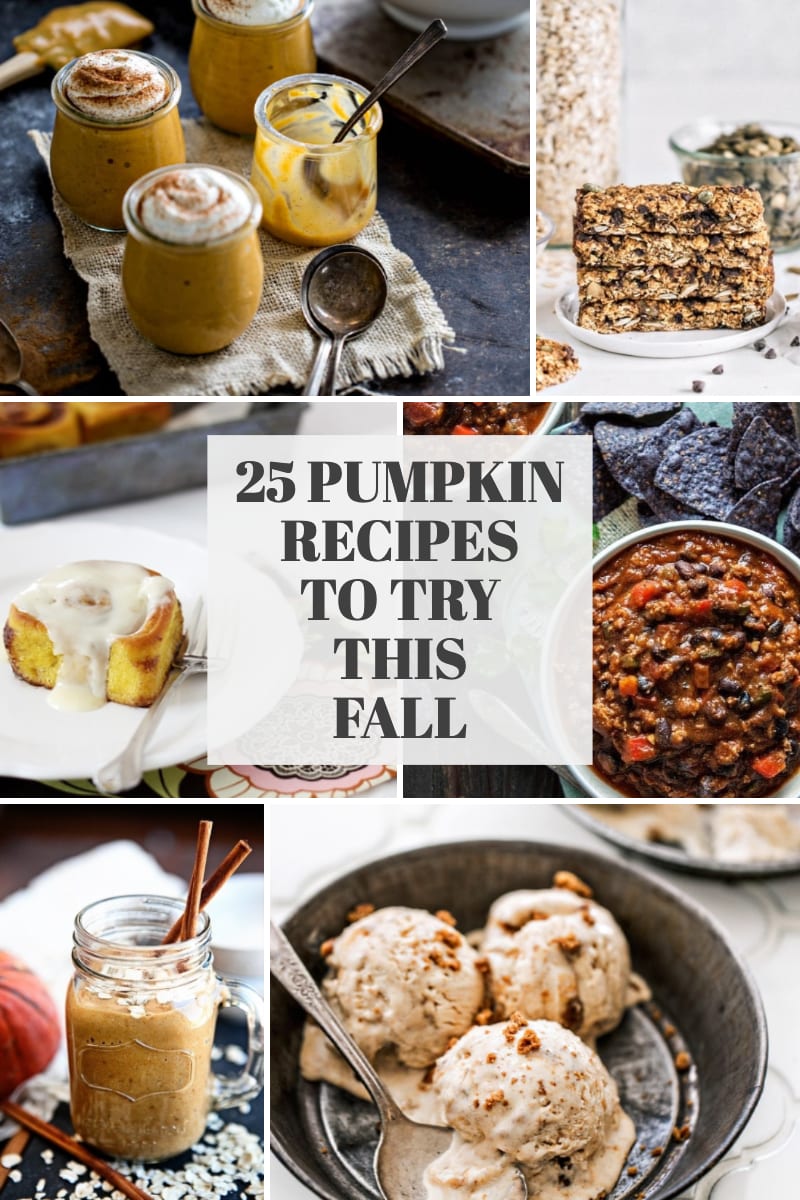 That excitement often leads me to do something I never before thought that I was capable of doing: HOARDING.
I frequently find myself clearing the entire shelf of canned pumpkin puree with great plans to get down to business as soon as we return home from our errands.
In the past, Logan has woken me from my daydreams of pumpkin recipes and a fully stocked pantry with an innocent question: "Mom, isn't that enough?"
Feeling a little embarrassed as I realized that I had repeatedly been adding can after can to my cart I quickly responded to him.
"Well, you and Madeline really like pumpkin muffins and pumpkin cinnamon rolls."
Hopefully that would steer any curious onlookers away and back to their own shopping.
Honestly though, I have lots of recipes I want to try. I've been pinning like mad all the delicious pumpkin treats and savory dishes that have struck my fancy, along with a few family favorites for good measure.
So, if like me, you have a pumpkin hoarding problem you now have a very good excuse.
Looking for some of the best pumpkin recipes to try this fall? Look no more! I've just compiled 25 of my favorite pumpkin recipes – sweet and savory alike!
Top 25 Pumpkin Recipes
Here are 25 of my favorite pumpkin recipes to make during the fall. Just click the red "GET RECIPE" button to see the instructions for the featured recipe.
Looking for some more tasty ways to enjoy your pumpkin spice this fall besides what I have listed here? Head over to the full RECIPE INDEX to search the recipes, or check out the Ingredient Index and browse through the entire PUMPKIN INDEX for even more great recipe ideas.
What pumpkin recipes are you looking forward to this fall?
Did you love this post?
Sign up for Good Life Eats email updates and never miss another update!