25 Pumpkin Recipes to Try this Fall
I thought that I should probably confess a little something. Pumpkin recipes get me a little excited. A few weeks ago when I first spotted canned pumpkin in the grocery store I knew it was time to start fall baking. It was starting to feel like fall and I was ready to start making some of our family's favorite pumpkin recipes. I also couldn't wait to add some new favorites to our list.
That excitement lead me to do something I never before thought that I was capable of doing: HOARDING. I cleared the entire shelf of canned pumpkin puree with great plans to get down to business as soon as we returned home from our errands.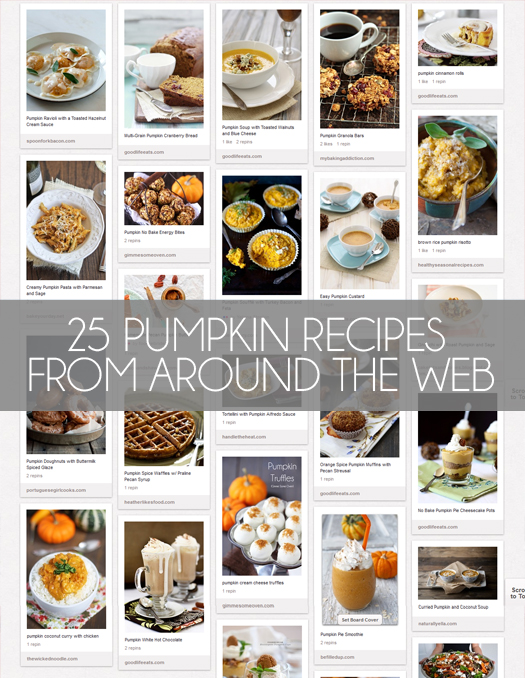 Logan broke me from my daydream of pumpkin recipes and a fully stocked pantry with an innocent question: "Mom, isn't that enough?"
Feeling a little embarrassed as I realized that I had repeatedly been adding can after can to my cart I quickly responded to him.
"Well, you and Madeline really like pumpkin muffins and pumpkin cinnamon rolls."
Hopefully that would steer any curious onlookers away and back to their own shopping.
Honestly though, I have lots of recipes I want to try. I've been pinning like mad all the delicious pumpkin treats and savory dishes that have struck my fancy, along with a few family favorites for good measure.
So, if like me, you have a pumpkin hoarding problem you now have a very good excuse. I've just pinned 25 Pumpkin Recipes for you to try this fall. Hope you find something you like. You can follow GoodLife Eats on Pinterest here.
What pumpkin recipes are you looking forward to this fall?