Pumpkin Cornbread Muffins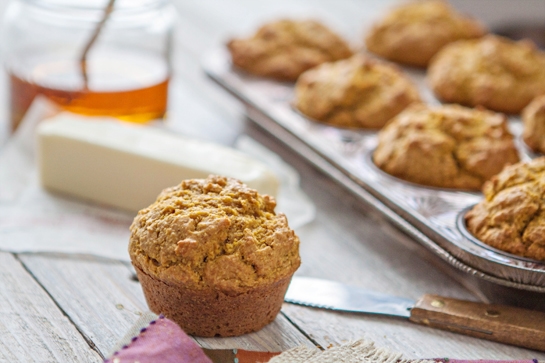 These Pumpkin Cornbread Muffins offer a fun fall take on the traditional Honey Cornbread Muffin. Infused with real pumpkin puree, brown sugar, and fall spices, these Pumpkin Cornbread Muffins are the perfect contrast to a bowl of savory chili. And leftovers are guaranteed awesome for breakfast.
Nothing goes better with a big bowl of Pumpkin Black Bean Chili than a cornbread muffin, unless we're talking about a Pumpkin Cornbread Muffins. I have been making these delicious Pumpkin Cornbread Muffins for at least 2 years now and never posted them here on GoodLife Eats. Why? I don't really know.
When I think about it, I'm sure there are a couple of factors involved: 1.) The time of year I usually make them is when it is getting dark so early, so photographing them is definitely trickier, 2.) My kids love Pumpkin Cornbread Muffins so much that no one wants to wait for me to try to take pictures and 3.) They are definitely best eaten straight out of the oven.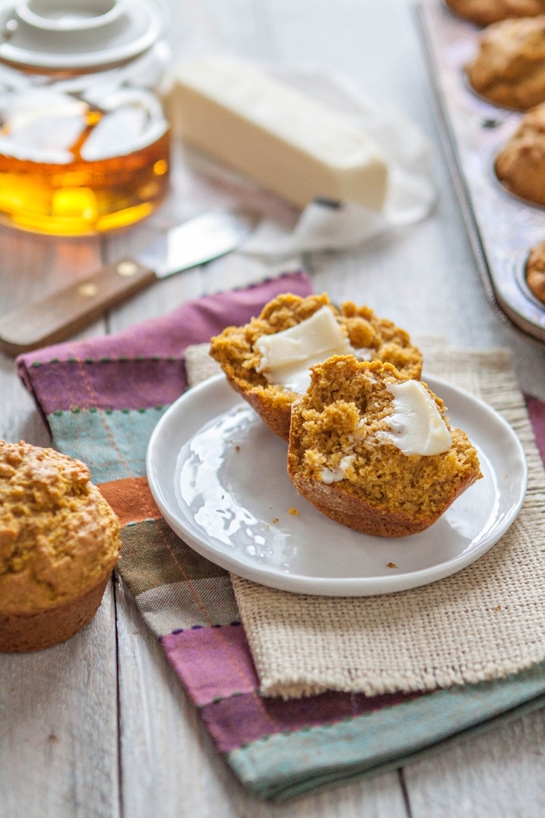 Last weekend when my neighbor mentioned to me that she had been looking for this recipe on my site and couldn't find it I knew it was time to get it posted.
Picture this: Me, in the kitchen setting up to photograph a batch of Pumpkin Cornbread Muffins. Logan, parked on the couch, absorbed watching the Broncos, who had just gone into overtime, yelling at the tv.
So, mid set up I realized I could use an extra set of hands. Even on a normal, non-football game afternoon it isn't unusual for me to call Logan twice before I fully have his attention. But, this past Sunday, the second I uttered the words "need your help," he was up and off the couch asking me if the help I needed was "help eating a muffin."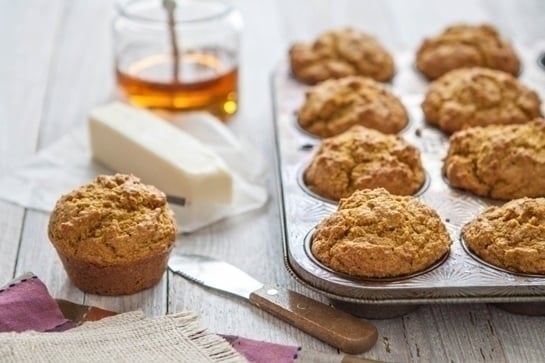 And this is how I know that these Pumpkin Cornbread Muffins are the best.muffins.ever. 10 1/2 year old boy gets off couch during overtime football game in favor of a muffin. There is a news headline right there.
So, next time you make yourself a pot of chili (whether it is a traditional Beefy Kidney Bean Chili or a twist on the traditional like this Pumpkin Black Bean Chili), you should definitely spend the few extra minutes baking up a batch of these delicious Pumpkin Cornbread Muffins.
Pumpkin Cornbread Muffins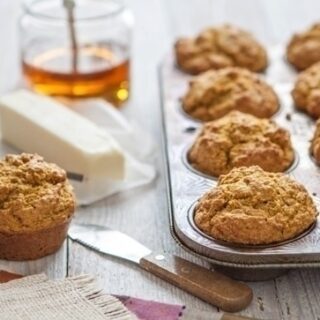 Ingredients:
4 eggs, lightly beaten
1 cup milk
2 sticks (16 tablespoons) butter, melted and cooled
1 - 14 ounce can pure pumpkin puree
1 cup sour cream
1/2 cup honey, agave, or pure maple syrup
1/2 cup brown sugar
1 tablespoon vanilla
4 cups flour
2 cups cornmeal
1 tablespoon baking powder
2 teaspoons baking soda
1 teaspoon salt
1 1/2 tablespoons cinnamon
1/4 teaspoon ginger
1/4 teaspoon allspice
1/4 teaspoon nutmeg
1/4 teaspoon cloves
Directions:
Preheat the oven to 400 degrees F. Prepare 24 muffins cups by greasing or lining with muffin liners.
In a medium sized mixing bowl, combine the eggs, milk, butter, pumpkin puree, sour cream, honey, brown sugar, and vanilla. Whisk until well combined. Set aside.
In a large mixing bowl, combine the flour, cornmeal, baking powder, baking soda, salt, cinnamon, ginger, allspice, nutmeg, and cloves. Whisk well.
Make a well in the center of the dry ingredients. Add the pumpkin mixture to center of the well. Stir with a wooden spoon until moist and mixed, but do not beat.
Divide mixture evenly among the muffin cups. Bake at 400 degrees F for 15-20 minutes, or until golden and cooked through. Cool for 5 minutes in the muffin tins, then remove and cool on a wire rack until warm.
Notes:
It might seem like the muffins are over filled if you divide the batter between 24 cups, but these muffins dome perfectly and produce nice, large muffins.