Raspberry Vanilla Bean Bread Pudding
Today I have a delicious guest post for you from my good friend Shaina. She is sharing a recipe for Raspberry Vanilla Bean Bread Pudding that can cheer the soul and renew your hope for the warm months ahead on even the coldest winter day. I hope you'll show her some love and stop by her wonderful blog, Food for My Family.
---
Yesterday we had the most fantastic snowfall. It fell in these large, fluffy flakes while the sun peeked from behind the clouds. Staring out at it was like looking out from behind the windows of the tiny house in the snow globe, all pretty and bright.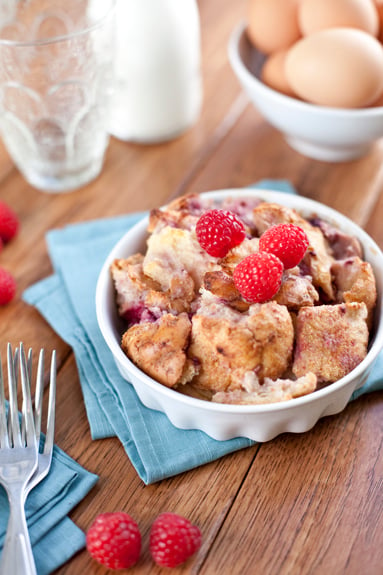 Then, of course, I open the door and went outside to run errands, where all the fluffy and white had turned to gray slush with cars driving slower than I'd like them too and my travels taking twice as long as they ought to. I realized the thumb of one of my gloves was starting to unravel when I went to grab the door handle for the car and was met by cold, wet snow on my skin.
I parked my car on the street, considering snow emergency routes and hoping no one will slide into it. Struggling with my baskets and bags, I slid around, trying to maneuver the massive snow banks that have formed along the sides of the road from feet upon feet of snow that has graced us this season, a season that started way back in November.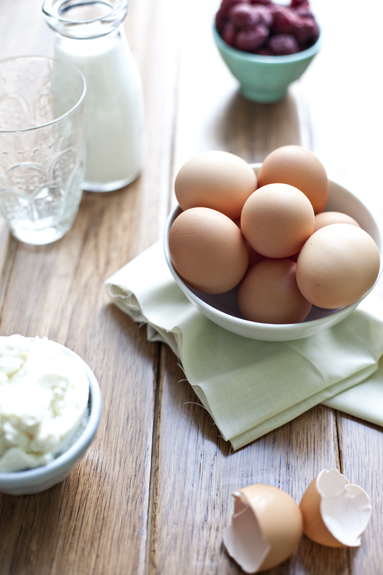 When I return home, I no longer appreciate the snow-globe-like existence that can be had from my front living room with the large windows facing the street. Instead, I retreat to the kitchen to warm up and stare into the backyard at my buried gardens, wishing for spring.
On nights like these, when the temperature is steadily dropping, I know that dessert is warranted. Warm and comforting, bread pudding comes to the rescue and is livened up with the addition of frozen raspberries – raspberries that hold the promise that winter does fade into a summer yet to come.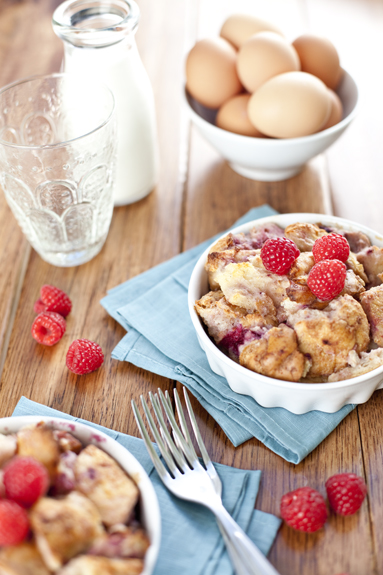 Bread pudding is one of my favorites and is a great way to use up leftover baguette. I've made it with blueberries and lemon, and I've also done a more traditional rum and raisin. Served warm, this dish is the perfect ending to a bowl of soup in the middle of winter.
Raspberry Vanilla Bean Bread Pudding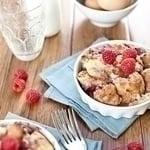 Ingredients:
1 pound artisan bread or baguette
4 eggs
1 cup sugar
1 cup ricotta cheese
3 cups whole milk
1 vanilla bean, split and seeded
2 teaspoons vanilla
1/2 teaspoon cardamom
3 tablespoons butter, melted
1 1/2 cups raspberries, fresh or frozen
Fresh berries and cream for serving
Directions:
Preheat your oven to 350° F. Grease a 2-1/2 quart casserole dish, and cut the bread into 1-1/2 inch cubes and set aside. Beat the eggs in a large bowl, and then mix in the sugar and ricotta. Add the milk, vanilla seeds, vanilla and cardamom. Beat until combined and stir in the melted butter.
Add the bread cubes to the milk and egg mixture and fold in until all of the bread chunks are completely saturated. Let the mixture sit for 20 minutes. Stir in raspberries and pour into casserole pan.
Bake at 350° F for 40-45 minutes until top is evenly browned. Allow to stand 15-20 minutes before serving. Serve warm with cream and fresh berries.
Makes 10-12 servings.
About the Author: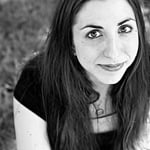 Shaina Olmanson is the home cook and photographer behind Food for My Family and Olmanson Photography, a daily contributor to Babble.com's Family Kitchen Blog and the editor of the food channel for Lifetime Moms.
She strives to teach her four children to cook and prepare real food in a day and age where many people have turned to convenience foods because they are so readily available and hopes to encourage others to do the same. Shaina can usually be found in one of three places: cooking, at the computer or behind the camera.
---
A few notes:
I'm thrilled to be one of Simple Bites new contributors for 2011. If you haven't yet heard of Simple Bites I encourage you to get acquainted. The whole site is filled with practical tip, recipes, and helpful how-to's. Aimee does a wonderful job sharing valuable information, coordinating contributor content, and keeping the content fresh.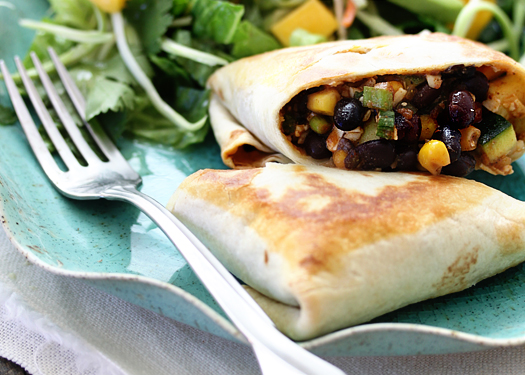 I hope you'll stop by Simple Bites today and say hello. I'm sharing 5 Tips to Create Vegetarian Friendly Meals, plus a recipe for Vegetarian Black Bean Burritos. Many of us are aiming to eat less meat and increase our vegetable consumption. With a a few simple steps, you can easily transform a family favorite recipe into a delicious, meatless meals.