Searching for the perfect romantic hairstyle for your night out this Valentine's Day? Here is a simple but lovely way to fix your hair for any special occasion.
My husband really likes this style and always compliments me when I wear my hair this way. If you prefer a sleeker, more elegant style, you can skip the curling step.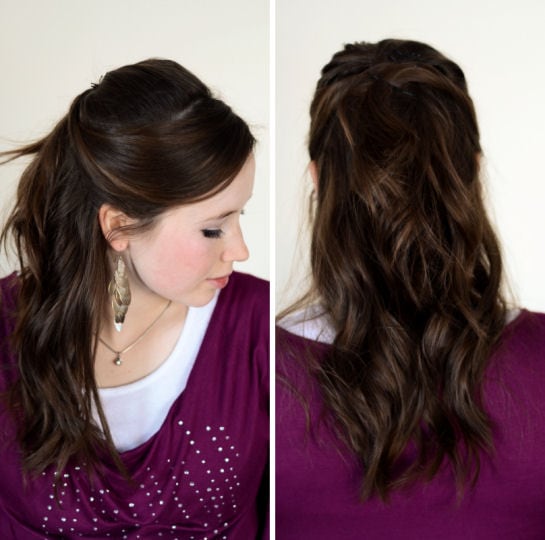 Written by: ERICA KASTNER of Simple Days
Follow the instructions below or watch the video to see how to recreate it yourself!
Tools You Need to Style the Updo:
You'll need just a few tools to style this updo, most of which you'll probably already have at home.
A fine-toothed comb
Heat protectant
A 1-inch curling iron
About 6 bobby pins
Hairspray
Pretty Half Updo Styling Instructions:
1. Begin by combing out any tangles. Spray your hair with a heat protectant.
2. Clip the top half of your hair out of the way and curl the bottom half by wrapping 1-inch sections around the outside of the barrel; make sure to curl the sections away from your face.
3. Let down the top half and curl in the same manner.
4. Section off a piece of hair at the front of your face from the top of your head to your ears. Repeat on the other side. Clip these sections out of the way.
5. Gather a section behind these pieces. This will be your "bump."
6. Smooth this section back with a fine-toothed comb. Make sure it is very neat. Give the section a little twist and bump it up. Secure by criss-crossing with bobby pins.
7. Release the front sections that you previously clipped out of the way. Arrange them around your face how you like and secure at the back of your head with bobby pins.
8. Spray with hairspray and you're finished!
What is your favorite simple way to style your hair for a special occasion?
Did you love this post?
Sign up for Good Life Eats email updates and never miss another update!