This tangerine raspberry iced tea is incredibly refreshing and contains no refined sugars. Perfect for potlucks and pool days!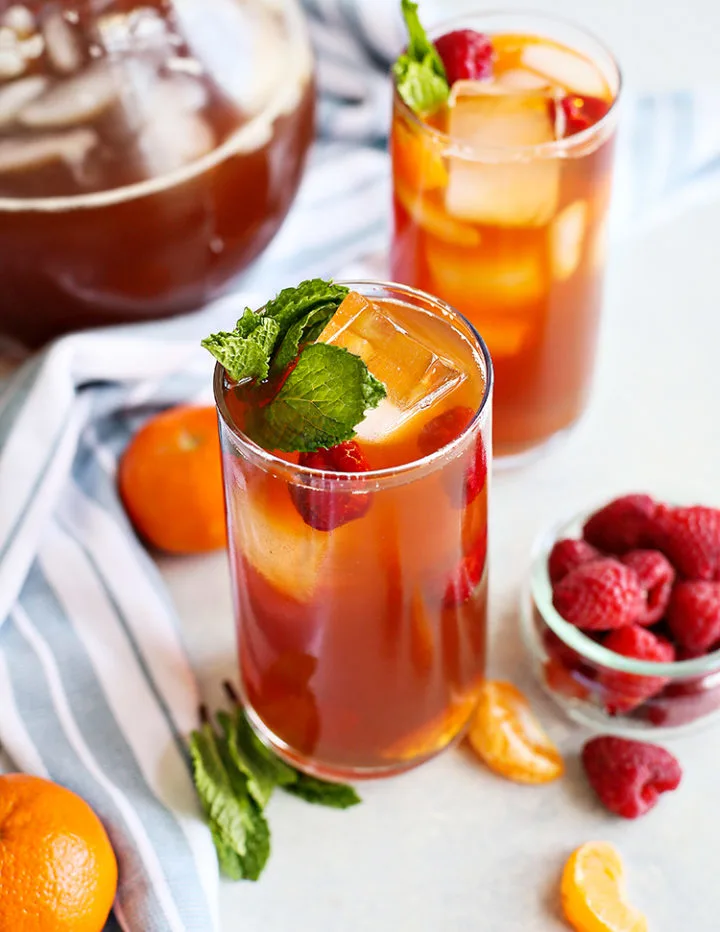 Click HERE to save this recipe for Tangerine Raspberry Iced Tea!
Simple Raspberry Iced Tea Recipe
Our summer days of sipping cold drinks like this refreshing Tangerine Raspberry Iced Tea are officially over. Logan went back to school on Monday, and Tuesday was Madeline's first day. As I write this, I'm officially kid-less for a few more hours. I can't help but feel a little bit of mom guilt over being happy about school beginning again.
Our summer was long and good. With adults-only getaway to Crete and Athens, and a wonderful family trip to San Diego in my back pocket I think we managed to have a pretty good time during the past couple of months.
Of course summer wasn't all travel. We managed to have fun at home, too! I can't count the number of times we went to the library and all the fun, new books we checked out. Then there were swim lessons, art camp, sports camp, and play dates with friends…I don't really have any regrets this summer.
But now, I'm ready for a change. Ready to say goodbye to hot weather and swimsuits. Goodbye to summer meals and welcome fall's comforts with open arms.
And really, the thought of being able to wear layers and scarves again is kind of appealing. True, it will still be quite warm here for at least another month, but in my mind school starting is what ushers in fall.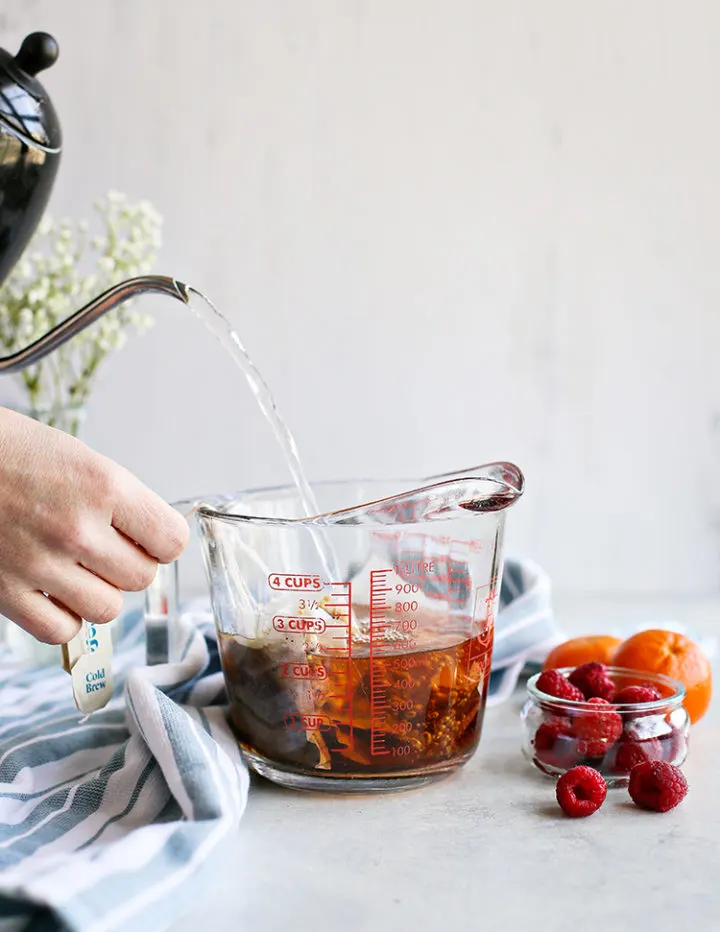 Raspberry Iced Tea Ingredients
For this tangerine and raspberry tea recipe, you'll need:
Water
Tangerine Herbal Tea Bags
Raspberry Herbal Tea Bags
Black Tea Iced Tea Bags
Homemade Raspberry Syrup
For the Raspberry Syrup
Freh Raspberries
Water
Optional: sweetener
Optional Garnish Ideas:Tangerines
Fresh Raspberries
Fresh Mint
Ice cubes
For the complete ingredient list and detailed instructions, scroll to the bottom of this post for the FREE printable recipe card.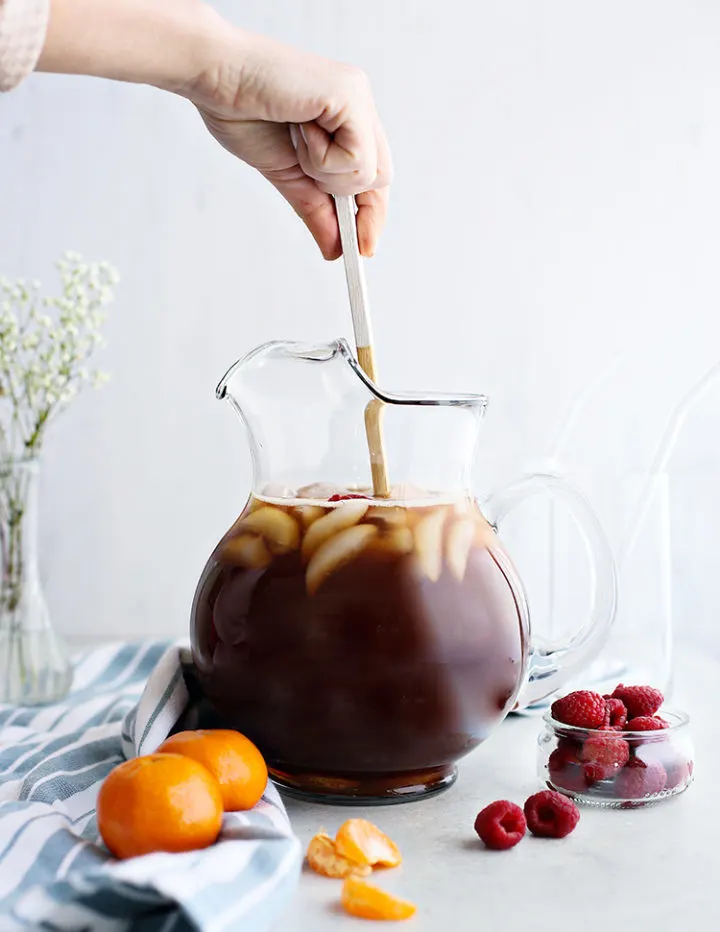 Click HERE to save this easy recipe for Tangerine Raspberry Iced Tea!
How to Make Raspberry Iced Tea
A batch of this Tangerine Raspberry Iced Tea Recipe is the perfect way to toast to the end of summer. Iced tea is simple to make, and not too unlike making regular tea.
To make this cold beverage, first boil the raspberries in water. Then, strain the solids and discard. Keep the raspberry liquid and set aside.
Steep the tea bags in hot water. After steeping, remove and discard tea bags; pour the tea in the pitcher. Then, add the raspberry syrup and cold water the hot tea mixture. Chill until cold.
For extra flavor, try adding herbs, such as mint, or fresh fruit to the mixture.
The above is simply a quick summary of this recipe. Check out the full recipe in the free printable recipe card at the bottom of this post for all the detailed instructions.
Should I Use Fresh or Frozen Raspberries?
Up to you! I used fresh since raspberries are still in season, but if you use frozen raspberries they could double as ice cubes (don't thaw them before stirring them into the tea).
For the raspberry syrup you can definitely use frozen raspberries since you're just boiling them to extract the flavor.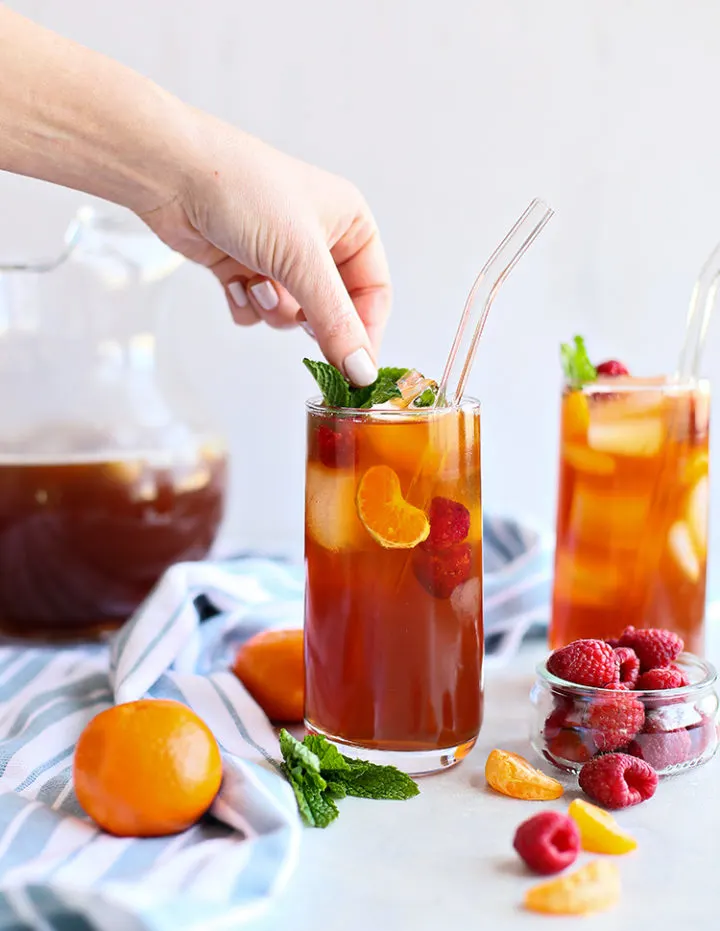 Garnishes for Raspberry Iced Tea
I like to garnish my glass of raspberry iced tea with fresh raspberries and mint leaves. You can also use tangerine slices to garnish your glass.
Tips for Making The Best Raspberry Iced Tea
For the best iced tea, you'll want to add a higher ratio of tea bags to water because the ice cubes will eventually melt and dilute the flavor. Experiment around and see how you like your iced tea best.
In this case, I've prepared this Tangerine Raspberry Iced Tea Recipe with a 2:3 ration (2 cups of water per every 3 bags of herbal tea) rather than the usual 1:1 ratio as is seen in hot tea.
You'll also want to let the tea bags steep in the hot water for a long time (around 10-20 minutes). You want your homemade iced tea to pack in a lots of flavor!
The best iced tea has a lot of flavor! Don't add ice directly to the ice tea batch as this would end up diluting the whole pitcher. Instead, chill the iced tea first and add ice directly to serving glasses.
Where Can I Find Tangerine Tea?
I buy tangerine herbal tea from Celestial Seasonings, but any brand will work. If your grocery store doesn't carry tangerine tea, you can definitely order it online.
You can even use orange herbal tea, or another flavor of citrus herbal tea if you want!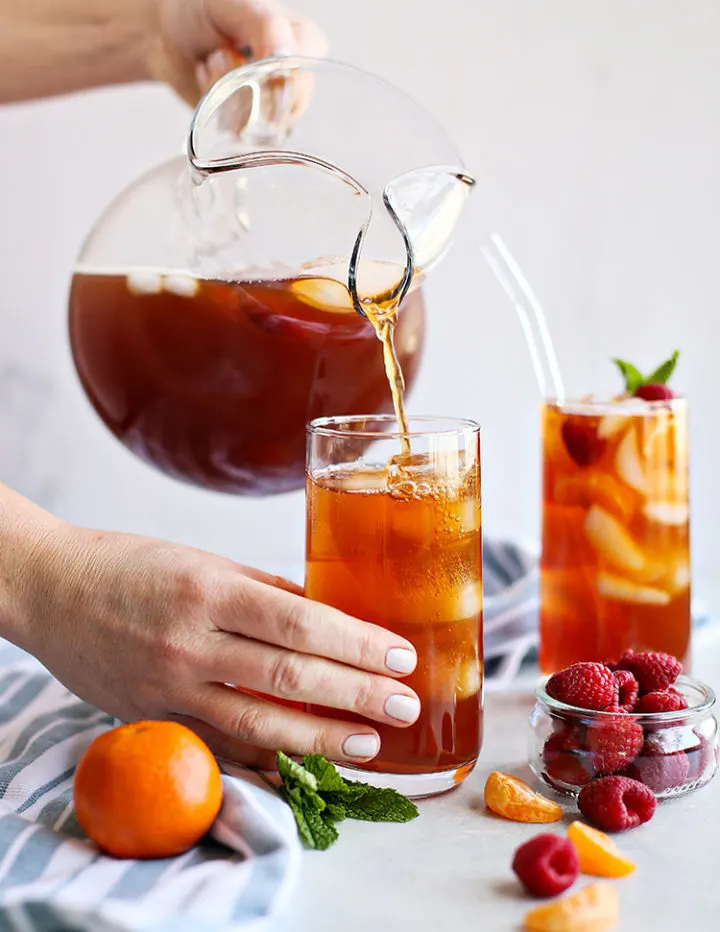 Can I Sweeten This Iced Tea?
Of course! A good way to sweeten this Raspberry Iced Tea without any undissolved sugar granules is by using a simple syrup.
I've included directions in the recipe card for how to add sugar to the raspberry syrup recipe. Then stir the simple syrup into the raspberry iced tea.
Another option for easily sweetening iced tea is to use a liquid sweetener, such as honey or agave nectar.
How to Make Spiked Raspberry Iced Tea
Who doesn't enjoy the good times sipping a cocktail, like a tall glass of spiked iced tea, on the porch after busy weeknights? Here are my suggestions for turning this raspberry iced tea recipe into the perfect drink to cool off with:
I recommend preparing this in a 1:2 or 1:3 alcohol to raspberry iced tea ratio. That means for every 1 ounce of alcohol you should add 2-3 ounces of the iced tea. Spirit pairing ideas: sweet tea vodka, chambord (raspberry flavor liquour), grand marnier, or a combo.
Suggested recipe ideas:
1 ounce sweet tea vodka, 1 ounce raspberry liquour, 4-6 ounces tea
1 ounce chambord, 1 ounce grand marnier, 4-6 ounces tea
2 ounces sweet tea vodka, 4-6 ounces tea
You may not need a sweetener if using sweetened spirits. You may want to add any simple syrup or agave nectar straight to your glass after mixing the cocktail so you can sweeten to taste.
Note: The nutrition facts will be different than those shared in the recipe card if you decide to add alcohol.
What to Serve with this Easy Recipe for Raspberry Iced Tea
Here are some of our favorite recipes that would go so well with a tall glass of tangerine raspberry iced tea on those hot summer days:
This Zucchini Tomato Basil Salad with Lemon Basil Vinaigrette is a light and refreshing summertime salad and perfect when your garden is exploding with tomatoes, basil, and zucchini in the later summer months.
Summer Potlucks and BBQs don't seem complete without a big bowl of this Classic Potato Salad. Creamy mayo, celery, onion, hard-boiled eggs, and of course plenty of potatoes are the perfect combination in this recipe.
Honey Pecan BBQ Chicken Sliders feature a slider bun piled high with shredded BBQ chicken, coleslaw, and chopped pecans. The perfect addition to a summer potluck!
Smoked Pork Shoulder is a classic summertime BBQ recipe. I'm including my favorite pork shoulder brine and pulled pork rub to use when making this pulled pork recipe.
Grilled Honey Mustard Chicken is a perfect easy summer grilled chicken recipe. The chicken tenderloins are marinated in a sweet and savory honey mustard sauce with sprigs of fresh rosemary and lemon juice, then quickly cooked on a hot grill. So good!
More Easy Recipes for Summer Drinks:
Need more drink ideas to cool off with? Here are a few more of our favorites!
If you haven't made a batch of Watermelon Mint Lemonade yet, you need to!
You can make these Pineapple Mint Moscow Mules with or without alcohol. They taste delicious no matter what.
My kids can't get enough of these Cherry Limeade Slushies. They're kind of addicting!
This tasty Rhubarb Raspberry Lemonade recipe uses a flavorful rhubarb syrup mixed with sparkling water, lemon juice, and raspberries and is served chilled over ice.
This Pineapple Cooler is so refreshing on a hot summer day and tastes great with your favorite taco recipe!
This refreshing Fresh Strawberry Lemonade is so easy to make and the perfect way to use ripe strawberries during strawberry season
Don't see what you're looking for here? You can always head over to check out the recipe index to look for more recipes.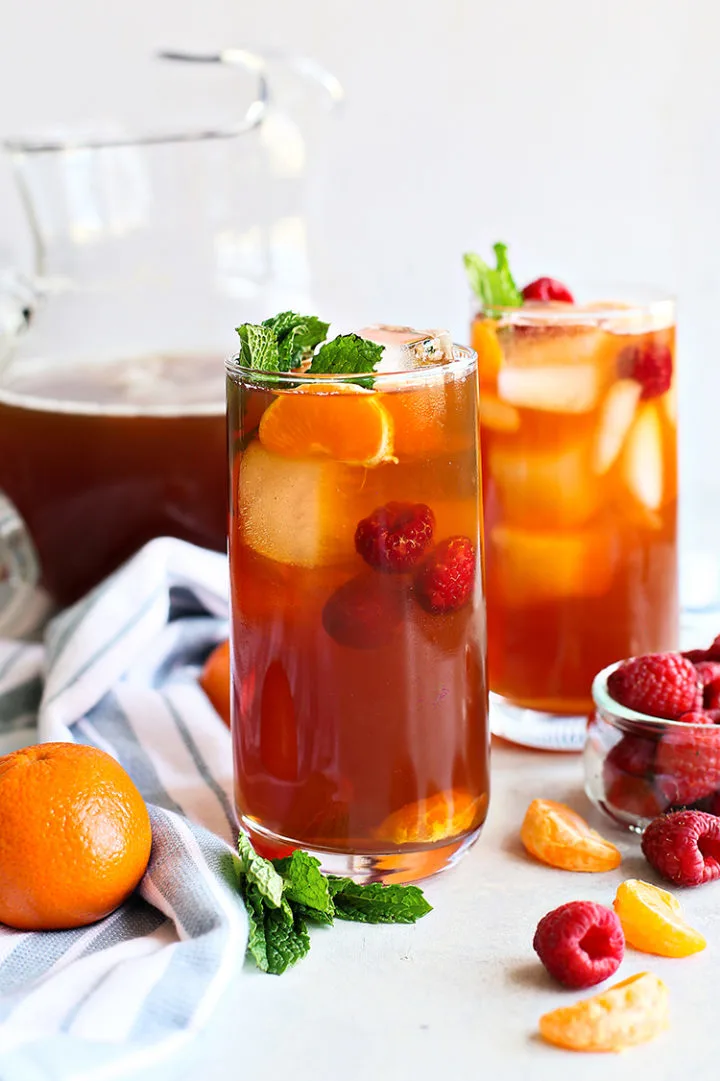 Try this Easy Iced Tea Recipe!
Next time you're looking for a refreshing summertime drink, give this Raspberry Iced Tea recipe a try! Did you think it was the best iced tea? Leave a comment below and give it a review for others to see what you thought of this raspberry iced tea.
On Instagram? Share your photo and tag me with @goodlifeeats and #goodlifeeatsrecipes. I'd love to see your photo of this iced tea!
What's your favorite flavor of iced tea?
Get New Recipes via Email
Love this recipe for Tangerine Raspberry Iced Tea? Sign up for Good Life Eats Email Updates and never miss another recipe!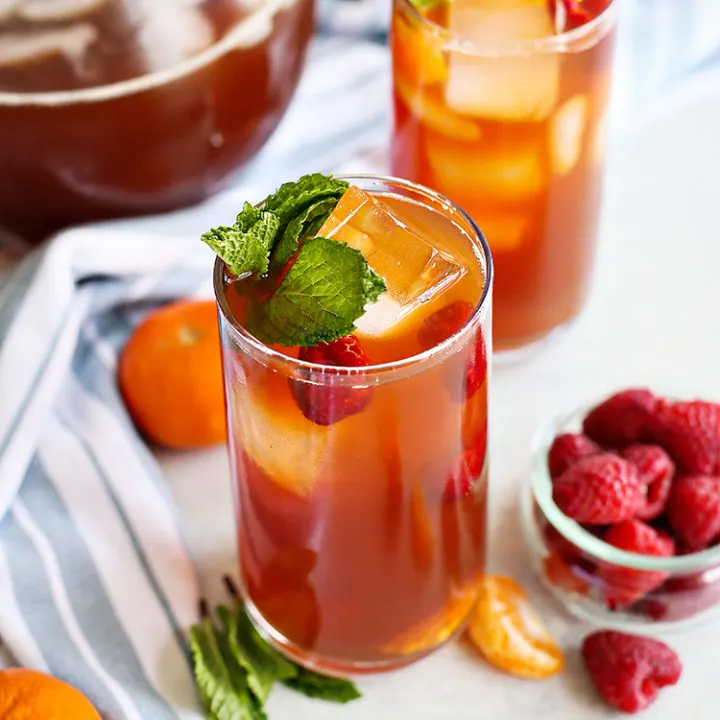 Tangerine Raspberry Iced Tea Recipe
Total Time:
2 hours
45 minutes
A batch of this Tangerine Raspberry Iced Tea Recipe is the perfect way to toast to summer. Iced tea is simple to make, not too unlike making regular tea. Steep the tea bags in hot water, then cool the tea and add ice. For extra flavor try adding herbs, such as mint, or fresh fruit to the mixture.
Ingredients
For the Raspberry Iced Tea
3 cups Boiling Water
3 Family Sized Black Iced Tea Bags
3 Orange Tangerine Zinger Iced Tea Bags
Raspberry Syrup, recipe follows
5 cups Cold Water
For the Raspberry Syrup
2 cups Fresh Raspberries
1 cup Water
!Optional Garnish Ideas
Tangerines
Fresh Raspberries
Fresh Mint
Ice Cubes
Instructions
Make the Raspberry Syrup for the Iced Tea
In a small saucepan, combine the raspberries an the water.
Bring to a rolling boil. Then, reduce heat and let simmer for 5 minutes.
Remove from heat and let sit for 10-20 minutes.
Place a fine mesh sieve over a bowl or large glass measuring cup.
Strain the raspberry mixture through a fine mesh sieve, pressing solids against the sieve to remove all of the juice.
Discard the remaining fruit pulp and seeds.
To Make the Tangerine Raspberry Tea
In a heat safe pitcher, combine 3 cups boiling water with the black tea bags, raspberry tea bags, and tangerine tea bags.
Let the boiling water and tea bags steep for 10-20 minutes.
Remove the tea bags, squeeze out excess water into the pitcher, and then discard the tea bags.
Add the strained raspberry syrup and remaining 5 cups of cold water to the tea and stir.
Chill completely, then serve in glasses over ice.
Notes
For Sweeter Tea
Add 1/4 - 1/2 cup of raw cane sugar or granulated sugar to the raspberry syrup ingredients before cooking. Make sure the sugar dissolves completely.
For non-refined sugar options try agave nectar, monk fruit, or stevia. Check the labels of these products to use their equivalent amounts (i.e. stevia uses much smaller amounts to achieve the same sweetness).
Recommended Products
As an Amazon Associate and member of other affiliate programs, I earn from qualifying purchases.
Nutrition Information
Yield

6
Serving Size

1
Amount Per Serving
Calories

89
Total Fat

1g
Saturated Fat

0g
Trans Fat

0g
Unsaturated Fat

0g
Cholesterol

0mg
Sodium

16mg
Carbohydrates

22g
Fiber

3g
Sugar

17g
Protein

1g
Photography: photos taken in this post are by Rachael from Set the Table.