How to Make Ice Tea: Tangerine Raspberry Iced Tea Recipe
Our summer days of sipping cold drinks like this refreshing Tangerine Raspberry Iced Tea are officially over. Logan went back to school on Monday and Tuesday was Madeline's first day. As I write this, I'm officially kid-less for a few more hours. I can't help but feel a little bit of mom guilt over being happy about school beginning again.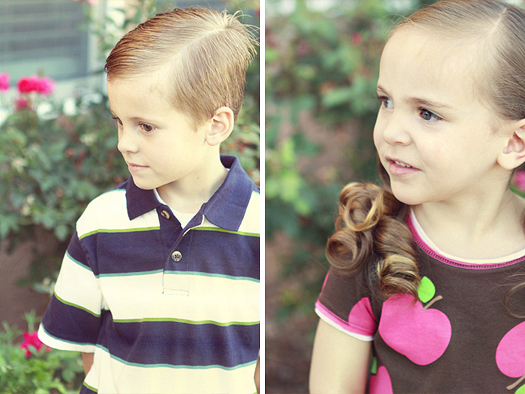 everyone looking very serious on the first day of school!

It's not to say that I don't enjoy the Logan and Madeline's company, but summer was long and it was good. With adults-only getaway to Crete and Athens and a wonderful family trip to San Diego in my back pocket I think we managed to have a pretty good time during the past couple of months.

Of course summer wasn't all travel. We managed to have fun at home, too! I can't count the number of times we went to the library and all the fun, new books we checked out. Then there were swim lessons, art camp, sports camp, and play dates with friends…I don't really have any regrets this summer.
But now, I'm ready for a change. Ready to say goodbye to hot weather and swim suits. Goodbye to summer meals and welcome fall's comforts with open arms. And really, the thought of being able to wear layers and scarves again is kind of appealing. True it will still be quite warm here for at least another month, but in my mind school starting is what ushers in fall.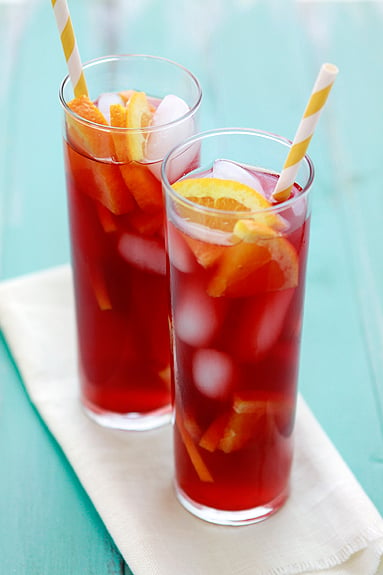 A batch of this Tangerine Raspberry Iced Tea Recipe is the perfect way to toast to the end of summer. Iced tea is simple to make, not too unlike making regular tea. Steep the tea bags in hot water, then cool the tea and add ice. For extra flavor try adding herbs, such as mint, or fresh fruit to the mixture.
Typically you'll want to add a higher ratio of tea bags to water because the ice cubes will eventually melt and dilute the flavor. Experiment around and see how you like your iced tea best.
In this case, I've prepared the Tangerine Raspberry Iced Tea Recipe with a 2:3 ration (2 cups of water per every 3 bags of herbal tea) rather than the usual 1:1 ratio as is seen in hot tea. I've also added a bit of pomegranate juice for an extra punch of color and flavor.
Tangerine Raspberry Iced Tea Recipe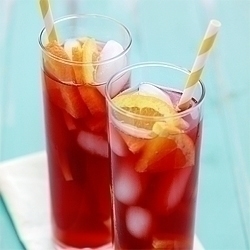 Ingredients:
6 cups water
5 Tangerine herbal tea bags
4 Raspberry herbal tea bags
1 - 1 1/2 cup Pomegranate juice (or according to your tastes)
orange or tangerine slices, optional garnish
raspberries, optional garnish
ice cubes
Directions:
Add water to a medium-large saucepan or stock pot. Bring water to a boil. Add the tea bags, then turn the water off. Let sit for 30 minutes.
Meanwhile, fill a pitcher halfway with ice. Remove tea from the stove and transfer to the pitcher. Add 1 cup of pomegranate juice. Stir to combine. Taste and sweeten as desired. Serve garnished with orange slices and raspberries.
A good way to sweeten tea without any undissolved sugar granules is by using a simple syrup. Combine a 1:1 ratio of sugar to water in a small saucepan on the stove. Heat until the sugar has dissolved. Let cool, then add as needed.