In this recipe for Sparkling Pineapple Mint Juice, fresh ripe pineapples are blended with mint leaves and combined with sparkling water over plenty of ice. This fresh pineapple juice with mint is the perfect refreshing summer beverage to enjoy on a hot day!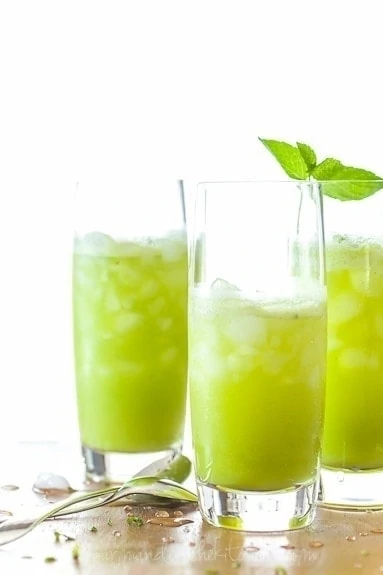 I'm taking some time off to get our new home organized after our move. I hope to be back to blogging soon, but in the meantime please welcome Sylvie of Gourmande in the Kitchen as she shares some fun summer drink ideas and a recipe for Sparkling Pineapple Mint Juice today.
Creating this Pineapple Juice Recipe
I first fell in love with the idea of pineapple with mint when I did the BluePrint Cleanse (now out of business). Their version was so good that I had to recreate a version of it at home.
During summer the best drinks are full of flavor and just plain refreshing.
When it's hot outside nothing quenches your thirst quite like a glass of pineapple mint juice. The sweet yet acidic taste of fresh pineapple combines perfectly with the fizzy bubbles of sparkling water. Add a touch of fresh mint and it becomes something uniquely refreshing.
This juice makes your taste buds tingle it's so refreshing.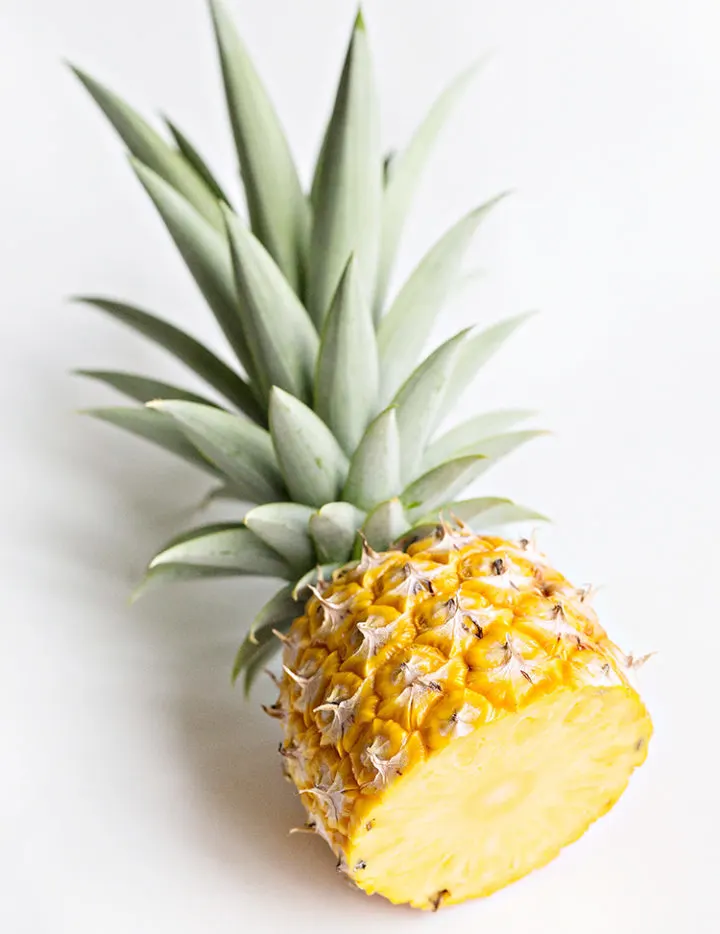 This post may include affiliate links. As an Amazon Associate and member of other affiliate programs, I earn a small commission from qualifying purchases.
Tools Needed to Make Fresh Pineapple Juice with Mint
Sharp Chef's Knife – you'll need a sharp knife to peel, core, and cut the pineapple.
Cutting Board – a good cutting board will keep your counter clean while you prepare the pineapple.
Measuring Cups and Spoons – to measure the mint and honey.
Blender or Food Processor – to puree the pineapple and mint.
Juicer – you can use a juicer instead of a blender if you prefer.
Ingredients in this Homemade Pineapple Juice Recipe
This pineapple mint juice is all about simple ingredients, but that's the best part of using summer fruit that's in season. You don't need to do a lot to make it taste amazing!
Fresh Pineapple
Fresh Mint
Honey, Agave Nectar, or Simple Syrup
Sparkling Water or Club Soda
Ice Cubes or Crushed Ice
Garnishes for this Pineapple Mint Juice
Want to garnish your glass of this homemade juice? Here's some ideas:
Fresh Pineapple Wedge
Pineapple Leaves
Fresh Mint Leaves
For the complete ingredient list and detailed instructions, scroll to the bottom of this post for the FREE printable recipe card.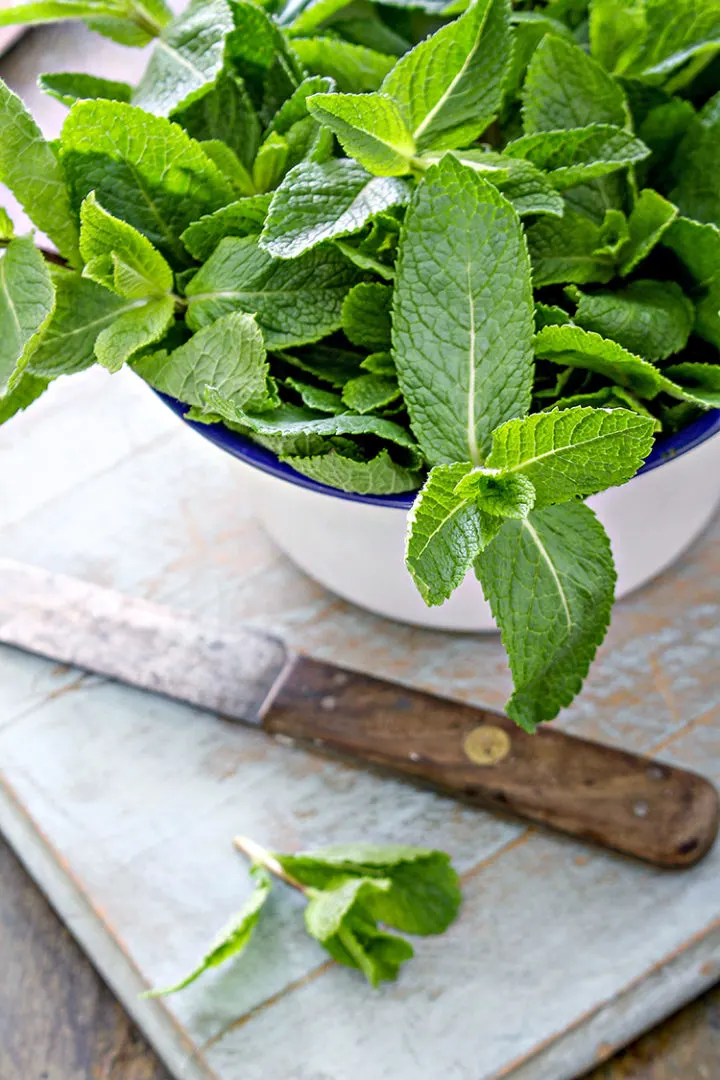 How to Make Pineapple Juice with Mint
You can make this recipe for pineapple mint juice two different ways depending on what kitchen tools you have available to you. Here's a quick overview of the processes:
How to Make this Pineapple Mint Juice with a Blender
Here's how you make this fresh juice using a blender:
First, peel and core the pineapple (discard the core). Cut the peeled pineapple into chunks.
Then, add the pineapple cubes, mint, and sweetener (if using), to a high-speed blender or food processor.
After that, process the pineapple mixture until smooth.
Next, fill a tall glass with crushed ice.
Then, fill the glass 2/3 of the way with the pineapple juice, top with sparkling water and mint sprigs.
How to Make Pineapple Mint Juice with a Juicer
The second method for preparing this pineapple mint juice recipe is using a juicer.
With this method, most of the solids from the pineapple will be removed, so it will have much lower daily value of dietary fiber in the recipe.
Simply place the cut pineapple and the fresh mint in your juicer. Then, process according to the manufacturer's directions. You'll want to check the instruction model to see if different settings are required depending on how hard or soft the fruit is.
When using a juicer to make this pineapple juice, don't pack the chute tightly or try to force the pineapple through. Just gently press with the tamper (if your model has one).
The above is simply a quick summary of this recipe. Check out the full recipe in the free printable recipe card at the bottom of this post for all the detailed instructions.
Tips for Making Fresh Pineapple Juice
How to Serve Fresh Pineapple Mint Juice
Serve Pineapple Mint Juice over ice! This tasty juice recipe is best served cold, so fill your glass with ice and pour it over the top with a few splashes of sparkling water or club soda.
Caffeinate with Your Pineapple Juice! Need a boost of caffeine in the morning? Try adding whisking in some Matcha Powder.
Make a Pineapple Juice Chia Drink! Have you ever had a chia drink? It would be so good with this pineapple mint juice. Just combine 1 tablespoon of chia seeds in 1/3 cup of warm water for 1-2 hours at room temp, or overnight in the fridge. After the chia seeds have gelled, combine 1/2 – 1 cup of chia with 1 cup of pineapple juice.
Make Pineapple Juice Popsicles! Freeze this pineapple mint juice recipe in popsicle molds for a refreshing summer popsicle.
Mix it up with Ginger Beer! Instead of sparkling water or club soda, try using ginger beer for a little extra splash of flavor.
Make it an adult beverage! For an easy cocktail, add a splash of vodka, tequila, or white rum and garnish with pineapple spears.
How Long Does Pineapple Mint Juice Last?
Leftovers of this fresh pineapple mint juice should be stored in an airtight container and refrigerated. Consume any leftovers within 24 hours for optimal flavor and nutrient content.
You'll need to stir or shake the leftover pineapple mint juice before drinking it. It is completely normal for some separation to occur. I like to use a jar to store leftovers so I can shake the leftover juice easily.
More Easy Summer Drinks to Try
Enjoy these summer-inspired drinks for your weekend barbecues, picnics, parties or just while hanging out with friends this season.
Try this Refreshing Summer Drink Recipe!
Next time you're looking for fruity drinks to enjoy on a hot summer day, give this Pineapple Juice with Mint a try! Did you think it was the perfect summery beverage? Leave a comment below and give it a review for others to see what you thought of this easy drink.
On Instagram? Share your photo and tag me with @goodlifeeats and #goodlifeeatsrecipes. I'd love to see your photo of this refreshing drink with pineapple and mint!
What are your favorite summer season drinks made from fresh fruit?
Get More New Recipe Ideas via Email
Did you love this fresh fruit juice recipe? Sign up to receive Good Life Eats Email Updates and never miss another recipe!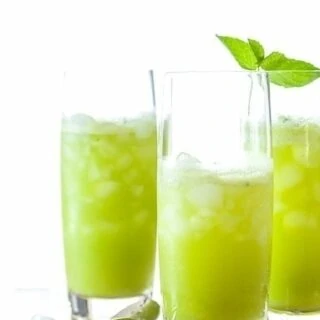 Sparkling Pineapple Mint Juice
Sparkling Pineapple Mint Juice is the perfect refreshing summer drink.
Ingredients
1 fresh pineapple, peeled and chopped (save a few slices to garnish if desired)
1/4 cup (one small handful) fresh mint
A few teaspoons of honey or your sweetener or choice (optional)
1 liter bottle of sparkling water or club soda
Crushed ice, to serve
Instructions
Place pineapple, mint, and sweetener (if using) in a high-speed blender or food processor.
Process until smooth. Pour into tall glasses, top with crushed ice.
Add sparkling water or club soda to top.
Serve immediately garnish with mint or pineapple slices if desired.
Recommended Products
As an Amazon Associate and member of other affiliate programs, I earn from qualifying purchases.
Nutrition Information
Yield

2
Serving Size

1
Amount Per Serving
Calories

55
Total Fat

0g
Saturated Fat

0g
Trans Fat

0g
Unsaturated Fat

0g
Cholesterol

0mg
Sodium

7mg
Carbohydrates

14g
Fiber

1g
Sugar

12g
Protein

0g
GoodLifeEats.com offers recipe nutritional information as a courtesy and is an estimate only. This information comes from online calculators. Although GoodLifeEats.com makes every effort to provide accurate information, these figures are only estimates.
About the Recipe Author:
Sylvie is a freelance food photographer and food writer. On her blog, Gourmande in the Kitchen, she celebrates the joy that food brings to our lives every day. Her motto is "cook simply." She believes that good food isn't fussy or pretentious; it's simple, it's real and it's made with love for those we love. Through her blog, Sylvie hopes to inspire others to follow their instincts, trust their taste buds, and find a sense of confidence in the kitchen.