Quinoa Stuffed Bell Peppers
I remeber eating stuffed bell peppers as a child. Ours were usualyl stuffed with a Mexican ground beef, rice and cheese mixture.
Consider these Quinoa Stuffed Bell Peppers an updated version of that classic recipe that so many of us love. Swap out the rice for nutrient rich quinoa, the ground beef for black beans (for fiber and protein) and add some extra vegetables for color, flavor, and texture.
These peppers have so much flavor and color. I love them! These Stuffed Bell Peppers are full of healthy vegetables and protein (you can thank the quinoa and cheese for that) and a little heat from  the pepper jack and poblano. It is a great vegetarian meal that proves meatless doesn't have to be boring.
It is super easy to take some of your family-favorite recipes and convert them to Vegetarian Meals if you are interested in consuming less meat. Check out my tips for that in this post: 5 Tips to Vegetarian-ize your Family Favorite Recipes.
I think I've made these stuffed peppers 3 or 4 times already. Last week I shared the recipe and a little background behind the grain  over at Good (&CHEAP) Eats for Jessica's Building a Frugal Pantry series.
Quinoa is a fantastic grain to have in your pantry. It is incredibly nutritious so it makes for a great substitute for rice. If you like couscous, you will likely enjoy the texture of this grain as well, though it has a slight crunch to it.
What are some of your favorite ways to cook with quinoa?
If you missed my last guest post for this series, you can check it out here: 5 Grain Pancakes with Flax. This is a DIY pancake mix that is simple to whip up and keep on hand for those pancake mornings.
Quinoa Stuffed Bell Peppers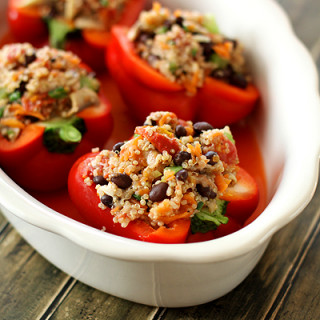 Ingredients:
2 tablespoon olive oil
1 medium onion, finely chopped
2 ribs celery, finely chopped
1 8-oz. pkg. mushrooms, stems removed and saved for another use and caps sliced very thin
1/2 of a poblano pepper, diced
1 tablespoon ground cumin
2 cloves garlic, minced
1 – 15 oz. cans diced tomatoes, drained, liquid reserved
1 – 15 oz. can black beans, rinsed and drained
3/4 cup quinoa
1 1/2 cups grated carrot
1 1/2 cups grated Pepper Jack cheese, divided
4 large red bell peppers, halved lengthwise, ribs removed
Directions:
Heat oil in saucepan over medium heat. Add onion, celery, and poblano pepper and cook 5 minutes, or until soft. Add cumin and garlic, and sauté 1 minute. Stir in mushrooms and drained tomatoes. Cook 5 minutes, or until most of liquid has evaporated.
Stir the quinoa, carrots, and 1 3/4 cups water together in a medium saucepan. Cover, and bring to a boil. Reduce heat to medium-low, and simmer 20 minutes, or until quinoa is tender. Combine quinoa and carrots with black beans, 1 cup of cheese, and the onion mixture from the first step, . Season with salt and pepper, if desired.
Preheat oven to 350°F. Pour liquid from tomatoes in bottom of baking dish.
Fill each bell pepper half with heaping 3/4-cup quinoa mixture, and place in baking dish. Cover with foil, and bake 40 minutes. Uncover, and sprinkle each pepper with 1 tablespoon of remaining cheese. Bake 15 minutes more, or until tops of stuffed peppers are browned. Let stand 5 minutes. Transfer stuffed peppers to serving plates, and drizzle each with pan juices before serving.