SOS Progressive Dinner: Roasted Red Pepper Soup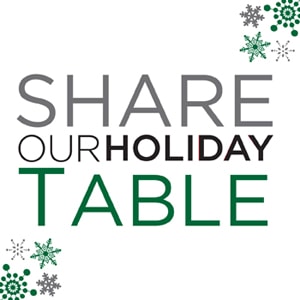 Did you know that nearly 1 in 4 children in the United States faces hunger? That is a sobering thought, but especially during this season when time should be spent with family rather than worrying about where the next meal will come from.
I'd like to help spread that message and that's why I've teamed up with Share our Strength and 50 food bloggers to put together a delicious virtual progressive dinner this Holiday Season.
As the mother to two young children, I personally cannot even fathom how heartbreaking and difficult it is to truly go hungry. I hear "I'm starving," "I need a snack," or some variation of those phrases many times throughout the day, but to really mean those words. That is something else. The hope is that with the Share Our Holiday Table progressive dinner, we will be able to raise awareness of childhood hunger in our own country.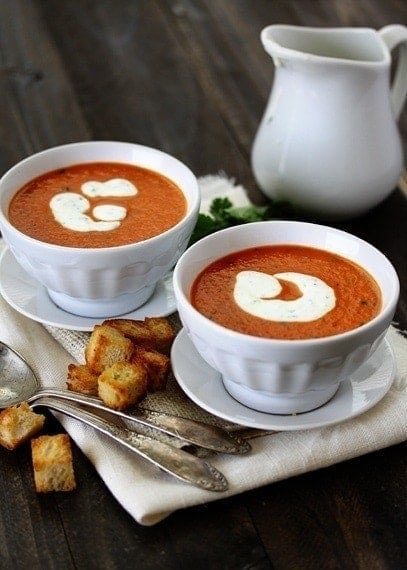 Share our Strength would like to end child hunger by the year 2015. Just $1.00 can help a child receive 10 healthy meals. For more information and to see how you can help, visit Share our Strength's website at www.strength.org. If you aren't able to make a donation today, consider purchasing their holiday cards instead.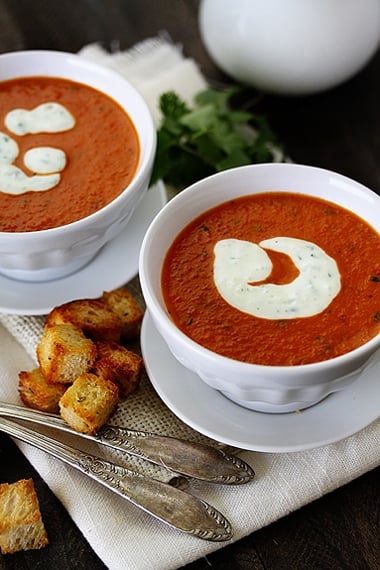 My contribution to the Share Our Holiday Table menu is a Vegetarian Roasted Red Pepper Soup with Smoked Paprika and Cilantro Cream. It is adapted from a recent cookbook purchase, Soups, Stews and Chilis. The photo was just too vibrant and beautiful to pass up the recipe. Served with a large salad and a crusty loaf of bread this soup can be a delicious and warming meal all on it's own.
Roasted Red Pepper Soup with Smoked Paprika and Cilantro Cream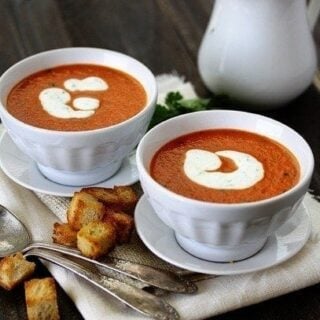 Ingredients:
Cilantro Cream
3/4 cup sour cream
2 tablespoons whole milk
2 tablespoons fresh minced cilantro leaves
2 tablespoon lime juice
salt and pepper, to taste
Soup
8 red bell peppers, roasted, skins removed, and chopped
1 tablespoon olive oil
2 medium garlic cloves, minced
1 medium red onion, chopped
1 teaspoon ground cumin
1 teaspoon smoked paprika
2 tablespoons tomato paste
1 tablespoon all-purpose flour
3-4 cups vegetable broth, adjust for consistency as desired
2 bay leaves
1/2 cup half and half
2 tablespoons dry sherry
2 tablespoons minced fresh cilantro
salt and pepper, to taste
Directions:
For the Cilantro Cream:
Whisk all the ingredients together in a small bowl and season with salt and pepper to taste. Cover with plastic and refrigerate until serving.
For the Soup:
Cook the oil and garlic together in a large Dutch oven over medium-low heat, stirring constantly, until the garlic is foamy and straw colored, about 6-10 minutes. Stir in the onion, increase the heat to medium and cook until the onion is tender, 5-7 minutes.
Stir in the cumin and smoked paprika, cooking until fragrant, about 30 seconds. Add the tomato paste and flour, cook for 1 minute. Then, gradually whisk in 3 cups of broth, careful to smooth any lumps. Stir in the bay leaves, chopped roasted peppers.
Bring the mixture to a simmer, and cook until the peppers are very tender, about 7 minutes. Remove the bay leaves. Puree the soup in a food processor, about 1/3 of the amount at a time, until smooth. Each batch will require about 2 minutes time. Return the soup to the pot.
Stir in the half and half, sherry, and additional broth if needed. Heat the soup over medium-low heat until hot. Stir in the cilantro and season with salt and pepper. Serve each portion drizzled with the cilantro cream.