Rosemary Potato Buttermilk Biscuits
Last week I had the craving for pot pies, but instead of  a typical chicken pot pie with buttery pie crust, I wanted to experiment with beef and a little different kind of crust. I had 3 lbs of stew beef in the freezing waiting to be used. Instead of baking up a pie crust for the pot pie, I topped the filling with these fluffy, Rosemary Potato Buttermilk Biscuits.
It was the best beef pot pie I've ever had! But the special biscuit topping was so tasty that I thought it deserved a post of its own. I have a soft spot for baked goods like muffins, scones, and biscuits. They can be frequently found stashed away in our freezer – though they never last long.
Rosemary Potato Buttermilk Biscuits might make a perfect beef pot pie crust, but they're also great served with dinner or even just stored in the freezer for a snack. I think I ate about 4 of these Rosemary Potato Buttermilk Biscuits while photographing them.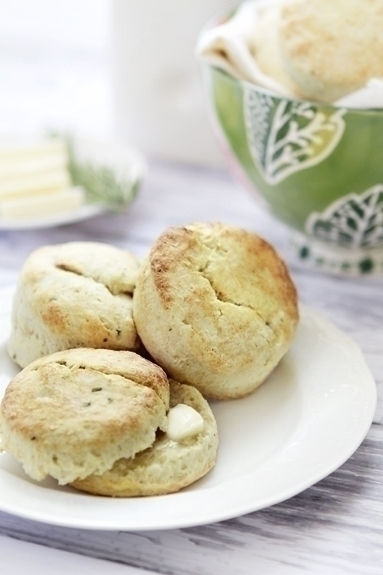 Besides having a baked potato mashed up in the dough, the combination of cake flour and all-purpose flour (you can also substitute freshly spelt flour from spelt berries) with the very cold butter make this recipe especially flaky and tender.
The box grater method for cutting butter into flour works great for me, it's fantastic for scone recipes and is also a quick way to get your butter room temperature. Just grate it into a bowl, the small pieces of butter will come to room temperature much quicker than a whole stick.
Plus this method saves time and energy because you don't have to wash the food processor – which is pretty much my least favorite appliance to clean!
Tips you might find helpful:
Rosemary Potato Buttermilk Biscuits
Prep Time:10 minutes
Cook Time:15-20 minutes
Total Time:25 - 30 minutes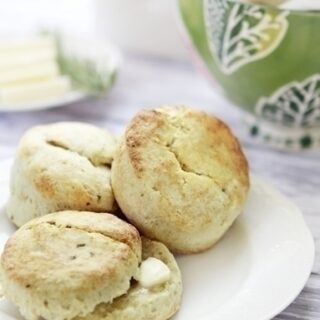 Ingredients:
1 - 2 baked russet potatoes
2/3 cup buttermilk
1 cup all-purpose flour or freshly ground spelt flour
3/4 cup cake flour
1 teaspoon sugar
2 1/2 teaspoons baking powder
1/2 teaspoon baking soda
1/2 teaspoon salt
8 tablespoons (1 stick) very cold or frozen butter
1 - 2 teaspoons very finely minced fresh rosemary
Directions:
Remove the flesh from the baked potatoes. Mash it with a fork or press it through a potato ricer. This will take 1 - 2 potatoes and should result in a total of 1/2 cup of potato. In a small mixing bowl, combine the 1/2 cup potato with the buttermilk. Whisk until smooth and set aside.
In a medium bowl, combine the all-purpose or spelt flour, cake flour, sugar, baking powder, baking soda, and salt. Whisk until well sifted. Cut the butter into the flour mixture either using two knives, a pastry blender, or a cheese grater. I prefer to use the cheese grater and grate frozen butter into the flour mixture. Add the rosemary and stir to combine.
Make a well in the center of the flour mixture and add the buttermilk potato mixture. Stir until combined, and then when you can't stir it anymore, turn it out onto a lightly floured surface and gently knead until you can form a rough ball.
Flatten the dough into a circle about 1/2 - 3/4 inch in thickness. Using a biscuit cutter or a drinking glass (about 2 1/2 - 3" in diameter for the listed baking time) turned upside down, cut as many rounds as you can. Using the dough scraps, form another circle of the same thickness. Repeat cutting until you have used all the dough.
Place the biscuits on a parchment paper-lined baking sheet placed on the oven's center rack and bake at 450° F for 10-15 minutes. The biscuit tops should be lightly browned. Let sit until cool enough to handle without burning your hands or mouth and then serve.