Parmesan Chive Buttermilk Biscuits
I am an official brand advocate for Bel Brands in 2013. While I receive compensation for participation as a brand advocate, opinions are my own.
We have been really into buttermilk biscuits lately. Several Sunday evenings in a row my sister and I have been whipping up a batch of hot, steamy buttermilk biscuits to serve with dinner. My latest experiment – Parmesan Chive Buttermilk Biscuits!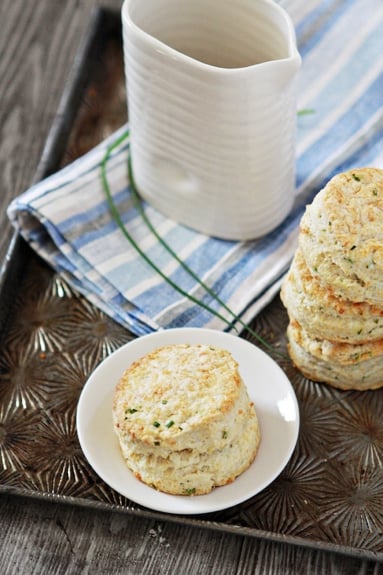 It is sad how few people make homemade biscuits anymore, but they are far superior to anything you'd find in a can and really don't take long at all to prepare.
My kids love to help cut the biscuits from the rolled dough. And there are always a few scraps leftover that aren't enough to form that one last biscuit. Madeline is always a fan of playing with that leftover dough while she waits for the biscuits to bake.
These Parmesan Chive Buttermilk Biscuits, like any homemade biscuits, are delicious eaten as is fresh out of the oven.
But they also make great mini sandwiches – my sister enjoyed one the other night split in half with some Laughing Cow Light Garlic and Herb Cheese spread inside and topped with baby spinach leaves and turkey deli meat as an after work snack.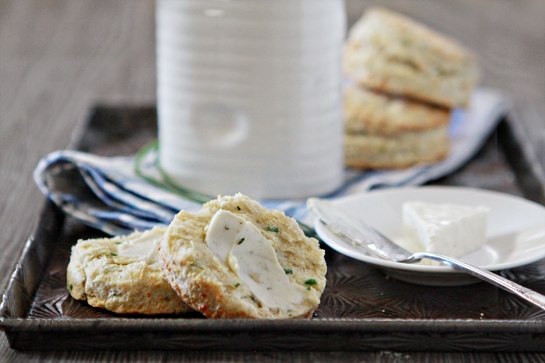 I love to use a Parmesan Chive Buttermilk Biscuit to make an egg and bacon biscuit sandwich for breakfast.Laughing Cow Light Garlic and Herb Cheese is great spread on that as well.
5 Tips for Delicious, Flaky and Tender Buttermilk Biscuits
1. Make sure your leavening ingredients are fresh. Your biscuits won't rise and will be hard rather than flaky and tender if your baking powder is expired.
2. Have all of the ingredients ready to go and prepped – dry ingredients measured, oven preheated, etc. – before beginning the butter step so the butter can remain nice and cold.
3. Use cold butter. I even prefer to use frozen butter so the butter doesn't get too warm. Cold bits of butter that then melt into the dough as the biscuit bakes keep them so tender and flaky.
I prefer to use a cheese grater to cut my cold butter. This cuts the butter up in perfectly small pieces, and keeps my warm hands from warming the butter or handling it too much.
4. Don't over work the dough. Use a fork or wooden spoon to stir in the buttermilk. You do not need a perfectly smooth dough, just work it enough so the dough can adhere and be rolled.
5. Enjoy them hot out of the oven!
Do you ever make homemade biscuits?
Parmesan Chive Buttermilk Biscuits
Yield: 16 - 18 biscuits
Prep Time:10 minutes
Cook Time:10 - 15 minutes
Total Time:20 - 25 minutes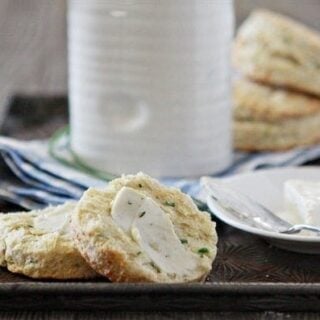 Ingredients:
4 cups organic all-purpose flour
4 teaspoons baking powder
1 teaspoon baking soda
1/2 teaspoon salt
2 teaspoons organic cane sugar
2 sticks (16 tablespoons) very cold butter
1 1/2 cup cold buttermilk
1 cup fresh grated parmesan cheese
1 package of fresh chives, finely sliced
Directions:
Preheat the oven to 450 degrees F.
In a bowl, combine the flours, salt, sugar, baking powder, and baking soda. Stir until sifted. Using two knives, a pastry blender, or a cheese grater, cut the butter into small bits and work it into the dry ingredients.
Stir in the chives and parmesan. Form a well in the center and add the buttermilk, stirring until moistened. Then, turn out on a floured counter and knead until you are able to form it into a round disc and all of the dough comes together.
Roll the dough out to a 1/2 - 3/4 of an inch thickness. Using a biscuit cutter or the top edge of a a round glass, cut the dough into biscuits. Remove the scraps and re-roll, cutting more biscuits out, until all of the dough has been used.
Place the biscuits on a parchment lined baking sheet and bake at 450 degrees for 10 - 15 minutes, or until golden on the tops. Eat hot out of the oven!
I am a compensated Community Leader for The Laughing Cow, but as always all opinions are my own. I just love their cheeses and have been a fan for many years before my working relationship began.