Salt Dough Ornaments
Salt dough ornaments are the sweetest little homemade gift! You can make them for the whole family or classroom with hardly any effort and there are plenty of fun personalization options! Kids will have a great time making these.
Click HERE to save this recipe for Salt Dough Ornaments to Pinterest!
Making Salt Dough Ornaments
A couple years ago, my daughter Madeline received a homemade salt dough ornament from one of her friends at school.
I thought that was the cutest idea for kids to gift to one another and something that doesn't cost a lot of money.
Christmas crafts as gifts for school friends aren't something I'd really considered before – surely buying stuff was easier?
But after she came home with that adorable ornament, I couldn't stop thinking about it.
Personalizing Salt Dough Ornaments
All the different combos you could make, all the Christmas cookie cutters I just happened to have in the pantry… the possibilities are endless.
You could make salt dough ornaments for your family, the classroom, coworkers – you name it! And your limitations are only set by the cookie cutters you own.
If you want to take it one step further, you can even personalize the ornaments for the recipient!
Personalization is super easy – just take some mini ABC cookie cutters and stamp the middle with the recipient's last name initial, monogram, or first name.
Stamp the ornament with that year's date, or a date of special significance.
Lightly stamp a design within the cookie cutter using another, smaller cookie cutter.
Hang two ornaments together on the same string, for example two shapes that have significance for the person you're giving them to.
So, last year, on a snowy afternoon when everyone was tired of playing in the snow, we decided to whip up a batch of these cute Salt Dough Ornaments to hand out to friends.
We kept it simple with sweet green Christmas trees, but red and white candy canes or yellow bells would be super cute and festive, too.
Click HERE to save this recipe for Salt Dough Ornaments to Pinterest!
Salt Dough Ornament Traditions
Salt Dough Ornaments are actually really easy to make and are the perfect activity for kids to do during the month of December.
Especially on days that are too cold or snowy to play outside. Usually those days are abundant here in Colorado.
This year it seems like it has been unseasonably warm with the most gorgeous fall that went on forever.
We decided on two Christmas trees this year – one downstairs in the formal living that is all matchy-matchy and perfect.
It sits in front of the windows and looks so pretty with the tree's white lights and ornaments in shades of blue, silver, and gold glowing through the windows at night.
Even though it is a decorator tree, there are a few special-to-me ornaments on it that just happen to fit the color scheme.
Upstairs in the hallway outside of the kids game room is a tree with all of their collector ornaments.
That tree contains all of the cute handmade things the kids made in class in years past, and multi-color lights.
All that to say, I wish we had made a couple extra of these salt dough ornaments last year to put on our memory-filled tree.
But, there is always time to make more this year. I don't think this is an activity that kids will ever really grow out of.
Tips for Making Salt Dough Ornaments
The hardest part of making these salt dough ornaments is simply making sure that your work surface remains dye-free.
I recommend covering your work surface with parchment paper or a plastic table cloth.
Something inexpensive that you don't care if it gets stained or that you can just throw away, the dollar store is great for this.
Wearing gloves and aprons will help make sure that clothes and fingers aren't dyed red and green when you're making your salt dough ornaments.
Save this recipe for Salt Dough Ornaments to Pinterest!
Have A Salt Dough Ornament Making Party
Pair this fun activity with a mug of your favorite hot cocoa and a round or two of Christmas Book Bingo by the fire.
Grown ups will love this Spiked Peppermint Mocha Hot Chocolate and kiddos will like a mug of Candy Cane Hot Cocoa.
If mulled ciders are more your style, try this Spiced Pomegranate Apple Cider.
Just make sure your favorite Christmas Tunes are playing in the background!
That sounds like just about the most perfect winter afternoon I could ask for. I hope it does to you too.
Looking for more fun Christmas activity ideas for kids to pair with making these salt dough ornaments?
Check out my post on Tips to Prepare for a Fun Winter Break with Kids
More Homemade Gift Ideas
If you love to make homemade gifts, like these salt dough ornaments for friends, neighbors, teachers, or anyone else on your holiday gift list, you might like to try a couple of these ideas, too.
Instead of throwing out broken bits of crayon, learn How to Make Recycled Crayons and try melting down your scraps and reshaping them into something new.
For Christmas themed crayons, look for silicone molds that are Christmas Tree or snowflake shaped.
Focus on color combos of blues, whites, silvers, and golds or reds and greens.
This is super cute for kiddos to make for their school friends, or that grown up that you know loves to color in their adult coloring book!
Featuring lemon, oil, sugar and salt, this All-Natural Moisturizing Kitchen Hand Scrub is a simple DIY gift to prepare – perfect for the holiday season.
Teachers will love this pampering item. For something extra special, pair it with a mani/pedi gift card or some fun new nail polish colors.
Homemade bookmarks make fun crafts for kids and also super cute gifts for them to pass out to friends at school; check out these 8 Cute DIY Bookmark Ideas.
This is a great snow-day craft idea to get kids involved in the gift making process.
And there are 35 more Homemade gift ideas here!
What are your favorite homemade holiday gifts?
Love this recipe for Salt Dough Ornaments?
Sign up for Good Life Eats email updates and never miss another update!
I originally shared this fun recipe for Salt Dough Ornaments on Food Fanatic, but I thought you'd like to see it here on Good Life Eats.
Be sure to follow Good Life Eats on Instagram. Tag @goodlifeeats and include the hashtag #goodlifeeatsrecipes so I can see what you're cooking up in YOUR kitchen!
Let me know if you try this recipe and what you think of it by leaving a comment below.
Save this recipe for Salt Dough Ornaments to Pinterest!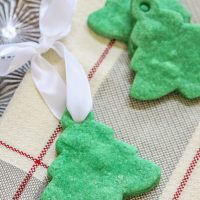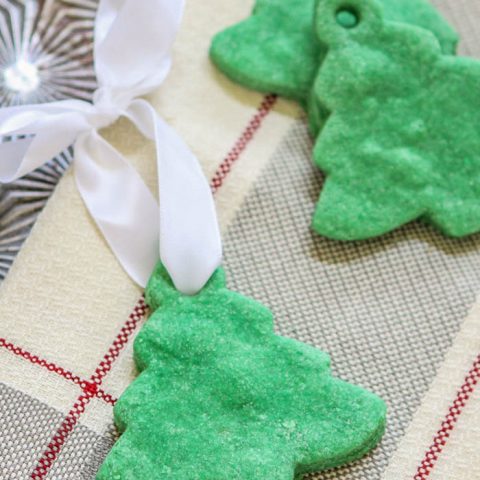 Salt Dough Ornaments
Total Time:
1 hour
30 minutes
Salt dough ornaments are the sweetest little homemade gift! You can make them for the whole family or classroom with hardly any effort and there are plenty of fun personalization options! Kids will have a great time making these.
Materials
1 cup All-Purpose Flour
1/4 cup Salt
1/3 cup Water, plus 1 tablespoon
1 Drinking Straw
nonstick baking spray
Parchment Paper
1 roll Colorful Ribbon, (1/8 to 1/4-inch wide) or string
Tools
Surgical Gloves, or kitchen gloves
Rolling Pin
Instructions
Preheat your oven to 250°F.
Place the rack in the center position.
Prepare a large baking sheet by lining it with parchment paper.
Line the work area with parchment paper to prevent your counters or table from becoming stained.
In a medium sized mixing bowl, combine the flour and salt until well whisked.
In a glass measuring cup, stir in the water and food coloring (see note below) together.
Make a well in the center of the flour mixture and pour in the colored water.
Stir well.
While wearing the surgical gloves, knead the dough with your hands for approximately 10 minutes (on top of the parchment paper), or until the dough has become smooth and the color is distributed throughout.
Use a rolling pin to roll the dough into a1/4-inch thickness on the parchment paper.
Use whatever shaped cookie cutters you'd like to cut out the dough.
Transfer the cut shapes onto the prepared baking sheet.
Use the straw to cut a small hole near the top (where you'd like to hang the ornament from).
Lightly spray the cut shapes with the non stick cooking spray.
This will help seal in the color.
Place the baking sheet in the preheated oven and bake for 1 hour.
Thread the ribbon or string through the holes and tie to hang.
Notes
Color and amount of food coloring is up to you depending on how dark, bright, or light you would like your ornament to be.
There are many helpful tutorials on pinterest that will give you specific drop and color combinations for specific colors.
The gloves keep your hands from becoming stained from the food coloring as you knead the dough.
Recommended Products
As an Amazon Associate and member of other affiliate programs, I earn from qualifying purchases.