Get into the holiday spirit by making yourself a Gingerbread Martini! This Christmas martini is made with Baileys and vodka, and it tastes just like gingerbread!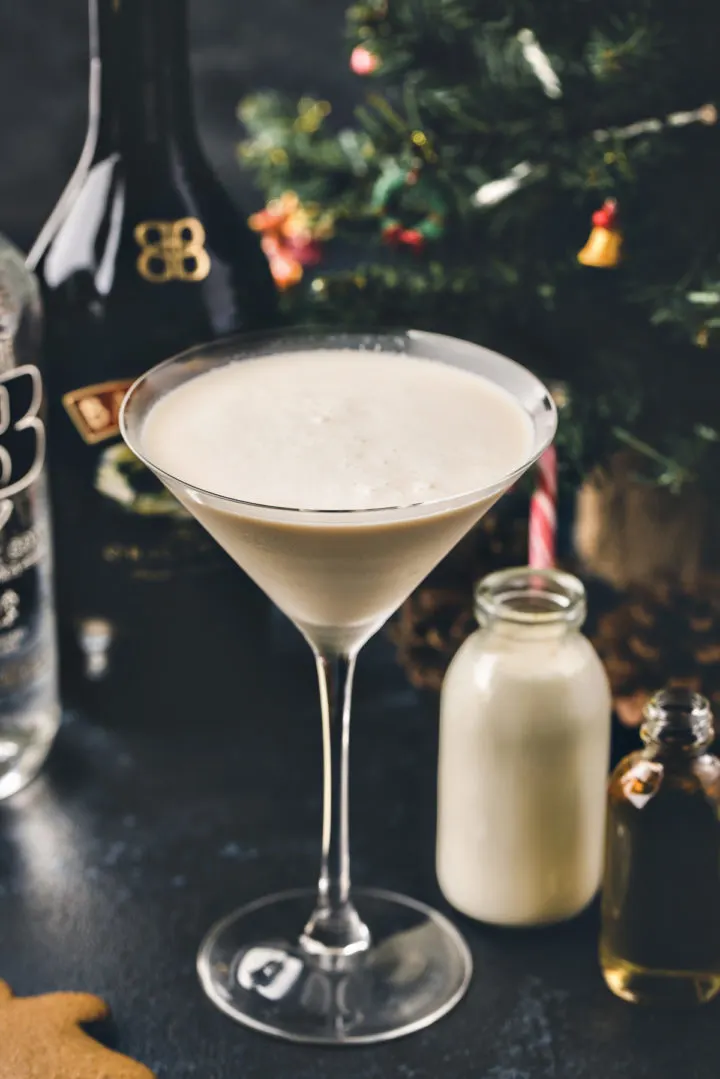 Creating This Gingerbread Martini Recipe
In case the title of this spiced gingerbread cookie Martini didn't give it away, I deviated from the classic Martini recipe in a big way when creating this cocktail.
Classic Martinis are made with gin and vermouth, then garnished with an olive or lemon twist.
The exact origins of the Martini are unclear, but most historians agree that it was created sometime in the mid-1800's, likely in or around Martinez, California.
Since the classic cocktail first came on the scene, there have been many variations of it created in bars all over the country. The vodka martini is the most widely accepted martini variation.
The gingerbread Martini I'm sharing with you today is a festive twist on the vodka Martini. Martini purists may say that the addition of gingerbread syrup and cream take this drink beyond Martini territory.
If that's how you feel, that's fine! Whether you label it a gingerbread Martini or a gingerbread cocktail, I really don't care — so long as you make and enjoy it!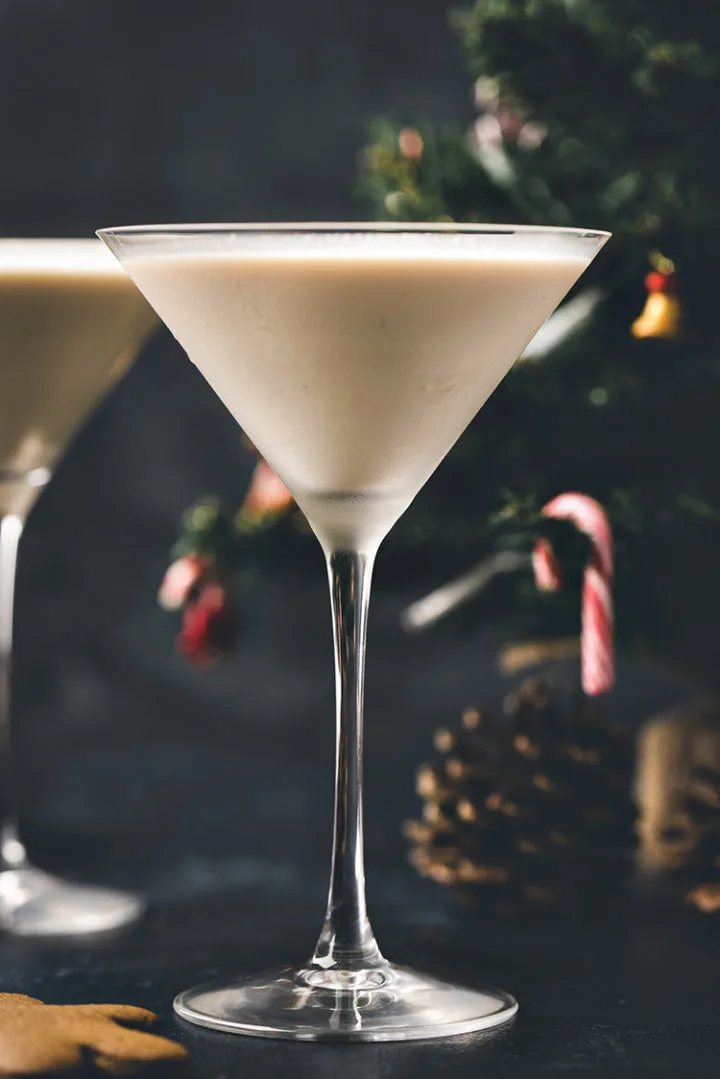 What Does the Gingerbread Martini Taste Like?
This is a lightly spiced, creamy cocktail that's perfect for serving after dinner. It's a sweeter Martini, but not cloying. Sweet and spicy is the best way I can describe it!
When Is the Best Time to Serve It?
Serve this Christmas cookie Martini at dessert. Its sweetness nicely finishes off a savory holiday meal.
It's particularly perfect for holiday parties and Christmas gatherings — really any event from Thanksgiving to New Year's Eve would be ideal for making this festive Baileys cocktail!
Tools Needed to Make a Gingerbread Martini
This is a very straightforward cocktail recipe that you can make without special cocktail tools. However, having at least a cocktail shaker on hand makes preparing and serving gingerbread cookie Martinis much easier.
Here's what I recommend using to make this Christmas Martini:
Cocktail shaker with strainer — You'll be shaking the cocktail with ice, so be sure your shaker comes with a strainer.
Jigger — For easy measuring.
Measuring spoon — For the gingerbread syrup.
Martini glasses — You can rim the glasses with a mixture of sugar and gingerbread spice for added festive flavor.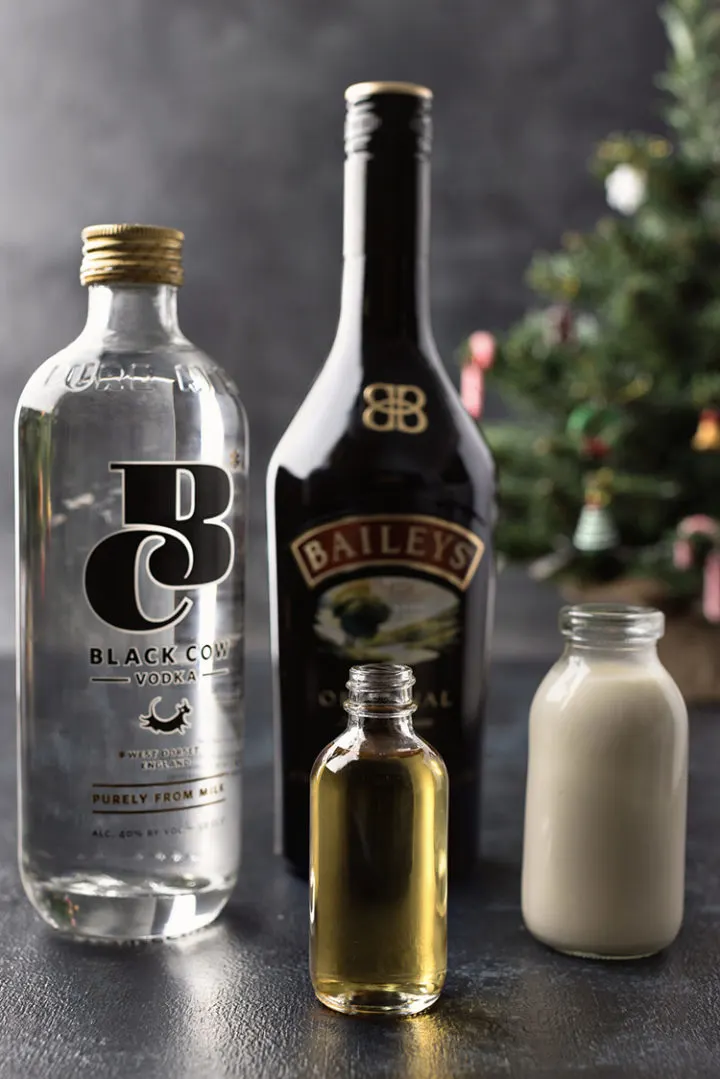 Gingerbread Martini Ingredients
Essentially this is a Baileys cocktail with vodka, flavored syrup, and cream mixed in. It's not too sweet, and the gingerbread syrup adds a lovely spiciness without overpowering the Baileys.
Here's what you'll need to make the cocktail:
Ice
Baileys Irish Cream
Vodka
Heavy Cream
For the complete ingredient list and detailed instructions to make this delicious Christmas cocktail, scroll to the bottom of this post for the FREE printable recipe card.
What Is Baileys?
Baileys Irish Cream — often simply called "Baileys" — is an Irish cream liqueur. It's made with Irish whiskey, cream, and cocoa and is light brown in color.
For a liqueur, it has a lower ABV (17%). It boasts a creamy, sweet flavor with distinct chocolate undertones.
Once you open a bottle of Baileys to make this cocktail recipe, you can actually store it in your pantry despite its dairy content. Of course, it's fine to keep in the fridge as well!
If you don't have Baileys on hand, you can substitute it with one of the following: Arran Gold, Magnum Cream Liqueur, or another favorite cream liqueur.
What Is Vodka?
Vodka is a high ABV distilled spirit (40 to 50%) commonly made from grains or potatoes. It's colorless and doesn't have a distinct flavor. But that's what makes it a great cocktail base!
Vodka can easily be transformed with flavored syrups or additional liquors. Feel free to use your favorite vodka for this gingerbread cocktail recipe.
And if you haven't purchased vodka in the past, pretty much any brand will work for this cocktail. Just don't get the absolute cheapest variety as it won't taste the best!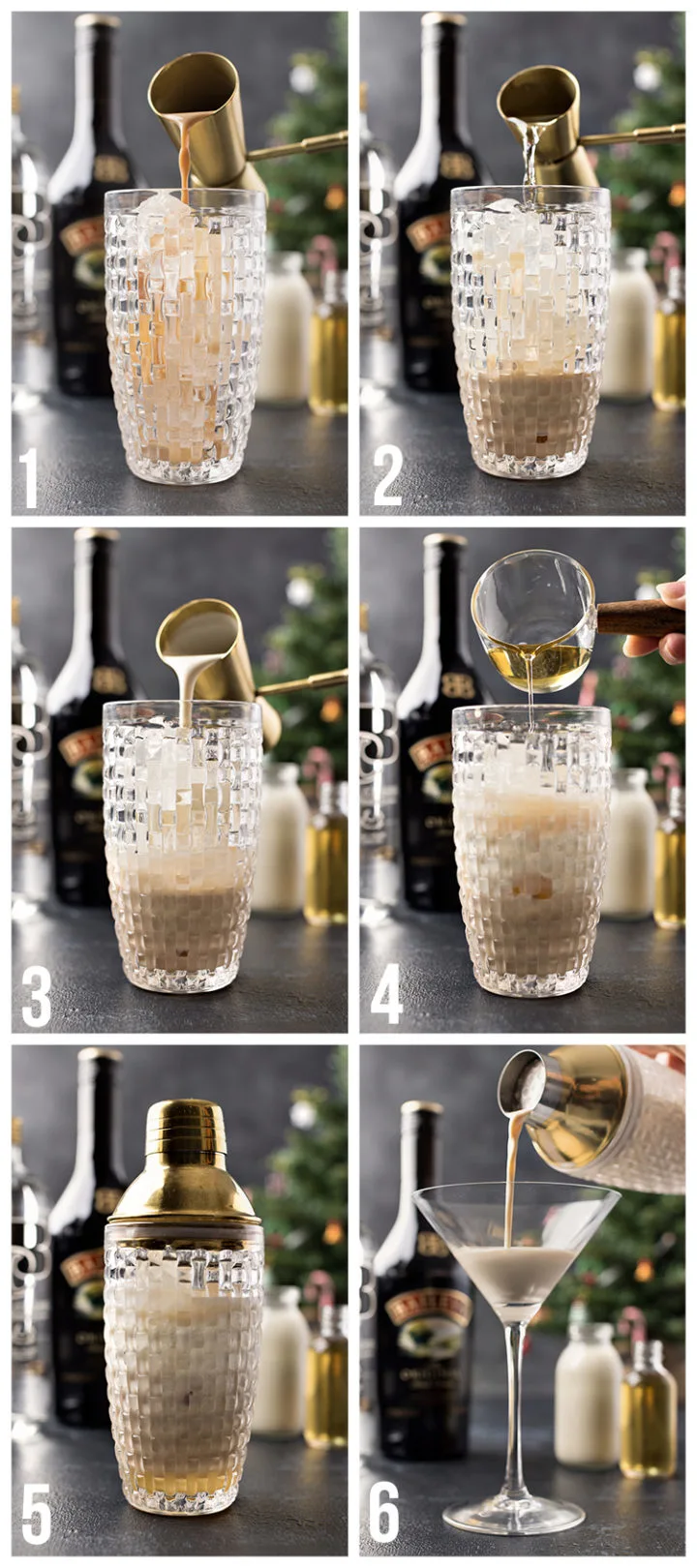 How to Make a Gingerbread Cookie Martini
This Baileys Christmas cocktail may have a few extra bells and whistles than the classic Martini, but it's not more difficult to prepare!
First, you'll fill a cocktail shaker with ice.
Then, measure all of the ingredients into a cocktail shaker.
Secure the lid and shake vigorously before straining in to a Martini glass.
The above is simply a quick summary of this festive gingerbread martini. Check out the full recipe in the free printable recipe card at the bottom of this post for all the detailed instructions.
Optional Garnishes to Try
This gingerbread cookie Martini is perfect as is, but you're welcome to add one or more of the following garnishes:
Mix sugar with Gingerbread Spice to rim the glasses
Garnish with a tiny gingerbread cookie (homemade or store-bought)
Dollop with whipped cream and then dust with gingerbread spice
Add a Cinnamon Stick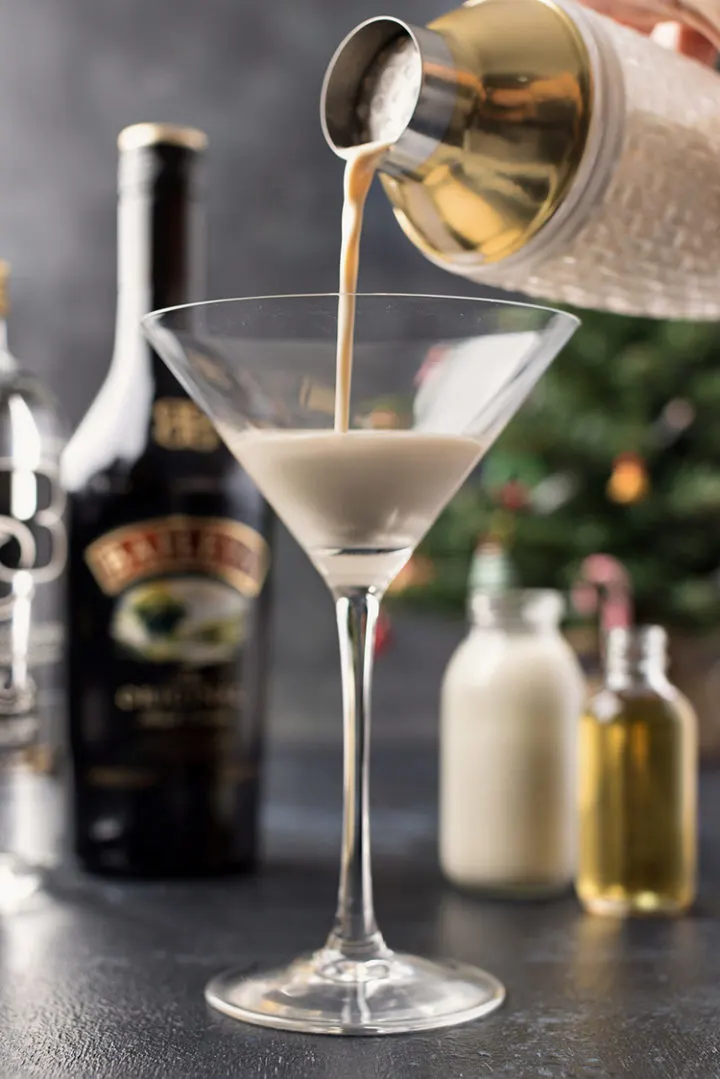 Tips for Making a Gingerbread Martini
To chill your martini glasses — Put them in the freezer for 30 minutes before serving the cocktails.
Amply shake the Martini — Shake the ingredients over ice at least 30 seconds before straining into the chilled glass
Choosing a gingerbread syrup —We like the Gingerbread Syrup made by Monin. We find 1 tbsp gives ample gingerbread flavor, but you may add more or less to taste.
Use real Baileys — We used classic Baileys Irish Cream for this recipe and would recommend this particular brand.
Substitute the heavy cream, if desired — Heavy cream results in a truly indulgent Martini. However, you're welcome to use half and half, whole milk, or another milk of your choosing.
Don't prepare in advance — This gingerbread cocktail is best prepared and enjoyed right away.
FAQs
What Kind of Glass Should I Use?
When making a Christmas cookie Martini like this one, it's best to use a proper Martini glass. You can find glasses with and without stems, so buy whichever style you prefer.
Is the Cocktail Served Over Ice?
No! The Martini is shaken with ice to chill it, but you do not want to serve the cocktail directly over ice. If you do that, the creamy Martini will become watered down as the ice melts.
For an extra cold Martini, pre-chill your glasses before serving.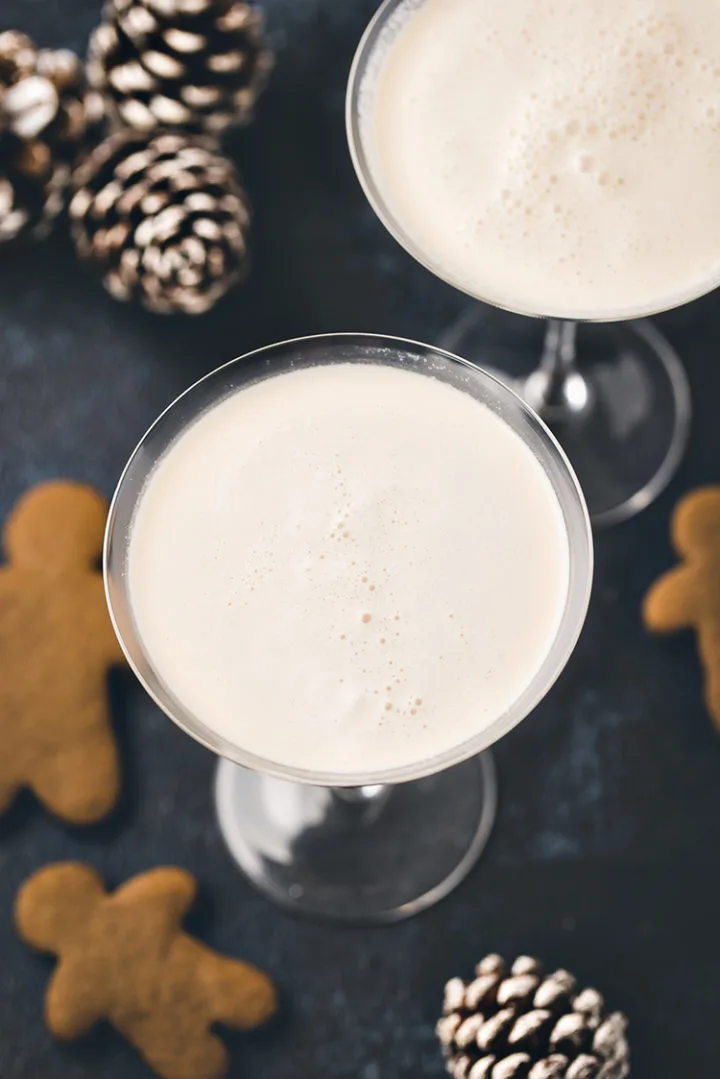 Can I Make a Dairy-Free Version?
If you're vegan or dairy-free, you can use Almond Baileys and a plant-based milk instead. I recommend oat milk for best results.
Can I Make This Cocktail Alcohol-Free?
Yes! To make this a non-alcoholic Christmas cocktail you'll have to replace the Baileys and vodka with alcohol-free alternatives.
Baileys: Use Baileys Coffee Creamer. You may need to replace some or all of the heavy cream with Baileys Coffee Creamer. I haven't tested this recipe with non-alcoholic Baileys Coffee Creamer before, so I'm not sure how strong of an Irish cream flavor it has.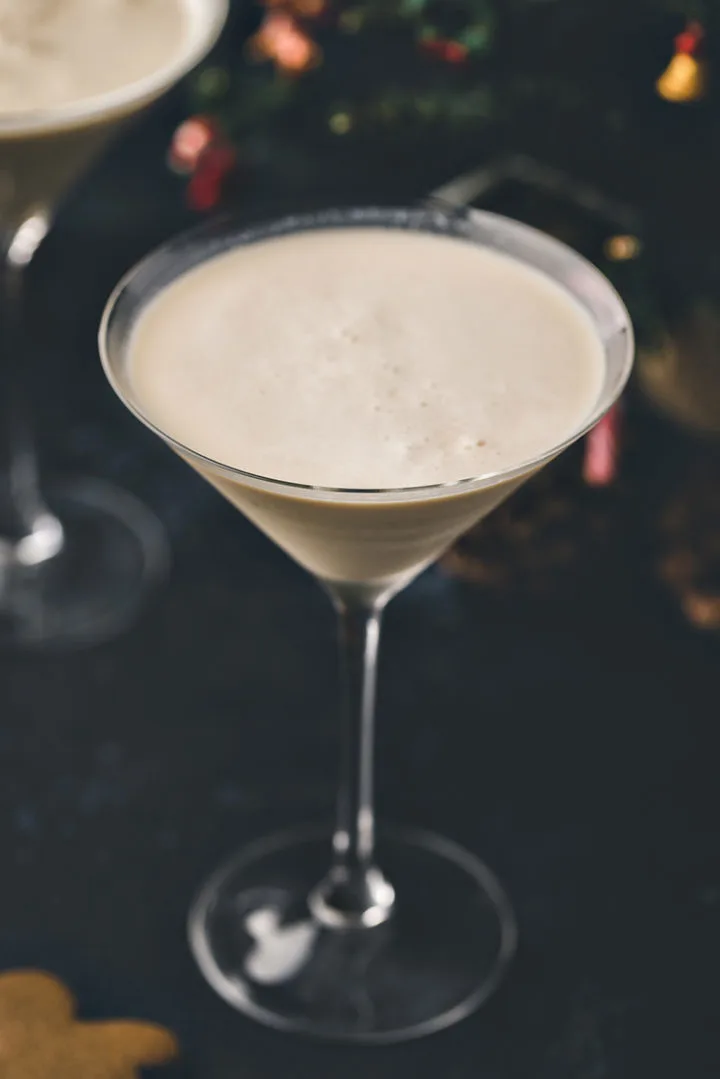 What to Serve with a Gingerbread Martini
If you're going to be sipping on a Christmas cookie-flavored cocktail, it's only fitting that you pair it with some actual Christmas cookies too!
Enjoy one or more of the following festive desserts with your Baileys and vodka cocktail:
Try this Gingerbread Martini Recipe!
Next time you're looking for a festive cocktail to serve during the holiday season, give this delicious Gingerbread Martini a try!
Did you think it was the perfect holiday drink? Leave a comment below and give it a review for others to see what you thought of this great cocktail recipe.
On Instagram? Share your photo and tag me with @goodlifeeats and #goodlifeeatsrecipes. I'd love to see your photo of this holiday cocktail!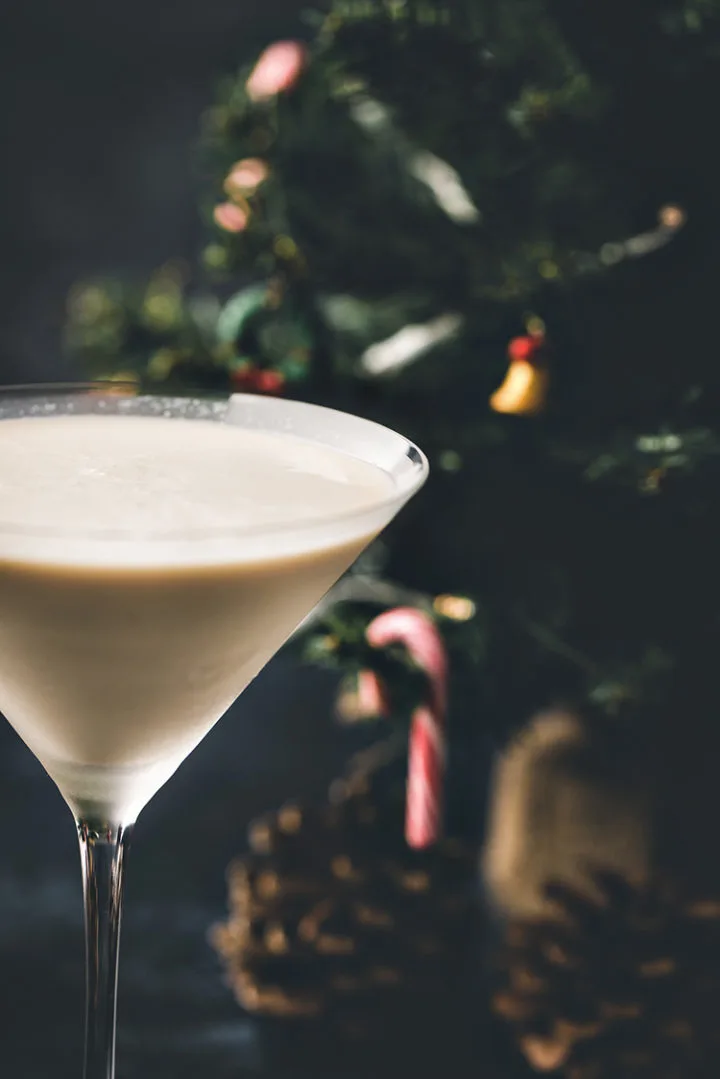 More Festive Christmas Cocktails:
This Cranberry Rosemary Shrub Cocktail is the perfect holiday cocktail! A homemade cranberry shrub with hints of black pepper, rosemary, and cinnamon is combined with bourbon and seltzer for a festive and colorful drink.
Fresh pressed apple cider, tart pomegranate juice, and Tempranillo pair with mulling spices and fresh fruit to create a fall-inspired cocktail. This Mulled Wine recipe is perfect for sipping during this autumn and winter season.
Peppermint Mocha Spiked Hot Chocolate takes traditional hot chocolate to the next level with the addition of the flavors of mocha, peppermint, and some optional Irish cream. Top it all off with Peppermint Mocha Whipped Cream and Marshmallows for an unbelievable sweet treat.
Sweet, creamy, and spiced, this Spiked Eggnog is the perfect holiday drink! Learn how to make eggnog with alcohol, how to safely use raw eggs in eggnog, and more.
Make a batch of Christmas Wassail to serve at your next holiday party! Wassail punch can be prepared in advance and kept warm in a Crockpot all night long.
Get More Recipes via Email
Did you love this recipe? Sign up to receive Good Life Eats Email Updates and never miss another recipe!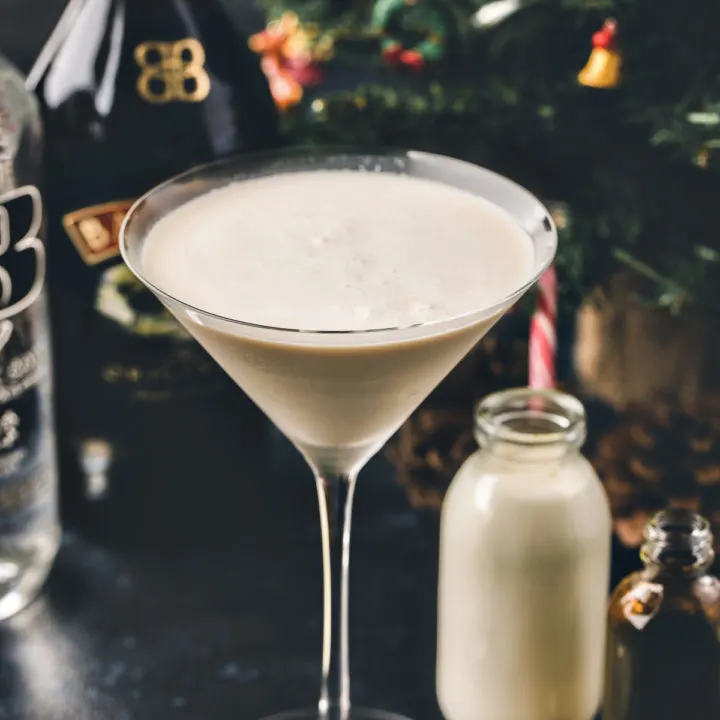 Gingerbread Martini
Get into the holiday spirit by making yourself a Gingerbread Martini! This Christmas martini is made with Baileys and vodka, and it tastes just like gingerbread!
Ingredients
Ice
2 ounces Baileys
1 ounce Vodka
2 ounces Heavy Cream
Instructions
Fill a cocktail shaker with ice.
Measure the Baileys, Vodka, heavy cream, and gingerbread syrup directly into the cocktail shaker.
Place the lid securely on the shaker and shake vigorously for 30-45 seconds.
Strain the gingerbread martini into a chilled martini glass.
Serve immediately.
Notes
We used Bailey's Irish cream for this recipe and would recommend this particular brand.
Use heavy cream, half and half or a milk of your choice.
If you're vegan or dairy free then you can use Almond Baileys and a plant based milk instead.
You can use any brand of vodka.
We like the Gingerbread Syrup made by Monin. We find 1 tbsp gives ample gingerbread flavor but feel free to add a bit extra for even more of a ginger kick!
For a chilled cocktail put your glasses in the freezer for 30 minutes before you make the cocktails.
Shake the ingredients over ice for at least 30 seconds before straining into a chilled glass.
Nutrition Information
Yield

1
Serving Size

1
Amount Per Serving
Calories

500
Total Fat

22g
Saturated Fat

14g
Trans Fat

1g
Unsaturated Fat

7g
Cholesterol

68mg
Sodium

81mg
Carbohydrates

62g
Fiber

0g
Sugar

38g
Protein

2g
GoodLifeEats.com offers recipe nutritional information as a courtesy. This provided information is an estimate only. This information comes from online calculators. Although GoodLifeEats.com makes every effort to provide accurate information, these figures are only estimates.