This Raspberry Cosmopolitan uses raspberry three ways to infuse the classic cocktail with fruit flavor. It's the perfect balance of sweet and tart — so much better than the classic Cosmo, in my opinion!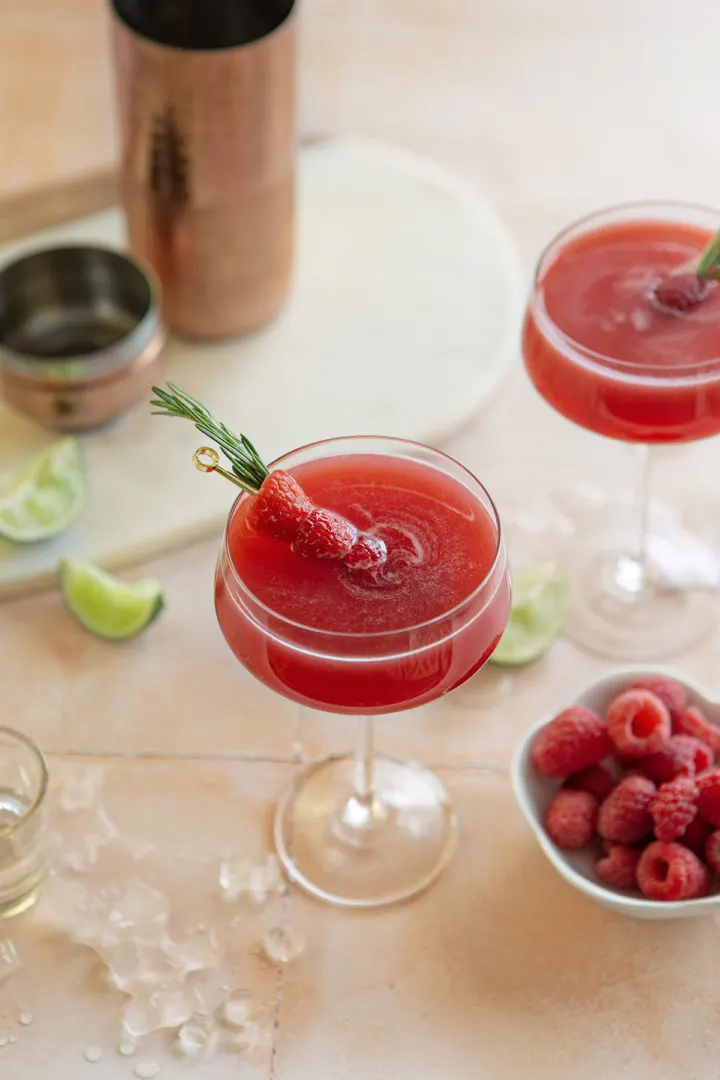 What Is a Cosmopolitan?
According to the International Bartenders Association (IBA), a Cosmopolitan is a "contemporary classic" cocktail that's made with vodka citron (lemon vodka), cointreau, lime juice, and cranberry juice. Cosmos are also garnished with a lemon twist.
No one knows the exact origin of the Cosmopolitan cocktail. In the 1960's, Ocean Spray had a cocktail recipe on the side of their cranberry juice bottles for a "Harpoon," which was a blend of cranberry juice, lime, and vodka.
Using the Ocean Spray recipe as a springboard, it's possible that the Cosmopolitan could have been invented by South Beach bartender Cheryl Cook or Provincetown bartender John Caine in the 1970's.
With that being said, the creation of the Cosmopolitan is often officially credited to Toby Cecchini, a bartender at the Odeon in Manhattan, in 1987.
No matter who "officially" invented the Cosmopolitan, some variation of the cocktail has existed since the 1960's. Most agree that the Cosmo was created as an alternative to the martini; people needed something easier (i.e. sweeter) to sip and thus the Cosmo was born.
Of course, I can't discuss the history of the Cosmopolitan cocktail without mentioning Carrie Bradshaw, the main character of the popular TV series Sex & the City. The Cosmopolitan was Carrie's signature drink, and it surged in popularity while the show was on air.
Inspiration for This Raspberry Cocktail
The inspiration behind this raspberry Cosmopolitan cocktail came from a sisters' trip to Las Vegas over New Year's Eve. We went to see Adele in concert, and the Friday night prior we went to Ruth's Chris for dinner.
We wound up sitting at the bar of Ruth's Chris and the bartender served us the most incredible raspberry rosemary Cosmos.
That weekend was special for so many reasons, but even after a delicious NYE dinner at Vanderpump à Paris we were both still thinking about the raspberry Cosmos at Ruth's Chris.
I've been testing this raspberry vodka cocktail the last several weeks at home to get it just right, and I think I've finally recreated the drink we had that night at Ruth's Chris!
What Makes This Cosmo Recipe Unique?
This raspberry Cosmo cocktail uses the same ratios as the Bon Appetit version. However, instead of vodka citron I used raspberry vodka, and instead of triple sec I used Cointreau.
I also added fresh raspberries, rosemary, and a little raspberry syrup to really drive home the raspberry flavor!
What Does a Raspberry Cosmopolitan Taste Like?
This raspberry cocktail is sweet, tart, and slightly herbaceous. I personally like it better than a traditional cosmo!
Tools Needed to Make a Cosmo
If your bar cart isn't stocked yet, here's what I recommend purchasing to make a this raspberry vodka cocktail:
Shaker — I like to measure the ingredients directly into the shaker.
Strainer for shaker — Most cocktail shaker sets come with a strainer included, but if you don't have one you need it for this recipe. It's essential for straining the tiny raspberry seeds out of the cocktail.
Jigger — Makes measuring out drink ingredients easier.
Citrus juicer — Makes juicing limes much simpler. Be sure to roll your limes on the counter before slicing and juicing them to help release even more juice.
Cocktail muddler — The raspberries need to be muddled.
Knife — For chopping the rosemary.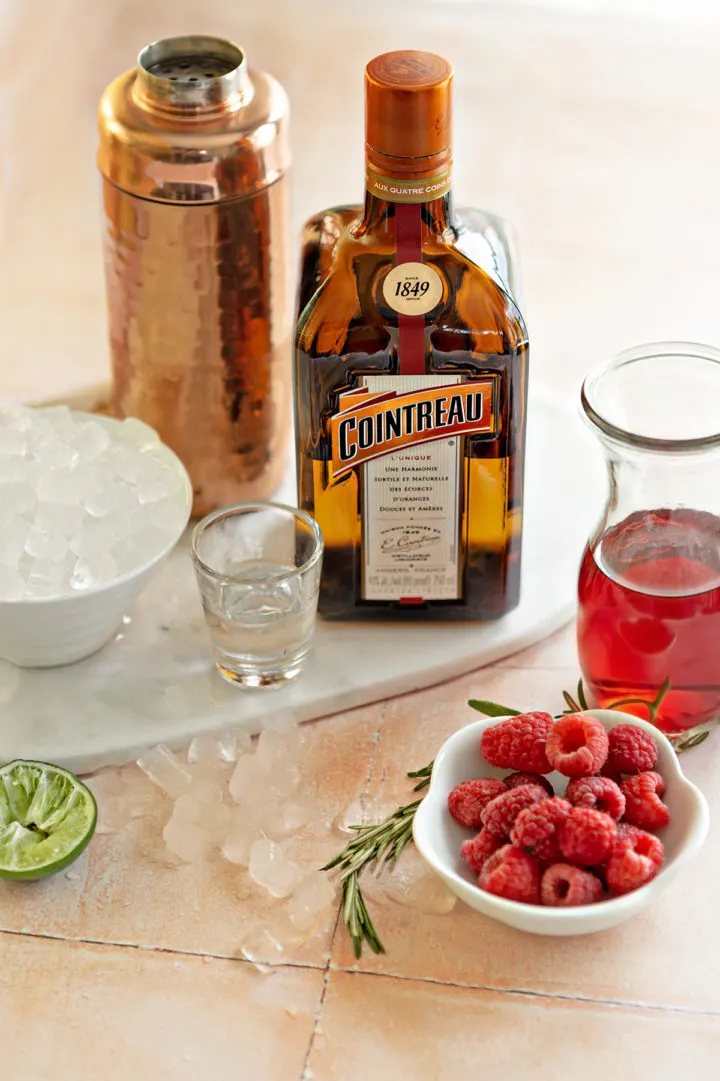 Ingredients in a Raspberry Cosmopolitan
For this unique Cosmopolitan cocktail recipe, you'll need the following ingredients:
Fresh Raspberries
Raspberry Vodka
Cointreau
Cranberry Juice
Fresh Lime Juice
Raspberry Syrup
Fresh Rosemary
For the complete ingredient list and detailed instructions, scroll to the bottom of this post for the FREE printable recipe card.
What's the Best Vodka for This Cosmo?
This cocktail uses raspberry vodka. I used EFFEN Raspberry Vodka because that's what the Ruth's Chris menu specified. I found it at my local liquor store.
However, any brand of high-quality raspberry vodka may be used.
What Is Cointreau?
Cointreau (pronounced "kwan-troh") is a colorless, orange-flavored liqueur. It's a type of triple sec, but it's stronger and smoother in flavor than name-brand Triple Sec. I recommend sticking with the Cointreau brand.
Again, I went with the Cointreau brand specifically because that's what both IBA and Ruth's Chris recommend. However, I imagine you may substitute it with Triple Sec, Grand Marnier, or dry Orange Curaçao if that's what you have.
Just keep in mind that higher quality orange liqueur matters when making a Cosmopolitan, just like higher quality vodka does!
How to Make a Raspberry Cosmopolitan
I don't know if this is the process that Ruth's Chris uses to make raspberry Cosmopolitans, but this is what I found worked best to get the exact taste and consistency I was trying to recreate:
Add the raspberries, lime juice, and chopped rosemary to a small food processor. Puree until liquefied.
Fill a cocktail shaker with crushed ice.
Strain the raspberry mixture into the cocktail shaker, pressing as much of the juices and fruit through the strainer as possible so that only the seeds and bits of rosemary remain.
Next, add the raspberry vodka, cranberry juice, Cointreau, and raspberry syrup to the cocktail shaker. Secure the lid and shake vigorously for a full 30-40 seconds.
Strain the cocktail into two chilled martini glasses.
Garnish as desired and enjoy!
The above is simply a quick summary of this recipe. Check out the full recipe in the free printable recipe card at the bottom of this post for all the detailed instructions.
Garnish Ideas
You may garnish the raspberry cocktails however you'd like.
Ruth's Chris garnished our raspberry Cosmopolitans with a rosemary sprig threaded with fresh raspberries. However, the IBA states that Cosmos should be garnished with a lemon twist.
Tips for Making This Raspberry Cocktail
Use fresh lime juice — Fresh lime juice is always better than bottled! Here are my tips for getting the most juice out of your limes. You always want to roll them on the counter before juicing!
Use quality alcohol — Yes, it's an investment up front but purchasing quality spirits to build your at-home collection is always a good idea. Enjoying cocktails at home is so much cheaper than purchasing them at bars or restaurants. Think of how many Cosmos you can make at home for the amount of alcohol in a single bottle vs. spending $10+ on one drink out!
Select ripe raspberries — You want to look for raspberries that are vibrant in color, with no visible bruising or soft spots.
Use no sugar added cranberry juice — You need that bit of tartness to offset the sweet raspberry syrup and fresh berries, otherwise the drink will be sickly sweet.
If you don't have fresh rosemary, omit it — Do not use dried rosemary as it's more pungent in flavor and will overpower the cocktail.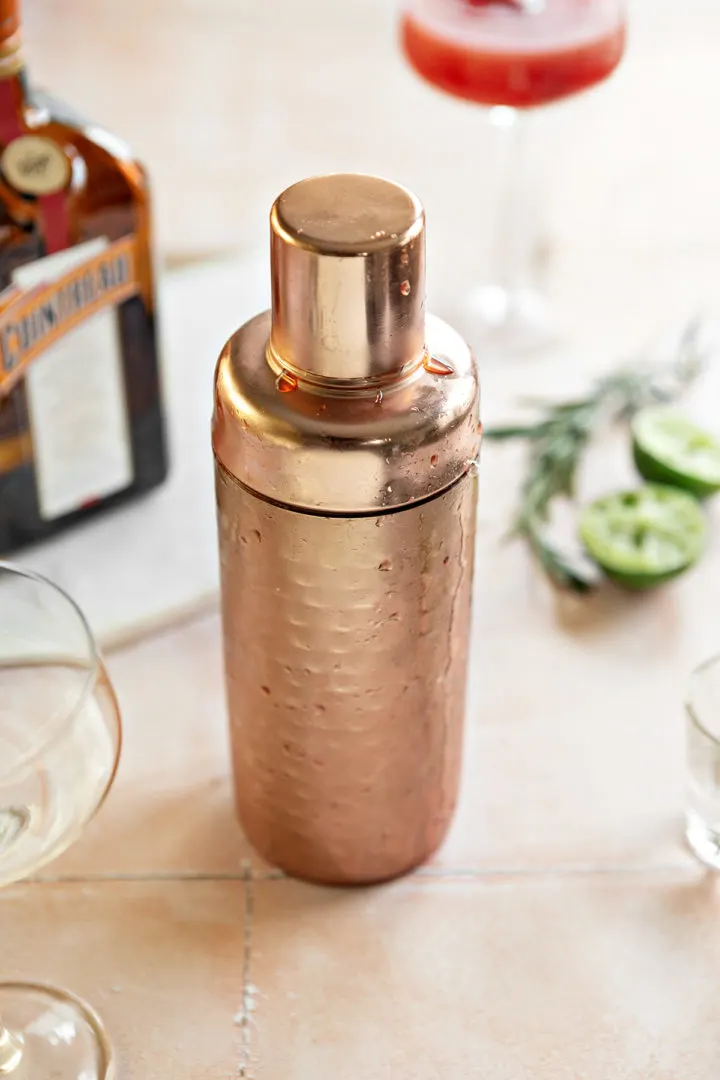 Frequently Asked Questions
Got questions about how to make this recipe? Here are the answers to a few commonly asked questions. Feel free to leave any other questions in the comments on this post and I'll respond with answers.
Is a Cosmo Shaken or Stirred?
You should always shake a Cosmopolitan cocktail.
What Type of Glass Should a Cosmo Be Served In?
Serve you Cosmo cocktail with raspberries in a chilled martini glass.
In the summertime, we love using these insulated martini glasses. They're great for poolside cocktails when it is hot or anytime you don't want to use breakable cocktail glasses.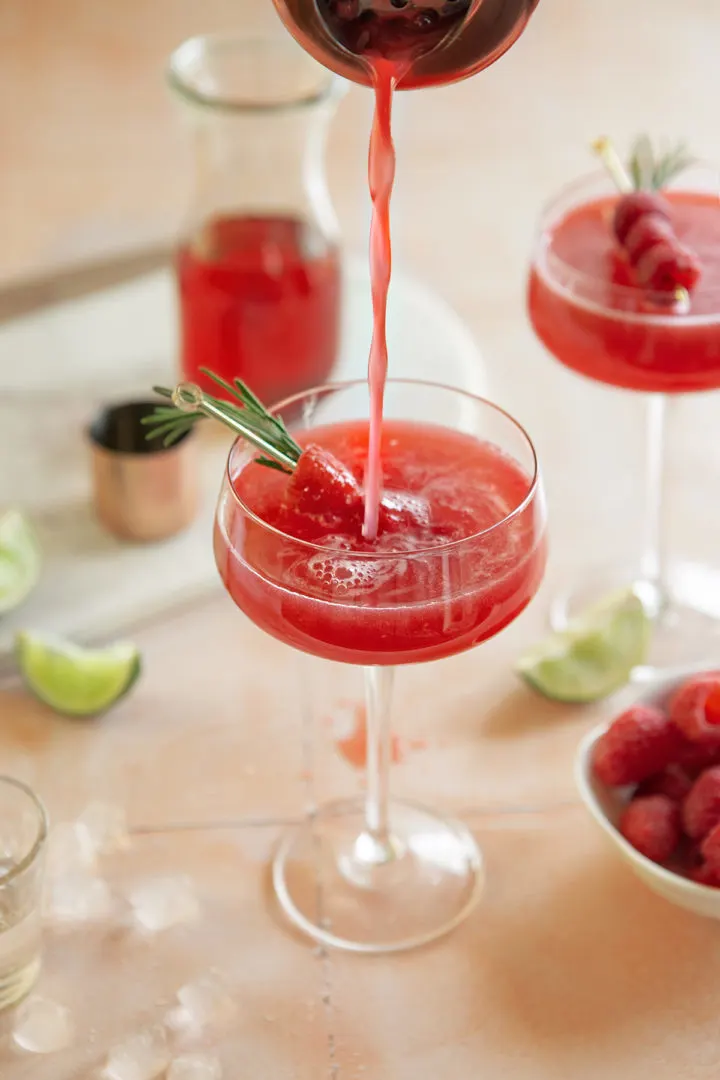 Is a Cosmo Served Over Ice?
No! Instead, place your martini glass in the freezer while making the drink.
Additionally, you want to use lots of crushed ice in the shaker and shake it for a full 30 seconds. The cocktail shaker should be frosty on the outside when you strain the Cosmo into the chilled glasses.
Can Frozen Raspberries Be Used?
Yes, you may use frozen raspberries in this Cosmo recipe. Just be sure to thaw them first.
What's the Best Cranberry Juice for a Cosmopolitan?
I recommend using the Ocean Spray No Sugar Added 100% Cranberry Juice.
I also tested this recipe using Cranberry Juice Cocktail and Cran-Raspberry Juice. I found both of those to be too sweet, so stick to the no-sugar variety.
Do I Have to Use Rosemary?
No, this raspberry vodka cocktail can be made without the fresh rosemary but it adds a nice herbaceous flavor and balance to the sweetness! I recommend it if you have it on hand, but it will still taste good if you are out.
How to Make a Pitcher Raspberry Cosmopolitan
To make a big batch of this raspberry cocktail in a pitcher, you'll want to measure out the ingredients using the following ratio: 24:8:4:3:3:1 (fresh raspberries, raspberry vodka, cranberry juice, cointreau, lime juice, raspberry syrup).
Measure the ingredients in ounces or cups depending on how big of a batch you're making.
Remember to keep the Cosmo mixture cold until you're ready to serve it. However, do NOT add ice because that will water down the cocktail.
To keep the pitcher raspberry Cosmos cold, try using a beverage dispenser with an ice core (which doesn't allow ice to melt into the cocktail).
Or, if serving in a punch bowl, freeze half of the cocktail in a bundt pan. Then, remove the frozen ring, add to the punch bowl, and add the chilled (but liquid) cocktail mixture on top. When it melts, its melting cocktail into cocktail so no dilution occurs.
Can This Recipe Be Made Alcohol-Free?
Alcohol-free spirits are a great alternative if you're sober curious or don't consume alcohol. However, I have not tried this raspberry cocktail with alcohol-free alternative so I can't speak about the taste.
Some alcohol-free spirits you could use include:
You can also use soda water in place of the vodka and fresh squeezed orange juice in place of the Cointreau for a spritzer version of this raspberry Cosmo.
Safety tip: Depending on the brand you use, some alcohol-removed spirits may still contain trace amounts of alcohol. Check before serving this drink kids or drinking during pregnancy.
What Food to Pair with a Cosmopolitan
Not sure what to eat alongside a Cosmopolitan cocktail?
At Ruth's Chris, we enjoyed our drinks with crab cakes, steaks, cheesy scalloped potatoes, and Brussels sprouts. The sweet-tart cocktail pairs well with heavier foods.
Other foods to pair with this raspberry Cosmopolitan cocktail include:
Try This Raspberry Vodka Cocktail!
Next time you're looking for a fun raspberry cocktail, give this fruit cosmopolitan recipe a try!
Did you think it was the perfect drink? Leave a comment below and give it a review for others to see what you thought of this cocktail with raspberry syrup.
On Instagram? Share your photo and tag me with @goodlifeeats and #goodlifeeatsrecipes. I'd love to see a photo of your cosmo!
More Easy Vodka Cocktails:
Bitter, bubbly, and slightly sour, this Grapefruit Vodka Tonic is a refreshing twist on the classic cocktail! Who knew that vodka and grapefruit juice could taste so good?
Get into the holiday spirit by making yourself a Gingerbread Martini! This Christmas martini is made with Baileys and vodka, and it tastes just like gingerbread!
This Pomegranate Cosmo is a tart and fruity cocktail that you will love this spooky season! It has a subtle sweetness with flavors of pomegranate and citrus.
Get More Recipes via Email
Did you love this recipe? Sign up to receive Good Life Eats Email Updates and never miss another recipe!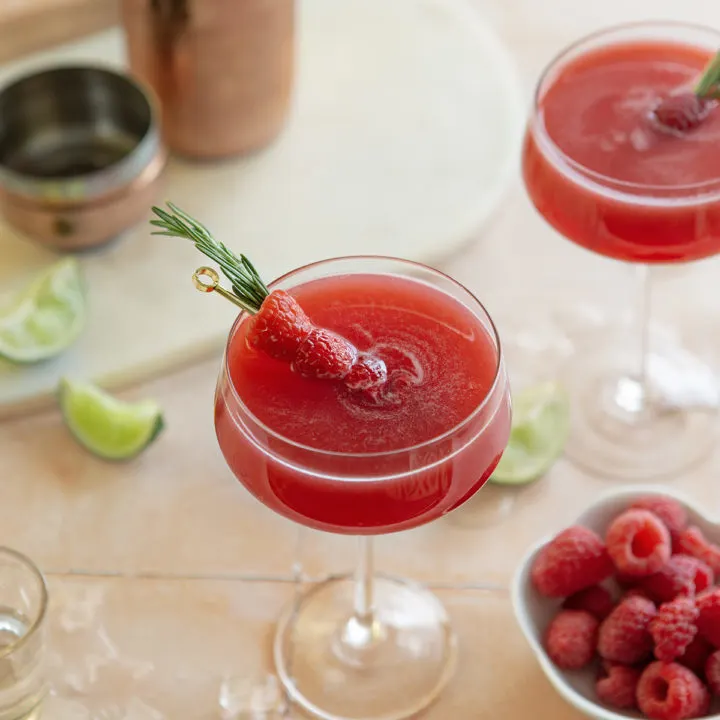 Raspberry Cosmopolitan Cocktail
This Raspberry Cosmopolitan uses raspberry three ways to infuse the classic cocktail with fruit flavor. It's the perfect balance of sweet and tart — so much better than the classic Cosmo, in my opinion!
Ingredients
6 ounces Fresh raspberries
2 Rosemary Sprigs
1 ⅛ ounces Fresh Lime Juice
¼ teaspoon chopped Fresh Rosemary
3 ounces Raspberry Vodka
1 ½ ounce Cranberry Juice
1 ⅛ ounce Cointreau
Instructions
Making the Garnish
Thread 3 raspberries onto each of the rosemary sprigs. Set aside.
Preparing the Rosemary Raspberry Cosmo
Carefully place 2 martini glasses in the freezer.
While the glasses are chilling, add the remaining raspberries, lime juice, and chopped rosemary to a small food processor. Puree until liquidy and no solids of raspberries remain (other than the seeds).
Fill a cocktail shaker with crushed ice. Then, strain the mixture into the cocktail, pressing as much of the juices and fruit through the strainer as possible so that only the seeds and bits of rosemary remain.
Discard the seeds and rosemary bits.
Next, add the raspberry vodka, cranberry juice, cointreau, and raspberry syrup to the cocktail shaker.
Secure the lid on top of the shaker and shake vigorously for a full 30-40 seconds. The shaker should be frosty on the outside.
Serving the Rosemary Raspberry Cosmo
Remove the martini glass from the freezer and strain the cocktail into the glass.
Garnish with the raspberry threaded rosemary sprigs.
Enjoy immediately!
Nutrition Information
Yield

2
Serving Size

1
Amount Per Serving
Calories

190
Total Fat

1g
Saturated Fat

0g
Trans Fat

0g
Unsaturated Fat

1g
Cholesterol

0mg
Sodium

4mg
Carbohydrates

26g
Fiber

9g
Sugar

14g
Protein

2g
GoodLifeEats.com offers recipe nutritional information as a courtesy. This provided information is an estimate only. This information comes from online calculators. Although GoodLifeEats.com makes every effort to provide accurate information, these figures are only estimates.