Bitter, bubbly, and slightly sour, this Grapefruit Vodka Tonic is a refreshing twist on the classic cocktail! Who knew that vodka and grapefruit juice could taste so good?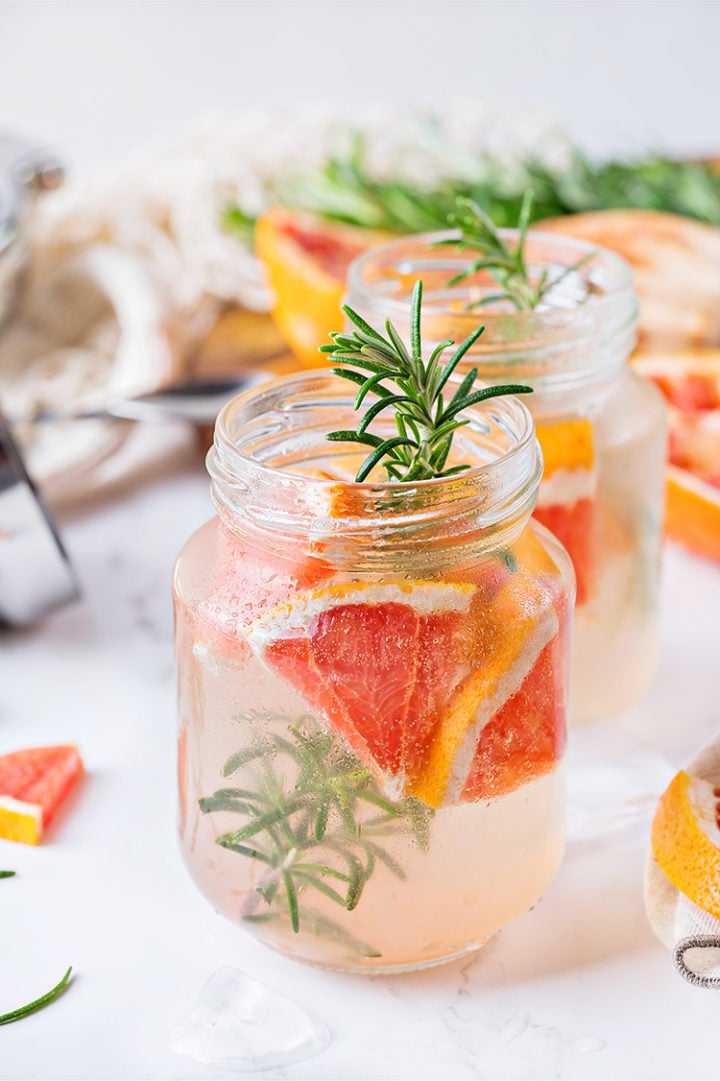 What Is a Vodka Tonic?
Referenced by Elton John in "Goodbye Yellow Brick Road" and beloved as the go-to cocktail for many, the vodka tonic is about as timeless as a drink can get.
In essence, a vodka tonic is a highball cocktail that's made with vodka, tonic water, and lemon or lime juice. Yes, it's that simple!
This refreshing cocktail is a variation of the popular gin and tonic, which was created in the early 1800s by British officers stationed in India. At the time, quinine-packed tonic water was used to prevent or treat malaria.
However, quinine is incredibly bitter and unpalatable. To make it easier to swallow, tonic water was combined with water, gin, and lime juice — and thus the gin and tonic was born!
It's unclear when exactly the vodka tonic was first created, but it's commonly thought to have been made shortly after the gin and tonic was popularized.
What Does a Vodka Tonic Taste Like?
Traditional vodka tonics made with lemon and / or lime juice are simple in flavor and very refreshing. A vodka tonic is bubbly and bitter from the tonic water, and slightly sour from the citrus juice.
The vodka is fairly neutral in flavor, so it's more important to buy a high-quality tonic water versus an expensive vodka! The tonic water is the star ingredient, in many ways.
What Makes This Grapefruit Vodka Tonic Unique
Classic vodka tonics are made with lemon or lime juice. However, I put my own spin on things by making a grapefruit vodka drink.
By exchanging one citrus juice for another, I was able to preserve the original feel of the drink. The grapefruit juice just dresses it up a bit!
Now, let's dive into the tools, ingredients, and tips you need to know to make this grapefruit vodka cocktail!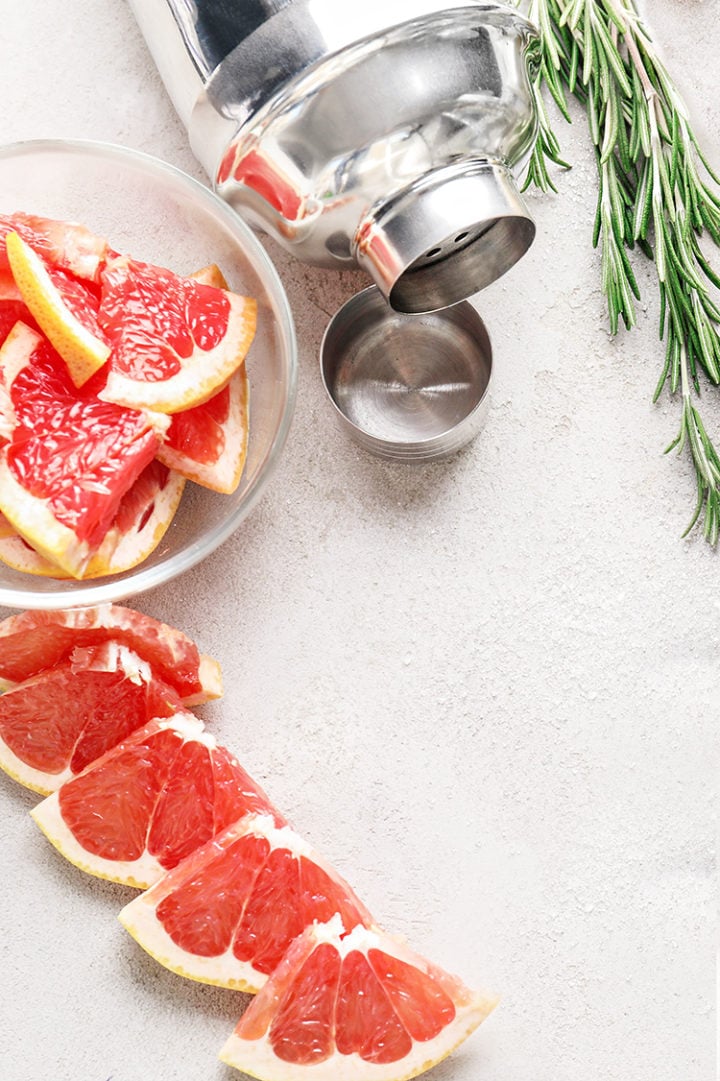 This post may include affiliate links. As an Amazon Associate and member of other affiliate programs, I earn a small commission from qualifying purchases.
Tools Needed to Make a Grapefruit Vodka Tonic
This recipe for a grapefruit vodka tonic is incredibly straightforward. While you don't need the cocktail accessories listed below, they're worth investing in if you often prepare cocktails at home!
Ingredients in a Grapefruit Vodka Tonic
The name of this vodka cocktail gives away most of the ingredients. Here are the grapefruit vodka tonic ingredients you'll need to have on hand:
Vodka
Tonic water
Grapefruit juice
Lime juice
Ice
For the complete ingredient list and detailed instructions, scroll to the bottom of this post for the FREE printable recipe card.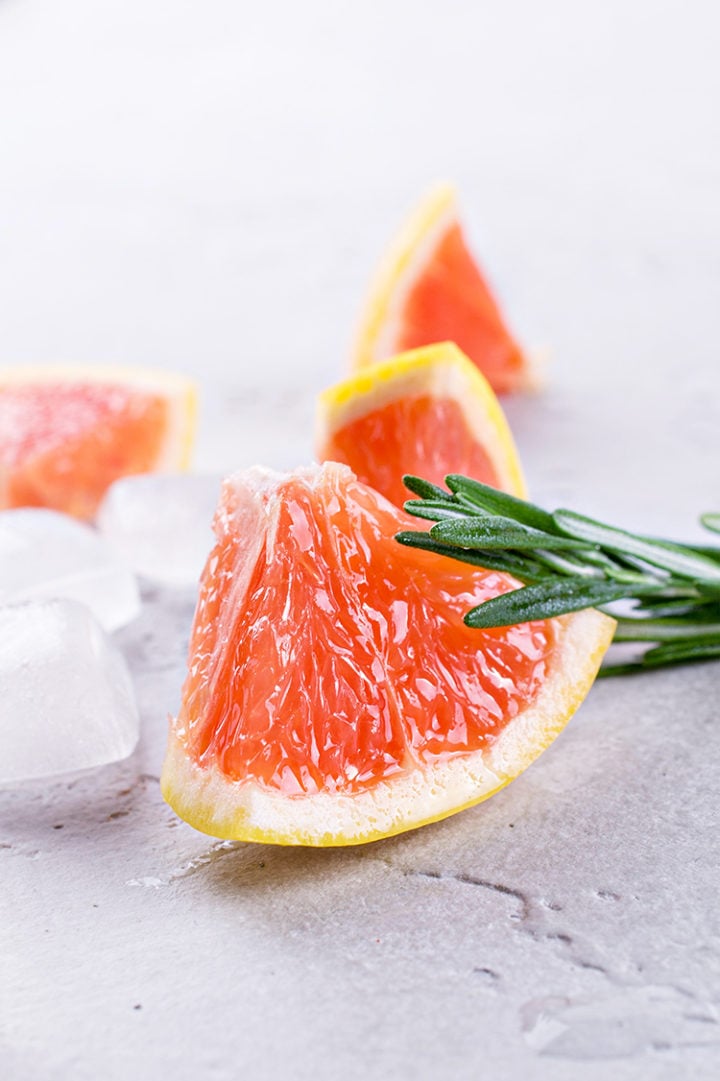 What Is Tonic Water?
Tonic water is a carbonated drink that contains quinine. Quinine was once a medical compound made from the bark of the cinchona tree to prevent and treat malaria.
Because quinine is so bitter, tonic water is often sweetened to balance out the bitterness.
Tonic water is easy to find at most grocery stores, liquor stores, and Amazon sells it as well. Because you can really taste the tonic water in this vodka tonic recipe, it's crucial that you buy a high-quality bottle!
If you don't like tonic water or don't have any on hand, some acceptable substitutes include: plain seltzer water or club soda. (Note that both will change the flavor of the cocktail.)
What Is the Best Tonic Water for a Vodka Tonic?
For a classic tonic water flavor I like to use Fever Tree Tonic Water.
For less quinine flavor, I recommend Mediterranean Tonic Water. It has herbal notes of rosemary and lemon thyme that make it a good fit for this drink.
For a more citrus-forward tonic water, I recommend Citrus Tonic Water or Lemon Tonic Water.
What's the Best Vodka for a Vodka Tonic?
Believe it or not, having a good quality tonic water is more important than having a high end vodka for this particular drink!
You don't need to splash out on the absolute most expensive vodka. Opt for one in the middle price range, such as Absolut or Tito's. Alternatively, support local and look for a brand made in your state. We live in Colorado and like Breckenridge Vodka for a local brand.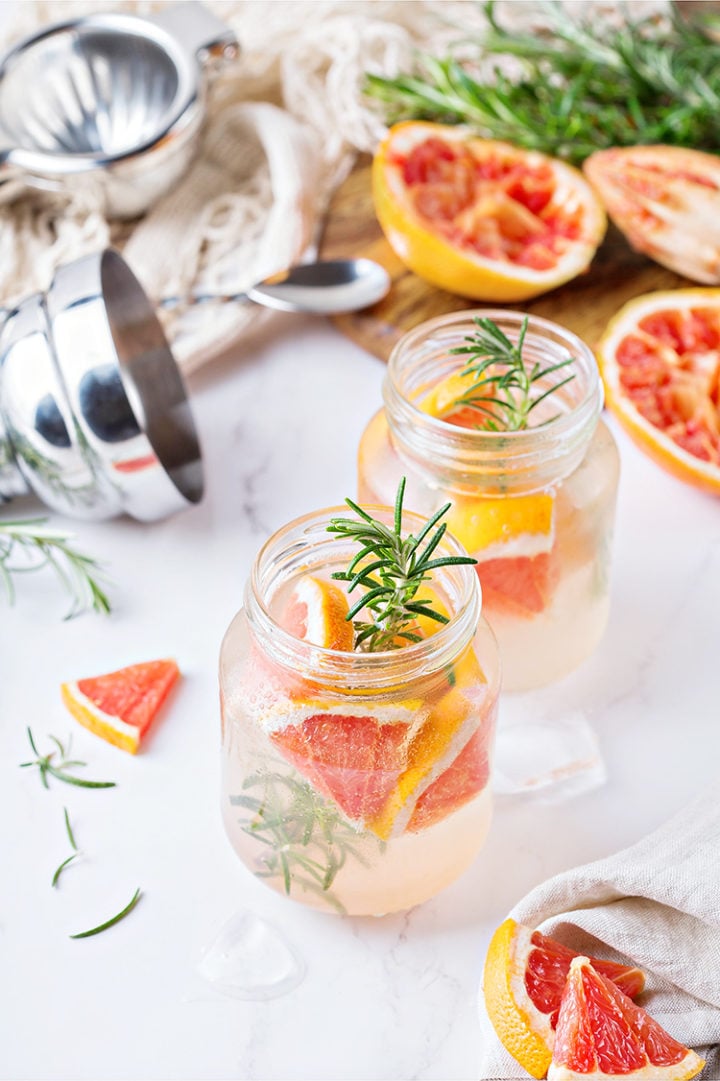 How to Make a Grapefruit Vodka Tonic
This is such a simple grapefruit cocktail with vodka that it almost doesn't need a recipe!
Fill a glass with ice.
Add vodka, then the tonic water, grapefruit juice, and lime juice
Stir gently to combine.
Garnish with a fresh rosemary sprig.
Tip: If making more than one grapefruit vodka tonic, combine all the ingredients in a cocktail mixing glass and stir. Serve over ice.
The above is simply a quick summary of this recipe. Check out the full recipe in the free printable recipe card at the bottom of this post for all the detailed instructions.
What's the Vodka Tonic Ratio?
To change the yield of this vodka tonic recipe, use a ratio of 1 part vodka:1 part grapefruit juice:3 parts tonic.
Vodka Tonic Garnish Ideas
I prefer garnishing my grapefruit vodka tonics with a sprig of fresh rosemary and a wedge of grapefruit. However, you could also use a sprig of fresh thyme and / or a grapefruit peel.
What Type of Glass Is a Vodka Tonic Served In?
Traditionally a vodka tonic is served in a highball glass, but you can use anything! I'm using mason jars in this recipe because that's what I had on hand. (Plus they look cute!)
Is a Vodka Tonic Served Over Ice?
Yes, but you'll want to use regular ice cubes not crushed ice. You'll need to add the ice to the glass and build the cocktail from there. Do NOT shake the cocktail because the tonic water is carbonated.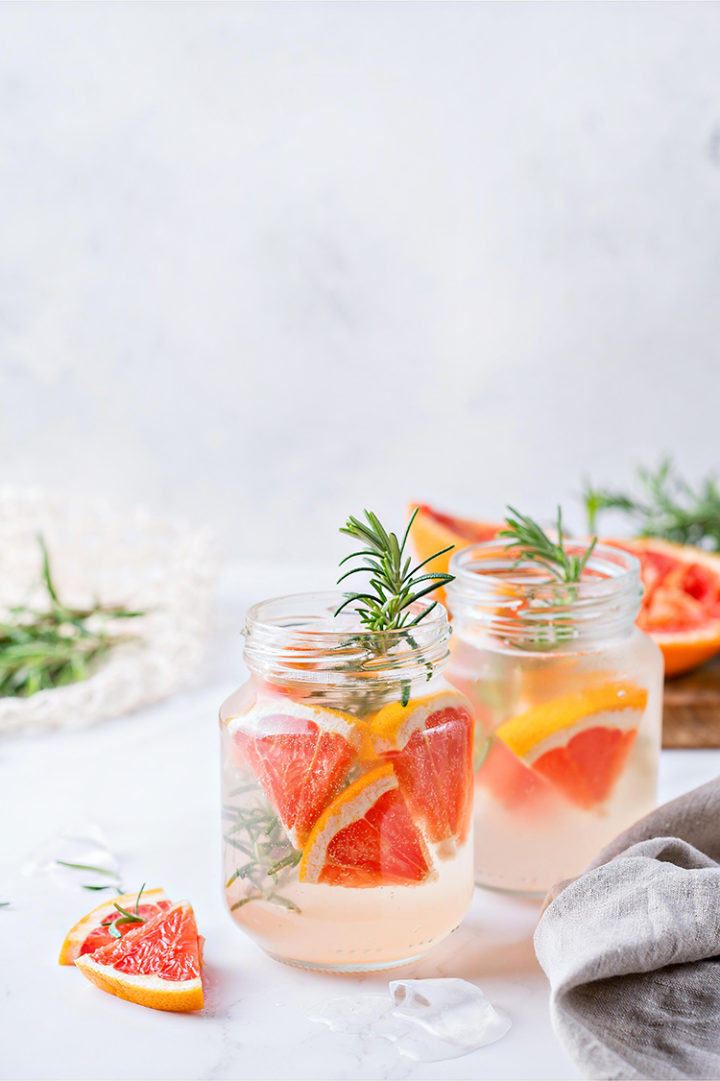 Tips for the Best Vodka Tonic
Use high-quality tonic water. You really taste the tonic water in this cocktail, so it's imperative that you buy a brand you actually enjoy drinking.
Store the vodka in the freezer. This will keep it nice and cold, and it won't get watered down as quickly.
Opt for freshly squeezed citrus juice. Bottled juice will work in a pinch, but I promise you can taste the difference between the two! (Especially between freshly squeezed and bottled grapefruit juice.)
Use pink grapefruit, aka "ruby red." It's sweeter than white grapefruit and has a better taste, in my opinion.
Do not shake a vodka tonic. Tonic water is carbonated, so you need to stir this drink.
If prepping a larger batch in a pitcher, wait until you're ready to serve to add tonic water. You don't want the tonic water to go flat before your guests arrive!
Vodka Tonic Variations to Try
Because this vodka grapefruit drink is so simple, it's easy to customize as you see fit. Here are some vodka tonic cocktail variations you can try:
Don't like the taste of quinine in tonic water? Try a vodka soda instead! Simply use club soda in place of the tonic water.
Use a flavored vodka (i.e. grapefruit vodka) for more fruit flavor.
Use lemon or lime juice instead of grapefruit juice.
Prefer gin? Swap out the vodka for gin and make a gin and tonic.
Use alcohol-free spirits to make a vodka tonic mocktail. I like Seedlip Spirits when making mocktails! Or, simply replace vodka with extra tonic and/or grapefruit juice.
Safety tip: Depending on the brand you use, some alcohol-removed spirits may still contain trace amounts of alcohol. Check the label before using!
Try This Recipe for Grapefruit Vodka Tonic!
Next time you're looking for a refreshing summertime drink, give this easy vodka tonic recipe a try! Did you think it was the perfect grapefruit cocktail? Leave a comment below and give it a review for others to see what you thought of this easy recipe.
On Instagram? Share your photo and tag me with @goodlifeeats and #goodlifeeatsrecipes. I'd love to see your photo of this delicious grapefruit vodka tonic!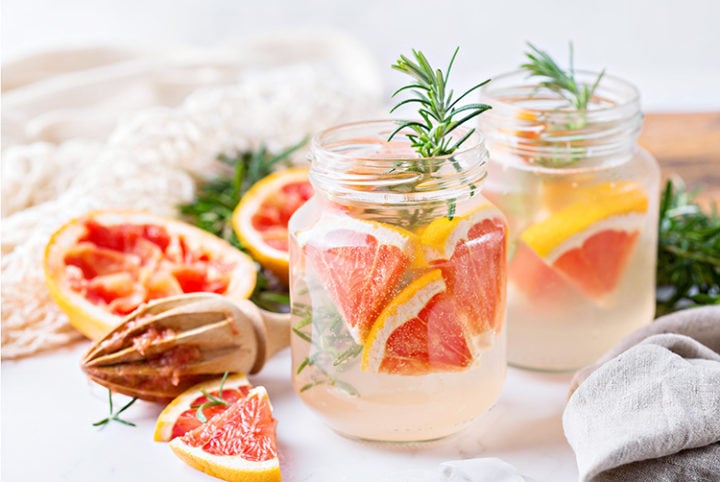 More Easy Drink Recipes:
A classic Moscow Mule gets a fruity twist with this recipe for Fresh Pineapple Mint Moscow Mules!
This Raspberry Mango Sangria combines all the cheery and colorful tastes of summer into one beautiful drink with fresh fruit; it's fresh, crisp and refreshing.
Homemade Watermelon Mint Lemonade is a fun take on the traditional homemade lemonade recipe — and it couldn't be more summery with its gorgeous bright pink color!
This Sparkling Tea recipe is made with hibiscus tea, seltzer, and fresh raspberries. So simple, but so refreshing!
Strawberry Agua Fresca tastes great on a hot summer day! Refreshing Mexican Strawberry Water is fresh and fruity; the perfect drink recipe for Cinco de Mayo.
Don't see what you're looking for here? You can always head over to check out the recipe index to look for more recipes.
Get More Recipes via Email
Did you love this recipe? Sign up to receive Good Life Eats Email Updates and never miss another recipe!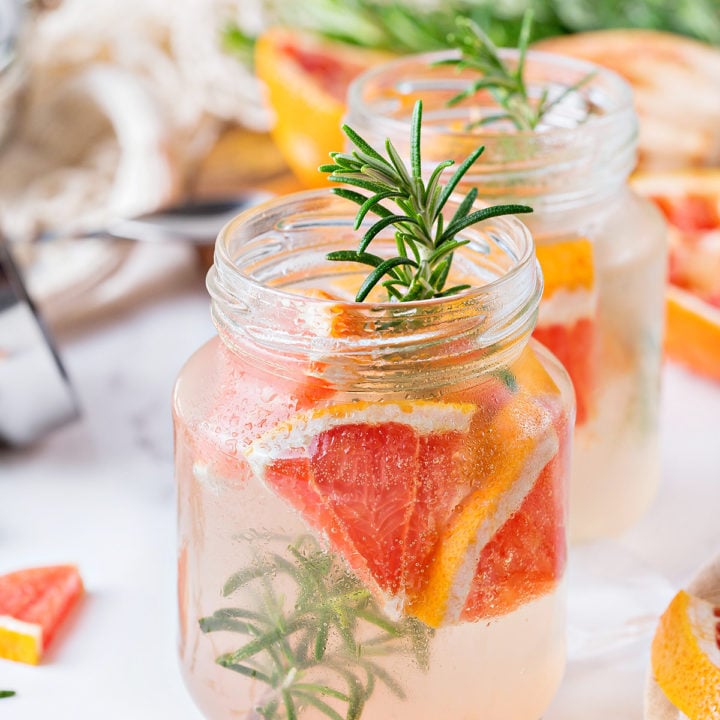 Grapefruit Vodka Tonic
Bitter, bubbly, and slightly sour, this Grapefruit Vodka Tonic is a refreshing twist on the classic cocktail! Who knew that vodka and grapefruit juice could taste so good?
Ingredients
1.5 ounces vodka (approx 1 shots)
4 ounces tonic water
1.5 ounce fresh grapefruit juice
Juice of 1 lime wedge (¼ of a whole lime)
Ice
Instructions
Fill a highball glass with ice. Add vodka, then add other ingredients. Stir gently.
Garnish with a fresh rosemary sprig and an optional grapefruit wedge.
If making more than one: Combine all in a cocktail mixing glass and stir. Serve over ice.
Notes
For extra grapefruit flavor, add a dash or two of grapefruit bitters.
To change the yield of the recipe, use the ratio of 1 part vodka:1 part grapefruit juice:3parts tonic.
Recommended Products
As an Amazon Associate and member of other affiliate programs, I earn from qualifying purchases.
Nutrition Information
Yield

1
Serving Size

1
Amount Per Serving
Calories

164
Total Fat

0g
Saturated Fat

0g
Trans Fat

0g
Unsaturated Fat

0g
Cholesterol

0mg
Sodium

17mg
Carbohydrates

18g
Fiber

0g
Sugar

11g
Protein

0g
GoodLifeEats.com offers recipe nutritional information as a courtesy. This provided information is an estimate only. This information comes from online calculators. Although GoodLifeEats.com makes every effort to provide accurate information, these figures are only estimates.