Made with just three ingredients and ready in 10 minutes, homemade Strawberry Simple Syrup can be added to your favorite cocktails, drinks, and more!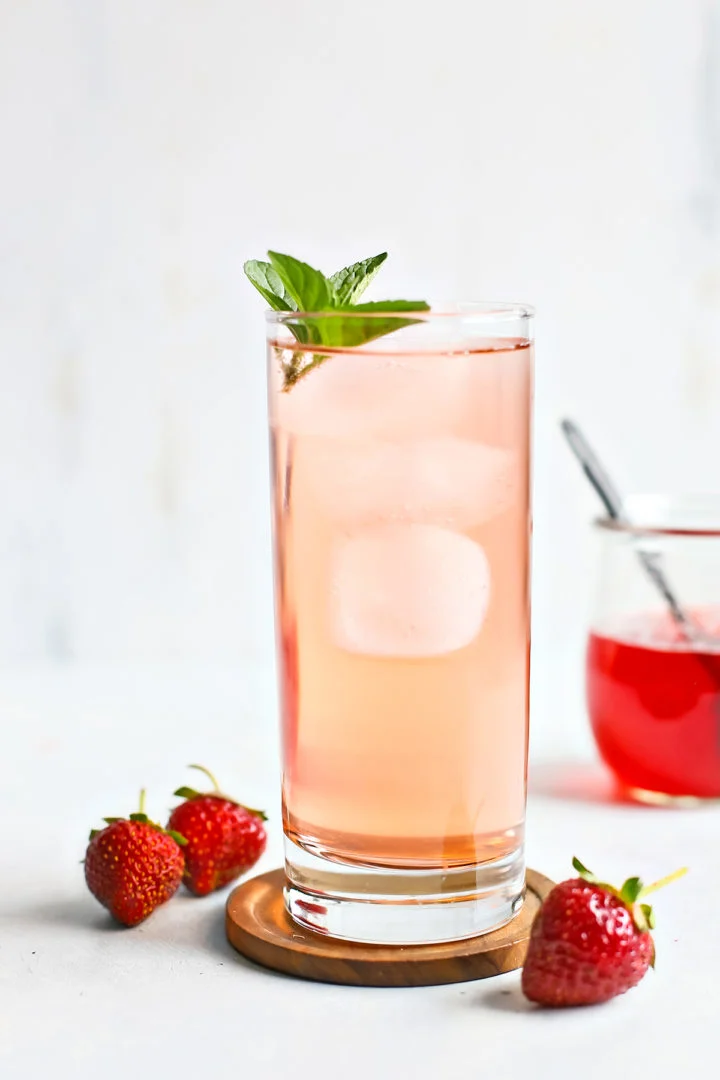 What Is Simple Syrup?
Simple syrup sounds fancy and difficult to make, but that couldn't be further from the truth. I'll let you in on a little secret — simple syrup is just sugar water.
That's right! Simple syrup is made from equal parts water and sugar. It's most commonly prepared with granulated sugar because it's cheap and easiest to find, but you can prepare simple syrup with nearly any variety of sugar or sweetener that you like.
Simple syrup remains liquid once the sugar dissolves in the water, making it the perfect sweetener for your favorite cocktails and non-alcoholic drinks.
If you've ever tried sweetening lemonade or iced tea with granulated sugar, you'll know how long it takes for the sugar to dissolve. Simple syrup, on the other hand, mixes into any drink immediately!
Can You Flavor Simple Syrup?
Here's another secret: once you've learned how to make simple syrup the traditional way, it's possible to start infusing it with all kinds of fresh fruits and herbs.
Today I'm sharing my go-to strawberry simple syrup recipe. It's a quick and easy three-ingredient wonder that has revolutionized my cocktail game!
However, you can use pretty much any fresh fruit you want to flavor simple syrup. And to take things up a notch, you can add fresh herbs to any fruit simple syrup for an elevated flavor.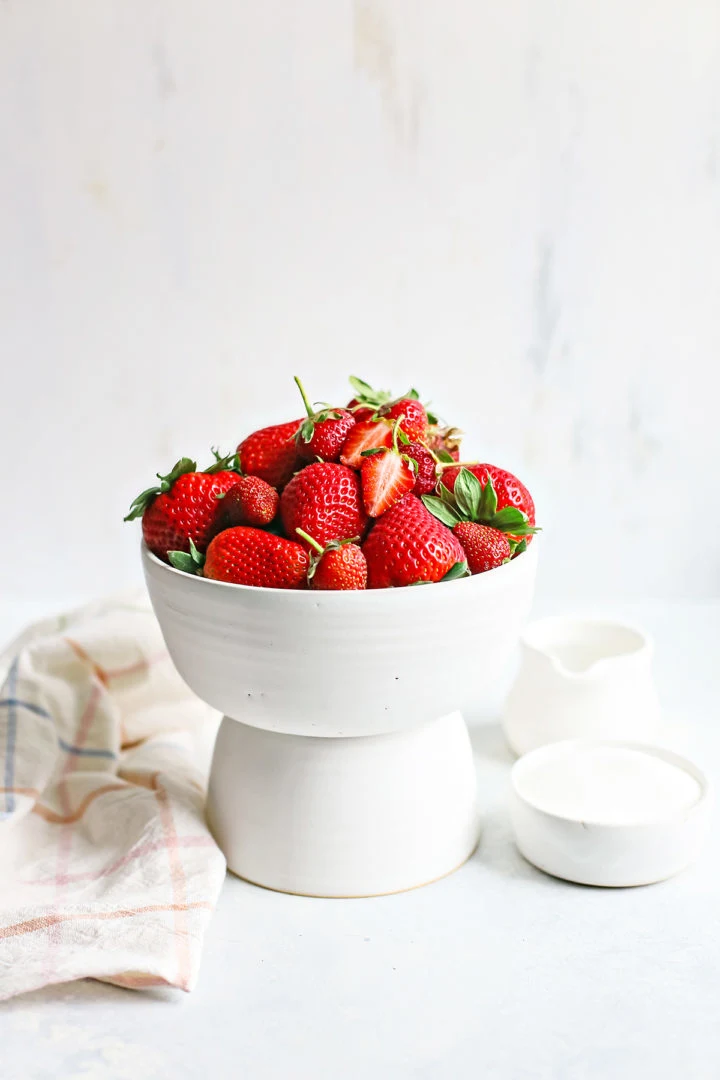 Tools Needed to Make Strawberry Simple Syrup
The only equipment you need to prepare the infused simple syrup is a saucepan and a fine mesh sieve. Everything else is optional, but I recommend purchasing the following kitchen tools to make your simple syrup prep even easier.
Small Saucepan — to cook the strawberry simple syrup in.
Measuring Cups — to measure the simple syrup ingredients.
Fine Mesh Strainer — to strain the simple syrup.
Funnel — for mess-free pouring of the simple syrup into the jar.
Mason Jar — to store the simple syrup.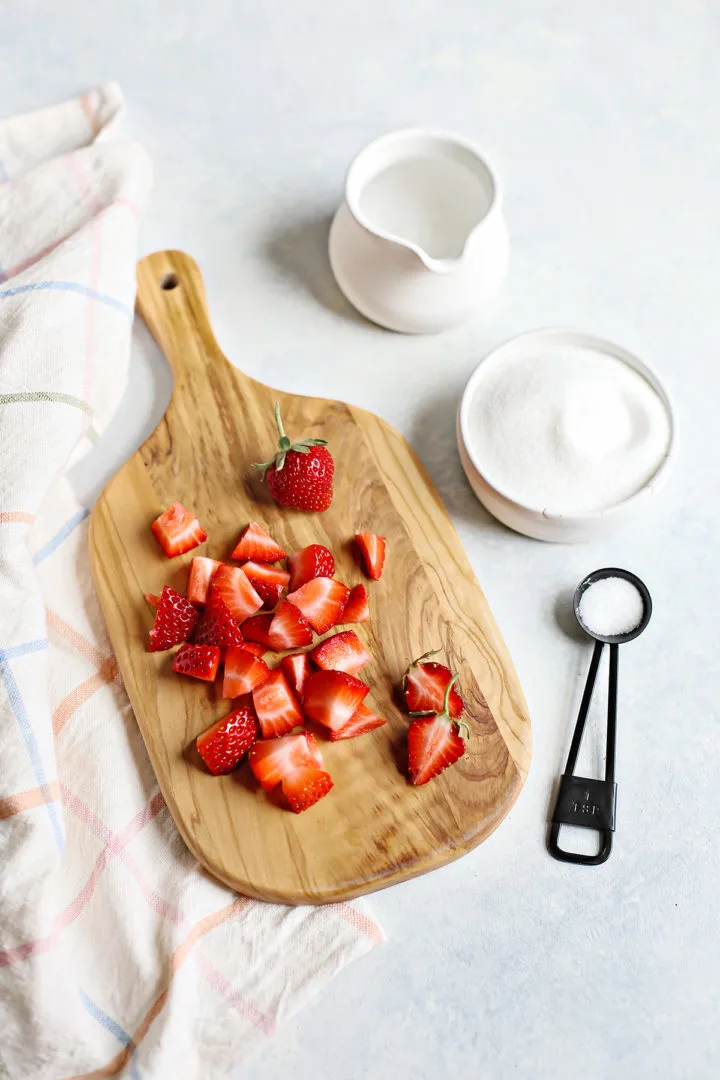 Strawberry Simple Syrup Ingredients
Whether you plan on using this strawberry syrup for drinks, cocktails, or for brushing between cake layers, the ingredients list is the same:
Strawberries — fresh or frozen will work
Sugar — I used granulated sugar, but nearly any type of sugar will work
Water — regular tap water is just fine
For the complete ingredient list and detailed instructions, scroll to the bottom of this post for the FREE printable recipe card.
Can infused simple syrup be made with frozen fruit?
Yes! You're welcome to use frozen strawberries to make the simple syrup. There's no need to thaw the berries before starting the recipe.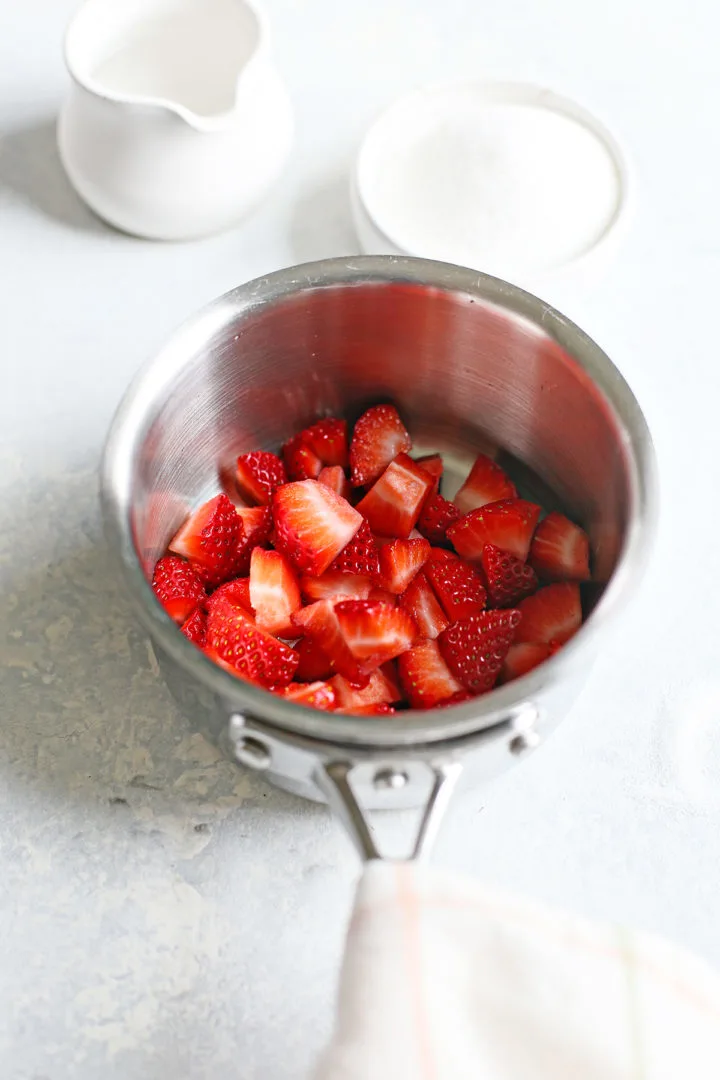 How to Make Strawberry Simple Syrup
Homemade strawberry simple syrup takes just 10 minutes to prepare, but a big batch will last in the fridge for weeks! Here's an overview of how the simple syrup is prepared:
In a small saucepan, combine sugar, water, strawberries, and rhubarb.
Set the pan over medium heat and bring to a simmer.
Once simmering, reduce heat to medium-low and simmer for 5 minutes.
Turn heat off and let cool to room temperature.
Strain into a jar using a fine mesh strainer and a funnel. Label, date, and store in the fridge until ready to use.
The above is simply a quick summary of this recipe. Check out the full recipe in the free printable recipe card at the bottom of this post for all the detailed instructions.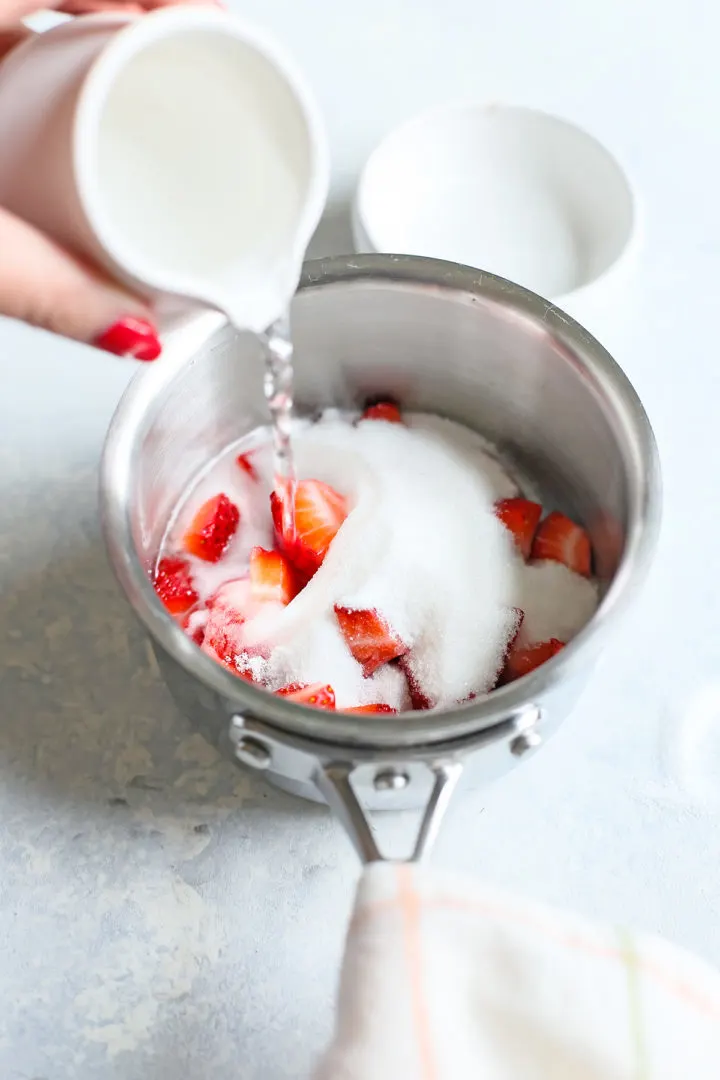 Tips for Making Fruit-Infused Simple Syrup
Use fresh or frozen fruit — If strawberries are in season, I recommend buying them fresh to make the simple syrup. However, you may also make the recipe with frozen fruit if needed.
Don't be tempted to crank up the heat — The syrup needs just 5 minutes of simmering, so don't try to speed up the process even further. The berries need time to break down and infuse the syrup with flavor.
Let cool before handling — The simple syrup will be HOT once it's finished simmering. Do not pour the boiling hot syrup into a glass jar as that could cause it to crack. Instead, let the syrup cool to room temperature, then seal in a jar and store.
Skim off any foam — You might notice some foam forming on your syrup as it simmers, that's normal! If desired, you can skim it off but it's not necessary.
Measure carefully — You can be a bit loosey-goosey when measuring the strawberries, but it's important that you use equal parts water and sugar. If you use less sugar than water, your simple syrup won't be the correct consistency.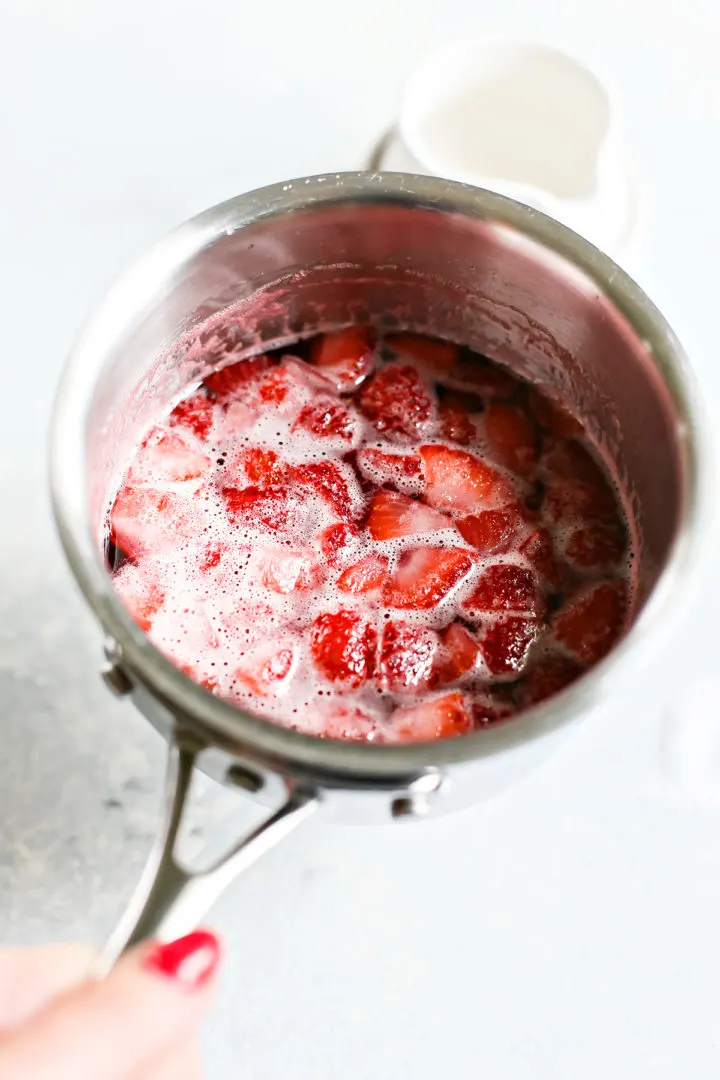 Strawberry Simple Syrup Flavor Variations to Try
There are so many tasty variations of this strawberry drink syrup! Try adding fresh herbs or other fruits to the saucepan to infuse the simple syrup with even more flavor.
Strawberry rhubarb simple syrup: Add ½ cup chopped rhubarb to the recipe
Strawberry basil simple syrup: Add 2 tablespoons chopped fresh basil leaves to the recipe
Strawberry mint simple syrup: Add 2 tablespoons chopped fresh mint leaves to the recipe
Strawberry thyme simple syrup: Add 2 tablespoons fresh thyme leaves to the recipe
Strawberry lemon simple syrup: Add the zest of one lemon to the recipe
Strawberry blueberry simple syrup: Add ½ cup blueberries to the recipe
I'm sure there are many more fruit and herb combinations that would work with this recipe. If you experiment with the flavor, please leave me a comment below!
Strawberry Simple Syrup FAQs
Have questions about how to make this recipe? Here are the answers to a few commonly asked questions. Feel free to leave any other questions in the comments on this post and I'll respond with answers.
How long do infused simple syrups last?
This simple syrup made with strawberries will last up to 1 week in the fridge, and up to 3 months in the freezer. To prevent the simple syrup from becoming cloudy, I recommend storing it in an airtight container (such as a mason jar).
Does simple syrup need to be refrigerated?
Yes! You need to refrigerate this flavored simple syrup to prevent it from going bad. Let the syrup cool to room temperature in the saucepan before storing in the fridge.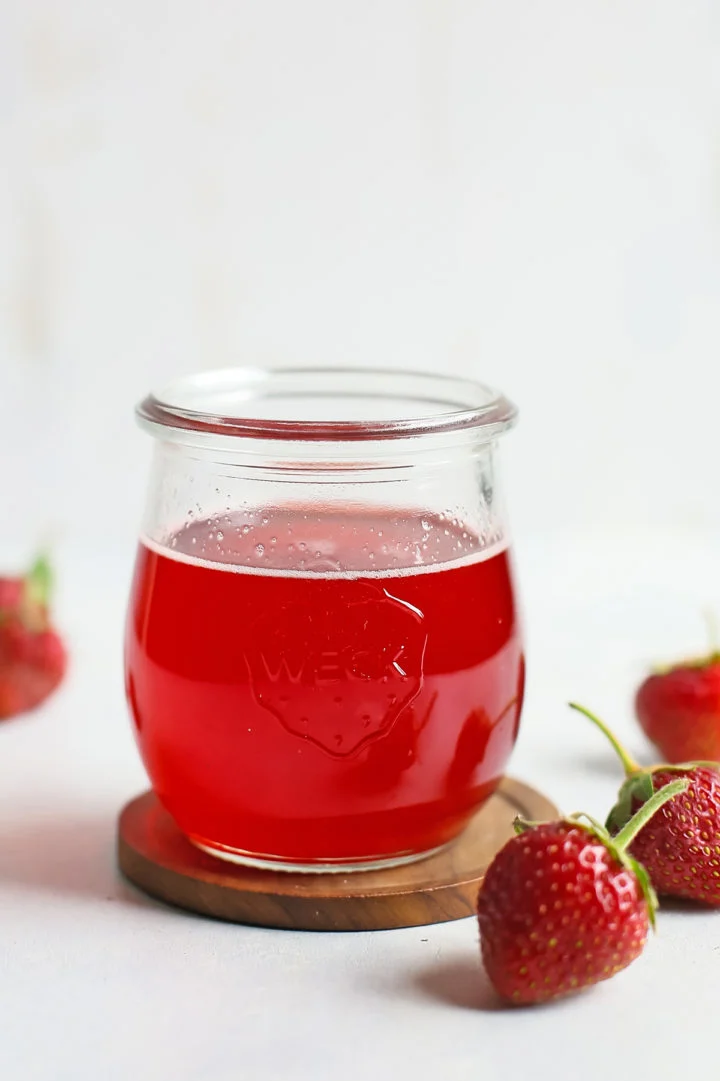 Can you freeze this strawberry simple syrup?
Yes! I like to freeze my syrup in ice cube trays so that I can thaw smaller portions when making cocktails or batch drinks.
Do you need to boil simple syrup?
Normally you don't need to, but because this simple syrup is infused with strawberries it's essential that you boil the mixture to flavor it properly.
Do homemade simple syrups go bad?
Yes! In fact, flavored simple syrups (like this one!) go bad more quickly than regular simple syrup. Simple syrup that's gone bad will likely be cloudy, smell bad, look discolored, and might even have mold on it.
Why is my simple syrup cloudy?
If you made the infused simple syrup less than a week ago, the cloudiness is likely due to the sugar crystallizing slightly in the fridge. If it's been over a week and the syrup is cloudy, it's likely spoiled and must be thrown out.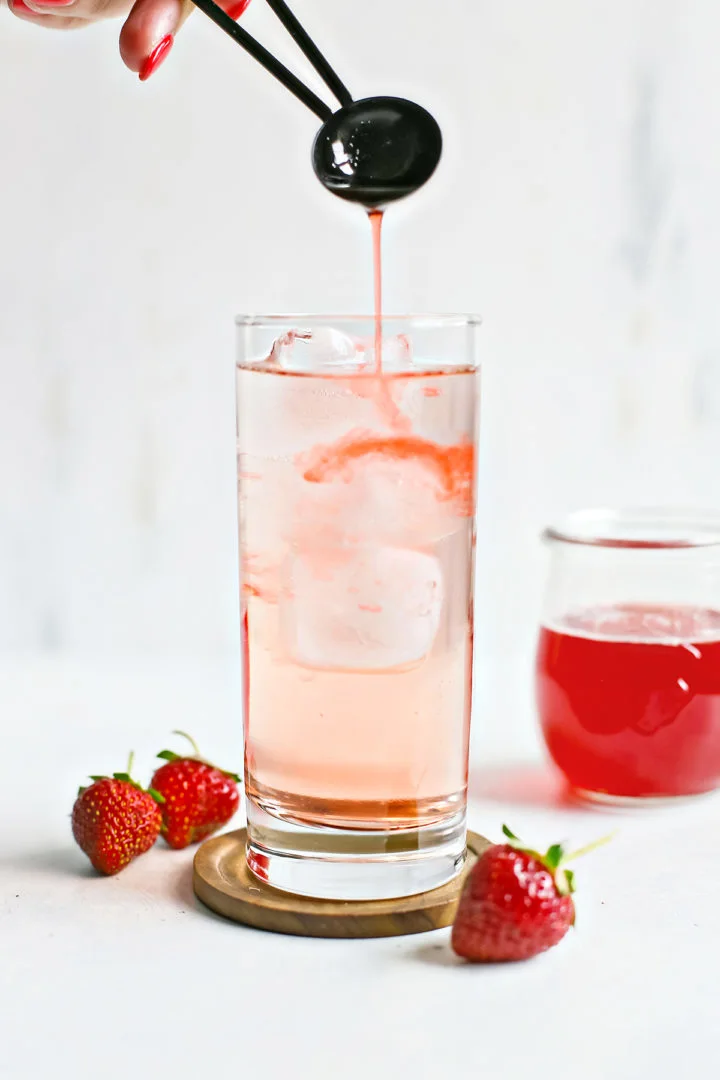 Ways to Use This Strawberry Syrup
My favorite way to use this strawberry syrup is for drinks! It adds both sweetness and a lovely strawberry flavor to any beverage.
Strawberry simple syrup uses for cocktails: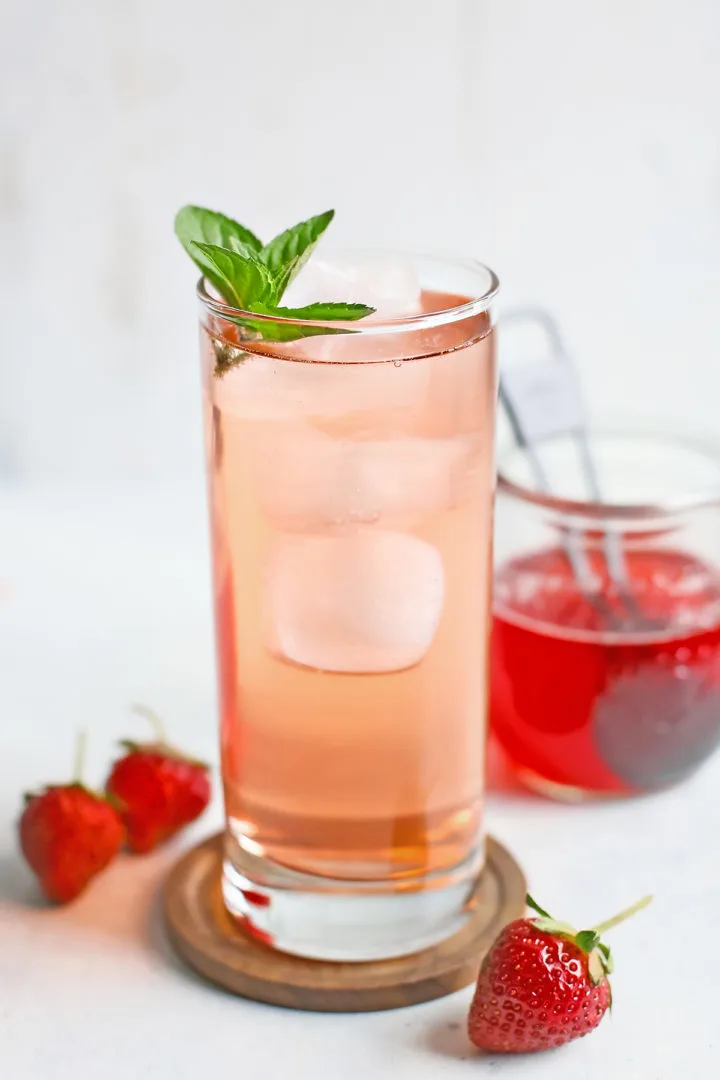 Strawberry simple syrup uses for non-alcoholic drinks:
Try This Flavored Simple Syrup Recipe at Home!
Next time you want to add both sweetness and flavor to a drink, give this strawberry simple syrup recipe a try!
Did you think it was delicious? Leave a comment below and give this infused simple syrup recipe a review for others to see what you thought.
On Instagram? Share your photo and tag me with @goodlifeeats and #goodlifeeatsrecipes. I'd love to see your photo of this simple syrup with strawberries.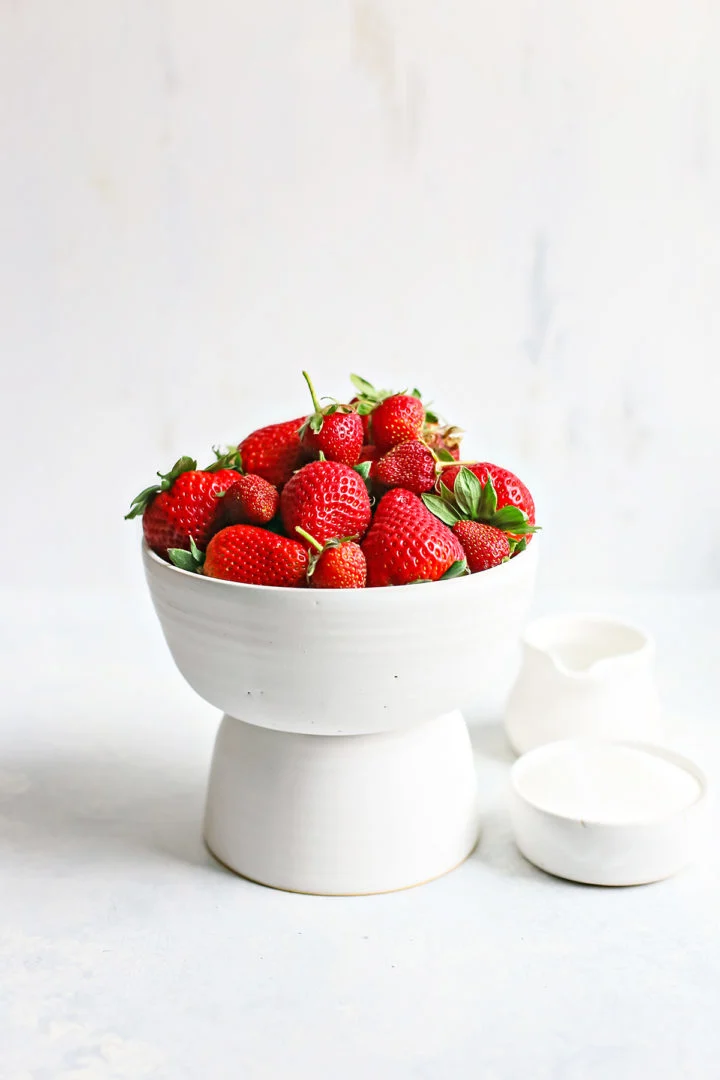 More Strawberry Recipes
Indulge in strawberry season with this delicious Strawberry Bruschetta. Sliced strawberries, roasted with balsamic vinegar are served on warm, toasty bread generously smeared with creamy goat cheese.
This beautiful and colorful Fresh Strawberry Galette with Almond Crust emphasizes the sweet juiciness of the strawberries without much added sugar. Strawberry Galette is the perfect spring and summer dessert!
Elevate your summer cocktails with this refreshing Strawberry Aperol Spritz. Infused with fresh strawberries, Aperol is combined with prosecco and a splash of club soda for a refreshing cocktail.
Homemade Strawberry Sauce is a delightful accompaniment to waffles or a versatile topping for a variety of breakfast or dessert creations. It is prepared with just a handful of ingredients and the added bonus of freezer-friendly convenience.
Making homemade Strawberry Gelato is easier than you might think! Plus, it's a great way to preserve fresh summer strawberries for weeks to come.
Don't see what you're looking for here? You can always head over to check out the recipe index to look for more ideas or browse all of the strawberry recipes.
Get More Recipes via Email
Did you love this recipe for strawberry simple syrup? Sign up to receive Good Life Eats Email Updates and never miss another recipe!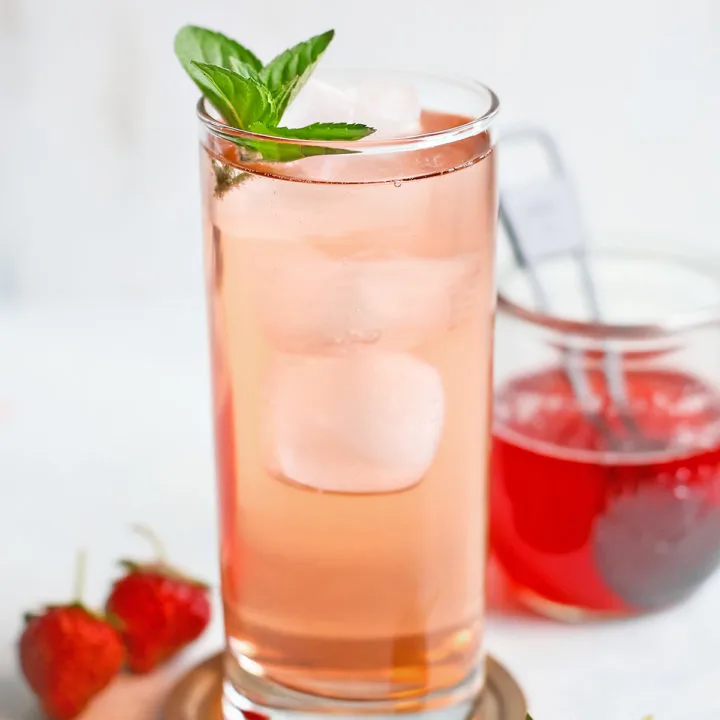 Strawberry Simple Syrup
Ingredients
½ cup Granulated Sugar
½ cup Water
3/4 cup Chopped Strawberries
Instructions
In a small saucepan, combine sugar, water, and strawberries. Set the pan over medium heat and bring to a simmer.
Once simmering, reduce heat to medium-low and simmer for 5 minutes.
Turn heat off and let cool to room temperature. Strain into a jar using a fine mesh strainer and a funnel.
Store refrigerated for up to 1 week. For longer storage, freeze in 2 ounce portions in the freezer using ice cube trays.
Recommended Products
As an Amazon Associate and member of other affiliate programs, I earn from qualifying purchases.
Nutrition Information
Yield

16
Serving Size

1
Amount Per Serving
Calories

27
Total Fat

0g
Saturated Fat

0g
Trans Fat

0g
Unsaturated Fat

0g
Cholesterol

0mg
Sodium

0mg
Carbohydrates

7g
Fiber

0g
Sugar

7g
Protein

0g
GoodLifeEats.com offers recipe nutritional information as a courtesy. This provided information is an estimate only. This information comes from online calculators. Although GoodLifeEats.com makes every effort to provide accurate information, these figures are only estimates.