Fresh strawberries, basil, and lime juice infuse this Strawberry Basil Margarita with bright summer flavors. Keep reading to learn what makes this the best strawberry margarita, how to make a large batch of these margs, and our favorite mocktail substitutes!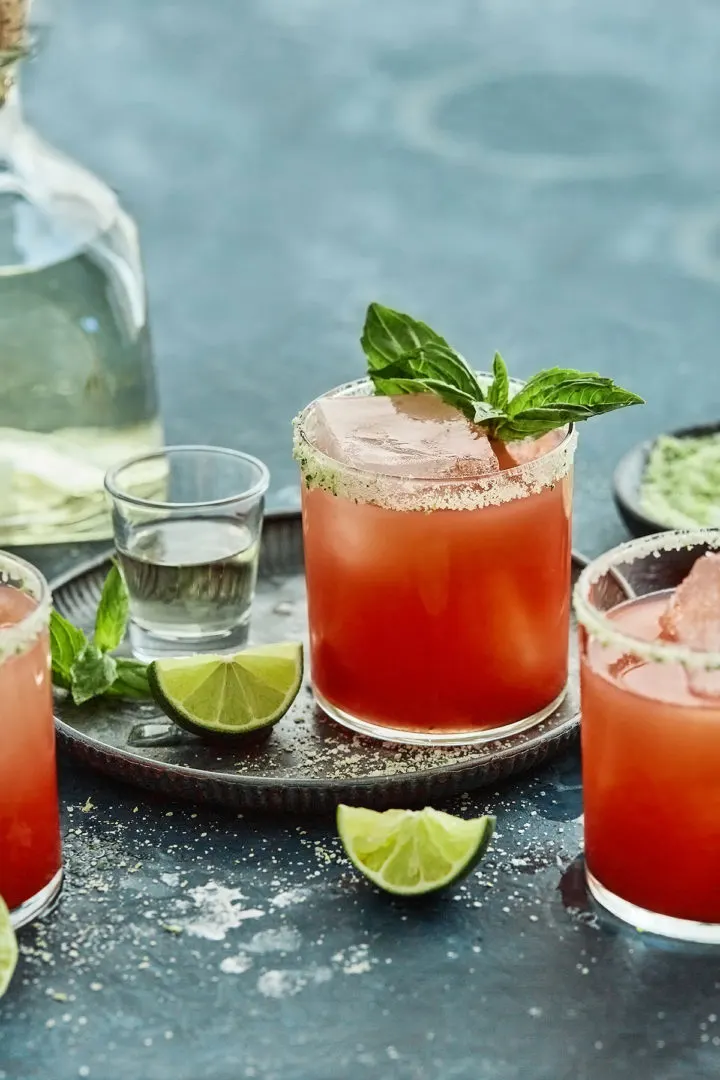 Strawberry Basil Margarita vs Classic Margarita
Classic margaritas are made with just tequila, lime juice, and Triple Sec or Cointreau with a salted rim.
This delicious twist also includes fresh strawberries, muddled basil leaves, and is served with a basil lime salt rim.
The result is a vibrantly colored refreshing strawberry cocktail that's perfect for outdoor sipping!
What Does a Margarita Made with Strawberry and Basil Taste Like?
Fresh strawberries makes this cocktail sweeter than the original and gives it a beautiful, bright color. The fresh basil adds a pop of fresh, herby flavor without overpowering the flavor of the sweet, juicy strawberries.
In short, this strawberry basil margarita cocktail is a sweet and sour strawberry drink with a hint of herbaceous flavor from the fresh basil.
This post may include affiliate links. As an Amazon Associate and member of other affiliate programs, I earn a small commission from qualifying purchases.
Tools Needed to Make a Strawberry Basil Margarita
You'll need a few kitchen tools to prepare these homemade margaritas with fresh strawberries. Here's what I recommend having on hand before getting started:
Shaker — This recipe makes two strawberry basil margaritas. I like to measure the ingredients directly into the shaker.
Strainer for shaker — Most cocktail shaker sets come with a strainer included, but if you don't have one you need it for this recipe.
Small food processor or blender — to blend the fresh strawberries.
Fine mesh strainer — to strain the strawberry puree.
Jigger — Perfect for accurate and easy measuring of cocktail ingredients.
Citrus juicer — Makes juicing limes much easier. Be sure to roll your limes on the counter before slicing and juicing them to help release even more juice.
Cocktail muddler — To muddle the fresh basil.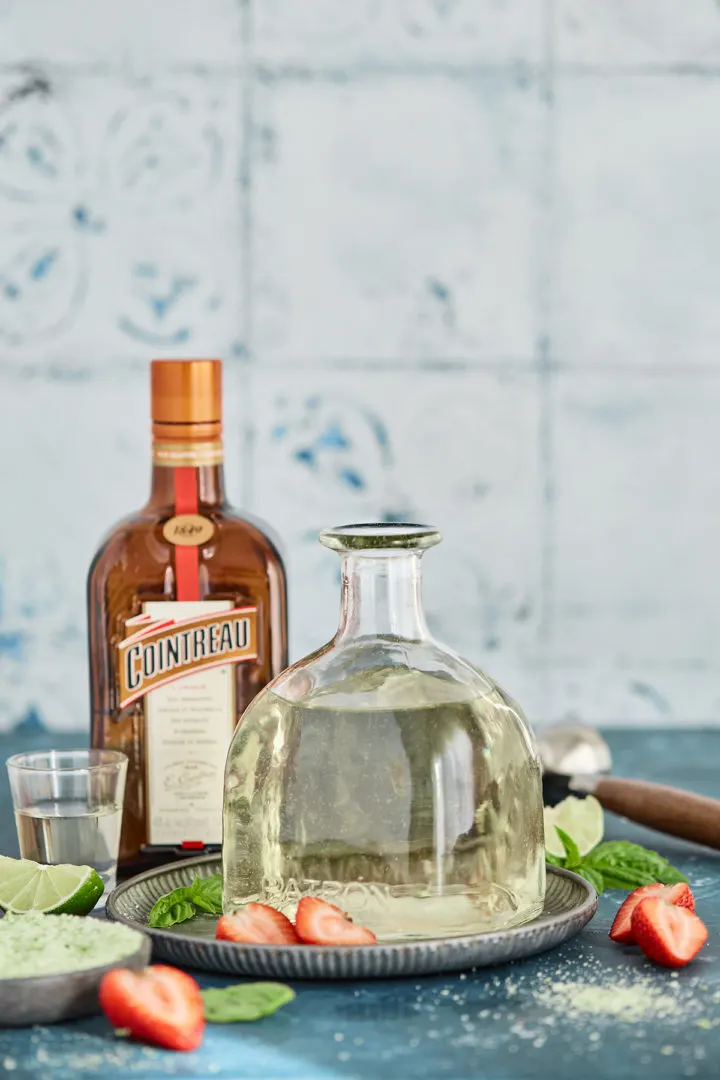 Ingredients in a Strawberry Basil Margarita
This recipe for strawberry margaritas call for relatively simple ingredients. Here's an overview of what you'll need to make the cocktails:
For the Basil Lime Salt Rim:
Flaky Salt
Fresh Basil
Lime Zest
For the Strawberry Puree
Fresh Strawberries
Water
Lime Zest
Agave Nectar or Granulated Sugar
For the Strawberry Basil Margarita:
Fresh Basil Leaves
Fresh Strawberries
Strawberry Puree
Reposada Tequila
Cointreau
Fresh Lime Juice
Lime Zest
Granulated Sugar or Agave
Water
Ice
For the complete ingredient list and detailed instructions to make this basil and strawberry cocktail, scroll to the bottom of this post for the FREE printable recipe card.
What Is Tequila?
At the most basic level, tequila is a distilled spirit made from the agave plant.
True tequila can only be produced in certain regions with the following Mexican states: Jalisco, Nayarit, Guanajuato, Michoacan, and Tamaulipas.
There are three main types of tequila, all of which have an earthy flavor:
Blanco Tequila (sometimes called silver or white) — A clear spirit with the purest flavor. It's aged for a maximum of 60 days, making it more affordable. It's a good all-purpose tequila to keep on hand.
Reposado — "Rested" tequila is aged for at least two months in oak casks. Reposado tequila is typically lightly golden in color, with a mellower flavor than white tequilas.
Añejo — "Old" tequila is aged for at least one year. This results in a darkly colored, richly flavored tequila with hints of butterscotch and caramel.
Good tequila brands to know include: Jose Cuervo, Patrón, Don Juilo, and Herradura.
If you don't have tequila on hand, a good substitute would be mezcal. Mezcal is the term given to any distilled spirit made from the agave plant. So, although all tequilas are a type of mezcal, not all mezcals can be classified as tequila.
What's the Best Kind of Tequila for Strawberry Margaritas?
I recommend using reposado tequila when making pineapple margaritas.
It imparts a slightly softer flavor than a silver or white tequila would, and the flavor profile is more complex (although still incredibly smooth!).
What Is Cointreau?
Cointreau (pronounced "kwan-troh") is a colorless, orange-flavored liqueur. It's a type of triple sec, but it's stronger and smoother in flavor than name-brand Triple Sec.
I recommend sticking with the Cointreau brand of cointreau.
Acceptable cointreau substitutes are: Grand Marnier, Dry Orange Curaçao or Triple Sec.
However, my preferred substitute would be Grand Marnier.
I don't recommend triple sec or bottom shelf orange curaçao. Higher quality orange liqueur matters when making margaritas, just like higher quality mezcal!
How to Make a Strawberry Basil Margarita
The below is simply a quick summary of this strawberry tequila cocktail. Check out the full recipe in the free printable recipe card at the bottom of this post for all the detailed instructions.
First, you'll make the lime basil salt rim by combining fresh lime zest and fresh basil with salt.
Then, rim the cocktail glass with the salt. Set aside.
Puree strawberries with lime zest, water, and sweetener (if desired.) Strain the mixture to remove the seeds.
Then, muddle basil and fresh strawberries in the bottom of a cocktail shaker. Add the ice, spirits, and some strawberry puree. Shake and strain into the prepared glasses.
Strawberry Margarita Garnish Ideas
These strawberry margaritas don't need a ton of garnishes to look pretty! Between the bright color and the basil lime salt rim, there is plenty going on. However, some garnishes to try include:
A sprig of basil
Lime wedge or slice
A couple of strawberries
Tips for the Best Strawberry Margarita
Use freshly squeezed lime juice: Fresh lime juice is far superior to bottled. Be sure to read my tips for getting the most juice from your limes.
Use ripe, in season strawberries: you'll be amazed at the flavor difference that ripe, in season strawberries make compared to out of season berries. If strawberries aren't in season, opt for frozen rather than lower quality fresh berries.
Use high-quality alcohol: This is a very simple cocktail, so it's important that you use quality mezcal and cointreau. It will be an investment up front, but purchasing quality spirits to build your at-home collection is always a good investment. Enjoying cocktails at home is so much cheaper than purchasing out. Think of how many margs you can make at home for the amount of alcohol versus spending $10+ on one drink out!
Salt the rim for balance: The basil lime salted rim perfectly balances out the sweet and sour margarita. Don't skip it!
Strawberry Basil Margarita FAQs
Got questions about how to make this recipe? Here are the answers to a few commonly asked questions. Feel free to leave any other questions in the comments on this post and I'll respond with answers.
How do I make a large batch pitcher margarita?
Making a large batch of this strawberry basil margarita recipe is perfect for parties and cookouts.
You can make a pitcher of these strawberry margaritas up to 48 hours in advance. Store the cocktail mixture in the fridge until ready to serve but do NOT add ice to the pitcher.
You'll want to add ice to the individual glasses and pour the margarita mixture over the ice. If you add ice to the pitcher, the margarita mixture will become watered down.
To prepare a pitcher of margaritas, measure out the ingredients below using ratios rather than ounces or tablespoons.
Can I make this strawberry margarita without alcohol?
Alcohol-free spirits are great as an alternative if you're sober curious or don't consume alcohol.
I haven't experimented with alcohol-free spirits, so I can't speak to the exact taste, but here are some well rated non-alcoholic substitutes if you'd like to test them out:
Club soda paired with the alcohol-free orange liqueur might also be a good substitute for the tequila if you want a refreshing, bubbly alcohol-free version of this drink.
Safety tip: Depending on the particular product, some alcohol-removed spirits may still contain trace amounts of alcohol. Check the label before using if you're pregnant, serving the mocktails to kids, etc.
What should I serve with this strawberry basil cocktail?
Serve your passion fruit and mezcal margaritas with your favorite Mexican entrees for a full meal, or pair with appetizers for an unforgettable happy hour spread!
Here are some of my favorite Mexican mains and appetizers:
Try these Strawberry Margaritas!
Next time you're looking for a fun twist on the classic margarita, give this Strawberry Basil Margarita recipe a try!
Did you love the pairing of the sweet strawberries and the basil flavor in this refreshing cocktail? Leave a comment below and give it a review for others to see what you thought of this great margarita.
On Instagram? Share your photo and tag me with @goodlifeeats and #goodlifeeatsrecipes. I'd love to see your photo of this fruity drink recipe!
More Fruity Margarita Recipes
This Lemon Margarita is a simple variation on the classic. Lemon juice cuts through tequila for a tangy cocktail with extra flavor dimension from a salted rim. This 3 ingredient tequila cocktail couldn't be easier to make!
Pineapple, cilantro, and lime juice infuse this Pineapple Margarita with refreshing summer flavors. Make a small batch or prepare in a pitcher for parties!
Sweet and sour from the passion fruit and lime juices and slightly smoky from the mezcal, this Passion Fruit Margarita recipe makes a unique cocktail that everyone will love. Perfect for Cinco de Mayo, summer barbecues, and 4th of July gatherings!
Get More Recipes via Email
Did you love this fresh strawberry basil margarita? Sign up to receive Good Life Eats Email Updates and never miss another recipe!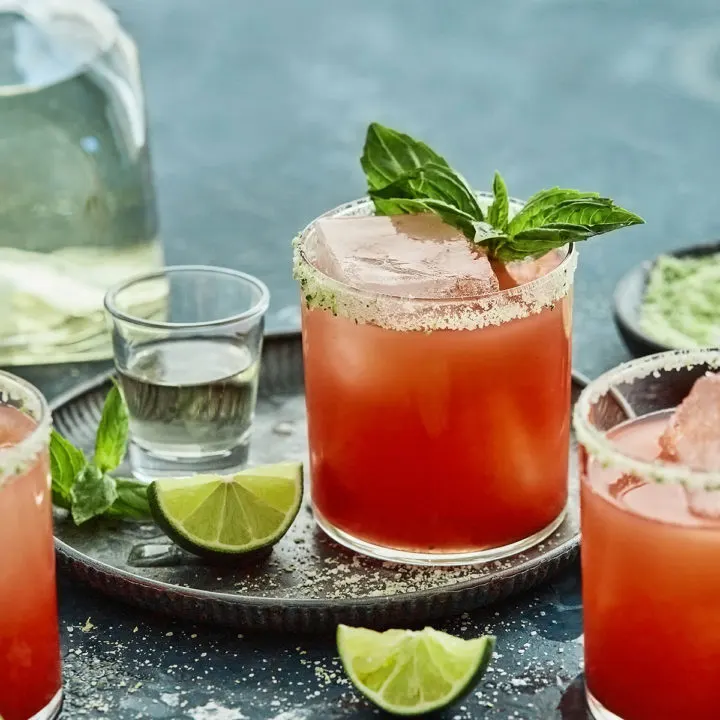 Strawberry Basil Margarita
Fresh strawberries, basil, and lime juice infuse this Strawberry Basil Margarita with bright summer flavors.
Ingredients
For the Basil Lime Salt Rim
1 tablespoon flaky Salt
1/2 teaspoon Fresh Basil, finely chopped
1/2 teaspoon Lime Zest
Strawberry Puree
2 ounces Fresh Strawberries
1 teaspoon Lime Zest
3 tablespoons water
1 teaspoon Granulated Sugar or Agave Nectar, or to taste
For the Strawberry Basil Margarita:
2 tablespoons fresh chopped Basil Leaves
1/2 cup chopped Fresh Strawberries
1 cup Ice Cubes
3 ounces Reposado Tequila
1.75 ounces Cointreau
3 tablespoons Lime Juice
3 - 6 tablespoons Strawberry Puree, according to preference
Optional Garnishes:
Fresh Limes
Fresh Strawberries
Fresh Basil Sprigs
Instructions
To Make the Basil Lime Salt
Add the flaky salt, fresh basil, and lime zest to a small food processor or food chopper.
Pulse 10 times until ingredients are well combined.
Remove from the food processor and set aside on a small plate.
How to Rim the Margarita Glass
Cut a small slice in a lime wedge and run the lime around the rim of your glasses.
Then, dip the rim of the glasses in the salt mixture and spin around to coat the outer edge of the glass in the salt mixture.
Set aside
To Make the Strawberry Puree
Combine the strawberries, lime zest, water, and sugar or agave in a small food processor. Blend until pureed.
Place a fine mesh strainer over a glass jar and strain the mixture.
Set aside (discard any solids remaining in the strainer).
To Prepare the Strawberry Basil Margarita
Add the fresh basil and strawberries to a cocktail shaker.
Using a cocktail muddler or wooden spoon, muddle the strawberries and the basil.
Then, add 1 cup of ice, tequila, Cointreau, strawberry puree, and lime juice.
Shake the contents vigorously for about 30 seconds.
Add ice to the salt rimmed glasses. Then, strain the margarita into the prepared glasses.
Serve immediately.
Recommended Products
As an Amazon Associate and member of other affiliate programs, I earn from qualifying purchases.
Nutrition Information
Yield

2
Serving Size

1
Amount Per Serving
Calories

207
Total Fat

0g
Saturated Fat

0g
Trans Fat

0g
Unsaturated Fat

0g
Cholesterol

0mg
Sodium

951mg
Carbohydrates

15g
Fiber

2g
Sugar

11g
Protein

1g
GoodLifeEats.com offers recipe nutritional information as a courtesy. This provided information is an estimate only. This information comes from online calculators. Although GoodLifeEats.com makes every effort to provide accurate information, these figures are only estimates.