Are you looking for some recipes for Easter? You've come to the right place! Take all the guess work out of planning your Easter Menu and check out some of our very favorite Easter Recipes!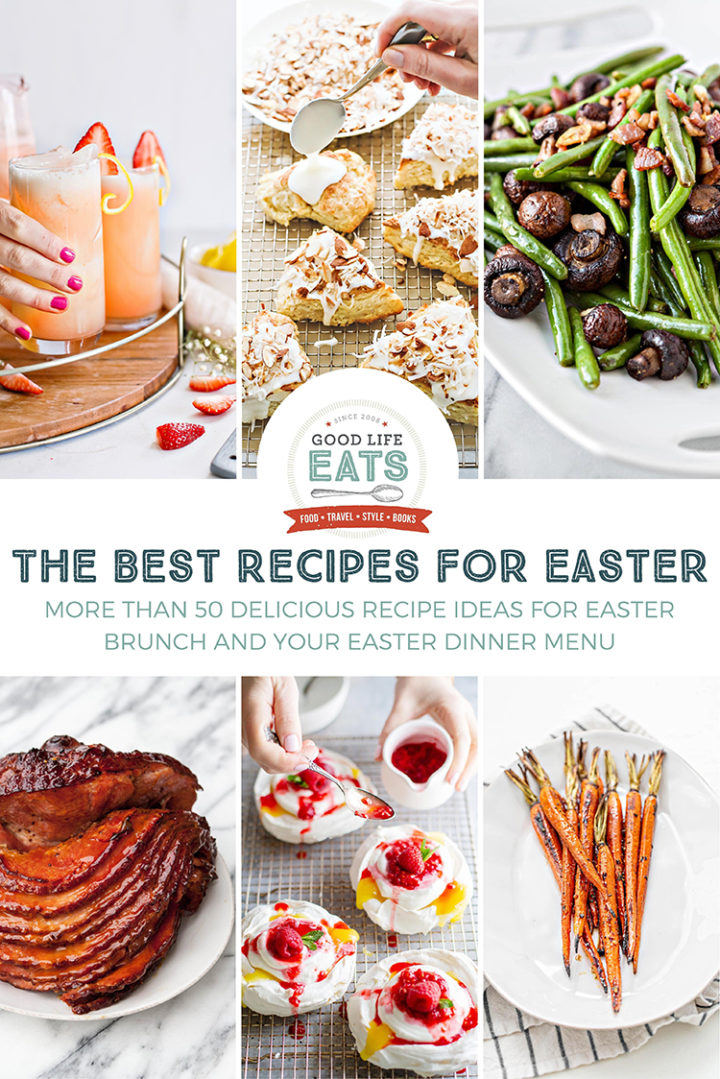 Tons of Recipes for Easter!
I've got you covered with recipes for your Easter Brunch and plenty of ideas for your holiday dinner, from vegetables to Easter side dishes, main dishes, and easy Easter desserts. You'll be able to plan the entire menu for your Easter celebration with this post – there are over 50 Tried and True recipes handpicked by me!
How Do You Plan an Easter Menu?
Planning and Cooking an Easter Feast is a lot of work. Sometimes coming up with the menu feels like the hardest part. That's why I've gone through all of my recipe archives and chosen more than 50 recipes – broken down by course – to help you get brainstorming!
Don't forget to prepare your Easter Menus in advance. Create something that's a little more special than your typical evening meal. You'll want this meal to stand out as something special for the week!
Easter Menu Planning Tips: Selecting Your Recipes for Easter
Start with sorting out the recipes for your "must haves," and your family's traditional dishes.
After you've decided on the dishes you know you will have (your favorite glazed ham, your family's sweet potatoes, etc.), start thinking about what's missing.
Browse through these delicious Easter recipes and note which ones are of most interest by each course. Filling in the gaps is a great opportunity to introduce a few new dishes alongside your family's traditional Easter foods.
Then, pair the list down from there with what is most interesting and what will most likely be a crowd pleaser.
Make sure to have a variety of dishes and a good balance of proteins, starches, and vegetables for your main meal.
Do you have good color variety as well? That makes for the prettiest spread!
Figure out if you plan to make the whole meal or if you want to outsource any items to guest and eat pot luck style.
Make a Binder or Folder with Recipes for Easter
To stay organized, you can make a recipe binder with all of the recipes you plan to make for Easter.
Print off all of the recipe you plan to use. Punch holes in the sheets and place them in a binder or folder with brackets. Label that folder "EASTER RECIPES." This will make every year from here on out much easier.
Alternatively, create a Pinterest Board titled "EASTER RECIPES." Then, you can easily Pin your favorite recipes there. You can check out my Easter Recipes Pinterest Board right here and follow me on Pinterest.
Take Inventory Before Making Your Recipes for Easter
Take stock of your freezer and pantry. Download and print the above Spice Cabinet Checklist. Make a list of items you are out of or running low on and will need before Easter Sunday.
Purchase non-perishable essentials. The earlier the better, so you can avoid sold-out merchandise, crowded grocery stores and last minute shopping trips (and insane crowds!).
Easter Dinner Recipe Prep
Do the prep work ahead of time! The less time you have to spend frantically prepping right before, the more you will be able to relax and enjoy yourself. Veggies can be chopped ahead of time, meat defrosted in advance, and some recipes can be made the day before.
If you and your family love spending time in the kitchen, consider preparing some of the recipes together. Now that the kids are older, they love to help out in the kitchen and it has become a fun family tradition to cook together on the holidays.
Fun Kid-Friendly Easter Celebration Ideas
Need some fun ideas to keep kids occupied on Easter beyond raiding the candy in their Easter baskets? Here are a few fun suggestions:
Easter Book Bingo
Play a round of book bingo using this Book Bingo Game; you can easily adapt this simple holiday game for Easter!
Use peeps or your other favorite Easter candy to for marking the bingo spots as you read stories about the Easter bunny and Easter Eggs. Then, when someone gets a bingo, pretend they found the caught the Easter Bunny. Winner gets a special treat!
More Easter Ideas for Young Readers
Set an Easter Bunny Trap (the night before!)
Make Hard Boiled Eggs for decorating
Learn about Easter traditions, symbols, and the story of Easter
Have an egg hunt
Fun crafts with Easter Theme – bunnies, chicks, spring flowers, etc.
Make Recycled Crayons using spring pastel colors
Easter Coloring Pages
The Best Recipes for Easter
Did you try any of these Easy Easter Recipes?
If you tried any of these Easter recipe ideas, I'd love to hear from you! Leave a comment below or head over to the recipe's post and give it a review for others to see.
On Instagram? Share your photo and tag me with @goodlifeeats and #goodlifeeatsrecipes. I'd love to see which of my favorite recipes you prepared for your Easter breakfasts and holiday dinners!
Get More Recipes via Email
Did you love this recipe? Sign up to receive Good Life Eats Email Updates and never miss another recipe!