Citrus Salad with Poppy Seed Dressing
I thoroughly enjoyed myself during the holidays.  I enjoyed spending time with family and friends, gathering around a warm fire, making and sharing gifts, and eating a lot of good food.
But now that I've entered the new year, I'm remembering all of the past week's indulgences.  If I'm being honest, I have to admit to eating way too many of these Pumpkin Pie Bars and more than my fair share of candy out of the kids' stockings.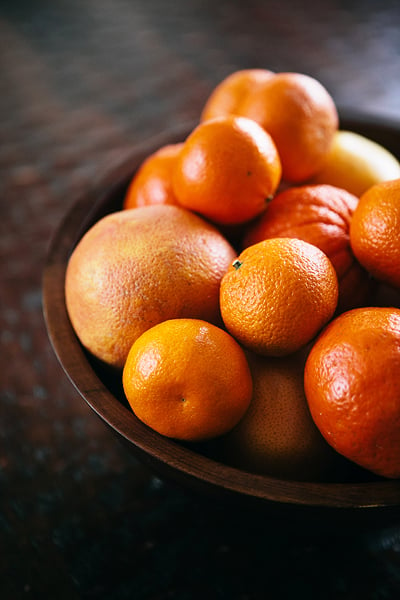 Written by: Allison Ruth of Some the Wiser
It's time to get back on track and I'm looking forward to preparing and enjoying a lot of healthy meals this year. Right now, my post-holiday palette is craving dishes that are fresh and light.
It can be tricky preparing fresh and light dishes in the winter when quality fruits and vegetables are harder to come by.  However, citrus is winter's special burst of brightness during the cold months' dark days.
Fresh citrus fruits have so many health benefits.  Here are a few of the ways Oranges, Grapefruits, and Lemons contribute to a healthy diet and lifestyle:
High levels of Vitamin C, Potassium, and even Calcium
Support the immune system
Detoxify the liver
Help to lower blood pressure
Stimulate metabolism and aid in weight loss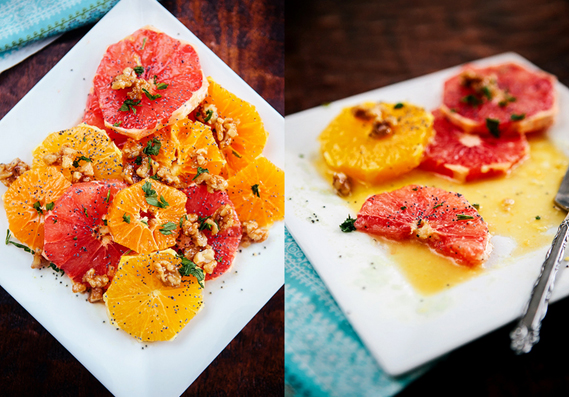 Considering all of the health benefits that come from eating citrus fruits, I am feeling really good about adding this Citrus Salad with Poppy Seed Dressing to my breakfast menu this month.  This salad is not only a delicious way to start the morning, it also makes a beautiful side salad with lunch or dinner too.
The Poppy Seed Dressing compliments the tangy sweetness of the fruits, and the nuts add both protein and crunch, making this a really flavorful dish to add to any healthy menu this year.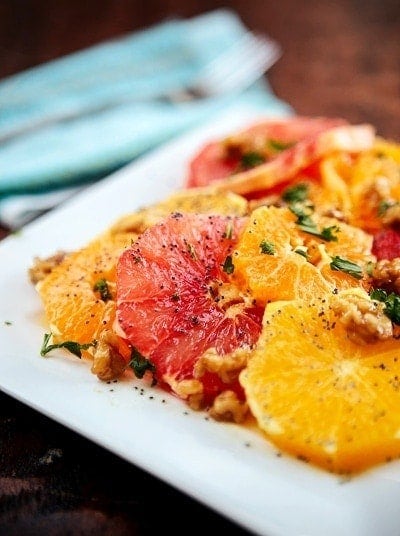 What healthy eating goals are you setting this year?
Citrus Salad with Poppy Seed Dressing
Yield: 4 servings
Prep Time:10 minutes
Total Time:10 minutes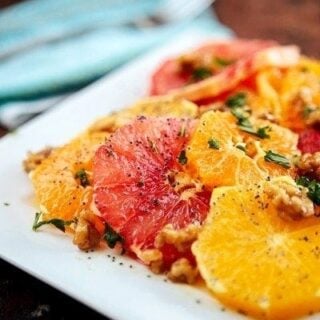 Ingredients:
Approximately 3 pounds of various citrus fruit (grapefruit, oranges, tangerines, etc.)
2/3 cup candied walnuts
2 tablespoons fresh flat leaf parsley, chopped
For the Dressing:
2 tablespoons, plus 1 teaspoon white vinegar
2 tablespoons, plus 1 teaspoon pure maple syrup
1/3 cup coconut oil, room temperature
2 tablespoons grated onion
1/4 teaspoon kosher salt
1 tablespoon prepared yellow mustard
1 tablespoon poppy seeds
Directions:
To prepare the fruit, slice each citrus horizontally to create discs. Slice the peel off each disc and remove any seeds.
To prepare the dressing, combine all the dressing ingredients and whisk together until well combined. For best results with the coconut oil, work with room temperature ingredients.
Pour the dressing over the prepared fruit. Garnish with nuts and parsley.