2012 didn't offer as much time for reading as I would have liked, but I did manage to read a few books.Fewer read books resulted from a combination of factors – busy with the move and Madeline is in full-time 5 days a week all day kindergarten now. Sadly, that doesn't allow us to continue our tradition of weekly story time at the library.
The bottom line is that I find myself going to the library a lot less than I used to. I need to work on that for 2013. In this busy life having a bit of my day to get lost in a world other than my own provides much needed downtime.
Here are some of my favorites from the year. A few of these books require you to read previous books in the series first, others have already published books that follow what I have shared, and some have books that are scheduled for release in 2013.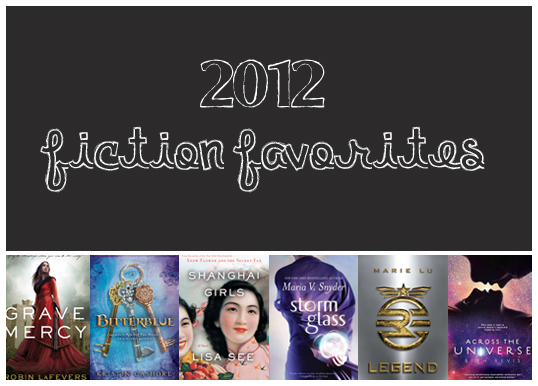 Grave Mercy, by Robin LaFevers
Seventeen-year-old Ismae escapes from the brutality of an arranged marriage into the sanctuary of the convent of St. Mortain, where the sisters still serve the gods of old. Here she learns that the god of Death Himself has blessed her with dangerous gifts—and a violent destiny. If she chooses to stay at the convent, she will be trained as an assassin and serve as a handmaiden to Death. To claim her new life, she must destroy the lives of others.
Ismae's most important assignment takes her straight into the high court of Brittany—where she finds herself woefully under prepared—not only for the deadly games of intrigue and treason, but for the impossible choices she must make. For how can she deliver Death's vengeance upon a target who, against her will, has stolen her heart?
Read Next: Dark Triumph, by Robin LaFevers (2013 publication)
Bitterblue, by Kristin Cashore
Eight years after Graceling, Bitterblue is now queen of Monsea. But the influence of her father, a violent psychopath with mind-altering abilities, lives on. Her advisors, who have run things since Leck died, believe in a forward-thinking plan: Pardon all who committed terrible acts under Leck's reign, and forget anything bad ever happened.
But when Bitterblue begins sneaking outside the castle–disguised and alone–to walk the streets of her own city, she starts realizing that the kingdom has been under the thirty-five-year spell of a madman, and the only way to move forward is to revisit the past.
Two thieves, who only steal what has already been stolen, change her life forever. They hold a key to the truth of Leck's reign. And one of them, with an extreme skill called a Grace that he hasn't yet identified, holds a key to her heart.
Read First: Graceling and Fire, by Kristin Cashore
Shanghai Girls, by Lisa See
In 1937, Shanghai is the Paris of Asia, a city of great wealth and glamour, the home of millionaires and beggars, gangsters and gamblers, patriots and revolutionaries, artists and warlords. Thanks to the financial security and material comforts provided by their father's prosperous rickshaw business, twenty-one-year-old Pearl Chin and her younger sister, May, are having the time of their lives.
Though both sisters wave off authority and tradition, they couldn't be more different: Pearl is a Dragon sign, strong and stubborn, while May is a true Sheep, adorable and placid.
Both are beautiful, modern, and carefree . . . until the day their father tells them that he has gambled away their wealth and that in order to repay his debts he must sell the girls as wives to suitors who have traveled from California to find Chinese brides.
Read Next: Dreams of Joy, by Lisa See
Storm Glass, by Maria V. Snyder
As a glassmaker and a magician-in-training, Opal Cowen understands trial by fire. Now it's time to test her mettle. Someone has sabotaged the Stormdancer clan's glass orbs, killing their most powerful magicians. The Stormdancers–particularly the mysterious and mercurial Kade–require Opal's unique talents to prevent it happening again.
But when the mission goes awry, Opal must tap in to a new kind of magic as stunningly potent as it is frightening. And the further she delves into the intrigue behind the glass and magic, the more distorted things appear. With lives hanging in the balance–including her own–Opal must control powers she hadn't known she possessed…powers that might lead to disaster beyond anything she's ever known.
Read First: Poison Study, Magic Study, and Fire Study, by Maria V. Snyder
Legend, by Marie Lu
What was once the western United States is now home to the Republic, a nation perpetually at war with its neighbors. Born into an elite family in one of the Republic's wealthiest districts, fifteen-year-old June is a prodigy being groomed for success in the Republic's highest military circles. Born into the slums, fifteen-year-old Day is the country's most wanted criminal. But his motives may not be as malicious as they seem.
From very different worlds, June and Day have no reason to cross paths—until the day June's brother, Metias, is murdered and Day becomes the prime suspect. Caught in the ultimate game of cat and mouse, Day is in a race for his family's survival, while June seeks to avenge Metias's death. But in a shocking turn of events, the two uncover the truth of what has really brought them together, and the sinister lengths their country will go to keep its secrets.
Read Next: Prodigy, by Marie Lu (2013 publication)
Across the Universe, by Beth Revis
Seventeen-year-old Amy joins her parents as frozen cargo aboard the vast spaceship Godspeed and expects to awaken on a new planet, three hundred years in the future. Never could she have known that her frozen slumber would come to an end fifty years too soon and that she would be thrust into the brave new world of a spaceship that lives by its own rules.
Amy quickly realizes that her awakening was no mere computer malfunction. Someone-one of the few thousand inhabitants of the spaceship-tried to kill her. And if Amy doesn't do something soon, her parents will be next.
Now Amy must race to unlock Godspeed's hidden secrets. But out of her list of murder suspects, there's only one who matters: Elder, the future leader of the ship and the love she could never have seen coming.
Read Next: A Million Suns and Shades of Earth (2013 publication), by Beth Revis
Need more book recommendations? Check out what I read in 2011.
What were your favorite reads of 2012? What books are on your to-read list for 2013?