Cucumber Sandwich Recipe for Baby Shower
Cucumber Watercress Tea Sandwich Recipe
We're celebrating our friend Amanda, from I am Baker, today with a Baby Shower!
Amanda is expecting a sweet baby boy a week from today so for the past few weeks a group of food blogging friends and I have been secretly scheming and planning for this surprise Virtual Shower.
I'm so glad that the secret is over and that I can finally share this Cucumber Watercress Tea Sandwich Recipe with you!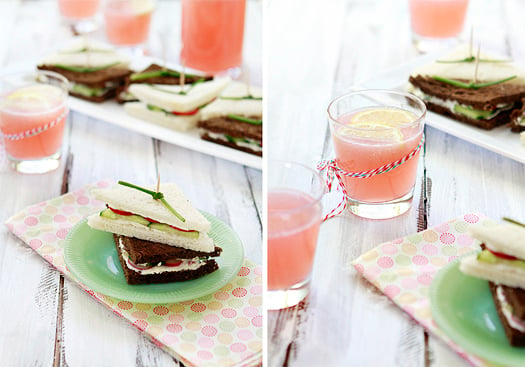 Get a group of food bloggers together to plan a baby shower and of course you're going to end up with a show-stopping menu.
]I wish we could have been closer to celebrate Amanda's little arrival together.
It would have been great to spend an afternoon with these ladies that I chat with on a regular basis – and enjoy all the yummy baby shower recipes we are sharing.
Cucumber Tea Sandwiches have always felt a little sandwich you would munch on for a baby shower.
I'm glad I had an excuse to share this yummy recipe with you.
It's the perfect springtime sandwich recipe to put together and so easy for a luncheon party.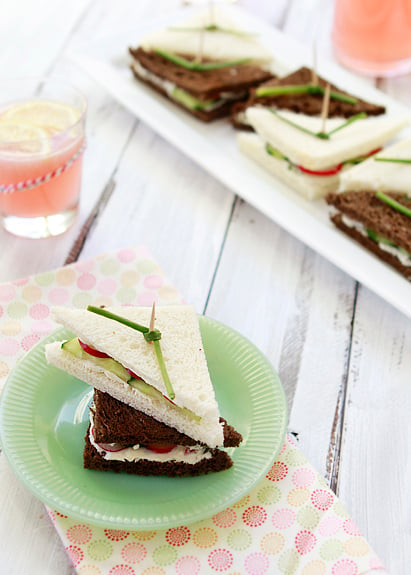 For this Cucumber Watercress Tea Sandwich Recipe I took things up a notch.
Instead of a simple cream cheese and cucumber sandwich, I blended cream cheese with a garlic and herb Boursin and included sliced radishes and watercress.
Congratulations, Amanda!
I'm so excited for you and can't wait to see your sweet arrival!
If you don't know Amanda or her blog I am Baker yet, you need to head over there!
Amanda is an incredibly talented baker and cookie decorator.
I can't even wrap my head around some of the cakes she bakes.
One of my favorites of Amanda's is her Rose Cake.
Amanda is amazing as a person, too – so kind and caring.
A small example of this can be seen in one of her recent posts where she put together an opportunity for other bakers to sign up to send a special treat to a total stranger who needed a little extra love in their life.

Cucumber Tea Sandwich with Radish and Watercress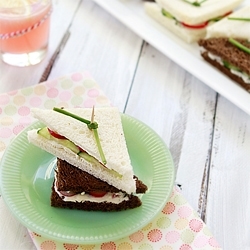 Ingredients:
8 ounces cream cheese
5 ounces Garlic and Herb Boursin
2 - 3 tablespoons fresh chives, sliced plus extra for garnish
1 English cucumber
1 bunch radishes
1 bunch watercress
white sandwich bread
pumpernickel sandwich bread
Directions:
In a small food processor, combine the cream cheese and boursin, pureeing until well blended and combined. Transfer the mixture to a bowl and stir in sliced fresh chives. Set aside.
Slice the cucumber and radishes into 1/8 inch thick slices. If you have a mandoline that helps speed the process here.
Cut crusts off the bread (you can save the crusts to make homemade croutons for another use). Spread one side of each slice with the cream cheese mixture.
Top with sliced cucumber, radish, and a few watercress leaves. Then top with another slice of bread. Cut into triangles.
To garnish: tie a stem of chive in a knot. Place on top of the sandwich and skewer with a toothpick.
Click for the menu:

The {i am baker} Virtual Baby Shower Menu
Drinks
Add a Pinch – i am baby Shower Punch
TidyMom – Ducky Bath Blue Punch
Savory Bites
Dine and Dish – Stuffed Mushrooms
GoodLife Eats – Cucumber Sandwich Recipe
My Baking Addiction – Crab Rangoons
Simple Bites – Spring Crudité, Buttermilk-Black Pepper Dip
Desserts
A Farmgirl's Dabbles – {i am baby} cakes
Bake at 350 – Baby on Board Cookies
Bakers Royale – Baby Shower Cupcakes
Bluebonnets and Brownies – Mini Fruit Pizzas
Confessions of a Cookbook Queen – Homemade Butter Mints
Food for My Family – Baby Shower Macarons
Gourmande in the Kitchen – Chocolate Blueberry Truffles
My Kitchen Addiction – Sourdough Cinnamon Rolls
She Wears Many Hats – "B" is for Boy – Itty Bitty Baby Cupcakes
Smith Bites – Strawberries with Brown Sugar Dip
What's Cooking with Kids – Hamentashen cookies
Last But Not Least
Wenderly – A Bundle of Bebe Cards for the Bundle of Joy