The Limoncello Spritz is a bright, refreshing cocktail bursting with lemon flavor! It's the perfect drink to sip poolside on warm summer days.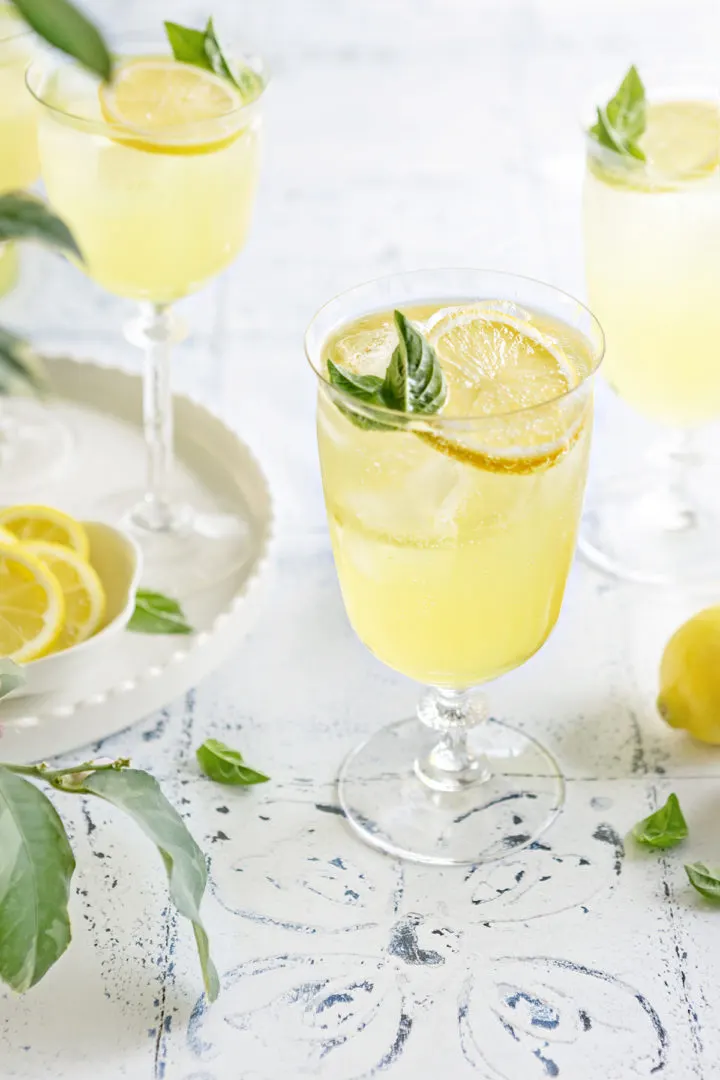 Making This Limoncello Spritz Recipe
My drink of choice last summer was the Strawberry Aperol Spritz. I made spritzes for my close friends and family as well, and at one point my neighbor told me to try a limoncello spritz.
She said that if I liked the fruity flavor of a strawberry Aperol spritz, then I'd definitely love the flavor of a limoncello spritz. She was right!
This lemony cocktail is even easier to prepare than a classic Aperol spritz. It's essentially a limoncello prosecco spritz. The trick is to get the drink ratios right so the flavors are balanced!
What Is a Limoncello Spritz?
As the name suggests, the limoncello spritz is part of the spritz cocktail family. This particular drink is a spin off of the more popular Aperol spritz.
The Aperol spritz is a fairly recent creation, but the general "Spritz" cocktail has been around since the 1800's. It's said that Austro-Hungarian soldiers stationed in northern Italy in the 1800's found the local wine too strong for their liking.
To dilute the wine, they added a splash of water. In German, "spritz" means splash — hence the name!
Limoncello spritzers are an aperitif. They're meant to be consumed before your meal to stimulate the appetite, making this the perfect drink to serve with appetizers or finger foods!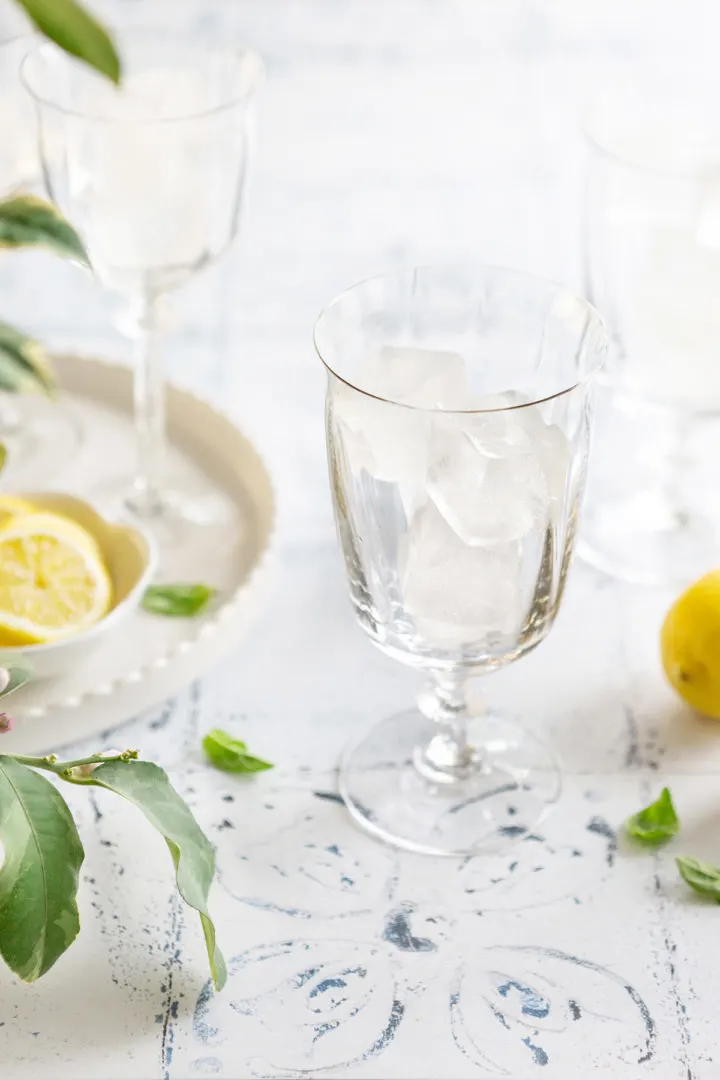 What's the Correct Ratio for a Spritz Cocktail?
A spritz cocktail should follow this ratio: 3 parts bubbly, 2 parts liqueur, 1 part soda.
This limoncello prosecco spritz recipe follows the classic spritz ingredient ratios and uses 3 parts prosecco, 2 parts limoncello, and 1 part club soda.
What Does a Limoncello Spritz Taste Like?
Like most limoncello cocktails, this spritz has a very distinct lemon flavor. It's a bright, sweet cocktail that's extra crisp from the double bubbles (both the prosecco and club soda are carbonated).
If you prefer sour or bitter cocktails, you may not love limoncello spritzers. Give this drink a try though, because it's so refreshing on a hot day – and perfect for lemon lovers!
When Is the Best Time to Serve a Limcello Spritz?
Any spritz cocktail — like this limoncello spritzer — is intended to be served as an aperitif. It's a low-ABV cocktail that's meant to stimulate the appetite before a meal.
I don't restrict my limoncello spritz enjoyment to mealtimes, though. Since it's a cold, refreshing cocktail I like to enjoy a glass or two on a hot summer day when I'm hanging out on the patio or by the pool.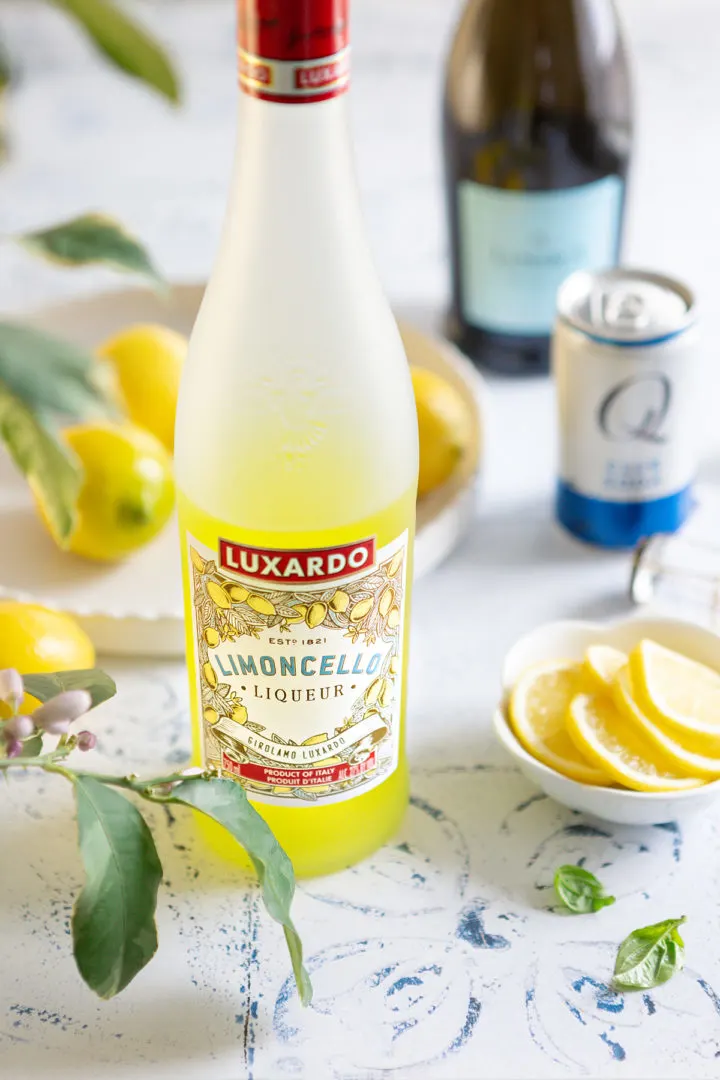 Tools Needed to Make a Limoncello Spritz
You need very few bar tools to make a limoncello and prosecco spritz. The cocktail is built in the glass so it's very simple to prepare.
Jigger — For measuring out the ingredients.
Paring knife — For cutting lemon slices or making a lemon twist garnish (optional).
Ingredients in a Limoncello Spritz
You'll need just three simple ingredients to make a refreshing limoncello spritz cocktail. For the complete ingredient list and detailed instructions, scroll to the bottom of this post for the FREE printable recipe card.
Prosecco
Limoncello
Club Soda
Below is an overview of each ingredient in this refreshing spritzer.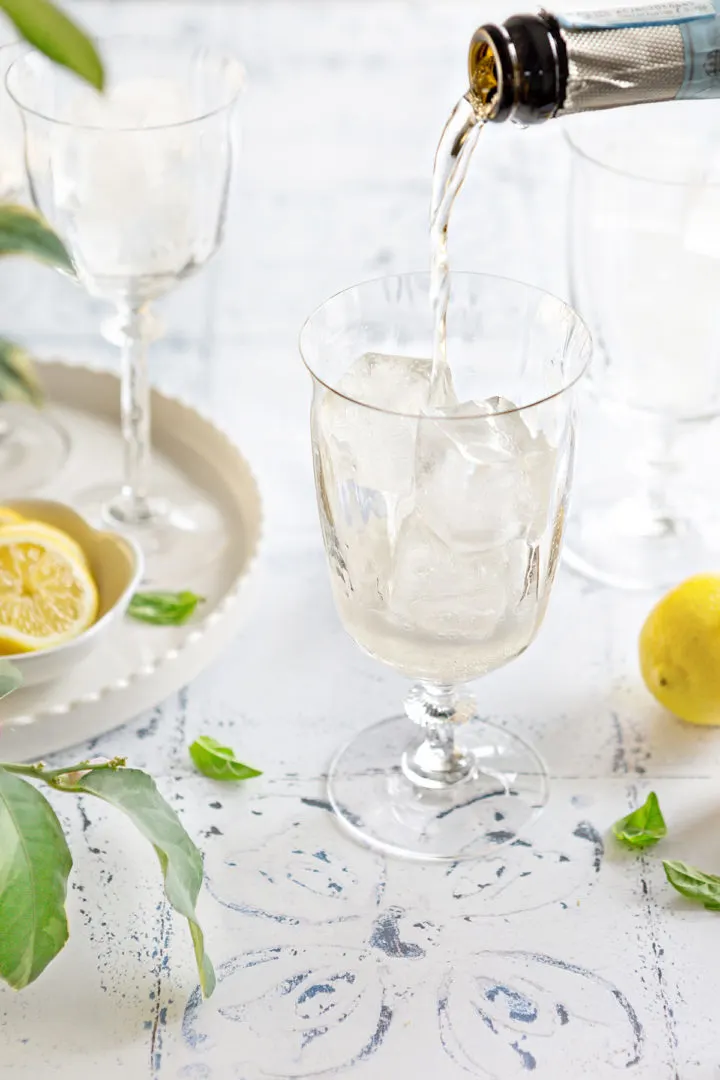 What Is Limoncello?
Limoncello is an Italian liqueur that's made by soaking lemon zest (i.e. yellow skin of a lemon, not the white pith underneath the flesh) with sugar in a neutral-flavored grain alcohol — typically vodka — for at least 1 month.
It has an ABV of around 28% to 32% and is vibrant yellow in color. Limoncello has a sweet, pronounced lemon flavor and a thicker consistency (almost like syrup!).
This sweet Italian lemon liqueur can be sipped slowly on its own in a shot glass as an aperitif or after a meal as a dessert.
What Is Prosecco?
Prosecco is a sparkling Italian white wine that's traditionally produced in northern Italy. When buying prosecco, look for the label "DOC" or "DOCG" on the bottle to ensure it's good quality.
DOC and DOCG are acronyms for "Denominazione di Origine Controllata" and "Denominazione di Origine Controllata e Garantita." They're quality control labels that prove a prosecco was made in northern Italy using the highest winemaking standards.
If you don't have any prosecco on hand, you can substitute another sparkling white wine or Champagne.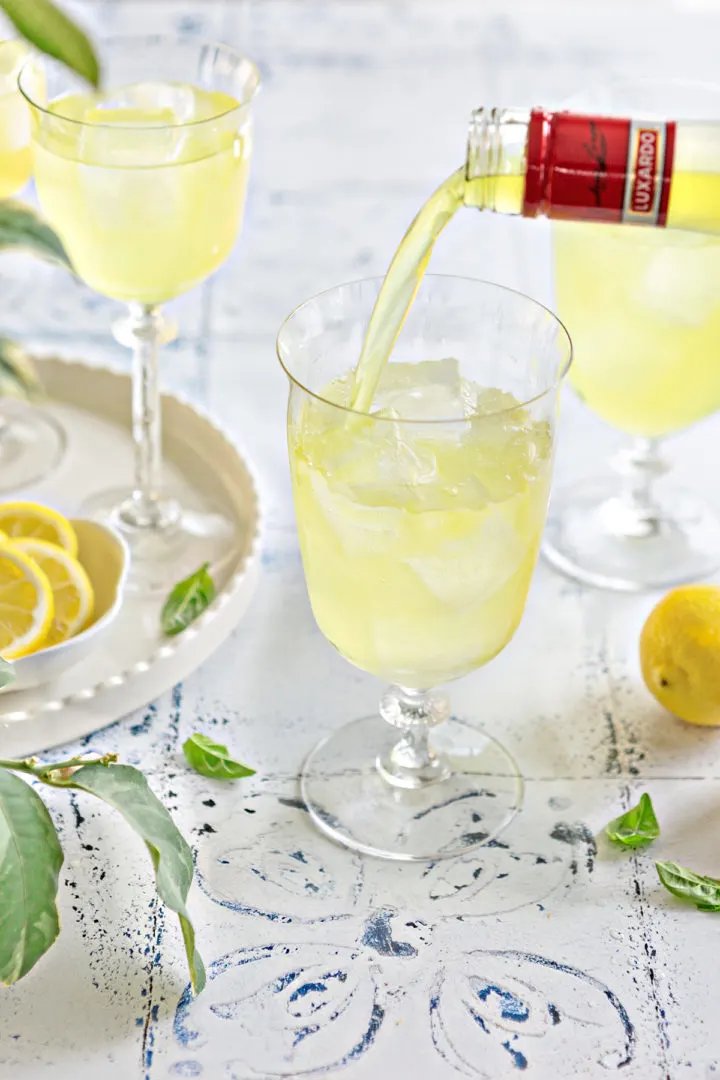 What Is Club Soda?
Club soda is water that's had carbon dioxide and minerals — like sodium bicarbonate and sodium citrate — added to it. It's more heavily carbonated than sparkling water, making it the perfect choice for spritz cocktails.
If you don't have any club soda, sparkling water may be used instead. However, do NOT substitute club soda with tonic water, as tonic water is incredibly bitter.
How to Make a Limoncello Spritz
Making a limoncello spritz is incredibly easy since the cocktail is built in the glass. Here's an overview of how this bubbly cocktail is prepared:
Fill a glass with cubed ice.
Add the prosecco, followed by the limoncello and club soda.
Garnish as desired and serve immediately.
The above is simply a quick summary of this simple cocktail recipe. Check out the full recipe in the free printable recipe card at the bottom of this post for all the detailed instructions.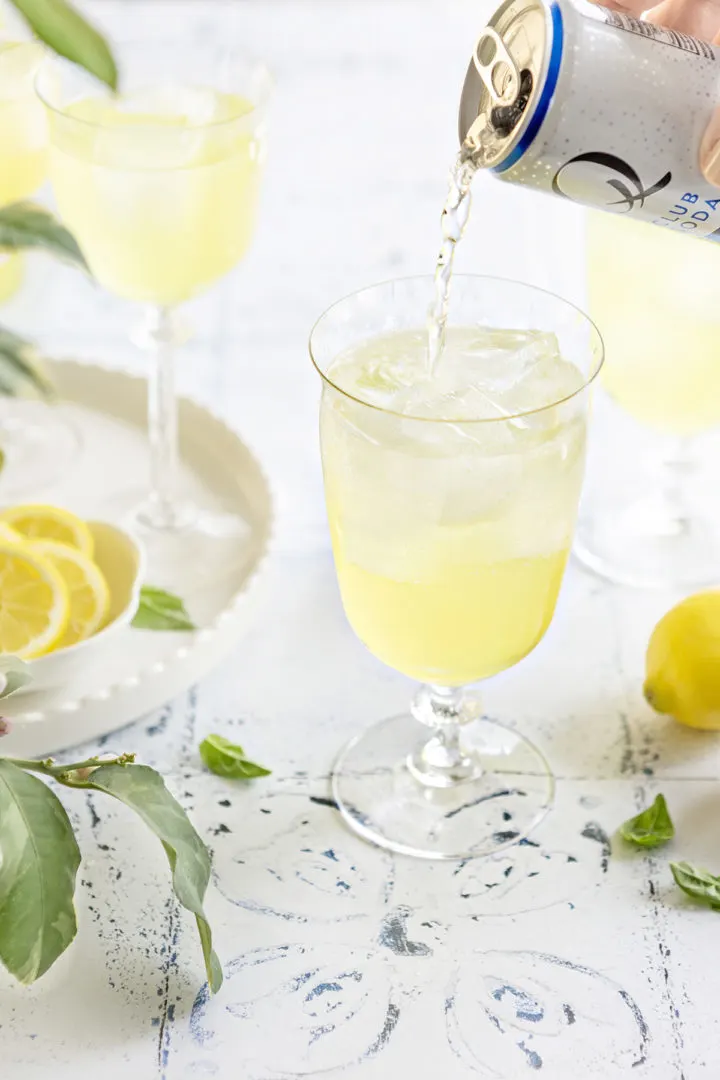 Garnish Ideas
You're welcome to garnish this limoncello cocktail however you like.
You can skewer your favorite berries onto a cocktail pick, add a few fresh herbs to the drink, or any other cocktail garnish you think would pair well with the intensely lemony cocktail.
Here are some of my favorite garnishes for a limoncello spritzer:
Lemon slices
Fresh mint
Fresh basil
Fresh thyme
Raspberries or strawberries on a cocktail pick
What Type of Glass Should a Spritz Be Served In?
Balloon or wine glasses are typical for making spritz cocktails. We love these elegant wine glasses.
If you make spritz cocktails often, it's worth investing in a good set of wine glasses!
Should a Limoncello Spritz Be Served Over Ice?
Yes! I recommend using ice cubes rather than crushed ice so that the drink doesn't become diluted too quickly.
On a similar note, make sure to serve your drink immediately as the ice will melt and the prosecco will lots its carbonation over time.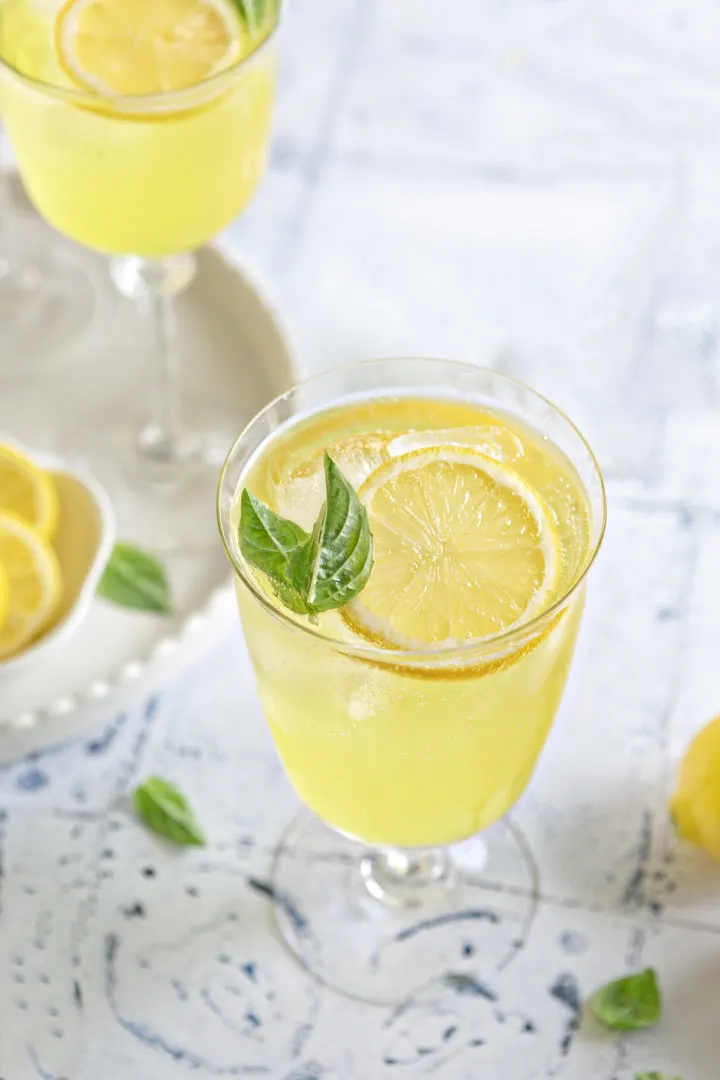 Tips for the Best Limoncello Spritz
Chill the ingredients. Pre chilling all of the individual ingredients in the fridge prior to combining helps keep the ice colder for longer. Room temperature ingredients will cause the ice to melt faster, thus diluting your cocktail more quickly!
Freeze the limoncello to keep it extra cold. Limoncello has a high enough ABV that it's safe to store in the freezer. (It won't freeze solid!)
Buy good-quality prosecco. Again, you want to look for the label "DOC" or "DOCG" to ensure you're buying good bubbles. It makes up 3 parts of the spritz so you want it to taste good!
Don't make the cocktails in advance. Limoncello prosecco spritzers must be enjoyed immediately as they lose their carbonation over time.
Limoncello Spritz FAQs
Got questions about how to make this easy limoncello cocktail? Here are the answers to a few commonly asked questions. Feel free to leave any other questions in the comments on this post and I'll respond with answers.
Is this drink gluten-free?
Yes, limoncello and prosecco are both naturally gluten-free, but check the labels if it's a health concern for you.
Can I make a pitcher of limoncello spritz?
Yes, this can be made as a pitcher cocktail. Here's how to make a pitcher limoncello spritz cocktail:
Pre-chill the individual ingredients (unopened)
Combine the ingredients in a large pitcher just before you plan to serve the drinks so the mixture doesn't get diluted or lose its carbonation.
Don't add ice to the pitcher. Instead, serve ice in an ice bucket alongside the pitcher and add ice directly to the glasses as the cocktail is served.
Ratios for making a whole pitcher: 3 parts prosecco, 2 parts limoncello, 1 part soda water.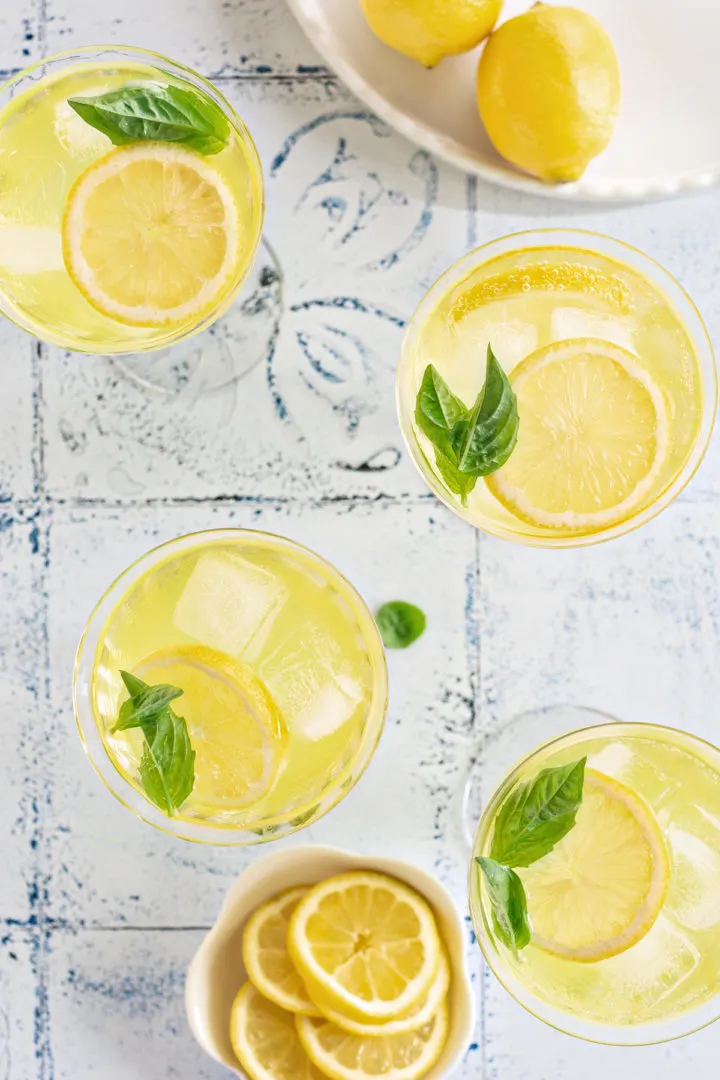 Can this be made as a limoncello mocktail?
Yes, you can very easily make a limoncello spritz mocktail by substituting the prosecco for non-alcoholic prosecco and swapping the limoncello for a lemon simple syrup.
Prosecco swap: Gruvi Non-Alcoholic Prosecco
Limoncello swap: Make a lemon simple syrup for the limoncello. To do so, combine ½ cup lemon juice, ½ cup water, zest of 2 lemons, 1 cup sugar in a saucepan and heat until the sugar has dissolved.
Safety tip: Depending on the brand you use, some alcohol-removed spirits may still contain trace amounts of alcohol. Check before using if you're pregnant, serving the mocktails to kids, etc.
Appetizers to Pair with a Limoncello Spritz
Since the limoncello spritz is an aperitif, it only makes sense to pair it with your favorite appetizers! I recommend the following appetizers for picnics, barbecues, and pool parties:
Try This Limoncello Spritzer Recipe
Next time you're looking for the perfect Italian cocktail for warmer months, give this delicious limoncello spritz recipe a try!
Did you think this was the best spritz cocktail recipe? Leave a comment below and give it a review for others to see what you thought of this refreshing summer cocktail.
On Instagram? Share your photo and tag me with @goodlifeeats and #goodlifeeatsrecipes. I'd love to see a photo of your limoncello prosecco spritz!
More Fruity Summer Cocktails:
Pineapple, cilantro, and lime juice infuse this Pineapple Margarita with refreshing summer flavors. Make a small batch or prepare in a pitcher for parties!
Peach Sangria is a delicious and summer cocktail that's easy to make. The peach flavors combine perfectly with the rosé for a delightful drink you are sure to enjoy!
Strong, tart, and slightly sweet, a Mai Tai Cocktail is a classic rum cocktail that will transport you straight to the tropics!
Bitter, bubbly, and slightly sour, this Grapefruit Vodka Tonic is a refreshing twist on the classic cocktail! Who knew that vodka and grapefruit juice could taste so good?
Made with just three ingredients, this Strawberry Mimosa recipe is so easy to make! Strawberry mimosas are perfect for special occasion brunches, Valentine's Day, or breakfast in bed!
Get New Recipes via Email
Did you love this easy limoncello spritz? Sign up to receive Good Life Eats Email Updates and never miss another recipe!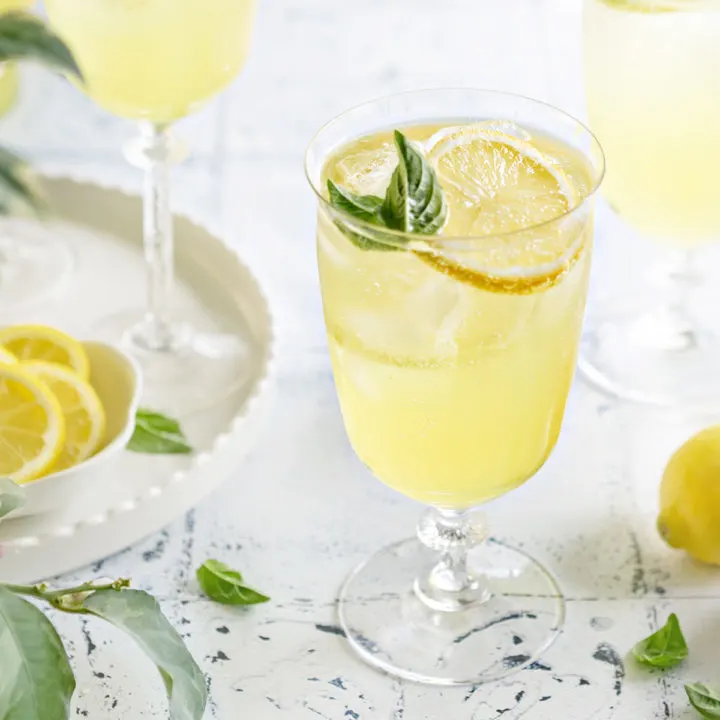 Limoncello Spritz
The Limoncello Spritz is a bright, refreshing cocktail bursting with lemon flavor! It's the perfect drink to sip poolside on warm summer days.
Ingredients
Ice
6 ounces Prosecco, chilled
4 ounces Limoncello, chilled
2 ounces Club Soda, chilled
Instructions
For individual cocktails, build each directly in a glass.
Fill a glass with cubed ice.Then, add the Prosecco, followed by the Limoncello, and club soda.
Serve immediately.
Nutrition Information
Yield

1
Serving Size

1
Amount Per Serving
Calories

555
Total Fat

0g
Saturated Fat

0g
Trans Fat

0g
Unsaturated Fat

0g
Cholesterol

0mg
Sodium

12mg
Carbohydrates

59g
Fiber

0g
Sugar

56g
Protein

0g
GoodLifeEats.com offers recipe nutritional information as a courtesy. This provided information is an estimate only. This information comes from online calculators. Although GoodLifeEats.com makes every effort to provide accurate information, these figures are only estimates.