Blush pink in color and deliciously sweet-tart in flavor, the Floradora is the perfect gin cocktail for spring or summer. It's a simple drink that uses just 4 ingredients, but the taste is showstopping! Read on to learn all about the floradora cocktail.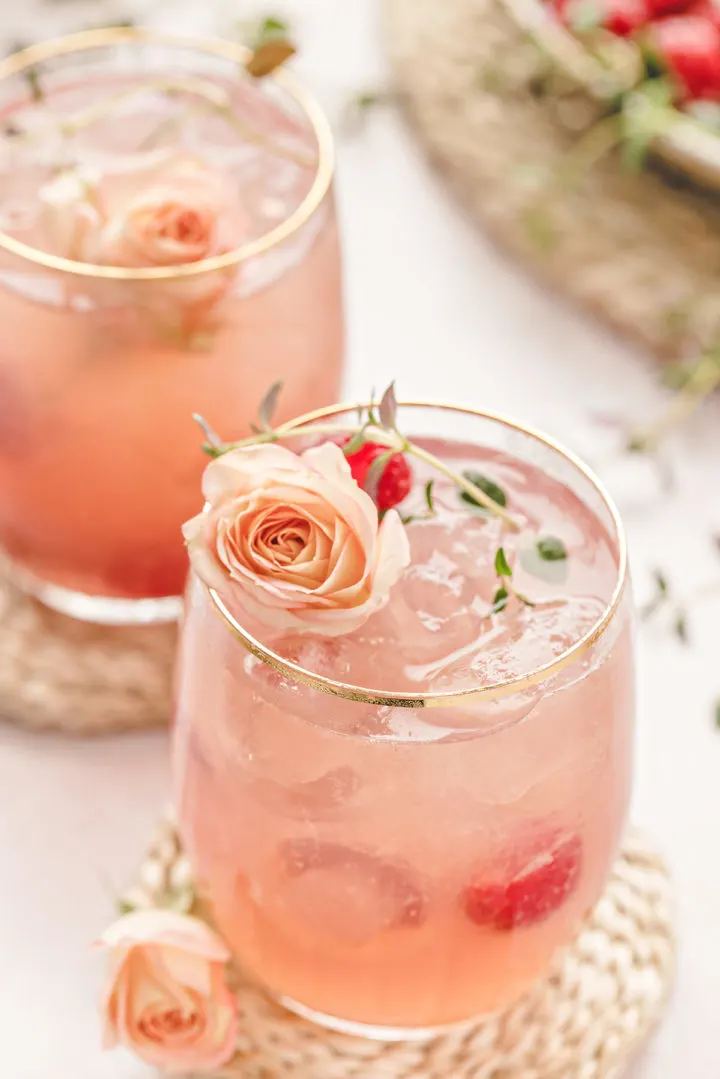 What Is a Floradora?
The Floradora is a type of highball cocktail that was popularized in the early 1900s. It got its name from the popular Broadway show, Florodora, which opened in 1900 after a wildly successful debut in London the previous year.
The show Florodora was known for its six pink-clad chorus girls, called the "Florodora girls."
This fruity gin cocktail was created following the show's success and has had a recent revival in popularity — and I can easily see why!
The Floradora cocktail is the ultimate spring or summer gin cocktail. It's made with gin, lime juice, and raspberry liqueur, and uses ginger beer as the mixer.
The original cocktail most likely would have used raspberry syrup. However, I didn't want to make my own raspberry syrup so I swapped it for Chambord, which pairs beautifully with the floral notes in the gin!
What Does a Floradora Cocktail Taste Like?
The Floradora is delightfully refreshing, with a perfect blend of citrus and herbs.
The botanical gin base notes are a perfect partner to the raspberry liqueur and bubbly ginger beer. The lime juice adds a wonderful citrus hit and the ginger beer adds crispness.
It's a simple gin cocktail with layers of flavor that everyone loves!
When Should You Serve a Floradora Cocktail?
This blushing pink cocktail with the prettiest of names evokes the feeling that spring is in the air.
The fruity herbal flavor and pretty color makes this raspberry gin cocktail well suited for spring or summer events like garden parties, brunches, Mother's Day, and bridal showers.
If you're hosting a baby shower this spring or summer, a non-alcoholic Floradora mocktail would be a cute drink to serve if the mom-to-be is expecting a girl!
This post may include affiliate links. As an Amazon Associate and member of other affiliate programs, I earn a small commission from qualifying purchases.
Tools Needed for This Cocktail
The Floradora drink is built in the glass, you need very few bar tools to prepare it. Here's what I recommend having on hand for this particular cocktail recipe:
Jigger — For easy measuring.
Citrus juicer — Makes juicing limes and other citrus fruits much easier. I always roll my limes on the counter before slicing and juicing them to help release even more juice.
Bar spoon — A Floradora is stirred, not shaken. Use a long cocktail spoon to combine the ingredients before sipping.
Collins glass —The most popular glass for sparkling drinks like this raspberry gin cocktail, similar to a highball glass. However, you may use any glass you like!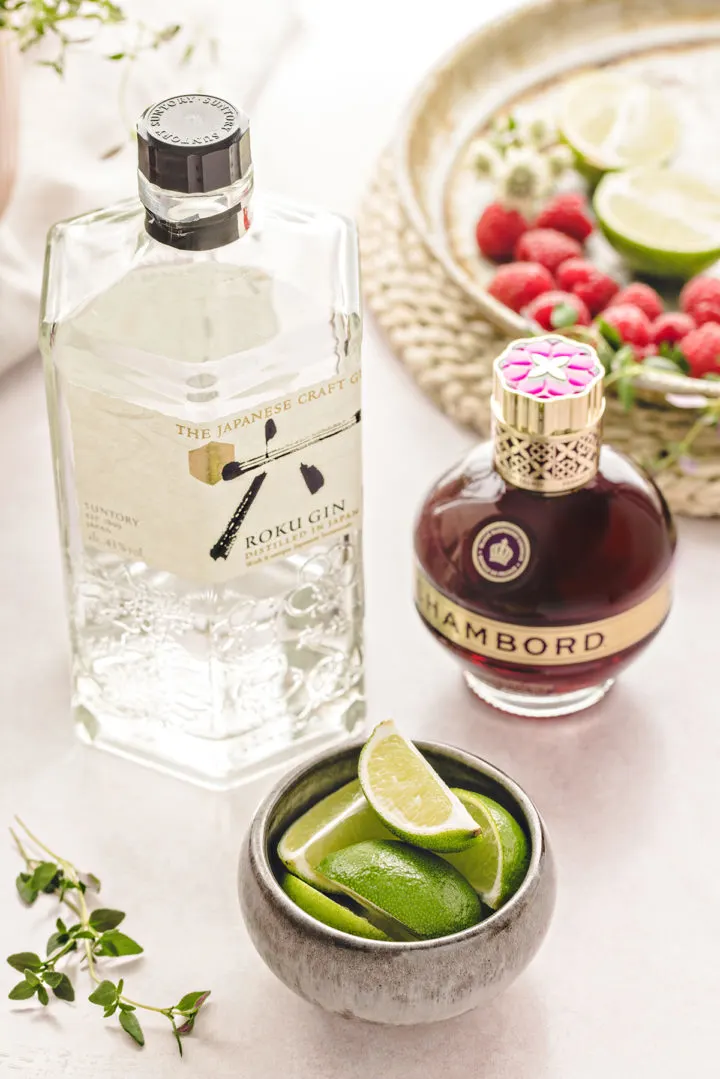 Ingredients in a Floradora
The ingredients needed for a Floradora are minimal, so it's important that you use the best quality you can find. To make this summery gin cocktail, you'll need the following:
Gin
Lime juice
Raspberry liqueur
Ginger beer
For the complete ingredient list and detailed instructions to make this classic gin cocktail, scroll to the bottom of this post for the FREE printable recipe card.
What Is Gin?
Gin is a clear, distilled spirit made from fermented grains. Unlike other clear spirits, such as vodka or tequila, gin is infused with botanicals to create its signature botanical flavor.
Gin is always infused with juniper berries, which impart a distinct pine flavor, but other botanicals may be added as well.
The name "gin" stems from the French word genièvre, meaning "juniper."
When shopping for gin, you should be aware of these three main varieties:
London Dry Gin: is the most common type of gin. It's very dry, but beautifully aromatic and tastes strongly of juniper.
Plymouth Gin: is lighter than London Dry Gin and is more citrus-forward in flavor.
Old Tom Gin: is the sweetest of the three since simple syrup is added to it. It's typically reserved for making Tom Collins cocktails.
What's the Best Gin for a Floradora?
When making a Floradora cocktail, you may choose any gin you like. However, Plymouth Gin or a London Dry will probably be what you want for this recipe.
A word of caution: don't buy the cheapest gin at your local liquor store! You want a quality gin with a good botanical flavor.
Popular brands of quality gin include: Bombay, Beefeater, Hendrick's, and Tanqueray.
If you're new to the world of gin, I recommend shopping online at Drizly so you can check the reviews of each bottle before purchasing.
Can the Gin Be Substituted?
If you don't like gin, try tequila or vodka in your Floradora drink instead.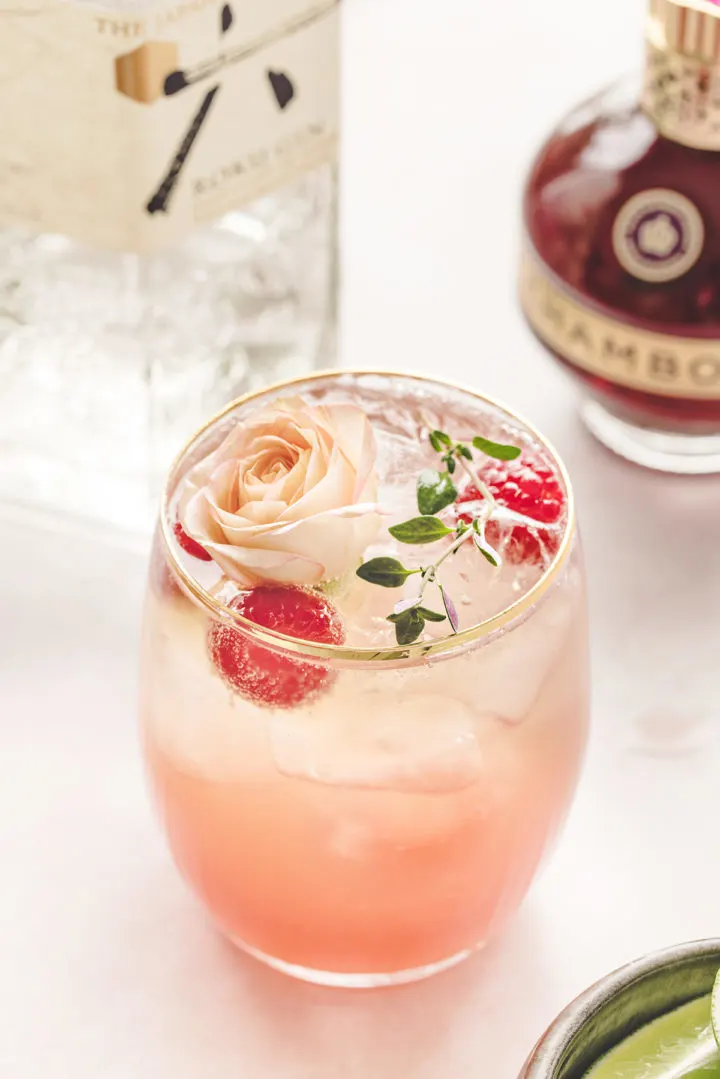 What's the Best Raspberry Liqueur to Use?
Use Chambord or Crème de Framboise liqueur for this raspberry gin cocktail. I already had Chambord on hand so I chose to use that.
You can also substitute a store-bought or homemade raspberry syrup if you don't have raspberry liqueur at home.
What is Chambord?
Chambord (16.5% ABV) is the brand name of a popular French black raspberry liqueur. It has a cognac base, and although the predominant flavor is raspberry, the flavor is deepened with the infusion of raspberries, blackberries, and black currants.
Vanilla, citrus peel, and spices round out the flavor and give Chambord its unique flavor.
Chambord is a gorgeous deep purple in color and has a distinct, sweet raspberry flavor. It can be sipped on its own or added to cocktails, such as the Floradora.
It's definitely a pricier item to stock in your home bar, but it's absolutely delicious and can be enjoyed many different ways.
What Can Be Substituted for Chambord?
You can swap the Chambord for Crème de Framboise liqueur or a non-alcoholic raspberry simple syrup.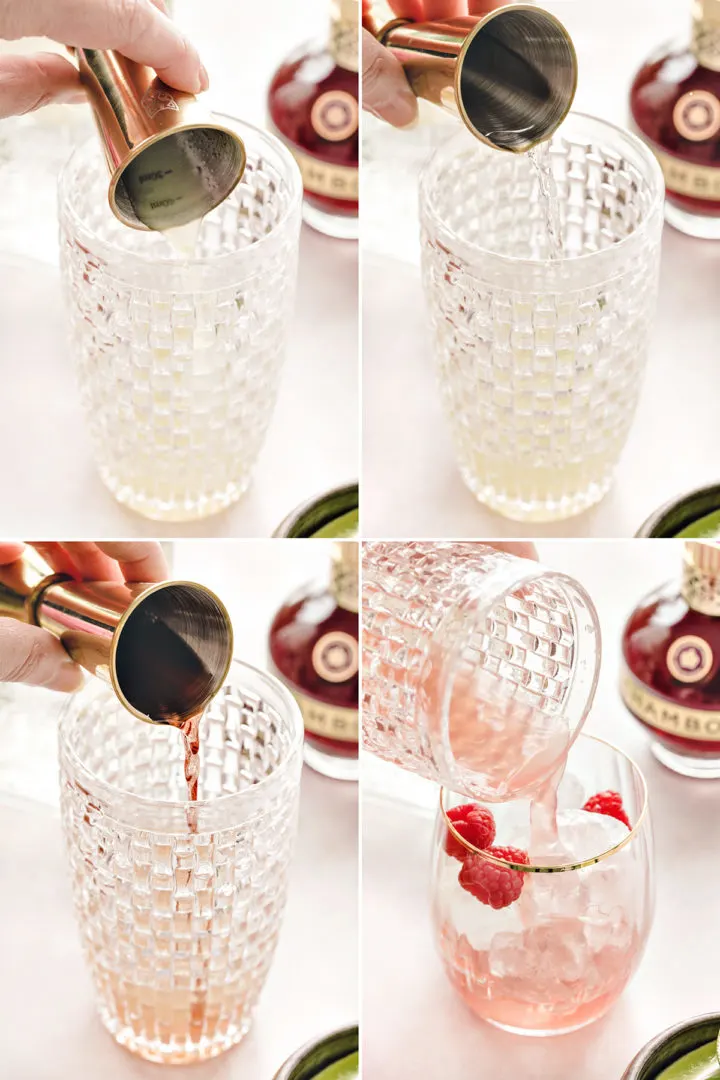 How to Make a Floradora Cocktail
It doesn't get much simpler than this raspberry, gin, and ginger beer cocktail! Here are the basic steps to preparing a Floradora:
Fill a tall cocktail glass with cubed ice.
Measure gin, lime juice, raspberry liqueur, and ginger beer over the ice.
Gently stir with a cocktail spoon until ingredients are combined and chilled.
Garnish as desired. (See ideas below.)
The above is simply a quick summary of this gin-based cocktail recipe. Check out the full recipe in the free printable recipe card at the bottom of this post for all the detailed instructions.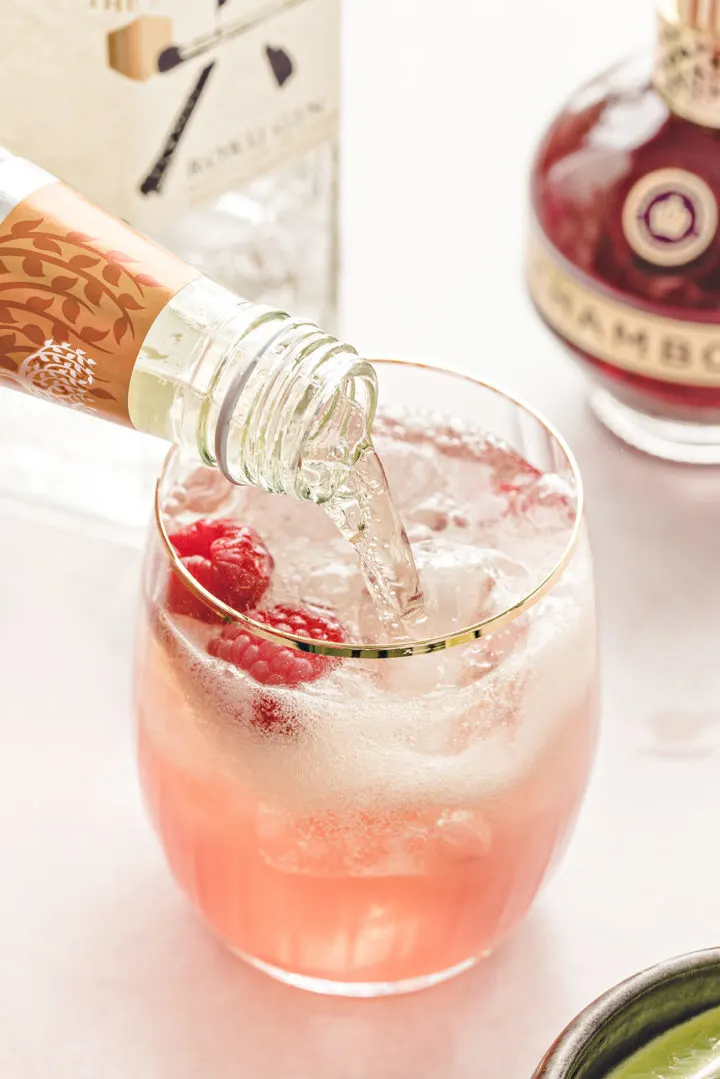 Floradora Cocktail Garnish Ideas
I have used raspberries and thyme to garnish this cocktail as well as an edible rose, which works so well with the floral vibes of the Floradora.
Other garnish ideas include: Fresh raspberries, edible flowers, edible roses, fresh herbs, lime wedge, lime wheel. A lime or lemon twist would also be very pretty!
Tips for Making This Fruity Gin Cocktail
Chill the ginger beer first — The Floradora is served over ice, but you still want to chill the ginger beer beforehand so that the ice doesn't melt as quickly. Just like you'd chill Champagne for a cocktail, you should also chill the ginger beer!
Fresh lime juice is better than bottled — However, bottled lime juice will work in a pinch.
Buy quality alcohol — Your gin and ginger beer cocktail will only taste as good as the quality of ingredients, so avoid buying the cheapest gin and liqueurs if you can help it. A good quality gin will make all the difference.
Opt for ice cubes, not shaved or crushed ice – You don't want to water down your Floradora cocktail!
Use name-brand Chambord, if possible — Chambord has a unique flavor that can't be replicated with a substitute. However, you may substitute it if you have no Chambord on hand or don't want to buy it.
Use a quality ginger beer — Not all ginger beers are created equal! Opt for a quality brand like Fever-Tree, Bundaberg, or Reed's.
Use ginger beer, NOT ginger ale — Ginger ale has a much subtler, sweeter flavor than ginger beer and doesn't pop as well against the gin and Chambord. You want the spicier, stronger ginger beer for this cocktail recipe.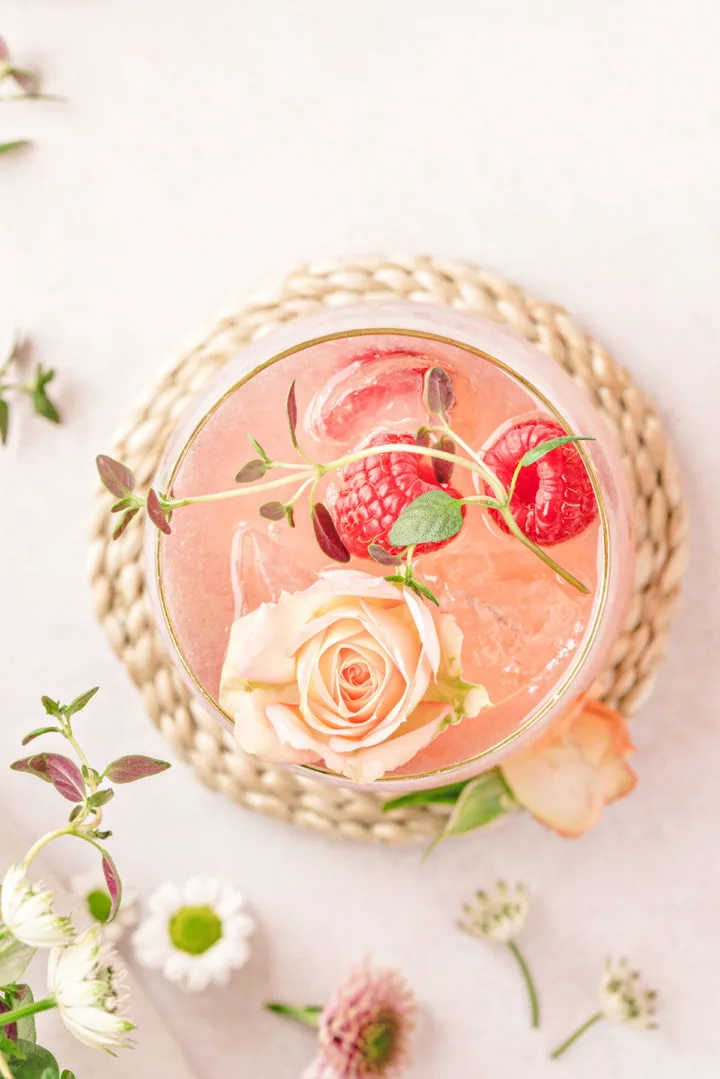 Floradora Cocktail FAQs
Got questions about how to make this gin and ginger beer cocktail? Here are the answers to a few commonly asked questions. Feel free to leave any other questions in the comments on this post and I'll respond with answers.
Is a Floradora shaken or stirred?
A Floradora is always stirred due to the carbonation in the ginger beer, so there is no need to own a cocktail shaker to prepare this pink drink. If you shook it up, the cocktail would explode in the shaker!
What type of glass is best for a Floradora?
Use a Collins glass for this cocktail. It holds about 12oz of liquids, is tall and slender, and has smooth sides.
But with that being said, I didn't use a Collins glass. It's the traditional choice, but I wanted to use prettier glasses. Use whatever glasses you have on hand!
Should the Floradora Cocktail be served over ice?
Yes, but you'll want to use ice cubes since they melt slower than crushed ice and therefore won't water down the drink as quickly.
Can I use frozen raspberries instead of fresh?
You're welcome to garnish this gin cocktail with frozen raspberries that have been thawed beforehand.
Can this be made as a pitcher cocktail?
You can easily use this recipe to make a pitcher cocktail rather than in individual glasses.
To make a Floradora pitcher cocktail, you'd measure the ingredients in parts rather than in ounces:
1 part lime juice
1 part raspberry liquor
4 parts gin
4 parts ginger beer
Can this be made as a mocktail?
If you're sober curious or don't drink alcohol, you can use non-alcoholic alternatives to make this fruity gin cocktail.
I have not tried making non-alcoholic Floradoras, but there are many alcohol-free spirits on the market that you could use. A few options are:
You could also try using club soda or tonic water in place of the gin, noting that the finished drink would have a less pronounced botanical flavor to it.
Safety tip: Note that depending on brand you use, some alcohol-removed spirits may still contain trace amounts of alcohol. Check before using/serving to kids or drinking during pregnancy, etc.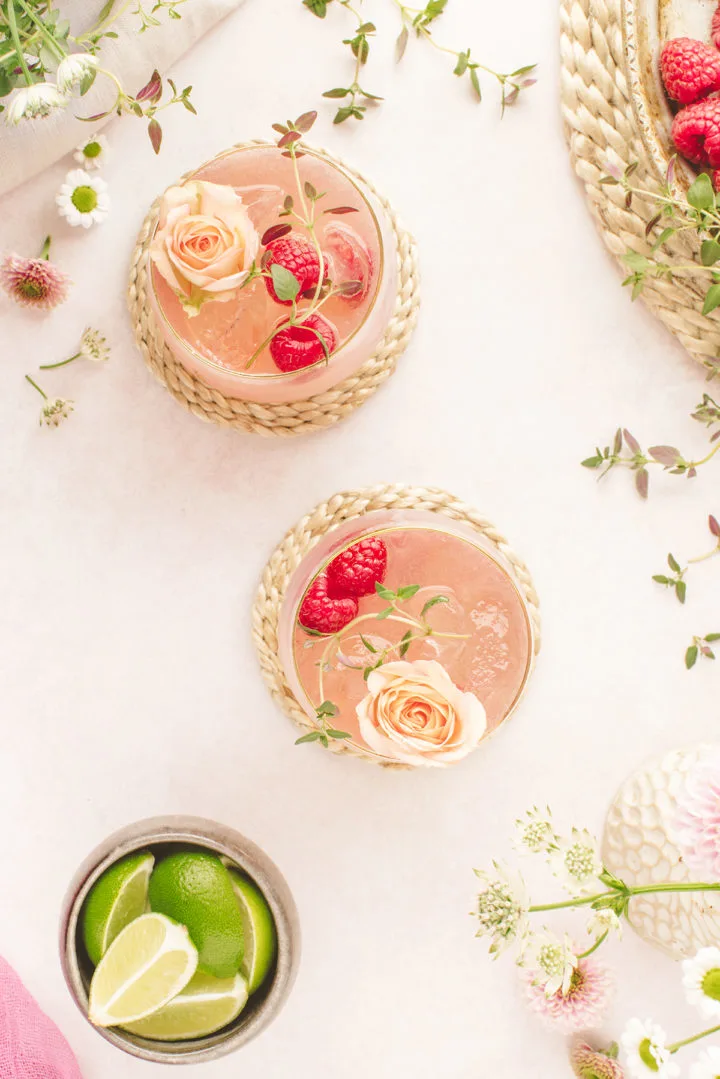 What to Serve with a Floradora
The raspberry and ginger flavors of the Floradora make it the perfect choice for spring or summer garden parties, baby showers, brunches, and picnics.
Serve your Floradora cocktail with one or more of the following:
Try This Floradora Cocktail Recipe!
Next time you're looking for a summery gin cocktail, give this Floradora drink recipe a try!
Did you think it was the perfect drink? Leave a comment below and give it a review for others to see what you thought of this cocktail.
On Instagram? Share your photo and tag me with @goodlifeeats and #goodlifeeatsrecipes. I'd love to see your photo of this simple gin cocktail.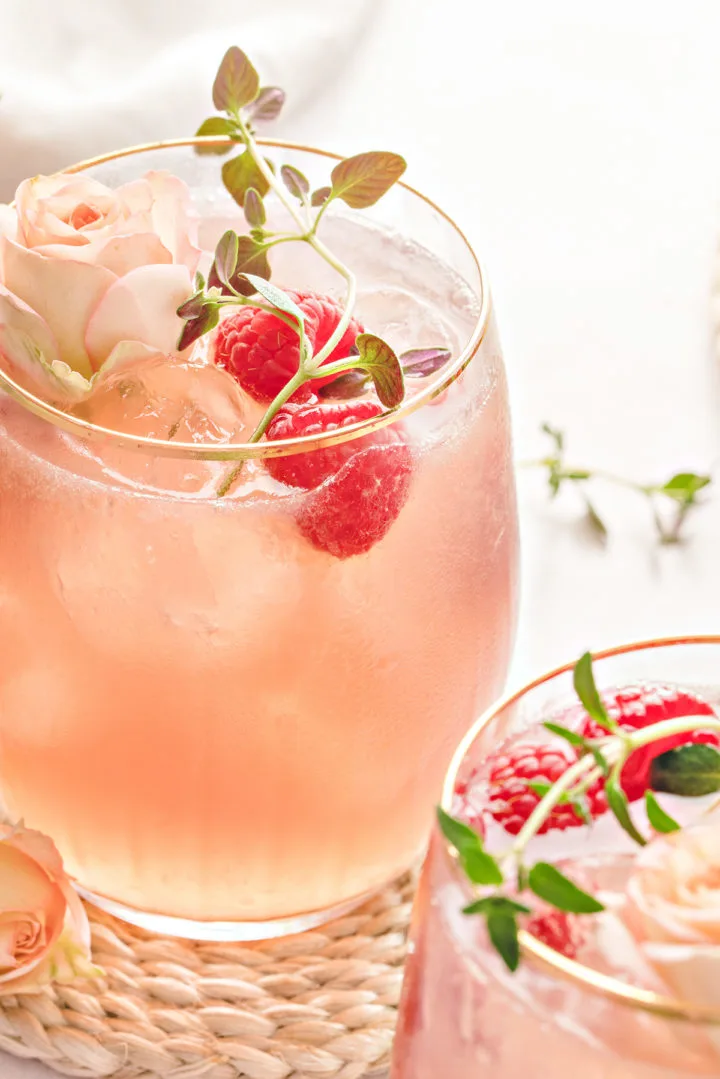 More Fruity Summer Cocktails:
Made with just three ingredients, this Strawberry Mimosa recipe is perfect for special occasion brunches, Valentine's Day, or breakfast in bed!
Pineapple, cilantro, and lime juice infuse this Pineapple Margarita with refreshing summer flavors. Make a small batch or prepare in a pitcher for parties!
Peach Sangria is a delicious and summer cocktail that's easy to make. The peach flavors combine perfectly with the Rosé for a delightful drink you are sure to enjoy! This peach cocktail is perfect for a gathering or simply sipping on a hot day!
Strong, tart, and slightly sweet, a Mai Tai Cocktail is a classic rum cocktail that will transport you straight to the tropics! In this post, I'll share how to make a mai tai completely from scratch as well as the best rum for mai tais, and so much more.
Ditch the blender and make Piña Coladas on the Rocks instead. It's the classic pineapple, coconut, and rum cocktail — just served over ice!
Get More Recipes via Email
Did you love this raspberry gin cocktail recipe? Sign up to receive Good Life Eats Email Updates and never miss another recipe!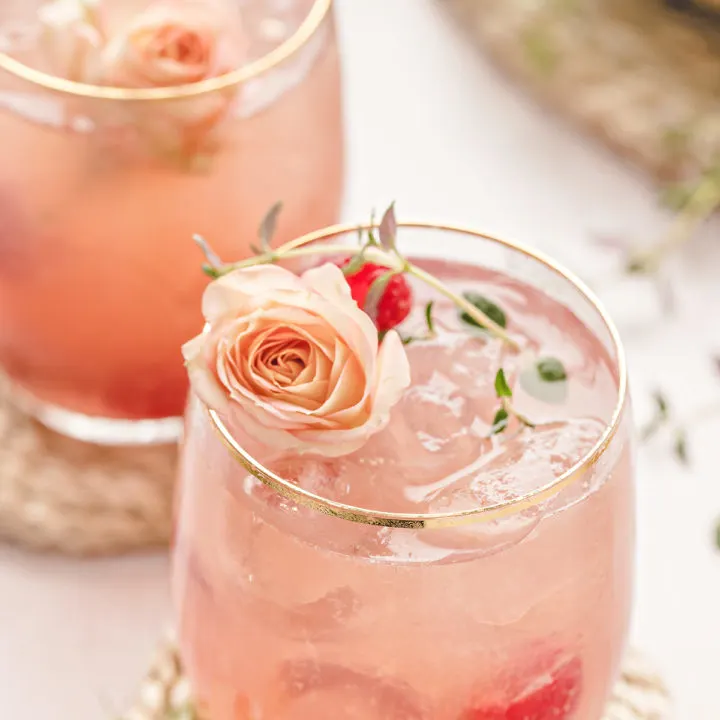 Floradora Cocktail
Blush pink in color and deliciously sweet-tart in flavor, the Floradora is the perfect gin cocktail for spring or summer. It's a simple drink that uses just 4 ingredients, but the taste is showstopping!
Ingredients
1.5 - 2 ounces Gin
.5 ounce Fresh Lime Juice
.5 ounce Raspberry Liqueur
2 - 4 ounces Ginger Beer, to top off
Garnishes
Fresh Raspberries, optional
Fresh Thyme Sprigs, optional
Edible Flowers, optional
Instructions
Fill a tall cocktail glass, such as a collins or highball glass, with cubed ice. Measure gin, lime juice, raspberry liqueur, and ginger beer into the ice filled cocktail glass.
Gently stir with a cocktail spoon until ingredients are combined and chilled.
Garnish with fresh thyme, raspberries, and flowers if desired.
Serve immediately.
Nutrition Information
Yield

1
Serving Size

1
Amount Per Serving
Calories

166
Total Fat

0g
Saturated Fat

0g
Trans Fat

0g
Unsaturated Fat

0g
Cholesterol

0mg
Sodium

5mg
Carbohydrates

14g
Fiber

0g
Sugar

13g
Protein

0g
GoodLifeEats.com offers recipe nutritional information as a courtesy. This provided information is an estimate only. This information comes from online calculators. Although GoodLifeEats.com makes every effort to provide accurate information, these figures are only estimates.