Made with just three ingredients, this Strawberry Mimosa recipe is so easy to make! Strawberry mimosas are perfect for special occasion brunches, Valentine's Day, or breakfast in bed! Read on to learn how to make strawberry mimosas and what to serve alongside a mimosa with strawberry.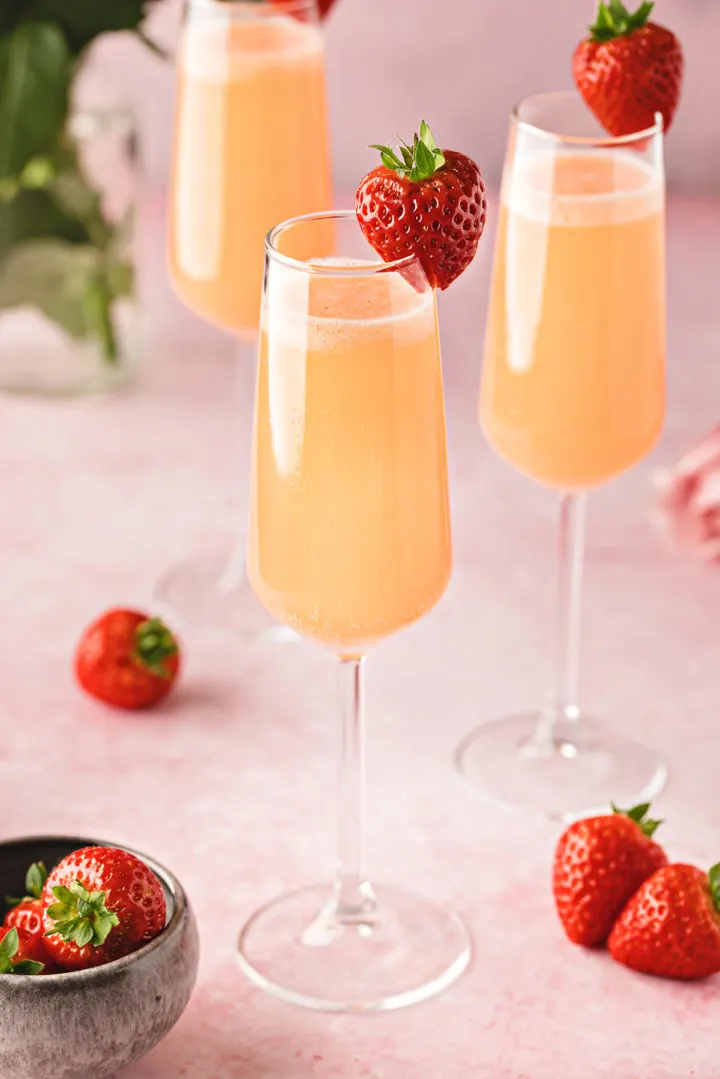 What is a Mimosa?
The International Bartenders Association (IBA) defines a mimosa as a cocktail containing equal parts orange juice and Champagne. Mimosas can optionally be garnished with an orange twist or served as is in a Champagne flute.
The IBA lists the mimosa as a "contemporary classic" cocktail. It's believed to have been named after the mimosa plant, which has yellow flowers that are the same shade as the cocktail.
It's unclear who exactly invented the mimosa cocktail.
A similar juice-Champagne drink was invented at the Buck's Club in London in 1921, which allegedly provided inspiration for the "official" invention of the mimosa at The Ritz in Paris four years later.
Others believe that Alfred Hitchcock invented the mimosa in the 1940s. Some dispute this claim, saying Hitchcock merely popularized the drink during that time.
While we don't know the precise origins of the mimosa, I can tell you for certain that it's a quick, easy, and refreshing cocktail to make for any special occasion or holiday!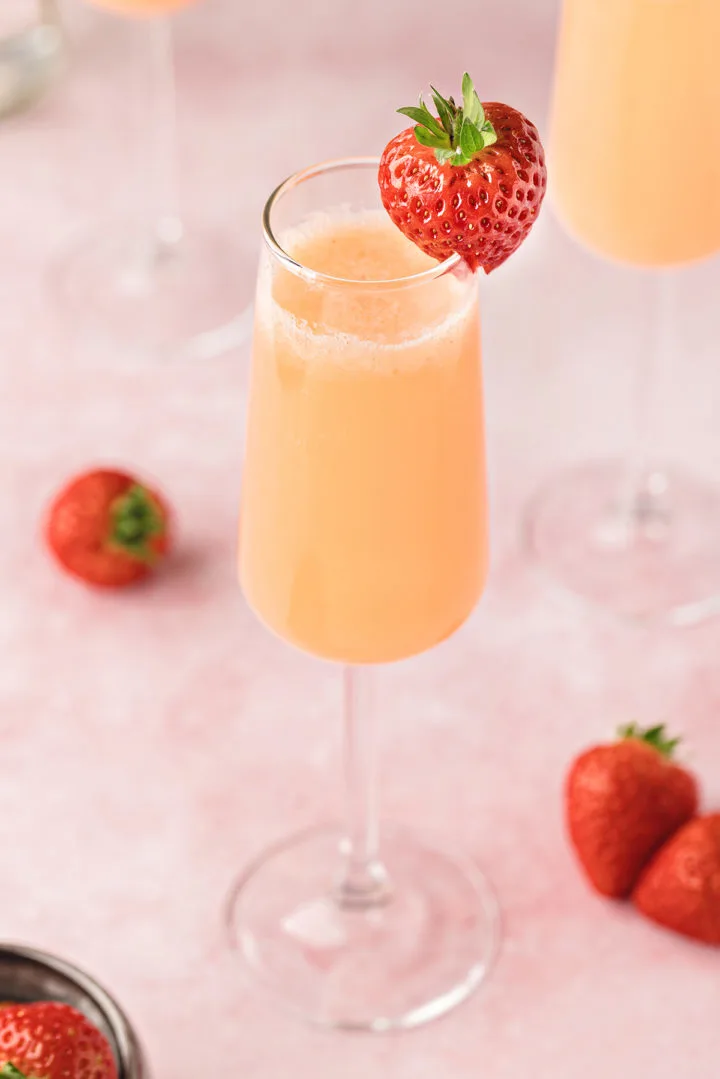 This post may include affiliate links. As an Amazon Associate and member of other affiliate programs, I earn a small commission from qualifying purchases.
What Does a Mimosa Taste Like?
The mimosa is a sweeter cocktail with a distinct orange flavor from the orange juice. The Champagne adds crispness and lots of fizziness.
Because a mimosa contains equal amounts of both ingredients, it should taste like a perfect blend of the two!
What Makes this Mimosa Recipe Different?
The recipe I'm sharing with you today is for a mimosa with strawberry. I used fresh strawberries to keep the drink light and refreshing.
The strawberries add fruitiness to the cocktail and pair perfectly with the dry Champagne and the sweet orange juice.
Tools Needed to Make a Strawberry Mimosa
Making strawberry mimosas is very simple, but it's helpful to have the following kitchen tools on hand:
Champagne flutes — The traditional choice for serving mimosas.
Juicer — Only needed if you plan on juicing oranges by hand. Otherwise, you may use high-quality bottled juice.
Paring knife — For slicing the strawberries.
Cutting board — For cutting the strawberries. Make sure the cutting board is clean and hasn't come in contact with onion or garlic.
Blender — For blending together the juice and berries.
Mesh sieve — You'll need to strain the strawberry mixture to remove any seeds.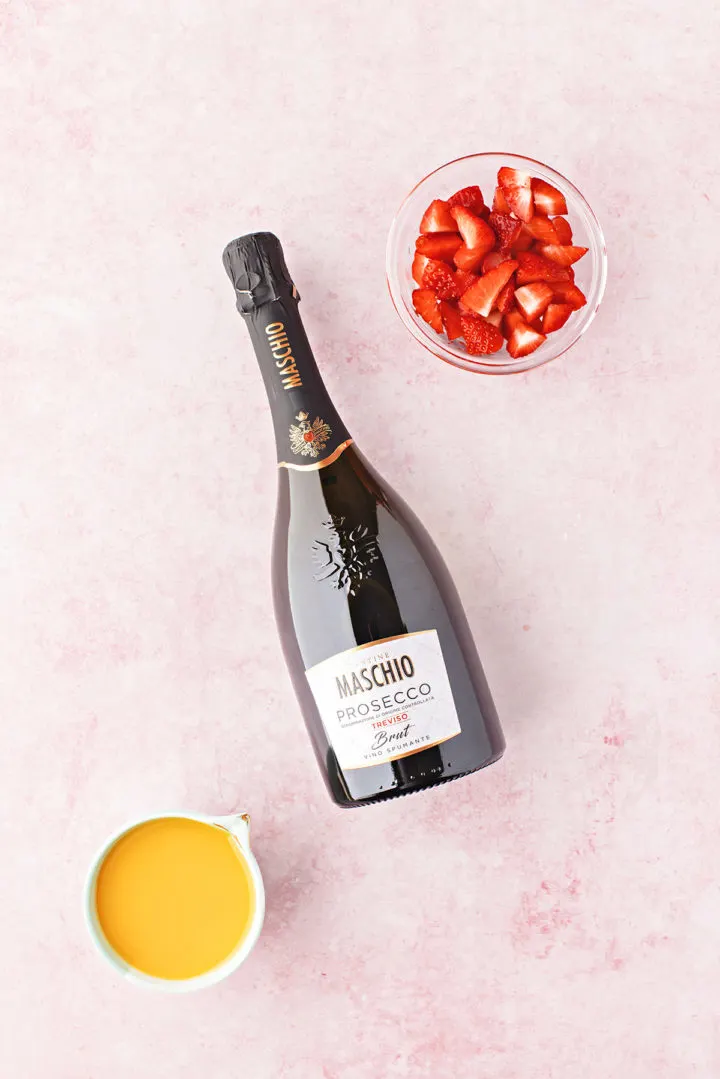 Ingredients in Strawberry Mimosas
The mimosa ingredients you'll need are few and easy to find:
Fresh strawberries
Orange juice
Champagne
What's the Best Champagne for Mimosas?
When making mimosas (with strawberries or not), you want to use a dry Champagne to balance out the sweet orange juice.
Look for Champagne that bears the label Brut or Extra Brut.
What Can Be Substituted for Champagne in Mimosas?
Real Champagne is ideal, but you may also use another sparkling wine such as prosecco or cava.
Prosecco is a type of Italian sparkling wine. It tends to be sweeter than Champagne, so definitely be sure to purchase a dry variety.
Cava is a type of Spanish sparkling wine, and it's more similar to Champagne in its production methods than prosecco. As such, it's preferable to prosecco as a Champagne substitute in mimosas, but use what you like or have on hand!

How to Make this Strawberry Mimosa Recipe
Making mimosas with fresh strawberries is very easy! Here's how you make mimosas at home:
Put the chopped strawberries and orange juice into a blender and blend until smooth.
Strain the mixture into a jug through a mesh sieve.
Fill each champagne flute halfway with sparkling wine then top up each flute with the pureed strawberry mixture.
Garnish with a fresh strawberry on the rim of each glass.
Serve immediately and enjoy!
For the complete ingredient list and detailed instructions, scroll to the bottom of this post for the FREE printable recipe card.
Are Mimosas Shaken or Stirred?
Mimosas may be stirred gently to combine the orange juice and Champagne, but you should never shake a mimosa due to the high carbonation in the Champagne.
Are Mimosas Served Over Ice?
No, you may serve the strawberry mimosas in chilled glasses but never over ice. Ice will quickly melt and dilute the cocktail.
What Type of Glasses Are Best for Serving Mimosas?
The traditional choice for this strawberry mimosa recipe is a Champagne flute (stemmed or stemless both work).
If you don't have any Champagne flutes, you're welcome to use another cocktail glass.
Just note that the quantities given in the recipe card below will be enough for 4 Strawberry Mimosas in Champagne glasses. The serving size will vary depending on the size of your glassware.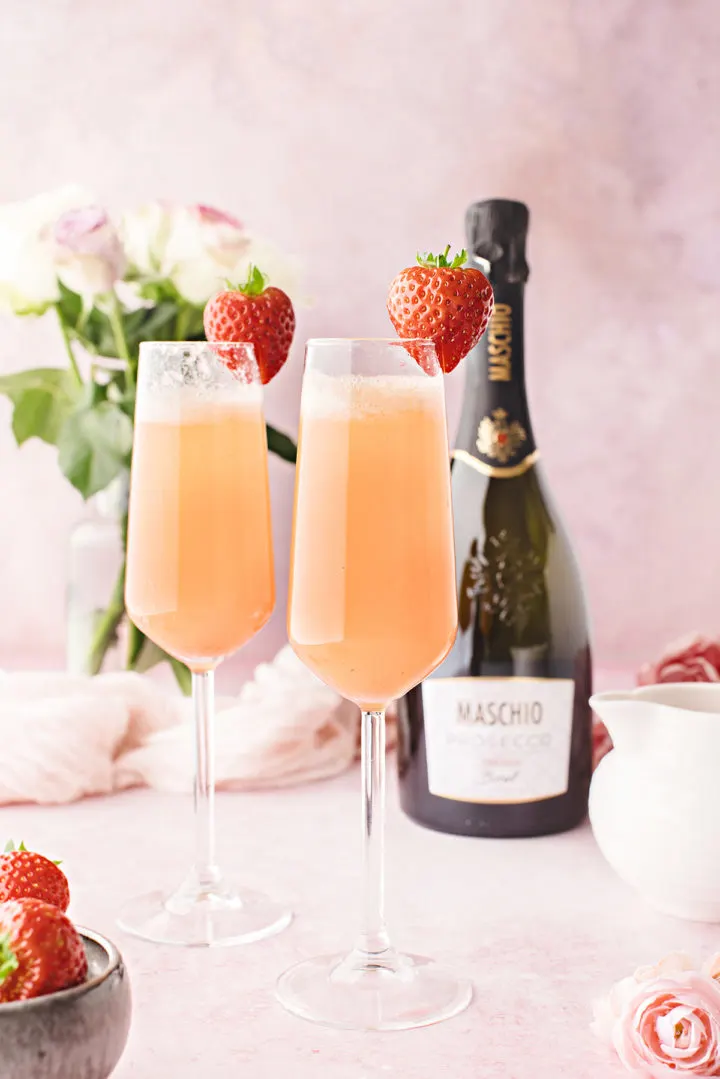 Garnishes for Mimosas
Some garnish ideas for your strawberry mimosa cocktails include:
Orange slices
Twist of orange peel
Fresh strawberries
Sprig of mint leaves
Sprig of basil leaves
Tips for Making This Strawberry Mimosa Cocktail
Chill all of the ingredients. Mimosas are not served over ice. As such, it's important that the juice, berries, and Champagne are all chilled in the fridge before making the cocktails.
Use fresh, in-season strawberries. They'll deliver the sweetest flavor and will make your strawberry mimosas taste incredible!
Fresh squeezed orange juice is preferred. However, if you don't want to make fresh squeezed orange juice, please purchase a store-bought variety that is not made from concentrate.
Strain the strawberry-juice mixture, if possible. You don't have to strain the pureed strawberry mixture. However, straining does remove the seeds which means they won't get stuck in your teeth!
Chill your glassware. If you have space in the freezer, chill your Champagne flutes before making this cocktail. Since it doesn't contain ice it's nicer to serve it in chilled glasses so it stays colder for longer.
Add the Champagne to the glass first. If you add the strawberry puree first, the cocktail will bubble over when the Champagne is added.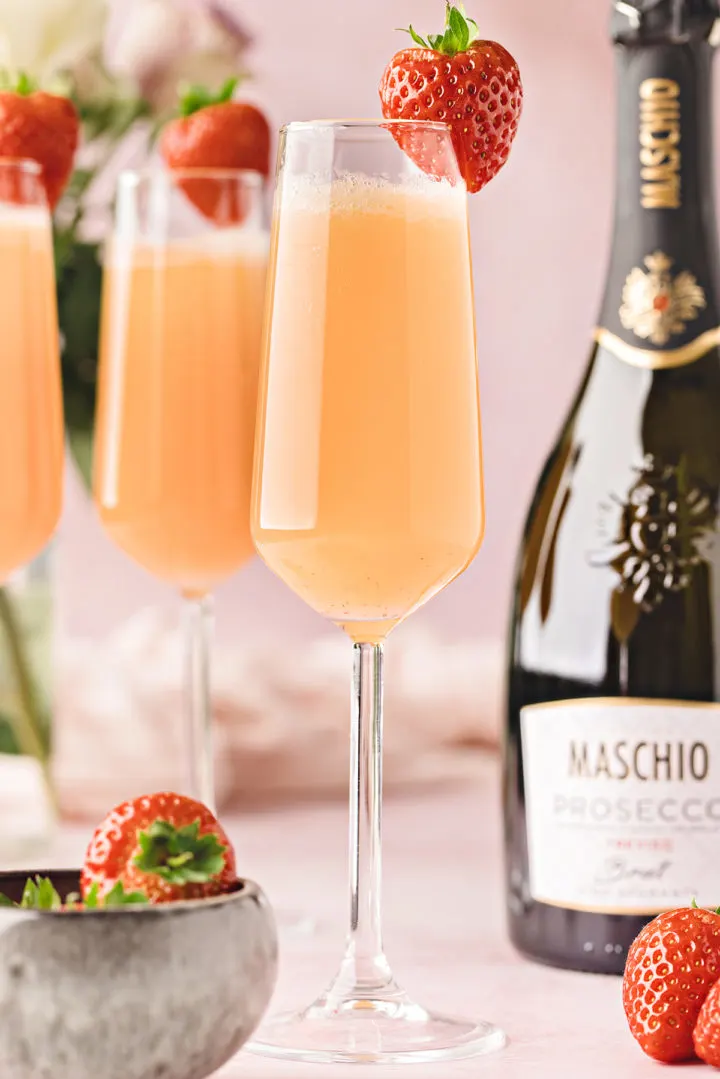 Additional Strawberry Mimosa Recipe FAQs
Got questions about how to make this strawberry mimosa recipe? Here are the answers to a few commonly asked questions. Feel free to leave any other questions in the comments on this post and I'll respond with answers.
Can strawberry mimosas be made as a pitcher cocktail?
Absolutely! Scale the ingredients up as needed and combine the Champagne and strawberry-orange puree in a large jug or pitcher.
Guests can pour their own strawberry mimosas throughout your brunch or party.
Can I use frozen strawberries to make a strawberry mimosa?
Yes! You can use frozen strawberries to make this recipe. Plan ahead and thaw the berries in the fridge overnight before pureeing.
Can I make mimosas in advance?
It is not recommended to make this strawberry mimosa recipe ahead of time because the Champagne will eventually lose its fizz and go flat.
However, you can make the strawberry-orange puree up to 2 days in advance and store in the fridge until ready to use.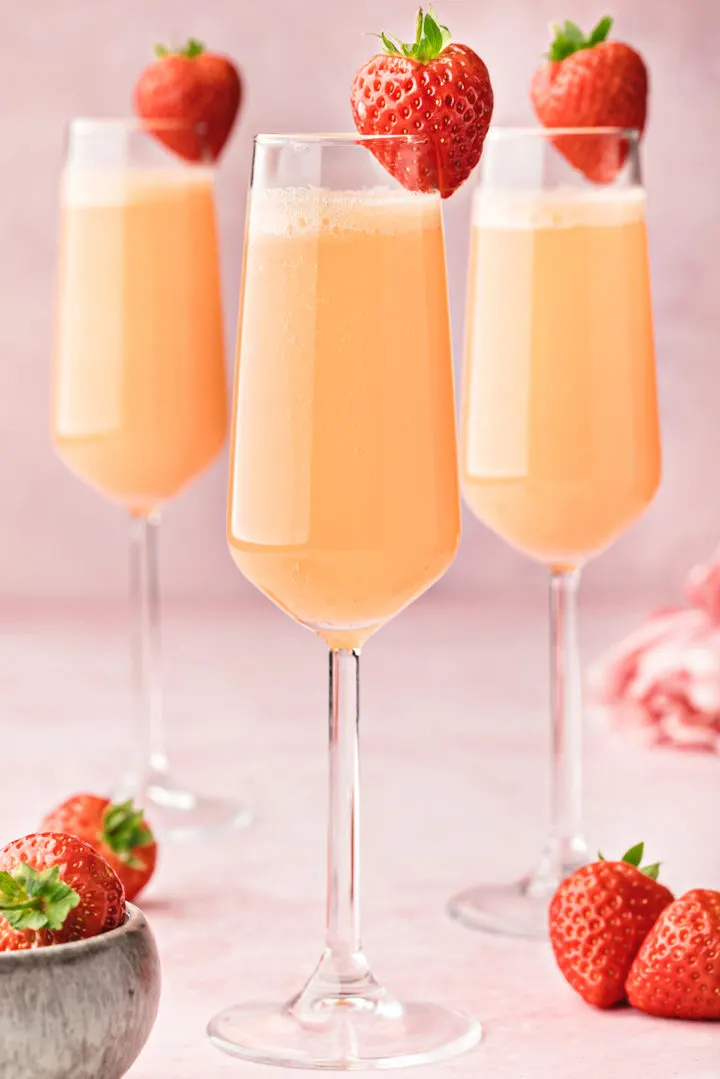 Can I use a different fruit in mimosas?
Most definitely! I made my mimosa with strawberry puree, but you may also make a fruit and juice puree using fresh raspberries, blackberries, peaches, nectarines, or pineapple.
Certain fruits (like blackberries) contain larger seeds than strawberries, so make sure to strain the fruit puree before mixing it with the Champagne.
What pairs well with a strawberry mimosa?
If making this strawberry mimosa recipe for breakfast or brunch, pair it with pancakes, waffles, blueberry lemon scones, scrambled eggs, or broccoli cheese quiche.
If making the mimosa recipe with dessert, pair it with crepes, chocolate-covered strawberries, chocolate-dipped nuts, or lava cakes.
Can this recipe be made as a mocktail?
Certainly, just purchase a bottle of alcohol-free Champagne. Or, make a mimosa mocktail using La croix or sparkling grape juice as a Champagne substitute.
Some Champagne swaps to try for mocktails include:
Alcohol-free spirits are great as an alternative if you're sober curious or don't consume alcoholic beverages.
Safety tip: Depending on the brand you use, some alcohol-removed spirits may still contain trace amounts of alcohol. Check before using if you're pregnant, serving the mocktails to kids, etc.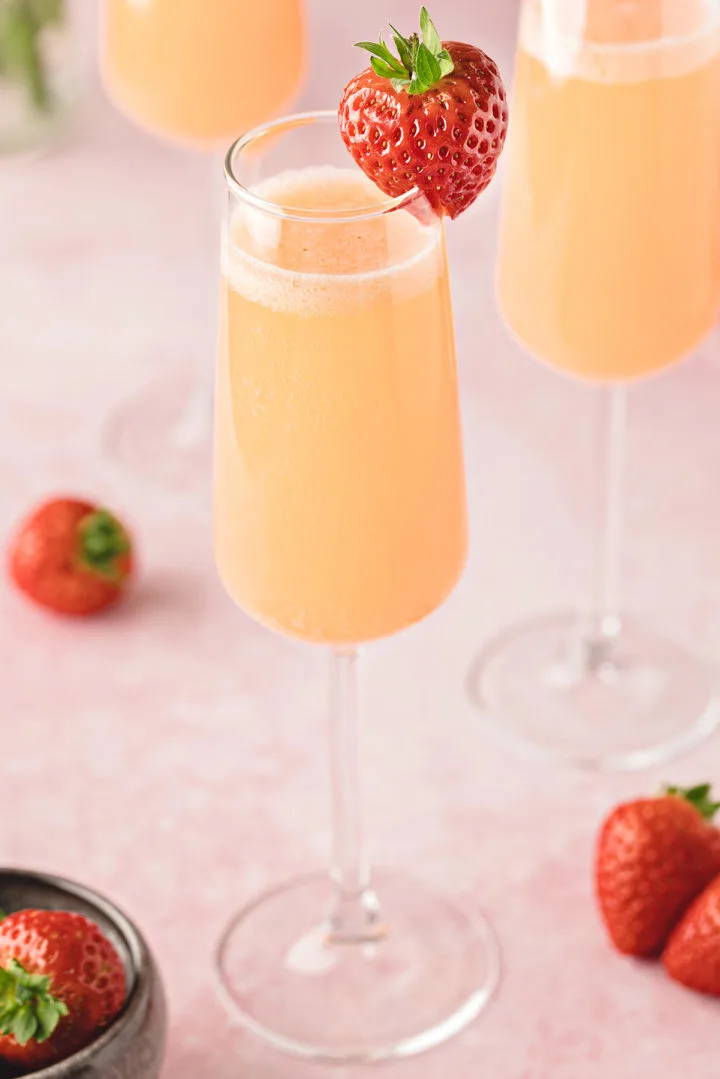 Try This Strawberry Mimosa Recipe
Next time you're looking for an easy strawberry cocktail, give this easy mimosa recipe a try!
Did you think this was the best mimosa recipe? Leave a comment below and give it a review for others to see what you thought of cocktail recipe.
On Instagram? Share your photo and tag me with @goodlifeeats and #goodlifeeatsrecipes. I'd love to see your photo of your mimosa!
More Fruity Cocktail Recipes:
If you love fresh strawberry cocktails, you're bound to love this Strawberry Aperol Spritz! Aperol is infused with strawberries before being combined with prosecco and club soda in the classic spritz ratios.
Pineapple, cilantro, and lime juice infuse this Pineapple Margarita with refreshing summer flavors. Make a small batch or prepare in a pitcher for parties!
Peach Sangria is a delicious and summer cocktail that's easy to make. The peach flavors combine perfectly with the rosé for a delightful drink you are sure to enjoy!
Strong, tart, and slightly sweet, a Mai Tai Cocktail is a classic rum cocktail that will transport you straight to the tropics!
Bitter, bubbly, and slightly sour, this Grapefruit Vodka Tonic is a refreshing twist on the classic cocktail! Who knew that vodka and grapefruit juice could taste so good?
Get More Delicious Recipes via Email
Did you love this strawberry mimosa recipe? Sign up for Good Life Eats email updates and never miss another update!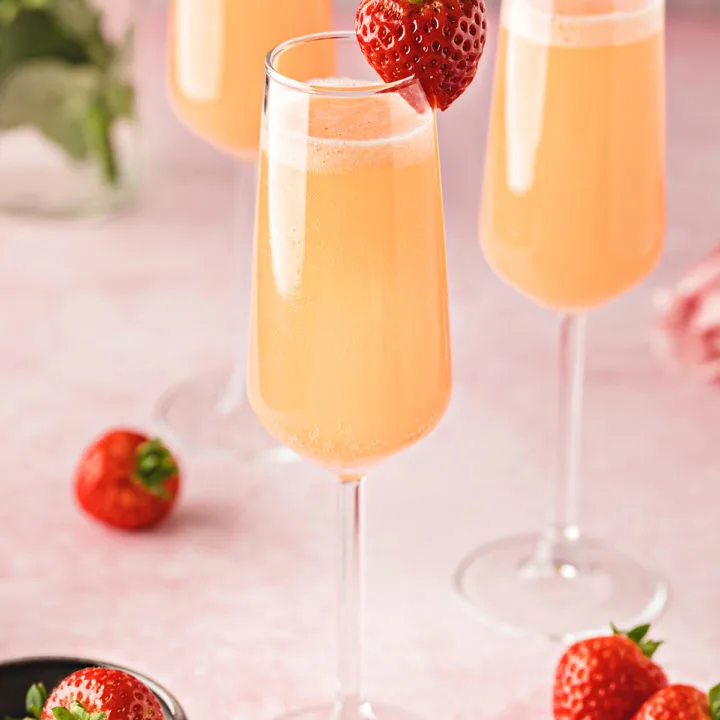 Strawberry Mimosas
Made with just three ingredients, this Strawberry Mimosa recipe is perfect for special occasion brunches, Valentine's Day, or breakfast in bed!
Ingredients
2 cups chopped strawberries
1 cup orange juice
1 bottle champagne, chilled
4 strawberries, for garnish Instructions
Instructions
Put the chopped strawberries and orange juice into a blender and blend until smooth.
Strain the mixture into a jug through a sieve.
Fill each champagne flute halfway with sparkling wine then top up each flute with the pureed strawberry.
Garnish with a fresh strawberry on the rim of each glass. Serve immediately.
Nutrition Information
Yield

4
Serving Size

1
Amount Per Serving
Calories

215
Total Fat

0g
Saturated Fat

0g
Trans Fat

0g
Unsaturated Fat

0g
Cholesterol

0mg
Sodium

11mg
Carbohydrates

19g
Fiber

2g
Sugar

12g
Protein

1g
GoodLifeEats.com offers recipe nutritional information as a courtesy. This provided information is an estimate only. This information comes from online calculators. Although GoodLifeEats.com makes every effort to provide accurate information, these figures are only estimates.